Wild Card Round Matchup Manifesto: Andrew Luck and Deshaun Watson Set up for Success, More
Credit:
USA Today Sports. Pictured: Andrew Luck, Deshaun Watson
Andrew Luck and Deshaun Watson could be locked into a high-scoring shootout when the Colts and Texans face off on Saturday.
Below are various matchup-based advantages and disadvantages to leverage in the four wild-card games.
The NFL is a matchup-driven league. Offensive coordinators are always looking to scheme their playmakers into one-on-one situations against a defender, while defensive coordinators will attempt to do anything in their power to upset the timing and rhythm of the opposing quarterback.
Despite the obvious impact that defenses have on opposing offenses, fantasy players are often left with one-way metrics to describe offenses and defenses that they are then forced to compare against each other in an attempt to identify mismatches.
The goal here is to provide easy-to-decipher charts and notes to identify key matchups on both sides of the ball in:
Explosive Plays
Pace
Pressure
Trench Battles
Turnover Margin
Passing Game
The Week 17 manifesto accurately forecasted underwhelming performances for Kirk Cousins and Sam Darnold, solid rushing days for C.J. Anderson and the Raiders as well as uber-efficient passing performances from Patrick Mahomes and Matt Ryan.
The following charts have matchup-specific information meant to highlight the largest mismatches in these ever-important facets of football to ultimately gain actionable betting and fantasy takeaways for the four wild-card matchups.
Note: This data is based on games from Weeks 1-17.
Explosive Plays
Big plays make the football world go round. Matchups between explosive offenses and leaky defenses are exactly what we're looking for when compiling game stacks in DFS, or when betting an over. We can calculate this with help from NFL.com's team-based statistics.
Explosive Pass Rate: The sum of an offense's rate of 20-plus yard completions per pass attempt and the opposing defense's rate of 20-plus yard completions allowed per pass attempt. A higher percentage is better for offenses (green is good, red is bad).
Explosive Run Rate: The sum of an offense's rate of 20-plus yard gains per rush attempt and the opposing defense's rate of 20-plus yard runs allowed per rush attempt. A higher percentage is better for offenses (green is good, red is bad).
The Chargers, Bears and Seahawks are the week's top passing games in explosive pass play rate.
Most of Philip Rivers' deep balls have been intended for his outside receivers instead of Keenan Allen. Travis Benjamin (20.7), Mike Williams (15.6) and Tyrell Williams (13.4) all have a significantly higher average target depth than Allen (9.4).
The Bears have an even more muddled situation at receiver: Allen Robinson (19% target share), Taylor Gabriel (18%), Tarik Cohen (16%), Trey Burton (16%) and Anthony Miller (11%) have all been heavily involved this season with Mitchell Trubisky under center.
A-Rob (ribs), Gabriel (shoulder) and Miller (shoulder) are all banged up. Be sure to monitor our NFL Injury Report for daily practice participation along with estimated and official game statuses for every fantasy-relevant player.
Russell Wilson and the Seahawks have utilized a run-first offense all season. Still, Wilson and Tyler Lockett have managed to form the most efficient combination in the league with their limited opportunities.
Most career adjusted yards per attempt among current QBs and No. 1 WRs (min 50 targets)

1. Russ Wilson, Tyler Lockett (10.95)
2. Patrick Mahomes, Tyreek Hill (10.58)
3. Jared Goff, Brandin Cooks (10.47)
4. Dak Prescott, Amari Cooper (9.92)
5. Matt Stafford, Kenny Golladay (9.86)

— Ian Hartitz (@Ihartitz) January 1, 2019
The Cowboys could also offer some firepower against the Seahawks. Dak Prescott and Amari Cooper have been playing at career-best levels since joining forces in Week 9.
The Bears (No. 1) and Colts (No. 5) ranked among the league's top five defenses in explosive pass-play rate allowed this season.
Andrew Luck and the Colts' passing game have relied more on pace and efficiency than big plays, but T.Y. Hilton's alarmingly-excellent success on the road against the Texans is tough to ignore.
Only tight end Mark Andrews and slot receiver Willie Snead have surpassed 50 receiving yards in a game since Lamar Jackson took over in Week 11.
Nick Foles has prioritized Zach Ertz (27 targets since Week 15) over Alshon Jeffery (18), Nelson Agholor (15) and Golden Tate (14) over the Eagles' past three games.
Jordan Howard and Tarik Cohen are set up best to create some big runs. The Eagles defense allowed the fourth-highest explosive run-play rate this season.
Ezekiel Elliott and the Cowboys are also positioned for success against the Seahawks' 17th-ranked defense in Football Outsiders' DVOA. Elliott converted 16 carries into 127 scoreless-yards in the Cowboys' Week 3 loss to the Seahawks, although stud linebacker K.J. Wright didn't suit up due to a knee injury.
Marlon Mack could have trouble creating explosive plays on the ground against the Texans' league-best defense in rush DVOA. Mack's outlook appears especially bleak if starting Colts center Ryan Kelly (neck) is ultimately unable to suit up.
Big injury to monitor this week: Colts C Ryan Kelly (neck, LP on Tuesday)

Marlon Mack with Kelly (8 games): 4.84 YPC, 16.5 PPR per game

Mack without Kelly (4 games): 4.26 YPC, 11.5 PPR per game

— Ian Hartitz (@Ihartitz) January 2, 2019
Pace
Fast-paced games lead to more plays, which lead to more points. There are several games that could resemble a track meet based on their combined situation-neutral pace ranking (Football Outsiders).
Combined Situation-Neutral Pace: Represents the combined situation-neutral pace between each matchup's two offenses. A lower number indicates fewer average seconds per play (green = fast-paced game), while a higher number indicates more average seconds per play (red = slow-paced game).
The Colts (No. 2 in situation neutral pace) and Texans (No. 9) easily boast the week's fastest-paced matchup. The over/under has increased to 49 points after opening at 48 as of writing (see live odds here).
The Chargers (No. 16) and Ravens (No. 5) are the week's second-fastest paced matchup, although the Ravens' pass-averse offense has been a detriment to opposing offenses since Jackson took over under center.
The Seahawks (No. 18) and Cowboys (No. 21) aren't expected to move at a blistering pace this week, and each offense's respective run-heavy schemes could further limit the number of plays both units ultimately run.
The Eagles (No. 30) and Bears (No. 27) easily form the week's slowest-paced matchup. Their over/under has dropped to 41 points since opening at 41.5.
Pressure
An overmatched offensive line can result in poor fantasy days for all skill-position players involved. Meanwhile, quarterbacks with all day to throw can help generate points in bunches. We can determine which offensive lines might be especially better (or worse) this week with help from Pro Football Focus' offensive and defensive pressure statistics.
Combined Pressure Rate: The sum of the offensive line's rate of pressures allowed per dropback and the opposing defense's total pressures generated per dropback. A higher percentage (red) is better for defenses, while a lower percentage (green) indicates that matchup's quarterback could face reduced pressure.
The Texans have done a terrible job protecting their franchise for basically the entire season, but Deshaun Watson has continued to mostly make the best of his situation.
Philip Rivers also isn't expected to have much time to throw this week. Rivers' only game this season without a single touchdown pass was against the Ravens' No. 3 overall defense in pass DVOA in Week 16
The Eagles (55%) and Ravens (52%) are the only defenses in the Wild Card Round that recorded a pressure on at least 50% of their opposing quarterback's dropbacks this season.
The good news for Trubisky and Co. is they welcomed back three-time Pro Bowl guard Kyle Long in Week 17.
The Colts did a great job limiting hits on Luck all season, but the Texans were surprisingly able to cause some problems. Overall, Luck was sacked six times in two games against the Texans, but just 12 times in his other 14 games.
Prescott has been sacked at least three times in 12-of-16 games this season. The good news is Tyron Smith (neck) and Zack Martin (knee) are expected to return to the lineup after resting in Week 17.
Joey Bosa and Melvin Ingram might be the league's premier duo at defensive end, but they'll have their hands full trying to wrestle Jackson to the ground.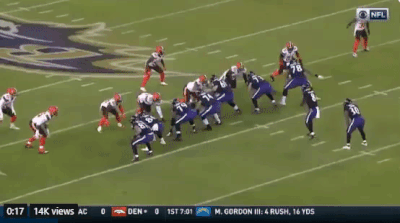 Trench Battles
Running backs receive most of the praise for an offense's rushing output, but an overmatched offensive line can thwart a team's run game before it even has a chance to get started. We can determine the offensive lines that might be especially better (or worse) off this week with help from Football Outsiders' offensive and defensive adjusted line yards per rush statistics.
Combined Adjusted Line Yards Per Rush: The sum of an offensive line's adjusted line yards per rush and the opposing defense's adjusted line yards allowed per rush. A higher number (green) is good for running backs, while a lower number (red) indicates that matchup's offense could have some trouble running the ball.
Ezekiel Elliott easily has the week's best matchup on the ground. Zeke is also the week's only running back without injury or workload concerns: He's racked up a league-high 117 touches since Week 13 and got to rest in Week 17.
The Ravens are also set up well against the Chargers. They racked up 159 rushing yards against the Chargers in their Week 16 victory — the most yards Los Angeles had allowed on the ground since Week 7.
Baltimore's run-first attack has enabled Gus Edwards and Kenneth Dixon to remain fantasy-viable options alongside Jackson.
Ravens backfield since Kenneth Dixon returned in Week 13

Carries:
Lamar Jackson (82)
Gus Edwards (82)
Dixon (47)
Ty Montgomery (7)

Targets:
Ty Mont (14)
Dixon (7)
Gus (1)

Snaps per game:
Gus (32.6)
Dixon (26)
Ty Mont (15.4)

— Ian Hartitz (@Ihartitz) January 1, 2019
Melvin Gordon (ankle) is reportedly expected to play, although he's at risk of both in-game re-aggravation as well as poor game flow if the Ravens are able to establish the run and control the clock.
Chris Carson and the Seahawks' run game isn't set up well against the Cowboys' fifth-ranked defense in rush DVOA.
Still, only Elliott has more total touches than Carson since Week 13, and the continued absences of Cowboys defensive tackles Tyron Crawford (neck) and David Irving (ankle) won't help matters.
Josh Adams/Darren Sproles from the Eagles, Tarik Cohen/Jordan Howard from the Bears and Lamar Miller have the week's worst matchups.
The Bears (No. 2 defense in rush DVOA), Colts (No. 4) and Eagles (No. 9) boast top 10 defenses in rush DVOA.
Sproles (13 targets over the past three weeks) and Cohen (16% target share with Trubisky) offer the most upside as pass catchers among this group of backs.
Don't forget that Trubisky (30.1 rush yards per game) is more than capable of providing a boost to the Bears' rushing attack via scrambles.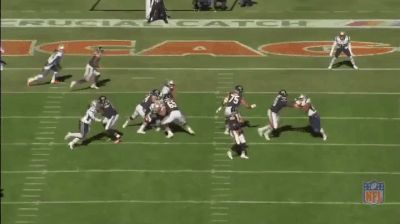 Turnovers
Matchups between two careless teams are obviously of interest when it comes to targeting fantasy defenses. Crafting a turnover differential for each individual matchup between an offense and defense can help identify when turnover-prone offenses are taking on ball-hawking defenses.
Combined Turnover Rate: The sum of the offense's turnover rate and the opposing defense's takeaway rate. A higher percentage (red) is better for defenses, while a lower percentage (green) is better for offenses and indicates the absence of a turnover-prone offense or takeaway-happy defense.
All eight teams in the Wild Card Round have done a fairly decent job of taking care of the ball this season, although the Colts' (No. 21 in turnover rate) and Eagles' (No. 20) offenses stand out as the week's most-sloppy units.
The Bears (3.6%) finished the season with the league's top-takeaway rate. The Texans (2.8%) weren't far behind and ranked third.
The Seahawks (1%), Texans (1.5%) and Cowboys (1.7%) ranked among the league's top five most turnover averse offenses this season.
Chargers-Ravens is poised to be the week's smoothest matchup, while Eagles-Bears represents the most potential for sloppy football on both sides of the ball.
The Texans' and Bears' defenses each offer strong combination of lethal pass rushes against turnover-prone offenses.
Passing Game
Some pass offenses are obviously more efficient than others, while certain secondaries are seemingly capable of shutting down any aerial attack. We can determine the week's largest mismatches in the passing game using each offense's and defense's net yards per pass attempt (via Pro Football Reference).
Combined Net Yards Per Pass Attempt: Net yards gained per pass attempt differs from yards per attempt by accounting for sacks. The rate is calculated by subtracting a quarterback's sack yards from his passing yards, then dividing that number by the sum of the quarterback's pass attempts and sacks taken. A higher number (green) is good for quarterbacks and receivers, while a lower number (red) indicates that matchup's pass offense could be in trouble.
If you haven't figured this out already, Colts-Texans offers the most potential for a high-scoring shootout. Luck and Watson are accordingly the highest priced and projected quarterbacks in our Pro Models.
Russell Wilson is also set up well against a Cowboys defense that's been a bit of a pass-funnel unit this season. Overall, Dallas ranks 16th in DVOA against the pass compared to fifth against the run.
The Bears pass offense also has a solid matchup against the Eagles' embarrassing group of cornerbacks. Trubisky (4) joins Patrick Mahomes (7), Matt Ryan (6) and Drew Brees (5) are the only quarterbacks with at least four games with 30-plus DraftKings points this season.
Rivers might need a big day from Allen to topple the Ravens. Both Mike Williams (1-7-0) and Tyrell Williams (1-12-0) were shut down in the Chargers' first matchup against the Ravens by plus-sized outside cornerbacks Marlon Humphrey (6-foot-0 and 197-pounds) and Jimmy Smith (6-foot-2 and 211-pounds).
It's not surprising that the Ravens were a top three defense in DraftKings points per game, Plus/Minus and Consistency Rating allowed to wide receivers this season (per our NFL Trends tool).
Prescott, Jackson and Foles will have their hands full in their respective matchups against the Seahawks (No. 13 in pass DVOA), Chargers (No. 10) and Bears (No. 1).
How would you rate this article?