NFL Betting Odds, Picks & Preview: Who Will Lead the NFL in Receptions in 2021?
Credit:
Tom Pennington/Getty Images. Pictured: Wide receiver CeeDee Lamb #88 of the Dallas Cowboys.
Betting on season leaders is a volume game, and that fact is most apparent when looking at receptions.
Unless you're playing in a PPR fantasy football league, receptions don't mean much. A reception doesn't always move the ball forward or lead to points. It's the offensive equivalent of a tackle, just another counting stat. But not all receptions are created equal, and some players are volume kings who rack up catches.
Stefon Diggs led the NFL with 127 receptions last year. For the two prior seasons, Michael Thomas led the league in receptions, including a record 149 catches in 2019.
The season leader had 122 or more catches in eight of the past 12 seasons and 112 or more in all but one of them. Add in an extra game this year and it sure looks like our new receptions king will need somewhere north of 120 catches.
Let's run down 18 options who might take home the receptions crown, starting with Diggs at the top. We'll rule out a few contenders who probably aren't in the mix, consider some long shots, and hone in on best bets.
Be sure to check out the other season leader bets if you haven't already:
Note: I've included the best odds available for each player at either DraftKings, FanDuel, or BetMGM at the time of publishing on Sept. 1.
Will Our Favorite Repeat?
Stefon Diggs (+600 FanDuel)
Interestingly enough, five of the last 12 receptions leaders had won the crown previously, so this is a rare instance where repeat winners are common. With Michael Thomas on the PUP list, Larry Fitzgerald away from the game, and Antonio Brown and Julio Jones on the wrong side of their careers, Diggs is the only realistic past receptions champ with a shot to do it again.
He had 127 catches and 1535 yards last season, both high marks for the league, and that makes him an intriguing play. Offensive coordinator Brian Daboll has the Bills more aggressive than any team with their passing on early downs, and that led to breakout seasons from Diggs and Josh Allen.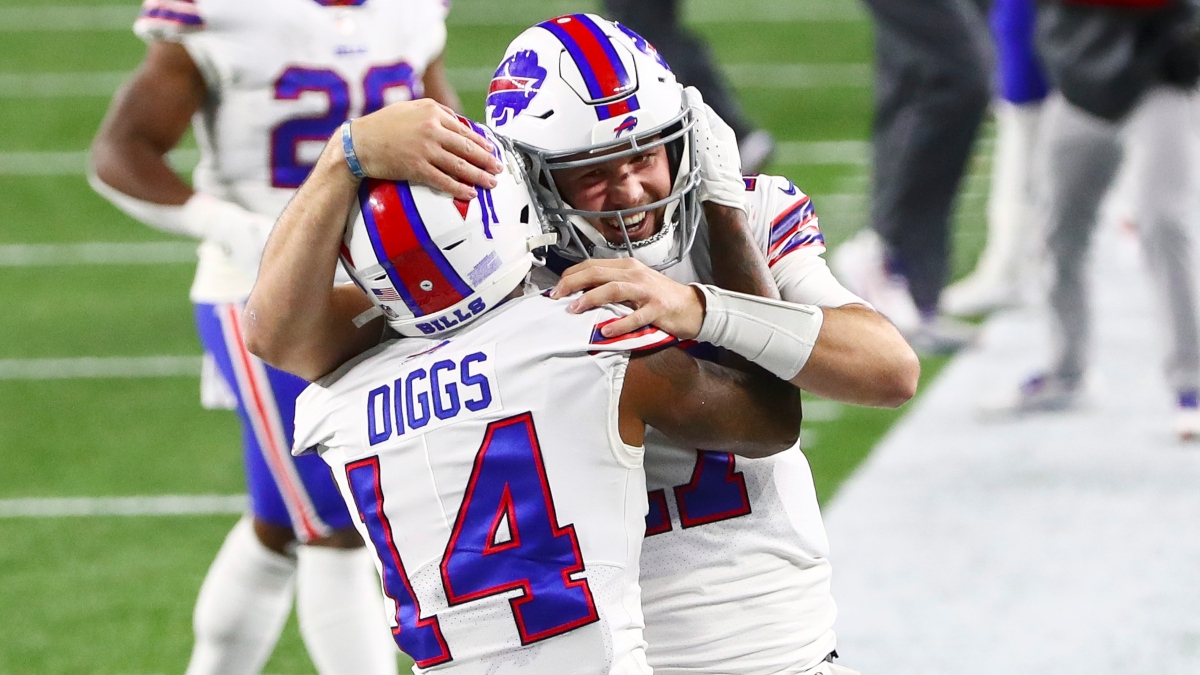 The question is whether that production is sustainable as defenses start to adjust. The AFC East is loaded with tough defensive-minded coaches, and New England and Miami have great corners.
There's also more competition in Buffalo this year with Emmanuel Sanders, and while Diggs stayed healthy all last year, he typically misses a game or two.
With Daboll still around, Diggs can certainly put up another big number. He's in play here, and the +600 is a pretty fair number considering his 166 targets last year, especially since history tells us to expect repeat winners.
Diggs is worth consideration, but you probably can't play anyone else down the list if you grab the favorite, so what fun is that?
VERDICT: History says Diggs could repeat if he stays healthy, but there's not much edge in this number. Let's keep looking for now.

Guys Who Probably Can't Win
Remember, we need a realistic path to 120 receptions, and some of these guys just aren't likely to push that range. Hill has never had more than 87 catches in a season, and his career-high 137 targets doesn't offer much upside either. Add in the injury threat at his size, and Cheetah isn't a great bet unless the Chiefs start throwing a ton of bubble screens all game.
Tyler Lockett (26-1 FanDuel)
Lockett had 100 catches and 10 TDs last year, but both of those numbers were surprising considering he had a modest 132 targets. Lockett continues to defy logic with a 77% catch rate the last three years and an outlier TD rate, thanks to his incredible chemistry with Russell Wilson.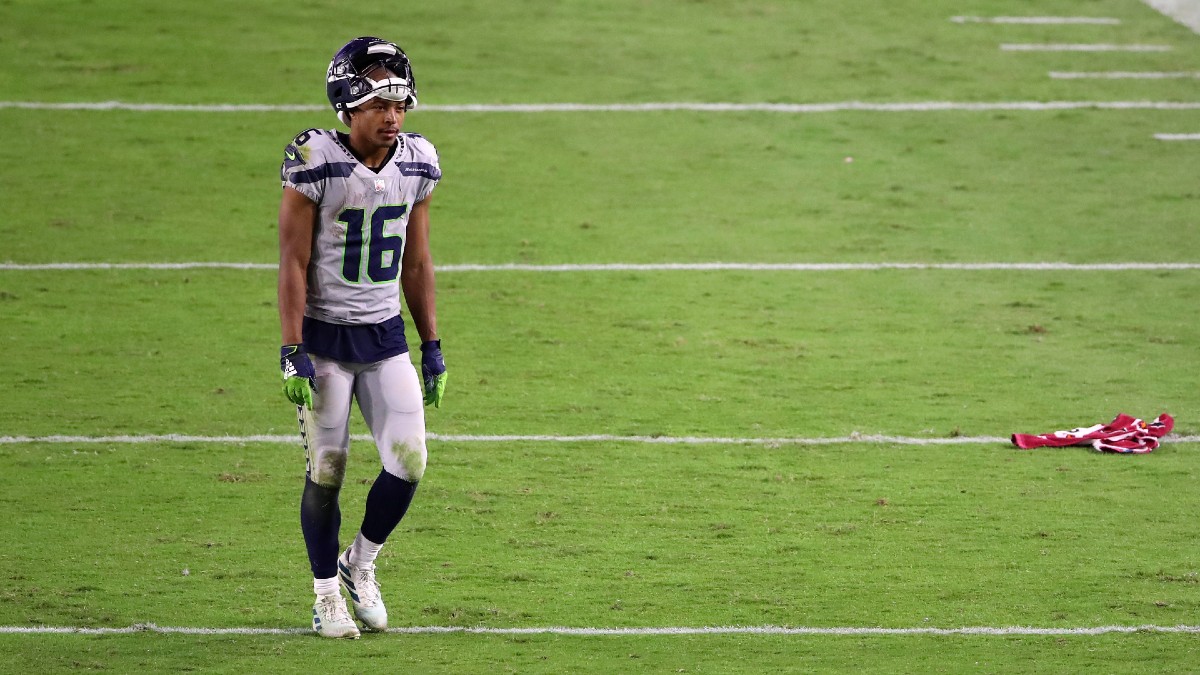 But that target and reception total were already career highs, and Seattle threw a ton the first half of last season. Lockett may have great chemistry, but DK Metcalf is the clear WR1 in Seattle and there's not enough volume to get into the top tier.
Robert Woods (23-1 FanDuel)
Woods is a bit of a surprise addition to the list, but a look at the numbers shows a remarkably consistent receiver. Woods has 130, 139, and 129 targets the last three years with the Rams, and that's resulted in 86, 90, and 90 receptions.
Los Angeles should pass more with Matthew Stafford replacing Jared Goff — maybe way more — but Woods's consistency also belies a pretty clear ceiling that leaves him well short of our target 120 number. We're looking for high-end outcomes, not stability.
They Could Win, But the Odds Are Not in Our Favor
Davante Adams (+650 BetMGM)
Adams had a career-high 115 catches last year, and he did it in only 14 games. If he kept that pace over a full 16, he would've passed Diggs and led the league. He had 111 catches in 2018 too. Adams's 2020 numbers scream outlier, though. He saw big spikes in his TD rate and catch rate, all the way to 77% on the latter, up from 62% the rest of his career.
There are two ways to process that. It could mean regression, but it could also highlight the additional ways the Packers used Adams last year on many short routes to move the sticks with that unstoppable connection with Aaron Rodgers.
Still, the Packers are one of the league's slower offenses and are committed to the run game, and Green Bay's WR corps is deeper than it's been the last couple years. Besides, Adams hasn't played a full 16 since 2016. He could win this but isn't the most likely, and at +650 that's gotta be a pass.
We've been ruling out Kelce in these season leader props for the same reason each time. Kelce is awesomely consistent but has already been playing at his peak, and it's more likely that the numbers go down at age 32 than up.
He's had 103, 97, and 105 catches the last three years and been healthy that entire time. There could be some room for upside in Kansas City with both Sammy Watkins and Damien Williams gone, and this is one spot where Kelce is the smarter Chiefs pass catcher to bet on.
Tony Gonzalez is the only tight end to lead the league in receptions since 1986, but he did it with just 102 catches. Kelce may not have that top-shelf upside worth betting on.
Calvin Ridley (16-1 BetMGM)
Ridley is another name we continue to bet against, and it's the same reason every time.
Matt Ryan led the league in pass attempts last year, but new Falcons coach Arthur Smith passed only 486 times in Tennessee, a full 141 fewer attempts and a huge swing in volume as Atlanta moves to feature the run game more often.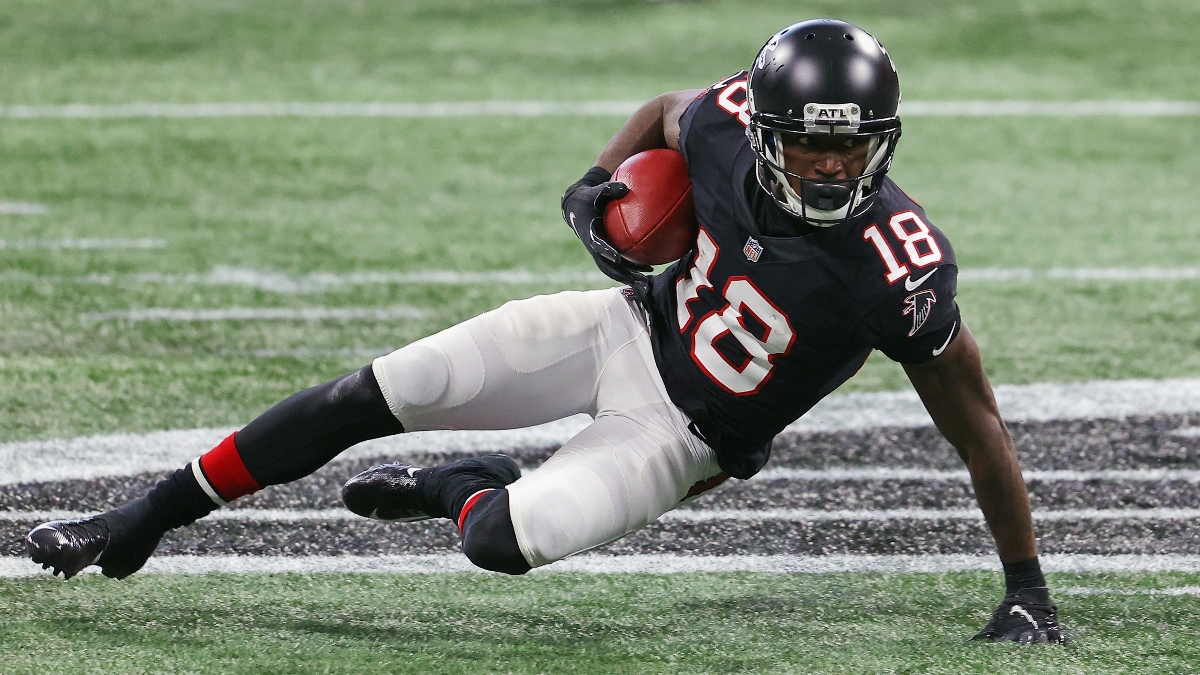 Ridley could get a very large target share with Julio Jones gone, but he's getting a bigger slice of a smaller pie. A.J. Brown led Smith's teams in receptions the past two years with just 70 and 52 catches respectively.
Until we see a wide-open passing attack in Atlanta, he's just not the right play.
Darren Waller (18-1 BetMGM)
Waller is playable because Derek Carr is the check-down king, dumping it off repeatedly to his favored tight end. Waller had 107 catches on 145 targets last year, by far Carr's favorite target, with Nelson Agholor's 82 targets a distant second as the top receiver.
That was especially true over the final five games as Waller racked up 43 catches for 654 yards on 11.0 targets a game. That could point to a bigger breakout in 2021, but it could also mean his final numbers were inflated in some meaningless late-season shootouts.
Longer Shots Worth a Sprinkle
Cooper Kupp (20-1 FanDuel)
There's serious volume upside with the Rams now that they have a good quarterback. They ranked top half of the league in pass attempts last year, and Jared Goff led the league with 626 passes in 2019. Stafford is no stranger to monster volume seasons, so he could be asked to make a ton of passes in this offense.
We know Stafford loves to throw to his slot receivers. Golden Tate had over 90 catches with him four straight years from 2014-17, and Cooper Kupp fits the Tate mold as a dynamic slot guy who runs elite routes and gives Stafford an easy out on any play.
Kupp has gone over 90 catches each of the past two years, so an uptick in volume along with a better quarterback could send him well above 100. He might be in play, though the 20-1 odds are disappointing and already factors in most of the presumed upside.
Allen Robinson (22-1 DraftKings)
ARob could be a sneaky play. He recorded 98 and 102 catches the last two years with the Bears, and that was with Mitchell Trubisky and other castoffs tossing the rock in Chicago.
Robinson went over 150 targets both seasons and has done so all four of his healthy seasons. And don't be thrown off by the possibility of Justin Fields taking the reins early. Young QBs tend to lock on to a receiver if there's one guy they trust, so that could actually be a boon to Robinson's value.
A healthy Robinson should have a floor of around 100 catches again and high-end upside to get into this conversation.
Terry McLaurin (26-1 FanDuel)
McLaurin is an ascending star, and this could be his breakout year. He had 87 catches last season for 1118 yards, and that's all the more impressive when you remember how bad the quarterbacks were throwing him the ball.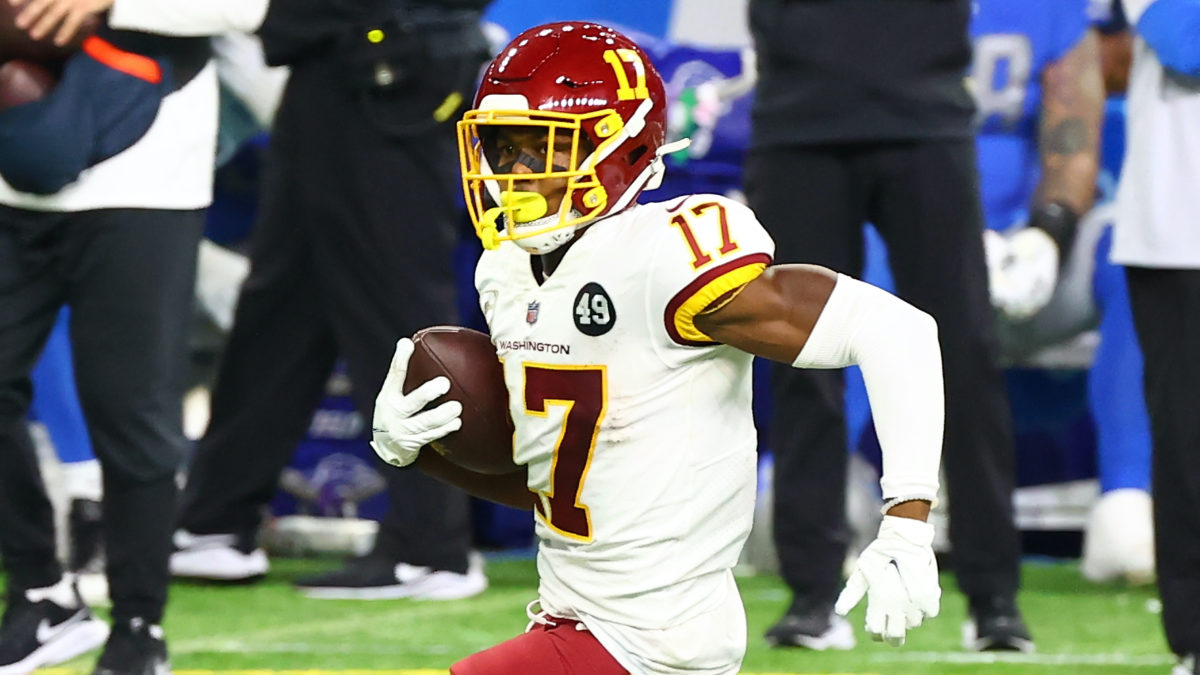 Washington ranked dead last on offense, but Ryan Fitzpatrick increases their floor significantly. McLaurin had 134 targets last year but could rise well above 150, and better quarterback play should increase his catch rate.
That should give him a shot at triple digits, but 120 is another story and might still be out of reach.
Playable If You Believe
DeAndre Hopkins (+600 DraftKings)
We've already strongly considered both Diggs and Adams, and Nuk is another favorite worth a long look. Hopkins is a volume monster. He's been targeted at least 150 times in six straight seasons and averaged 10 targets a game last year.
Kliff Kingsbury loves his bubble screens and curl routes, wasting Hopkins on short nothing routes, but that plays in our favor in the receptions game. We need counting numbers, not efficiency.
Hopkins has seen his catch rate increase to 71% over the last three seasons, up from under 60% the rest of his career, as he's taken on more of these shorter routes and easier throws. He's a security blanket, both for Kyler Murray and for Kingsbury, and he's averaged at least 6.9 catches per game in each of the past three seasons. Seven catches a game for 17 games is 119 receptions.
Like Diggs, that means Nuk is squarely in the mix to take home the receptions crown. Honestly, it's a bit surprising he hasn't done it yet. He is a deserving favorite, but the question is whether the +600 price is worth the play.
It's a playable number but doesn't give much wiggle room and means you probably can't add other names to your position, so the question is whether you want to go all-in and trust the Cardinals.
Amari Cooper (33-1 FanDuel)
Cooper is a pretty interesting play here, especially if you don't buy CeeDee Lamb overtaking him as WR1 in Dallas. The Cowboys are the fastest offense in the NFL, and they were throwing the ball over 50 times a game while Dak Prescott was healthy last year.
In those four games, Cooper had an eye-popping 37 catches for 401 yards, a record pace of 148 catches over a full season. That volume was never sustainable but shows Cooper's clear upside.
Even if Cooper dropped off that pace by 25%, he would still be at 111 catches and in the mix to lead the league. If you're not buying the Lamb hype, this is the best stat to play Cooper in to lead the league of the three receiving options.
Best Bets
CeeDee Lamb (44-1 FanDuel)
Even still, Lamb might be the better Cowboys play, thanks to his long +4400 odds. Lamb had 29 catches in five games with Prescott on 40 targets, so that would pace to 136 targets and 99 catches. And remember, that was the start of Lamb's career and as a clear WR2 to Cooper.
If CeeDee plays as well as he's looked in the preseason and this Cowboys offense clicks, there could be huge upside. Dallas should run a flurry of plays at their very high pace.
It's not crazy to think Lamb could approach 10 targets a game, and if he does, he should easily clear 100 catches and push toward that 120. Lamb is built to be more of a volume guy than Cooper anyway, and at 44-1, he feels like the better play and a must-add to any multi-player position.
Keenan Allen (17-1 FanDuel)
Allen is not going to put up huge yardage or TD numbers, but the man catches a ton of passes. He had 10 games with double-digit targets last season, racking up 147 targets in only 14 games, and he's had at least 97 catches in four straight seasons with the Chargers.
It's hard to know exactly what to expect from this new offense under OC Joe Lombardi. The Chargers have been very pass-heavy in recent years, so it's possible Allen's production is already near its peak.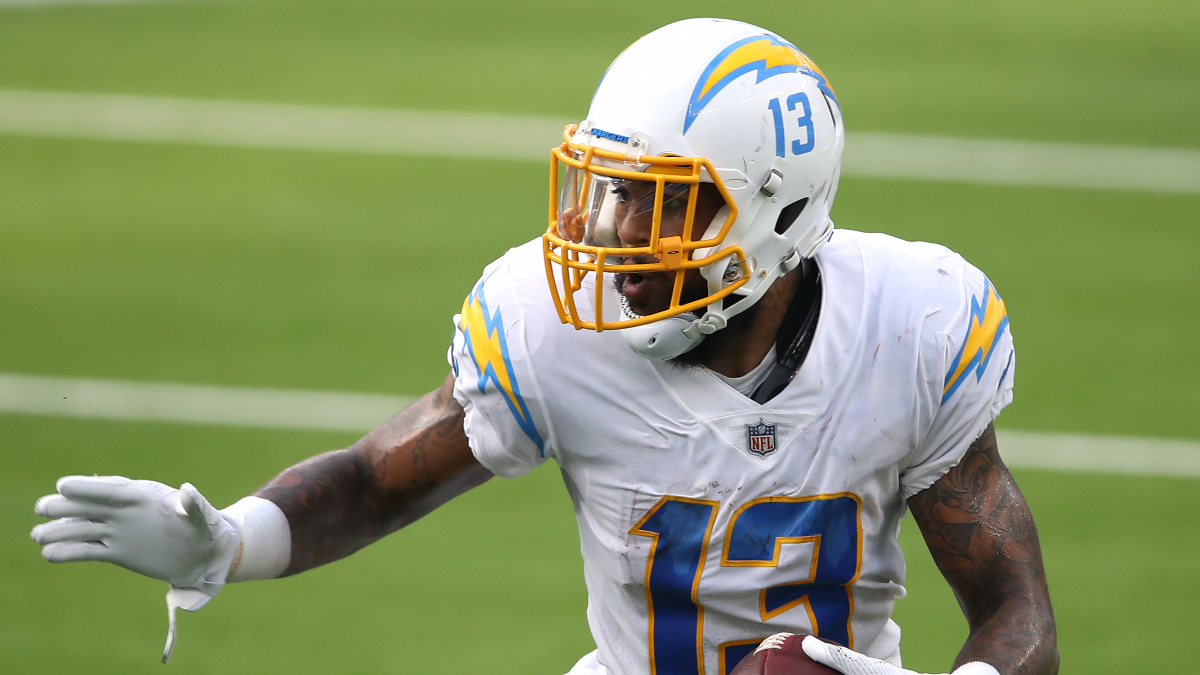 But Lombardi was also behind some of those massive volume Saints years — including many years where Drew Brees led the league in passing as well as those two recent years when Michael Thomas led the NFL in catches and set the receptions record.
Justin Herbert and Keenan Allen are not Brees and Thomas, but the analog is too obvious to not play this at 17-1 when we already know how Allen loves to rack up catches.
Justin Jefferson (23-1 FanDuel)
Jefferson was our top receiving yards play, and we're going back to the well in hopes of the high volume spilling over. He had a huge rookie season, piling up 1400 yards on 88 catches and impressive efficiency, including a 15.9 YPC and 70% catch rate.
What's even wilder is that he did that on just 125 catches and had a slow start to the year, and he did it for an offense that ranked 27th in the NFL in passing attempts.
Gary Kubiak has retired and left the offensive play calling to his son, so you never know what the new offense will look like. Dalvin Cook's presence probably means the Vikings will continue to run first, but it could be a more balanced attack.
A full season from Jefferson puts him in the mix with over 100 catches, especially since he should get a huge target share with Irv Smith out and precious little WR depth on the team. It's not crazy to think Jefferson could push 150 or even 175 targets if Minnesota passes a little more often.
Jefferson doesn't have quite the huge upside on receptions as he does for yardage, but he's a clear threat to get to 120 catches or more if things start to break his way. He's a nice final addition to our position.
Receptions Verdict
If you prefer to go all-in on one guy, DeAndre Hopkins is your man. You might also opt to put all your eggs in Stefon Diggs' basket. Both are at +600.

But if you'd rather spread the love and build a position, think about Keenan Allen +1700, CeeDee Lamb +4400, and Justin Jefferson +2300.
How would you rate this article?
This site contains commercial content. We may be compensated for the links provided on this page. The content on this page is for informational purposes only. Action Network makes no representation or warranty as to the accuracy of the information given or the outcome of any game or event.