NFL Picks & Predictions for Every Week 4 Game
Credit:
USA Today Sports. Pictured: Tom Brady
See our staff's previews, betting picks and predictions for every NFL Week 4 game slated for Sunday.
Cramming a last-minute study session before finalizing your Week 4 betting card?
Our staff helps sort through every 1 and 4 p.m. ET game to help you find the best edges. Here are the games they'll hit on:
Browns at Ravens: 1 p.m. ET
Panthers at Texans: 1 p.m. ET
Chiefs at Lions: 1 p.m. ET
Patriots at Bills: 1 p.m. ET
Raiders at Colts: 1 p.m. ET
Chargers at Dolphins: 1 p.m. ET
Titans at Falcons: 1 p.m. ET
Redskins at Giants: 1 p.m. ET
Buccaneers at Rams: 4:05 p.m. ET
Seahawks at Cardinals: 4:05 p.m. ET
Vikings at Bears: 4:25 p.m. ET
Jaguars at Broncos: 4:25 p.m. ET
Now let's dig into their against-the-spread, over/under and/or moneyline picks for each.
---
All odds as of Sunday and via PointsBet, where Action Network users get an exclusive 200% deposit match (deposit $50, bet with $150).
---
Stuckey: Why I'm Using Ravens in Teasers
There's three things you can take to the grave: Death, taxes and the Ravens beating the Browns.
The Ravens have dominated this divisional matchup. The last time the Browns won in regulation in Baltimore was 2002. (Their two wins there over that span have both come in overtime.) John Harbaugh also boasts a 10-1 record at home against the Browns.
What does that mean for this game? Not much on the surface, but the Ravens are using it to play the disrespect card after hearing all of the Browns hype in the offseason.
This is a statement game for Baltimore.
Both teams are dealing with key injuries.
With Smith likely out again and corner Tavon Young on IR, the Ravens' secondary is left very thin. Anthony Averett has had to fill in on the outside, which has not gone well for the 2018 fourth-round draft pick. He's blown assignments and been out of place, and it's a major reason for Baltimore's 27th ranked pass defense. (There are other communication issues in the defensive backfield that the Ravens need to straighten out, in fairness.)
However, it looks like the Browns won't have the services of wide receiver Rashard Higgins once again — and I think the Browns offense really misses him (as well as Njoku, who could have given Baltimore fits). Damion Ratley is a guy Averett can actually stick with, while the Ravens are solid in the slot with Brandon Carr and on the outside at their No. 1 corner spot with Brandon Humphrey.
Meanwhile, the Browns secondary is in much worse shape and could be without three of their four starters this week. Even if Andrews can't go for Baltimore — which would certainly be noteworthy despite the depth at the position — both quarterbacks should have opportunities downfield.
But this game boils down to is the trenches, where the Ravens have a significant edge.
Both defenses generate a ton of pressure and as quick as anybody in the league.
The Browns' strength on defense is their line, led by Myles Garrett, one of the best defensive ends in the NFL.
However, the Ravens have one of the best pass-blocking left tackles to match up with Garrett in Ronnie Stanley. In fact, per PFF, only Dallas' Tyron Smith has a higher pass-blocking grade among all offensive tackles this season. Orlando Brown has also been solid in that department on the right side; he'll have to deal with Olivier Vernon.
The Browns' offensive line hasn't been awful from a pass blocking perspective — Baker Mayfield has abandoned the pocket too soon in certain instances — but it hasn't been as good as the Ravens' and it's performed significantly worse from a run-blocking perspective. Plus, Cleveland could be without starting RT Chris Hubbard (game-time decision) once again. And the drop-off in pass blocking from him to Justin McCray is significant.
Throw in the crowd noise and Mayfield might be abandoning the pocket at a much higher rate than Lamar.
2019 Passer Rating when under pressure

(min. 100 dropbacks)

Mahomes 127.3
Lamar 125.3

…
…

Mayfield 28.3
Trubisky 20.3

— Stuckey (@Stuckey2) September 25, 2019
Also, while the Browns' special teams have been surprisingly strong so far, you have to give the nod to the Ravens in this department.
On Sunday, the Ravens will have the better run game, a more reliable OL, superior coaching and a special teams edge. And they'll play at home in front of one of the better home-field environments in the league.
I do expect a fight from the Browns, who should be fine once they get healthy (assuming the play-calling improves). And Mayfield should be better, but I still feel confident in a Ravens win.

And while I'm not crossing 7 and 3, I did the next best thing by teasing off a 7 or 3. I ended up teasing the Ravens down from 7 to -1 and paired them with the Vikings.
---
This pick comes down to the Texans passing offense vs. the Panthers passing defense.
The Texans have probably the league's best quartet of wide receivers in DeAndre Hopkins, Will Fuller, Kenny Stills and Keke Coutee. The Panthers, meanwhile, are No. 27 in Football Outsiders' pass-defense DVOA.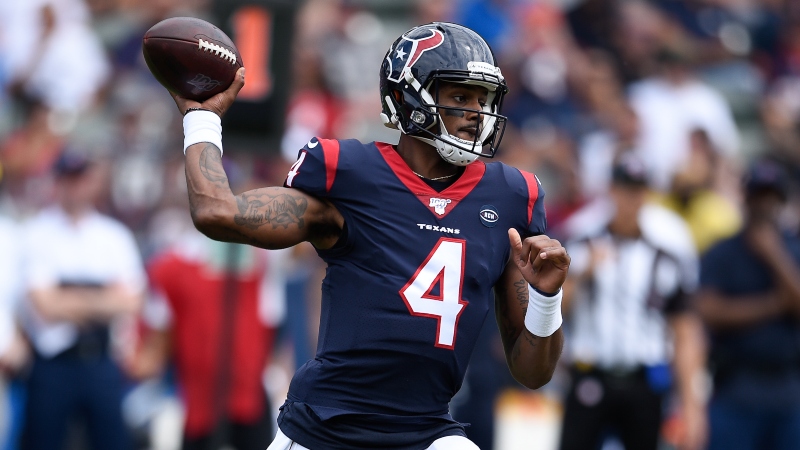 As I mention in my Week WR/CB matchup piece, I expect cornerback James Bradberry to tail Hopkins. In his three-plus seasons as a shadow man, Bradberry has been very inconsistent. He either completely shuts down his receiver 100%, or he gets dominated by his opponent. Given Hopkins' incredible technical skills as a route runner and his physical dominance on contested catches, I'm expecting 'Nuk' to blow up Bradberry's spot.
Cornerback Donte Jackson has the speed (4.32-second 40-yard dash) to keep pace with Fuller, but Jackson is still somewhat raw as he enters his second season. For his career, he's allowed a 68.8% catch rate, and when he's bad, he's very bad: Last year, he had four games with at least five receptions and 100 yards allowed. He can be exploited, and Fuller is likely to beat him for a big play at some point. The fourth-year wideout ranks No. 13 in the league with 310 air yards.
In the slot, Stills and Coutee should be able to get open against cornerback Ross Cockrell, who allowed six reception on eight targets last week.
I like the Texans to put up points at home.
While Allen has looked good for the Panthers in his two career starts, I'm not ready to think of him as a starter-level quarterback based on two starts against hobbled defenses.
The Texans at home against a vulnerable secondary and a backup quarterback? Yeah, I'll lay the points. I'd bet this to -5.5 if necessary.
---
Freedman: Chiefs -6.5 at Lions
I'm not saying that you should blindly bet the Chiefs — but they are 3-0 against the spread this year, covering by an average of 7.3 points per game. And I still think the market is undervaluing them.
Since head coach Andy Reid joined the franchise in 2013, no team has had larger offensive reverse home/away splits than the Chiefs. Most teams score more points at home than on the road. But not the Chiefs. Under Reid, they have averaged 2.69 more points on the road than at Arrowhead Stadium.
In other words, the home-field advantage that most teams have when they play pretty much any other team — that's drastically diminished when they host the Chiefs.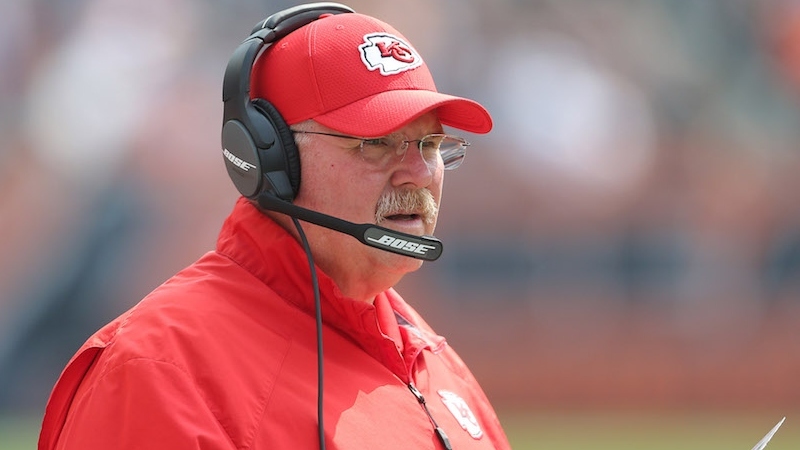 As a result, we might expect the Chiefs to be a great team against the spread on the road — and that's exactly what we see in the historical data. Reid's Chiefs are 33-16-1 ATS away from home, good for a 32.3% ROI (per Bet Labs). Since joining the Chiefs, Reid has been the most profitable coach to back on the road.
And from a football perspective, I like this line regardless of Reid's ATS history. As highlighted above, the Chiefs offense should be able to exploit the Lions deep via the passing game. They could easily score 30-plus points.
As for the Lions on offense, they have a mediocre 5.6 yards per play, and that's despite the points-friendly matchups they had in Weeks 1 and 3 against the Cardinals and Eagles. They're 2-0-1, but their record seems fraudulent.
Given the road advantage they have under Reid, their explosive passing game and the mediocre opposing offense, the Chiefs could win by double digits.
I wouldn't bet this past -7, because I want a margin of safety, but I would definitely take this to -7 with even a little extra juice if necessary.
---
Stuckey: Bills +7 or better vs. Patriots; Under 42 or better
Brady is a ridiculous 30-3 against the Bills and has more wins in Buffalo since 2001 than any Bills QB. but this isn't your older brother's Buffalo punching bag squad — this is a Bills team with some confidence on offense and a top-five defense.
But as I said, Allen shouldn't find too much success through the air. And since the Patriots can man up on the outside, they can dedicate the necessary resources to bring pressure and to stop a rushing attack that doesn't really scare anyone. Allen will have to make a few plays with his legs to extend drives. Still, the Bills aren't going to go nuts offensively.
The Patriots offense has been rolling, but I wouldn't take too much from the three bottom feeders they played.
A Brady-led offense is always going to find a way to score points, but the injuries along the offensive line, at tight end and now in the backfield with Pro Bowl fullback James Develin (who was critical in their rushing attack) leave this unit wounded. And on the road against one of the league's best defense could be a struggle.
The Bills can cover and they can pressure — two requirements to throw Brady off of his game. Like New England, Buffalo also has one of the NFL's best safety groups. They can support the run, help in coverage and create takeaways on the back end without giving up the big play. Look no further than the fact that Buffalo hasn't allowed a completion of 50 or more years in an NFL-high 30 straight games.
Yes, Buffalo's schedule has also been a cake walk, but it's allowed the fewest passing yards of any team since the start of last season. The Bills have potential Pro Bowlers at every level on a top defense.
The 2019 Patriots reminds me of the ones from the early 2000s — the defensive-led teams that won Super Bowls with Tedy Bruschi, Richard Seymour, Willie McGinest, Ty Law and others. I don't think this offense is going to blow elite defenses away, but their own defense is good enough to secure another ring when it's all said and done.
In a battle of two unbeatens, expect a rock fight in Orchard Park. The Pats probably find a way, but the Bills defense won't make it easy. The last time these two played (at the end of 2018), these were the final stat lines of each respective QB:
Allen: 20/41; 217 yards; 1 TD; 2 INT
Brady: 13/24; 126 yards; 1 TD; 2 INT
It might not be that ugly, but it won't be pretty.
---
Stuckey: Raiders +7 at Colts
Leonard's potential absence could really hurt the rush defense, but don't sleep on the impact of losing safety Malik Hooker — the Colts' best defensive back and integral ballhawk on the backend of their zone-heavy Cover 2 scheme.
Khari Willis taking over at free safety takes it from a strength to a potential glaring weakness. I expect either communication issues or even more simplistic schemes from the bend-but-don't-break Indy D. Hooker was playing much more single high safety this season, which allowed the Colts to play more man than in years past. I don't think they'll have that same luxury here, so their defensive game plan and flexibility will certainly be limited.
Look for a big day out of tight end Darren Waller over the middle of the field. And while not known for doing so, hopefully Derek Carr will take some shots down the field after Oakland establishes its short passing and rushing attack.
As a result of a few schematics changes and personnel additions, the Raiders should be better against the run, which is paramount against Marlon Mack and Indy's dominant offensive line. But Brissett and a banged up Colts receiving corps is not the group that will crush a very weak Oakland secondary.
Colts tight ends do scare me as Raiders linebackers — a unit dealing with a number of injuries — struggle to defend, but this is simply too many points.
Don't be fooled by the records. Accounting for injuries, these teams are much closer than those indicate. Oakland has actually averaged more yards per play (5.9 vs. 5.7) while both defenses have allowed 6.7 yards per play.

Factoring in all of the injuries, I make this line only 4, so I gladly scooped Raiders +7 and would take them at anything 6 or better.
---
Sonny Banks: Dolphins ML +750 vs. Chargers
The Dolphins are bad, probably historically bad. There's no other way to put it. That said, there's always a price to get involved with bad teams.
The Dolphins are severely disadvantaged in terms of talent, but I'll always refuse to buy into the "not playing hard" or "players are tanking" narratives. All three of their games have been against contenders, and while each eventually snowballed, I did like the aggressiveness vs. Cowboys in the first half. Before the drops, the turnovers and general lack of talent became evident, we had a Miami team going toe-to-toe with Dallas. It's impossible to predict how that game would've unfolded had the Dolphins converted on one of their many opportunities.
Against the Chargers, a team familiar with self-inflicted wounds with injury concerns and offensive line issues, the price is right this week.
---
Stuckey: Titans +4 or better at Falcons
I like the Titans catching four points for four primary reasons.
Reason No. 1: As I mentioned, Mariota and Co. can have some success in the short passing game, especially with Walker. One week after the loss of Neal, I wouldn't be surprised to see some blown coverages and communication issues in the secondary.
Reason No. 2: The Falcons have major questions along their offensive line, particularly at both guard spots and at right tackle with a rookie starter. The Titans defensive front can generate pressure and cause havoc with Jurrell Casey and Cameron Wake. They can get pressure on Matt Ryan, forcing him into bad throws, which we've seen a lot of this season (Ryan leads the NFL in picks). I actually expect the Titans to win the overall battle of the trenches.
Reason No. 3: Tennessee has the secondary talent to stick with all of Atlanta's weapons on the outside.
Reason No. 4: Lastly, I actually think Dan Quinn is on the hot seat. His teams are constantly underprepared and sloppy. Look no further than that flag-filled contest vs. the Colts last week. Atlanta is currently tied with Cleveland for most penalties per game at a shockingly high 11.7. That lack of preparation and focus has consistently reared its ugly head against AFC opponents under Quinn. And for this week, the Titans have had extra prep/rest after a Thursday night game.
Quinn — who is 29-38 against the spread, making him the second-least profitable coach among all active coaches — is 0-12 ATS over his last 12 games vs. the AFC. He's also just 3-8 on the moneyline as a favorite against the AFC.
I'm buying low on the Titans against a banged-up Falcons team that just doesn't look right.
---
Mike Randle: Giants -3 vs. Redskins
The Giants' offense exploded in last week's 32-31 win at Tampa Bay, with Jones enjoying a breakout performance.
They face defense that has allowed an average of 271 passing yards and three touchdowns per game to opposing quarterbacks. Washington's pass defense has been a sieve, ranking 28th overall in defensive DVOA per Football Outsiders.
Meanwhile, Keenum ranks fourth with 933 passing yards as a result of overwhelming negative game scripts in the face of an 0-3 start. The Giants pass defense has been even worse than Washington, ranking 31st in pass defense DVOA, trailing only Miami.
With the second-highest over/under of Week 4, this projects as a high pass volume shootout, but one the Giants should win with a superior offensive line. Washington will continue to miss holdout offensive tackle Trent Williams and dual-threat ability of Jones will further frustrate a struggling Washington defense.
Jones and the Giants should provide enough points to cover the short spread at home.
---
Randle: Rams -9.5 vs. Buccaneers
Tampa Bay would need to play its best defensive game of the season, and it still might not be enough.
Similar to last week's Vikings-Raiders game, the Buccaneers are facing a team that is better on both sides of the ball. Goff has been prolific at home and the Los Angeles defense is one of the NFL's best. The Rams are fifth-best in team defense DVOA including the fifth-best pass defense. Cornerbacks Aqib Talib, Marcus Peters and Nickell Robey-Coleman are poor matchups for Tampa Bay's receiving core.
The Buccaneers' offensive line has struggled in pass blocking, especially Demar Dotson who ranks 73rd among qualified offensive tackles.
The Rams' defensive personnel has shined with defensive tackle Aaron Donald (third), linebacker Cory Littleton (fifth) and safety Eric Weddle (10th) all ranking in the top 10 at their position as per Pro Football Focus.
Los Angeles is likely to continue its prolific scoring ways at home while their highly efficient defense will slow the mistake-prone Winston. Take the Rams to score big and win big at home on Sunday.
---
John Ewing:  Bucs-Rams 1H Under 24.5
Early in the season, it has been profitable to bet first-half unders with high totals. This strategy works because offenses typically need a few games to hit their stride and it is just easier for an under to hit in a high total game.
This system performs better when the full game total has decreased by at least a 0.5-point. The line decreasing in an indication of sharp action on the under. Since 2005, in games matching this scenario the under has gone 76-41-6 (65%).

This first-half total is 24.5 points making it a match for this system. The full game total has also decreased from 50 to 48.5.
---
Banks: Seahawks-Cardinals Over 47 or better
We have seen for three weeks now that the Seahawks' secondary is not what it once was. They rank in the middle of the pack for yards allowed per pass attempt, but you need to also factor in the QBs they've faced (Andy Dalton, Mason Rudolph for a half, and Teddy Bridgewater). They're also not getting to the QB as much as previous seasons with a 5.08% sack rate.
Seattle is stout against the run, but the Cardinals have shown that they prefer to employ a fast-paced offense with Kyler Murray airing it out. The concern with taking the over is Seattle's 27th-ranked offensive pace, but this should be countered by Arizona allowing 6.3 defensive yards/play, which ranks in the bottom-third of the league.
My projected total is 49.
---
Stuckey: Why I'm Using the Vikings at Bears in Teasers
Minnesota is the ultimate teaser piece this week. You're not only teasing the Vikings up through key numbers of 3, 4, 6 and 7, but you're doing so in a game with the second-lowest total of the week in what should be a rock fight.
From an Xs and Os perspective, the Vikings are gonna bring pressure with Everson Griffen and Danielle Hunter, who both rank inside the top-25 of Pro Football Focus' pass-rushing grades for edge defenders. And Trubisky is (still) terrible under pressure. He has a 41.4% completion percentage while under pressure compared to 74.3% with a clean pocket through three weeks (per PFF).
Trubisky's struggles against any defense with a pulse is well documented. Not surprisingly, the much maligned Bears QB has not performed well in four career games against Minnesota: He has a 69.0 QB rating and has averaged 158.5 yards, two touchdowns, three interceptions and a sub-60% completion percentage per game against the Vikings.
I expect Minnesota to scheme pressure and bring blitzes from all over to throw Trubisky off even more.
In a game where the first team to 20 likely wins, teasing the dog through 3 and 7 is invaluable.
PJ Walsh: Jaguars-Broncos Under 38.5
It probably won't take much for me to convince everyone that this is going to be a low-scoring game. In fact, the total sits at 38.5 at PointsBet, so oddsmakers see a defensive battle as well.
But even with the low number, I still think there's enough value to play the under. Why? Because the market has yet to react to what appears to be a brutal weather forecast in Denver.
Sports Insights' hourly weather forecast is calling for sustained winds of 19 mph blowing across the field throughout the game.
According to Bet Labs, NFL games played in double-digit winds have gone under the total 56% of the time since 2003. But as I mentioned above, breezes are expected to be much heavier than just "double digits," and gusts could be downright troublesome.
The National Weather Service says gusts could reach 40-50 mph Sunday in Denver, which certainly won't help any of these passing offenses.
How would you rate this article?