Saints vs. Buccaneers Odds & Picks: 4 Ways To Bet Sunday Night Football
Credit:
Getty Images. Pictured: Alvin Kamara.
Saints vs. Buccaneers Odds & Picks
The Tampa Bay Buccaneers host the New Orleans Saints on Sunday Night Football after dropping the first meeting of the season.
Now, Tom Brady & Co. are 6-2 and small favorites for this primetime NFC South showdown, but there's disagreement among our staff on how to bet this spread. Find their cases for both side below as well as total and prop picks.
The return of Saints All-Pro Wide Receiver Michael Thomas might actually provide us some value … albeit, on the other side.
New Orleans' season-opening 34-23 victory over Tampa Bay was misleading — three turnovers were the clear difference in a game that was decided by two possessions: The Buccaneers drove right down the field, scoring on their first possession of the game holding a 7-0 lead before a Tom Brady interception set the Saints up at the Bucs' 17, a blocked field goal took three points off the board, a pick-six on the opening drive of the third quarter made it 24-17, and a Mario Edwards muffed punt set the Saints inside the red zone when it was 31-17.
Despite that being Brady's opening game with the Buccaneers during a season with no preseason and limited training camp due to COVID-19, Tampa Bay still outgunned New Orleans in total yards(310-271), first downs(23-18), yards per play (4.8- 4.1) and yards per carry (3.3-2.4).
Enter Week 9, now the Buccaneers have eight weeks of games and practices under their belt — they're the No. 1 team in Football Outsiders' DVOA, sixth in offensive efficiency and first in defense. And for good reason, they're the odds-on favorite to represent the NFC in the Super Bowl this season.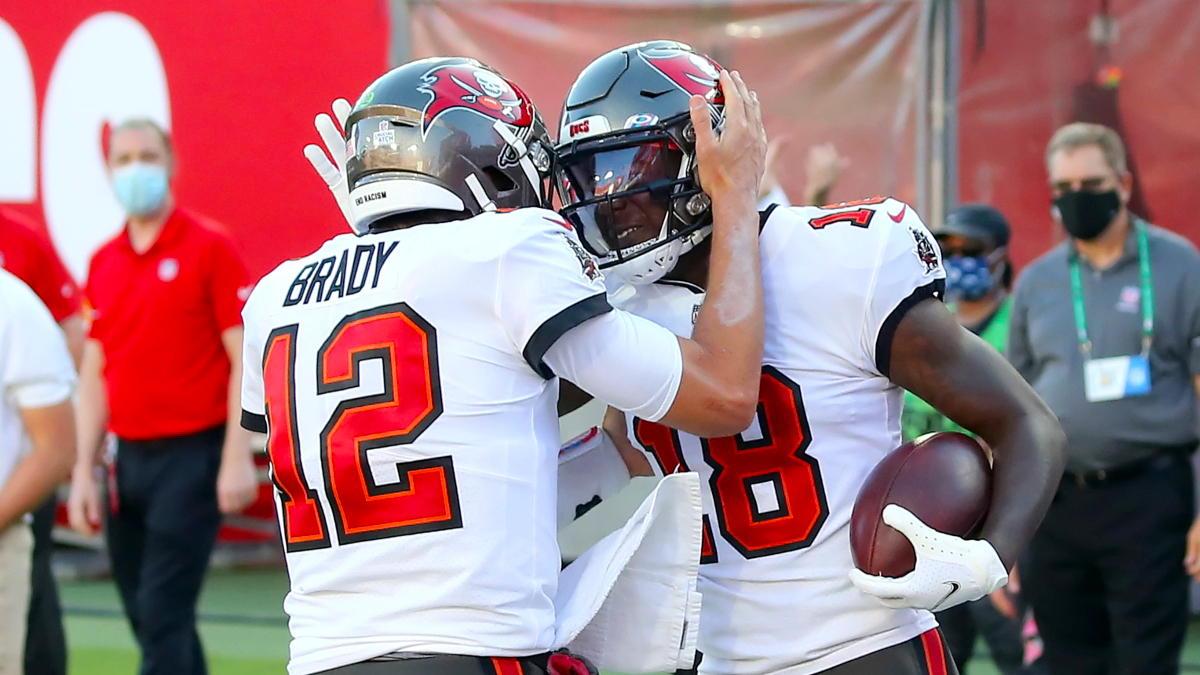 The Saints on the other hand, are seventh in DVOA, seventh in offensive efficiency and eighth in defensive efficiency. The numbers tell us that this team shouldn't be overlooked. However, in some ways their defensive efficiency numbers are misleading as they're 19th in passing success rate and 23rd in points allowed (28.1).
The Buccaneers have scored on a whopping 77.4% of their red-zone trips (24-of-31). And where do the Saints defense struggle? Inside the red zone, where they've allowed opponents to score on a league-worst 83.3% of their trips inside of their 20-yard line (20-of-24).
Much has been made of the Bucs' performance against the Giants on Monday Night Football last week, but the Saints are in a worse spot playing their second straight road game after an overtime victory against the Bears.
I took the Buccaneers to win the NFC South back in Week 3, when I realized how shaky this Saints defense was and how Drew Brees' inability to throw down the field would come eventually back to haunt them. This is the spot where they pay the price.
This is where the Buccaneers take control of the division and never look back.
[Bet now at PointsBet and get $125 if the Buccaneers gain a yard]


The Bucs are No. 1 overall in DVOA, but the Saints are not far behind at seventh and rank top-eight in all three facets (seventh on offense, eighth on defense, fifth on special teams).
The Bucs are getting Chris Godwin and Antonio Brown, but the Saints can match that with the returns of Michael Thomas and Emmanuel Sanders. This is a Bucs team on a short week that lost by 11 to the Saints in Week 1 and barely (wrongfully?) avoided overtime against the Giants on Monday night.
Sean Payton is 30-21-2 (59%) against the spread as a road underdog, and I love the Saints at anything more than a field goal in a game they could end up winning outright.
[Bet now at BetMGM and win $100 if a touchdown is scored]
You never really know when it will be our last battle of Brady and Brees. The two of them are approximately 117 years old combined, and in a bit of a twist, it is Brees who looks older and fading this season.
Somehow, New Orleans feels both overrated and underrated all at once.
Many tabbed the Saints as the best team in the NFC coming into the season, and they clearly haven't been that. They haven't been bad, or even average, but they've never been great. Just good. The defense? Good. The offense? Good enough. Drew Brees? Good if he's getting the ball to Alvin Kamara, which is good enough considering Brees has been missing all of his weapons.
Only one team in the NFL ranks top-eight in DVOA on offense, defense and special teams: The Saints. Actually, only one other team even ranks top-eight on both offense and defense — and it's the Bucs. Tamps sits No. 1 in defensive DVOA and No. 1 1 overall, even after that tepid showing Monday against the terrible Giants.
Todd Bowles has this Buccaneers defense flying all over the place, and they've been especially good against running backs. They needs this win badly. They already lost to the Saints in Week 1, and as good as the Bucs have been, they have two losses already. A third loss here costs them the division tiebreaker and also gives them a steep climb to contend for the NFC's 1-seed and the conference's only bye, which will be badly needed for Brady.
Still, I can't shake the feeling that this will be a classic Sunday night battle with Brees vs. Brady coming down to the final possession. New Orleans has won four in a row against Tampa by an average of 12.3 points, including a Week 1 win by 11 points. The Bucs were the better team in that game but lost the turnover battle 3-0, including a pick-six.
The Bucs can't settle for a moral victory this time — they need the W, but the Saints have had their number, and Brees will get the ball out quickly to his playmakers against this very aggressive defense. And don't forget, Thomas is back too.
At more than a field goal, this line feels too high. I would lean toward the Bucs straight up because they've been better, but this game feels very coin-flippy. Down to 3.5, I'm gladly taking the free points and sitting back to enjoy this game.
[Bet now at BetMGM and win $100 if a touchdown is scored]

I bet under 52 earlier in the week and like it at anything over 50. Yes, I'm aware that all seven Saints games have gone over the total this season, but I'm betting on that streak ending Sunday night for a variety of reasons.
There is a weather component that should have some impact on the passing game (and potentially field goals). The forecast is calling for 20 mph winds, which could have a large impact on two 40-plus-year-old arms.
Plus, neither offense has really been that explosive, so you can expect some long drives. (Interestingly, Brady and Brees are two of only three quarterbacks in NFL history to finish a season with a QB Rating higher than 100 after the age of 40. Brett Favre is the other.)
The decline in Brees' arm strength has been pretty obvious to the naked eye this season and he's now dealing with a shoulder injury. Even if Thomas returns as expected, this offense will still feature Kamara and short passes. Well, that plays right into the strength of Tampa's defense, which is elite defending the run (No. 1) and short passes (No. 2).
Additionally, neither team is a speed racer — when it comes to situational-neutral pace, the Bucs rank in the middle of the pack while the Saints sit in the bottom-five of the league.
If you're into trends, the second meeting between division teams in windy conditions has historically been a cash cow. I just like the match up between top-five run defenses with downfield passing potentially limited by the weather — even if both Chris Godwin and Thomas both play.
I'm also expecting some positive regression to work in New Orleans' favor when it comes to penalty yards and red-zone defense. The Saints are dead-last in penalty yard differential and rank 32nd in red-zone defense. They've allowed a league-high 83.33% red-zone touchdown percentage, which should come crashing down very shortly, potentially starting against a Bucs offense that will likely not be able to sustain their gaudy red-zone touchdown scoring percentage.
I just hope Brees stays healthy throughout the game so we don't see Jameis Winston against his old team. While that would be extremely entertaining, it would not be ideal for the under.
[Bet now at PointsBet risk-free up to $250]

Mike Randle: Leonard Fournette Over 34.5 Rush Yards
Ronald Jones had multiple opportunities to solidify his role in Tampa Bay's backfield during Fournette's absence. However, as we enter a critical battle against the Saints, it appears Fournette has again surpassed Jones.
Fournette has outperformed Jones with 45 more rushing yards and 41 more receiving yards since his Week 7 return. After Jones lost a critical fumble against the Giants, Fournette saw 16 more touches over the rest of the game.
In the battle for first place in the NFC South, it is likely that head coach Bruce Arians will favor the more experienced and accomplished Fournette — he's a superior pass catcher, and is averaging the same 4.5 yards per carry as Jones.
New Orleans has a strong run defense, but Jones almost doubled this rushing total in the Buccaneers first meeting with the Saints in Week 1.
This line reflects a 50/50 time share that does not exist with a completely healthy Fournette. In a Sunday might game with a total higher than 50 points, there will be plenty of opportunities to eclipse this low total. I'm taking the over at 34.5 rushing yards and would do so up to 39.5.
How would you rate this article?