NFL Offenses with New Play Callers to Target (Or Avoid) in Fantasy Football
Credit:
Mark J. Rebilas-USA TODAY Sports. Pictured: Kyler Murray, Kliff Kingsbury
Ian Hartitz analyzes which NFL offenses to target (or avoid) in fantasy football as a result of new play callers.
He covers the Bengals, Broncos, Buccaneers, Cardinals, Cowboys, Dolphins, Falcons, Jaguars, Jets, Lions and Packers.
Coaching changes are common in the NFL. This is particularly true at the coordinator level, where coaches who do their job well typically get head coaching offers sooner than later.
Shockingly, only three offensive coordinators have been with their current team for more than one year (per Warren Sharp). Not many teams appear to still adhere to the idea that coaches need multiple years to make a radical difference: There are eight head coaches, 17 offensive coordinators and nine defensive coordinators that have joined new teams for the 2019 season.
Let's break down what to expect from the NFL's new play-callers, from both a real-life and fantasy football perspective.
Be sure to also check out the rest of our three-part coaching series:
---
Offensive Coaching Changes
There are a few teams with new offensive coordinators that we'll leave out of this analysis.
The Houston Texans promoted tight ends coach Tim Kelly to offensive coordinator, but head coach Bill O'Brien is expected to continue to call plays. New Browns head coach Freddie Kitchens will also continue to call plays despite the addition of ex-Buccaneers offensive coordinator Todd Monken.
There also isn't much reason to expect copious change from former Titans tight end coach Arthur Smith, former Redskins quarterback coach Kevin O'Connell, former Ravens tight ends coach Greg Roman nor former Vikings quarterbacks coach Kevin Stefanski, all of whom were promoted to be their  respective team's offensive coordinators.
That leaves us with the following 11 teams that are expected to have new play-callers in 2019.
Arizona Cardinals
Former play-callers: Mike McCoy, Byron Leftwich
New play-caller: Kliff Kingsbury
Points per game in 2018: 14.1 (32nd)
Yards per play in 2018: 4.3 (32nd)
Overall offensive DVOA ranking (Football Outsiders): 32nd
Pass DVOA ranking: 32nd
Rush DVOA ranking: 31st
New head coach Kliff Kingsbury will attempt to install the NFL's first fully-functioning air raid offense. His system was incredibly productive at Texas Tech, especially in 2015 and 2016 with Patrick Mahomes leading the way.
Texas Tech's Points Per Game with Kliff Kingsbury
2018: 37.3 (16th)
2017: 34.3 (23rd)
2016: 43.7 (fifth)
2015: 45.1 (second)
2014: 30.5 (54th)
2013: 35.8 (24th)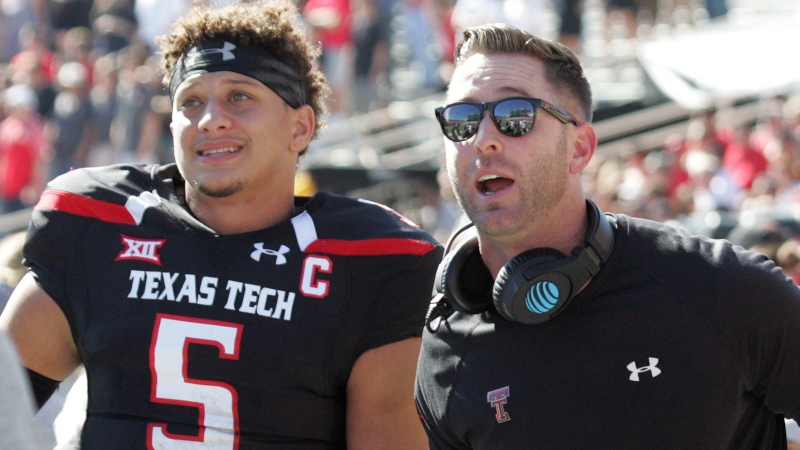 Kingsbury has handpicked Kyler Murray as the quarterback to lead the air raid revolution. The 2018 Heisman Trophy winner set the NCAA record for passing efficiency in a season by averaging 10.4 yards per attempt. He also demonstrated an incredibly fantasy-friendly ability to dice defenses up on the ground and down the field.
Don't expect Murray's transition to the NFL to take very long in this offense.
David Johnson has the looks of a top-five fantasy back (again). Per NFL.com's Graham Barfield, Texas Tech running backs were 10th in college football in receptions (4.8 per game) during Kingsbury's last three seasons.
Saquon Barkley (83% snaps), Christian McCaffrey (91%), Ezekiel Elliott (83%) and Johnson (80%) were the only running backs to play at least 80% of their offense's snaps in 2018, so slightly more creative usage of DJ's dual-threat talents would go a long ways toward a huge season for the workhorse back.
Then we have the Cardinals' suddenly-deep receiving group.
The 35-year-old Larry Fitzgerald will try to fend off Father Time for another year, but rising second-year receiver Christian Kirk joins rookies Andy Isabella, Hakeem Butler and Keesean Johnson as viable weapons inside of Kingsbury's 4-WR heavy offense. It's unclear whether tight end Ricky Seals-Jones will ever be fully unleashed following the front office's decision to sign both Charles Clay and Maxx Williams.
It remains to be seen if Kingsbury will be able to make a successful NFL transition, but the parallels between the 2019 Cardinals and 2017 Rams during Sean McVay's first season in Los Angeles are tough to ignore. Texas Tech led the FBS in snaps per game during Kingsbury's six years as head coach (per Evan Silva), which should help the chances of the team's still-growing offensive line to slow down opposing pass rushes.
Expectations are fairly high for the 2019 Cardinals, and they should be. The defense will have to live without Patrick Peterson (suspension) for the first six games of the season, but there's enough talent on the offense and in the coaching staff to make this a very fantasy-friendly team.
Atlanta Falcons
Former play-caller: Steve Sarkisian
New play-caller: Dirk Koetter
Falcons PPG in 2018: 25.9 (10th)
Yards per play: 6.2 (fifth)
Overall offensive DVOA ranking: Eighth
Pass DVOA ranking: Seventh
Rush DVOA ranking: 22nd
Koetter served as offensive coordinator in Atlanta from 2012 to 2014 before spending the past four seasons as the head coach in Tampa Bay. The Falcons wasn't quite as prolific with Koetter calling plays as they were with Kyle Shanahan, but they were still fairly dominant over that stretch.
2012: 26.2 PPG (seventh); 5.8 YPP (sixth)
2013: 22.1 PPG (20th); 5.4 YPP (14th)
2014: 23.8 PPG (12th); 5.8 YPP (eighth)
There isn't much reason to expect a huge change from Matt Ryan considering he's only experienced a major bump in efficiency with Shanahan calling plays.
Ryan is coming off the second-best season of his career in virtually every statistical category, so it's fair to believe he match or improve his previous QB7, QB15 and QB7 finishes with Koetter from 2012 to 2014.
Koetter might not be bad news for the Falcons' passing game, but their rushing attack could be a different story: Seven of Koetter's last eight offenses have ranked among the league's bottom 12 in yards per rush.
It seems likely that Devonta Freeman will share at least some of the workload with Ito Smith, as only Peyton Barber in 2017 (254 touches) and Doug Martin in 2015 (321) managed to surpass 250 combined rush attempts and receptions during Koetter's past seven seasons calling plays.
As long as Julio Jones remains completely unguardable, it shouldn't be too hard for Koetter to feed the wide receiver targets…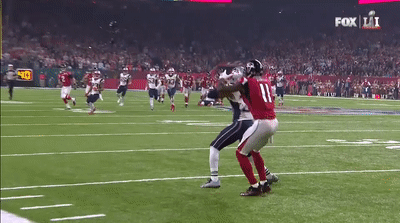 …but it remains to be seen if there will be enough volume for Calvin Ridley, Mohamed Sanu and/or Austin Hooper to further improve in 2019. Koetter's top-three receivers averaged 149, 90 and 89 targets over the past three seasons.
There's plenty of reason for optimism around the 2019 Falcons due to both their schedule — they could play 13 games indoors — and returning cast of playmakers. Both the Falcons' and Buccaneers' offenses already ranked among the league's fastest and most pass-heavy units last season, so we shouldn't expect a massive shift in scheme or production.
---
Cincinnati Bengals
Former play-caller: Bill Lazor
New play-caller: Zac Taylor
Bengals PPG in 2018: 23 (17th)
Yards per play: 5.3 (24th)
Overall offensive DVOA ranking: 19th
Pass DVOA ranking: 18th
Rush DVOA ranking: 14th
Don't tell anybody, but the Bengals were quietly pretty damn good during the first half of last season.
Alas, Marvin Lewis and the rest of the coaching staff are gone after 16 years without a playoff victory. New head coach Zac Taylor and offensive coordinator Brian Callahan are tasked with turning the ship around after serving as the Rams and Raiders quarterbacks coach in 2018, respectively.
Taylor will call plays. It's tough to take too much away from either him or Callahan considering neither has ever been a head coach or offensive coordinator.
There are certainly some trends their old teams exhibited that would be great to see implemented in Cincinnati…
…but it remains to be seen exactly how much Taylor and Callahan will be changing the Bengals' already effective offense.
The two schematic areas in which the Rams offense has really stood out during the McVay era is with pace and reliance on play action. Increasing both of these factors could theoretically help Andy Dalton and the offense reach new heights in 2019, although last year's version of the Bengals offense was already a fairly fast-moving unit that utilized plenty of play action.
Situation neutral pace: Bengals No. 12; Rams No. 3
Play-action percentage: Dalton 27.4% (No. 10); Goff 35.8% (No. 2)
The Bengals did their best to bolster the big uglies up front this offseason, drafting Alabama offensive tackle Jonah Williams with the No. 11 overall pick and later grabbing Ohio State guard Michael Jordan in the fourth round. They also brought in John Miller from the Bills on a multi-year deal and extended right tackle Bobby Hart.
Even a moderately better schematic plan combined with improved injury luck could make the Bengals an upper-tier offense in the AFC.
---
Dallas Cowboys
Former play-caller: Scott Linehan
New play-caller: Jason Garrett and Kellen Moore
Cowboys PPG in 2018: 21.2 (22nd)
Yards per play: 5.4 (21st)
Overall offensive DVOA ranking: 24th
Pass DVOA ranking: 26th
Rush DVOA ranking: 18th
Long-time head coach Jason Garrett will apparently let former Cowboys quarterback turned quarterbacks coach turned offensive coordinator Kellen Moore call plays. Still, it'd be surprising if Garrett didn't maintain some level of input for the first time since 2012 while he's on the hot seat.
We shouldn't expect Dak Prescott and Co. to suddenly resemble the Tony Romo-led offenses that Garrett oversaw a decade ago, but perhaps we could see a more isolated target share considering how often the Cowboys managed to feed two pass-game options over that stretch.
Dez Bryant (159 targets) and Jason Witten (111) continued their triple-digit target streak in 2013, but Dallas hasn't had two receivers with at least 100 targets in each of the past five years.
There are three marquee fantasy football assets on the Cowboys:
Dak Prescott, who joins Drew Brees as the only signal-callers to post top-10 fantasy seasons in each of the past three seasons.
Ezekiel Elliott, who remains one of the league's true workhorse backs and is coming off an overall RB5 PPR finish.
Amari Cooper, who looked a whole lot like a bona fide No. 1 wide receiver during his audition with the Cowboys last season and has the talent to be a fantasy football star in 2019.
And then there's Michael Gallup, who finished last season with just 68 targets in 16 games. Prescott will certainly feed plenty of balls to Zeke, Cooper and back-in-action Jason Witten, but don't underestimate the possibility that Gallup ultimately emerges as the offense's No. 2 pass-game weapon.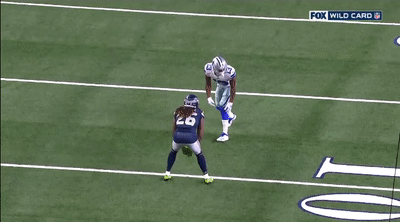 Still, don't expect the 2019 Cowboys to stop trying to control the game by running the football and playing excellent defense.
---
Denver Broncos
Former play-caller: Bill Musgrave
New play-caller: Rich Scangarello
Broncos PPG in 2018: 20.6 (24th)
Yards per play: 5.5 (19th)
Overall offensive DVOA ranking: 14th
Pass DVOA ranking: 24th
Rush DVOA ranking: Fifth
New offensive coordinator Rich Scangarello has worked under Kyle Shanahan for the better part of past four years with the Falcons and 49ers, so he's certainly familiar with the art of deploying committee. That would be consistent with the Broncos' current three-headed backfield featuring Phillip Lindsay, Royce Freeman and Devontae Booker.
Things are a bit dicey after that.
There's certainly plenty of speed in the Denver offense…
…but we shouldn't dismiss the idea that the 2019 Broncos might not be very good.
Former starting quarterback Case Keenum posted better marks in yards per attempt (6.9 vs. 6.2), touchdown rate (3.5% vs. 3.1%) and quarterback rating (86 vs. 82.6) than new starter Joe Flacco over the past three seasons.
Flacco hasn't even been an average quarterback for the better part of the past half decade:
Adjusted yards per attempt: 6.04 (43rd among 49 QBs with at least 16 starts from 2013 to 2018)
TD Rate: 3.5% (38th)
QB Rating: 82.3 (39th)
The continued recovery of Emmanuel Sanders (Achilles) leaves the offense without a true No. 1 receiver. We shouldn't underestimate the possibility that 2019 first-round pick Noah Fant becomes Flacco's primary target.
The Broncos look a lot like a potential low-scoring offense led by an aging and below-average quarterback with unproven receivers and a committee backfield. Believe it or not: This isn't the type of situation we should target in fantasy football.
---
Detroit Lions
Former play-caller: Jim Bob Cooter
New play-caller: Darrell Bevell
Lions PPG in 2018: 20.3 (25th)
Yards per play: 5.1 (27th)
Overall offensive DVOA ranking: 23rd
Pass DVOA ranking: 22nd
Rush DVOA ranking: 25th
New offensive coordinator Darrell Bevell was out of football in 2018, but spent 2006-2010 as the Vikings offensive coordinator then 2011-2017 as the Seahawks offensive coordinator. Bevell led above-average scoring offenses, ranking inside the league's top-12 scoring units seven times over that span.
The biggest change to expect in the Lions' passing game could be an added emphasis on the deep ball. Overall, Russell Wilson posted four seasons with a top-10 deep-ball rate from 2012 to 2017 under Bevell while Matthew Stafford has ranked 17th, 23rd, 33rd, 35th, 25th, 13th and 30th over the past seven years.
This is good news in an offense featuring two wide receivers as talented as Kenny Golladay and Marvin Jones.
Golladay could enter 2019 as an undervalued fantasy football option considering his demonstrated elite ability to win contested-catch situations.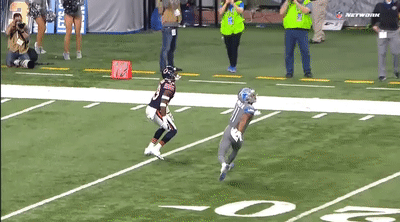 Bevell's presence might be best for the fantasy stock of Kerryon Johnson.  Former Lions offensive coordinator Jim Bob Cooter had the best name in all of coaching, but he wasn't exactly the best at enabling fantasy-friendly running backs. The Lions ranked 30th, 31st, 31st and 18th in rush attempts in his four years calling plays from 2015 to 2018.
Bevell has ranked inside the league's top-10 most run-heavy play-callers in seven of his 12 seasons as an OC since 2006, and seemed to make a concerted effort to get his lead back plenty of touches over the years
ESPN's Matthew Berry reported after the combine that his sense from Patricia and Bob Quinn is "that they were pretty clear they do not intend to give [Johnson] a feature-back role and that both believe in multiple backs." Still, Johnson has enough talent to still be a viable fantasy football asset with even an above-average workload.
The Lions' decision to trade Golden Tate during the 2018 season reflects their current direction of forming a run-first offense that isn't afraid to take shots downfield. The key question is whether Stafford can play at a level befitting of his price tag and elevate some of his talented teammates.
Green Bay Packers
Former play-callers: Mike McCarthy, Joe Philbin
New play-caller: Matt LaFleur
Packers PPG in 2018: 23.5 (14th)
Yards per play: 5.8 (11th)
Overall offensive DVOA ranking: Seventh
Pass DVOA ranking: 12th
Rush DVOA ranking: Third
The Packers' somewhat-messy divorce with Mike McCarthy resulted in former Rams and Titans offensive coordinator Matt LaFleur becoming the franchise's new head coach. LaFleur also spent time with Kyle Shanahan and the Falcons from 2015 to 2016 as Matt Ryan's quarterbacks coach.
LaFleur has only called plays for the 2018 Titans, as Sean McVay handled that duty when they were both on the Rams in 2017.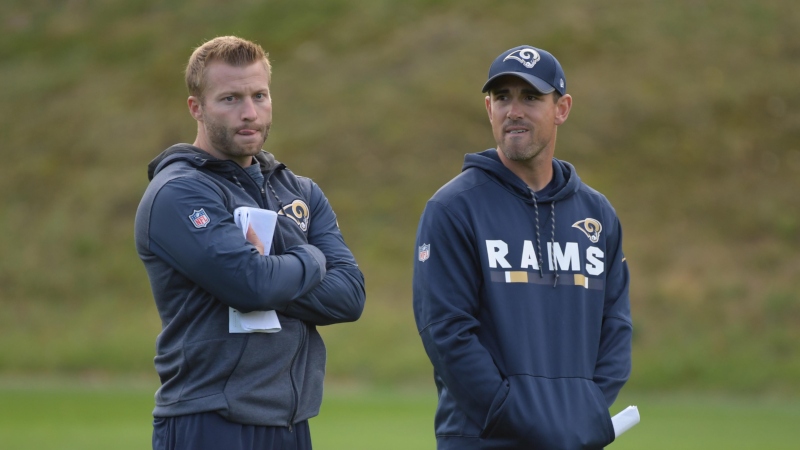 The Titans certainly didn't benefit from Marcus Mariota's persistent nerve injury last season that impacted his ability to throw the ball with appropriate velocity. Still, the unit was pretty much worse in every available offensive metric compared to the Packers in 2018.
Titans PPG in 2018: 19.4 (27th)
Yards per play: 5.3 (26th)
Overall offensive DVOA ranking: 22nd
Pass DVOA ranking: 25th
Rush DVOA ranking: 11th
LaFleur will be joined by former Bills and Jaguars offensive coordinator Nathaniel Hackett. They'll be tasked with making sure Aaron Rodgers' "down" year in 2018 was nothing more than a blimp on the radar. Of course,  it's tough to complain too much about a guy who just threw 25 touchdowns vs. two interceptions while ranking as one of only eight quarterbacks with at least 8.0 adjusted yards per pass attempt.
A big change we could see in the Packers offense is a trend toward more play-action passes. Overall, LaFleur's offenses ranked fifth and third in play-action rate over the past two seasons, while Rodgers hasn't ranked inside of the top-30 quarterbacks in percentage of play-action passes since 2014.
You would think LaFleur would decide to lean on Rodgers more than Mariota, but it's worth mentioning the Packers finished first in 2018 in pass-play rate (67.5%) while the Titans finished 31st (51.5%).
The backfield (unfortunately) appears to be headed toward another committee system featuring Aaron Jones and Jamaal Williams.
The front office's curious decision not to add additional weapons to the receiving corps means we should expect starting 3-WR sets to consist of Davante Adams and either Geronimo Allison, Marquez Valdes-Scantling or Equanimeous St. Brown. My money is on Adams and Allison starting the season as the offense's outside receivers with MVS working from the slot. Jimmy Graham figures to be moderately involved as well.
Adams deserves mention among the league's best wide receivers, particularly in the red zone.
I'm also intrigued by Allison's potential. Rodgers has only averaged double-digit adjusted yards per attempt to Jordy Nelson (11.2 AY/A) and Allison (10.1) throughout his career among the 20 players the quarterback has targeted at least 50 times.
The 2018 Packers weren't a very good team. Their ability to regain their status as one of the NFC's premier contenders will come down to Rodgers' ability to gel well with LaFleur, as well as the defense's ability to level up thanks to its plethora of high-priced offseason additions.
Jacksonville Jaguars
Former play-caller: Nathaniel Hackett
New play-caller: John DeFilippo
Jaguars PPG in 2018: 15.3 (31st)
Yards per play: 4.8 (30th)
Overall offensive DVOA ranking: 30th
Pass DVOA ranking: 30th
Rush DVOA ranking: 21st
The Jaguars are going through a bit of an identity crisis, as bell-cow back Leonard Fournette can't keep himself out of the organization's doghouse, and Nick Foles will take the place of Blake Bortles.
The good news is new offensive coordinator John DeFilippo has a history of success with Foles dating back to their time together in Philadelphia.
Foles has had an up-and-down career, but things have been mostly positive as long as Jeff Fisher wasn't his coach: Foles has posted a 63% completion rate and averaged 7.3 yards per attempt with a 61-to-23 touchdown-to-interception ratio in 43 career games without Fisher roaming the sideline.
With Fisher? A 56% completion rate, an average of 6.1 yards per attempt and a 7-to-10 TD-to-INT ratio in 11 games. Sheesh.
Of course, Foles has saved his best football for January and February. He's 4-2 in six career playoff games and has posted a sterling 68% completion rate and 11-to-5 TD-INT ratio. His average of 7.78 yards per attempt in the playoffs is the sixth-highest mark among 30 signal-callers with at least five postseason starts over the past 20 years.
Dede Westbrook is probably the favorite to secure No. 1 receiver duties from the slot, but Marqise Lee, DJ Chark and Keelan Cole also figure to be plenty involved.
This is all good news for the Jaguars considering  DeFilippo served as Foles' quarterbacks coach during his apex in 2016 and 2017 with the Eagles.
The bad news is DeFilippo wasn't very successful in his previous stint as offensive coordinator with the Browns in 2015:
Browns PPG in 2015: 17.4 (30th)
Yards per play: 5.1 (29th)
Overall offensive DVOA ranking: 27th
Pass DVOA ranking: 27th
Rush DVOA ranking: 19th
… or with the Vikings last season:
Vikings PPG in 2018: 22.5 (19th)
Yards per play: 5.5 (18th)
Overall offensive DVOA ranking: 18th
Pass DVOA ranking: 16th
Rush DVOA ranking: 28th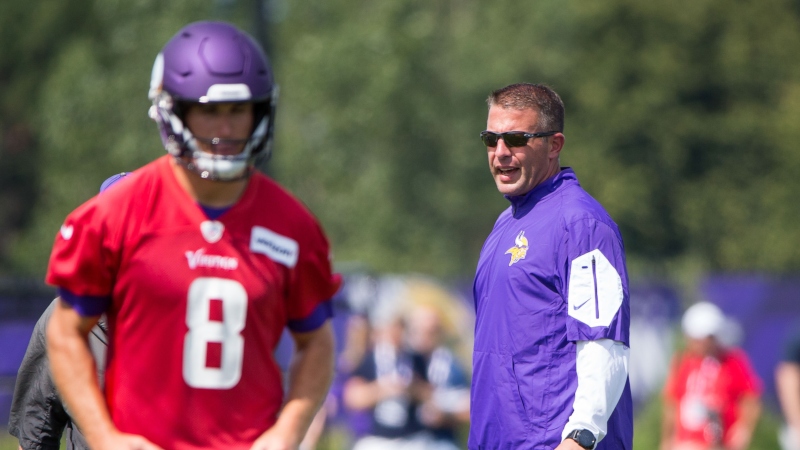 The real question for DeFilippo's new offense is just how much they'll lean on Foles' arm. The Vikings ranked fourth in pass-play rate (64.4%) in 2018 and fired DeFilippo after Week 14 in part because of his distaste for running the ball. The Jaguars have ranked 18th (58.6%) and 32nd (50.5%) in pass-play rate since drafting Fournette with the No. 4 pick of the 2017 draft.
I'm done betting against Foles at this point, but it would be a surprise if the Jaguars turn out to be anything other than an average to below-average offense in 2019.
---
Miami Dolphins
Former play-caller: Adam Gase
New play-caller: Chad O'Shea
Dolphins PPG in 2018: 19.9 (26th)
Yards per play: 5.3 (25th)
Overall offensive DVOA ranking: 26th
Pass DVOA ranking: 27th
Rush DVOA ranking: 15th
The Adam Gase era in Miami produced 23 wins, 25 losses and essentially zero offensive explosions. Overall, only the Bengals (81 consecutive games) have a longer active streak without scoring at least 40 points than the Dolphins (58).
The team's new play-caller is a bit of an unknown commodity, as long-time Patriots wide receivers coach Chad O'Shea will be the man tasked with getting the most out of the Dolphins' sneaky-fast offense.
O'Shea should at least be familiar with what to do with big-and-athletic tight ends who can catch like receivers. This is great news for 2018 second-round pick Mike Gesicki, who is what a group of scientists would come up with in a lab if they wanted to create a freakishly-athletic tight end.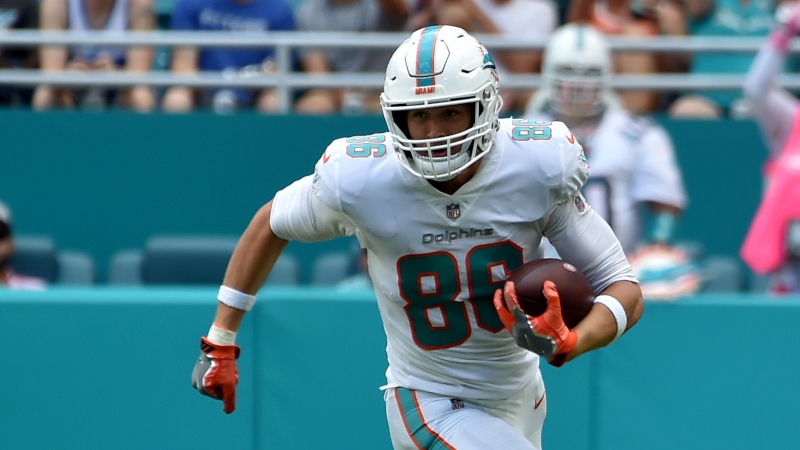 Gesicki posted a 4.54-second 40-yard dash (10th among all tight ends over the past 10 years), 41.5-inch vertical (third), 10-foot-9 broad jump (sixth), 6.76-second 3-cone drill (third) and a 4.1-second 20-yard shuttle (third). He played only 37% of his snaps in the slot or out wide in 2018, so a more receiving-friendly role combined with an overall increase in snap share could lead to some boom-or-bust fantasy goodness in 2019.
It's unclear exactly how long the Dolphins will start Ryan Fitzpatrick instead of Josh Rosen. But is either signal-caller even capable of elevating a team that seems to already punted on the idea of competing in 2019?
The one man who could overcome a potentially dreadful Dolphins offense is the ever-electric Kenyan Drake, but the Patriots don't exactly have a history of handing their running backs a three-down workload.
One can dream about Drake getting 250-plus touches in a season, but it probably won't happen in 2019. Kalen Ballage is plenty competent to warrant a committee approach and there's a (small) possibility that seventh-round picks Chandler Cox or Myles Gaskin could compete for touches at some point.
The biggest change in Miami could be the pace of the offense. The Dolphins ranked 31st, 29th and 31st in situation neutral pace over the past three seasons, while the Patriots ranked first, second and sixth.
The Dolphins' 2019 ceiling is likely as an underrated and fun offense that participates in a few high-scoring shootouts thanks to their potentially dreadful defense.
---
New York Jets
Former play-caller: Jeremy Bates
New play-caller: Adam Gase
Jets PPG in 2018: 20.8 (23rd)
Yards per play: 4.9 (29th)
Overall offensive DVOA ranking: 28th
Pass DVOA: 28th
Rush DVOA: 30th
The Jets don't have the look of a functional organization considering they fired general manager Mike Maccagnan after allowing him to direct the team throughout free agency and the draft.
This means former Dolphins head coach Adam Gase is now the leading man inside the walls of the Jets' facilities. What exactly Gase did to deserve all of this power remains a bit unclear.
Rumors have circulated that Gase "absolutely did not want to sign Le'Veon Bell" due to his desire to not spend big money on any running back. This is a fair point, but it would be a bit embarrassing for Gase if he can't figure out a way to utilize Bell's unique skill set regardless of how he feels about the playmaker's salary.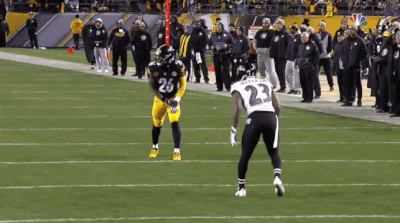 Still, Gase's tenure with the Jets will ultimately be defined by his ability to mold Sam Darnold into a franchise quarterback. Everything else is small potatoes.
It remains to be seen who Gase will look to feature as Darnold's No. 1 target. Bell is certainly a viable candidate, but the team's other high-priced free agent acquisition should probably be considered the favorite: Jamison Crowder's deal is a three-year contract worth $28.5 million that includes $17 million guaranteed. That type of deal — for better or worse — indicates that the former fourth-round pick will have a significant role in the Jets offense.
This wouldn't be the first time Gase featured a slot receiver in his offense…
…but Robby Anderson, Quincy Enunwa and tight end Chris Herndon also figure to be plenty involved regardless of who ultimately leads the team in targets.
I'm hesitant to back anyone involved in such a dysfunctional organization with a coach known for alienating previously-viable fantasy assets and running a slow offense. Still, Darnold is capable of making all of these potential issues into non-problems if he can grow into the type of franchise quarterback he was drafted to be.
Tampa Bay Buccaneers
Former play-callers: Dirk Koetter, Todd Monken
New play-callers: Bruce Arians, Byron Leftwich
Buccaneers PPG in 2018: 24.8 (12th)
Yards per play: 6.3 (fourth)
Overall offensive DVOA ranking: 12th
Pass DVOA ranking: Ninth
Rush DVOA ranking: 24th
The Buccaneers deployed one of the league's most efficient passing attacks last season, but they ultimately couldn't survive the league's 31st-ranked scoring defense.
Jameis Winston and Ryan Fitzpatrick also deserve some blame for their lackadaisical attitude toward taking care of the ball, as only the 49ers (-25) had a worse turnover differential than the Buccaneers (-18).
There's plenty of optimism in Tampa Bay despite last season's disappointing 5-11 campaign thanks to the presence of new head coach Bruce Arians, who led three top-10 scoring offenses (2007 Steelers, 2015 and 2016 Cardinals) over his 14 years as an offensive coordinator or head coach in the NFL.
Arians' most recent stint with the Cardinals produced some fantasy football magic, although this wasn't a reality during each of his five seasons with them.
Still, the renowned quarterback whisperer is apparently working with one he loves, as Arians was quick to gush over Jameis Winston shortly after accepting the job back in January:
"I feel like I've got a great feel for him, his excitement for the game. His willingness to work is unbelievable. He's in the office at 5 o'clock in the morning. … The whole thing is going to be built around him. I think he can win it all. I mean, he has the intelligence, the toughness, and obviously the arm, ability to lead a team."
The arrow is pointing up for Mike Evans, Chris Godwin and O.J. Howard. Godwin could benefit from the coaching change if Arians and Co. ultimately use him as the offense's primary slot receiver.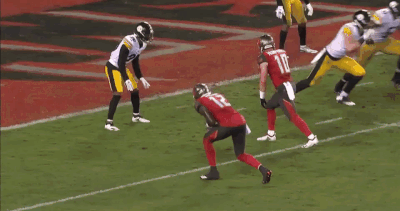 The backfield is a crapshoot with neither Ronald Jones nor Peyton Barber providing much else other than a pulse in 2018. Arians enabled David Johnson to great fantasy football heights in the past, but neither RJ nor Barber possess anything resembling a complete three-down skill set.
Arians' "no risk it, no biscuit" mentality will be welcome by Winston considering the quarterback has already established himself as one of the league's most fearless gunslingers.
But it remains to be seen whether Arians and Winston can translate inevitable success through the air into wins. The inevitable plethora of deep balls should at least make the experiment entertaining for better and for worse.
How would you rate this article?