Post-Free Agency NFL Player Props: Picks for Baker Mayfield, DeSean Jackson, More
Credit:
USA Today Sports. Pictured: Baker Mayfield, DeSean Jackson
Many players have signed with or been traded to new teams in the first few days of NFL free agency.
Matthew Freedman breaks down the 2019 props for all the skill-position players with new situations.
The 2019 NFL calendar year has opened with a whirlwind of free-agent signings and landscape-altering trades.
With these moves, sportsbooks have released 2019 props for players in new situations. For some of the big-name players, I've written individual pieces.
Of the remaining player props in the market, here are the ones that have caught my eye.
For daily performance-based player props, follow me in The Action Network app.
Baker Mayfield Props
4,200.5 passing yards: Over -115, Under -115
29.5 touchdown passes: Over -115, Under -115
15.5 interceptions: Over -115, Under -115
In his 13 starts last year as a rookie, Mayfield passed for 3,524 yards and 27 touchdowns with 14 interceptions, which would give him 4,337.2 yards, 33.2 touchdowns and 17.2 interceptions extrapolated over 16 games.
I expect him to be even better as a second-year professional, especially with the addition of wide receiver Odell Beckham Jr. and offensive coordinator Todd Monken.
Before he really declined, Giants quarterback Eli Manning averaged 4,289.7 yards, 30.3 touchdowns and 14.7 interceptions per year in 2014-16, when Beckham played 14.3 games per season.
If the aging Eli could hit those marks with OBJ, there's little reason to think that Mayfield won't.
And last year, Monken's Buccaneers offense was first and third in the league with 5,125 yards and 36 touchdowns passing. It also had an NFL-worst 26 interceptions, but I expect Mayfield to be more accurate than the gun-slinging Jameis Winston and Ryan Fitzpatrick.
THE PICKS: Over 4,200.5 yards (-115); Over 29.5 touchdowns (-115); Under 15.5 interceptions (-115)
Nick Foles Props
3,500.5 passing yards: Over -115, Under -115
21.5 touchdown passes: Over -115, Under -115
12.5 interceptions: Over -115, Under -115
Never in his career has the new Jaguars quarterback passed for even 3,000 yards in a season. In his strong 2013 campaign, when he led the league with 10.5 adjusted yards per attempt, Foles had just 2,891.
At the same time, only once has he started more than 10 games in a season: He set his career-high mark of 11 starts in 2015 with the hapless Jeff Fisher-led Rams.
Foles should get more than 11 starts this season — I'm imagining 16 unless he suffers an injury — and Doug Marrone is probably better than Fisher.
In his four years as a head coach, Marrone's teams have been quarterbacked by E.J. Manuel, Thaddeus Lewis, Jeff Tuel, Kyle Orton, Blake Bortles and Cody Kessler. Half of these guys were so bad that I couldn't even remember they had been in the league.
And even with these quarterbacks, twice has Marrone's offense passed for more than 3,500 yards.
Foles is the best quarterback that Marrone has ever had.
In his 50 career starts (including playoffs), Foles' per-game averages prorate to 3,843.8 yards, 23.4 touchdowns and 11.8 interceptions over 16 games. In his 39 Fisher-less starts, he has prorated stats of 4,086.2 yards, 27.1 touchdowns and 11.1 interceptions.
I'm doubtful that Foles will be able to get over 21.5 touchdowns, because Marrone's offenses have surpassed that mark just once, the Jags are likely to run in the red zone with running back Leonard Fournette and the 2019 Jags won't score as prolifically as Foles' past non-Fisher teams.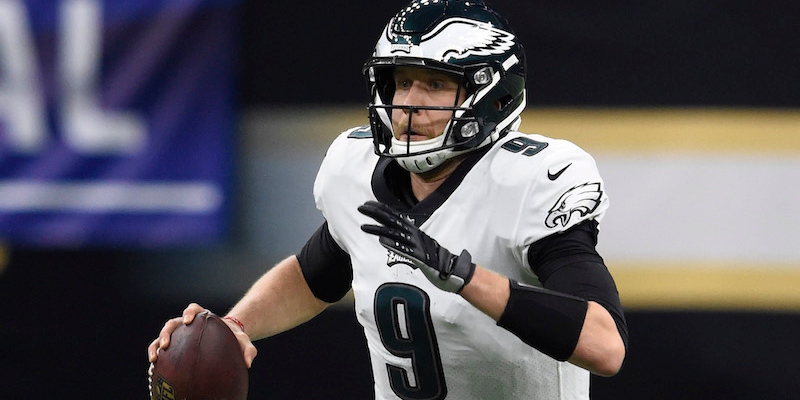 Additionally, all of Marrone's offenses have hit the over in interceptions with 13, 13, 13 and 15. But Foles tends to protect the ball with his 1.99% non-Fisher interception rate.
Even if Foles doesn't hit the over on touchdowns, he should be a steady player for the Jags.
THE PICKS: Over 3,500.5 yards (-115); Under 12.5 interceptions (-115)
Latavius Murray Props
725.5 rushing yards: Over -115, Under -115
6.0 total touchdowns: Over -115, Under -115
I expect running back Latavius Murray to play a lesser version of the 2017-18 Mark Ingram role in the Saints offense, at least as a rusher.
In his two seasons with the Vikings, Murray had 11.1 carries per game, which is comparable to the 11.5 Ingram has had over the past two years while splitting the backfield work with Alvin Kamara.
While Murray is highly unlikely to see the 3.1 targets per game Ingram got, he seems likely to receive a lot of the early-down, short-yardage and goal-line work that the Saints have previously given to Ingram.
I think 11.1 carries per game is a fair estimate, as is 4.1 yards per carry. That's what Murray had last year, and it's also his career average. Over the past four years he's had marks of 4.1, 3.9, 4.0 and 4.0.
Last year the Saints were second in the league with 5.19 adjusted line yards per attempt (per Football Outsiders), so it's possible that Murray could see a boost in rushing efficiency, but he's more a between-the-tackles grinder at this point of his career than a chunk-yardage runner.
Murray has played 16 games in each of the past two seasons, but he's now 29 years old, and in 2016 he missed two games. If we project him for 15 games, that would result in 684.2 yards rushing. And it's always possible that Murray could miss multiple games or see fewer than 11.1 carries per game.
But Murray's touchdown upside is intriguing, even if he misses some games.
He's never scored a receiving touchdown, so he shouldn't be counted on at all in a pass-catching capacity, but over the past four years, Murray has never had fewer than six touchdowns. With his size (6-foot-3, 230 pounds), Murray is built to score.
Similarly, over the past five years, Ingram has averaged 7.8 rushing touchdowns in 13.8 games per season. While sharing the backfield with Kamara, he's actually increased that number to 9.0 in 14 games per year.
I don't expect Murray to do a lot in helping the Saints get into the red zone, but once there, he's likely to get opportunities.
THE PICKS: Under 725.5 yards (-115); Over 6.0 touchdowns (-115)
DeSean Jackson Props
900.5 receiving yards: Over +115/-140, Under -140/+100
4.5 total touchdowns: Over -150, Under +120
Jackson at long last is once again a Philadelphia Eagle.
As Torrey Smith did in 2017, the 33-year-old speedster will likely play as a field-stretching supplement to wide receivers Alshon Jeffery and Nelson Agholor and tight end Zach Ertz. In his one season with the team, Smith averaged 4.6 targets across 19 games (including playoffs).
But Jackson is better than Smith. He's one of the best deep receivers in the league: Over the past five years, he's led the league in yards per reception three times. Over that span, he's had 6.2 targets per game — which seems like a reasonable but perhaps optimistic expectation for 2019.
Over the past half decade, Jackson has had a 57.1% catch rate and 17.8 yards per reception. His career marks are slightly lower (55.7% and 17.4), but I'm fine with using the higher averages for his projection.
Throughout his career, D-Jax has averaged 13.9 games per year. For the past five years, he's played 13.2 per year. Since his age-30 season in 2016, he's averaged 13.7. Not since 2013 — his last year in Philly — has Jackson played a full 16-game season.
If we assume that Jackson will play 14 games, our projection comes to 879.0 receiving yards — and that's with rather optimistic assumptions for games played, target volume, catch rate and yards per reception.
With the lines available at various sportsbooks, there's an opportunity for arbitrage by betting over at +115 and under at +100, but if I had to choose just one, I'd bet under.
As for the touchdowns, I'm inclined to take the under, especially at plus odds. In four of the past five years, he's had fewer than five touchdowns receiving, and although he did have a rushing touchdown last year and still occasionally returns punts, he's unlikely to score by any means other than the passing game.
Since 2014, D-Jax has 4.4 touchdowns per year. In HC Doug Pederson's offense, it's easy to imagine D-Jax hitting the over with a handful of long touchdowns, but I'm on the under.
THE PICKS: Over 900.5 yards (+115); Under 900.5 yards (+100); Under 4.5 touchdowns (+120)
Devin Funchess Props
650.5 receiving yards: Over -115, Under -115
4.5 total touchdowns: Over -130, Under +100
After four seasons of teasing and disappointing with the Panthers, Funchess has signed a one-year deal with the Colts, who last year saw the uninspiring Chester Rogers, Ryan Grant, Zach Pascal  and Dontrelle Inman combine for 209 targets, 143 receptions, 1,391 yards and eight touchdowns.
Over the past two years, Funchess has averaged 95 targets, 53.5 receptions, 694.5 yards and six touchdowns in 15 games per year.
In an offense led by quarterback Andrew Luck that ranked second with 644 pass attempts last season but lacked an established No. 2 wide receiver, Funchess should have every chance to surpass 100 targets, which would likely give him more than 700 yards receiving and six touchdowns.
THE PICKS: Over 650.5 yards (-115); Over 4.5 touchdowns (-130)
Cole Beasley Props
575.5 receiving yards: Over -115, Under -115
4.0 total touchdowns: Over -115, Under -115
For a guy who entered the league as an undrafted free agent, Beasley has had a very respectable career.
But with the Cowboys, he had the benefit of playing with quarterbacks Tony Romo and Dak Prescott for almost all of his games. With the Bills, he won't have it as good: In his 11 starts last year as a rookie, Josh Allen had a scattershot completion rate of just 53.4%.
Additionally, under Sean McDermott, the Bills have been the league's run-heaviest team, passing the ball on just 50.5% of their offensive plays.
Beasley's new situation is less than ideal.
On top of that, Beasley will be 30 when the season starts: He's near the point in his career when we should expect to see a decline in efficiency and number of games played.
If we give Beasley the benefit of projecting him with the numbers he's had over the past six years — 15.5 games, 4.6 targets per game, 71.4% catch rate and 10.3 yards per reception — that gives Beasley a 2019 projection of 523.8 yards.
And it's pretty optimistic to assume Beasley will hit all of those numbers.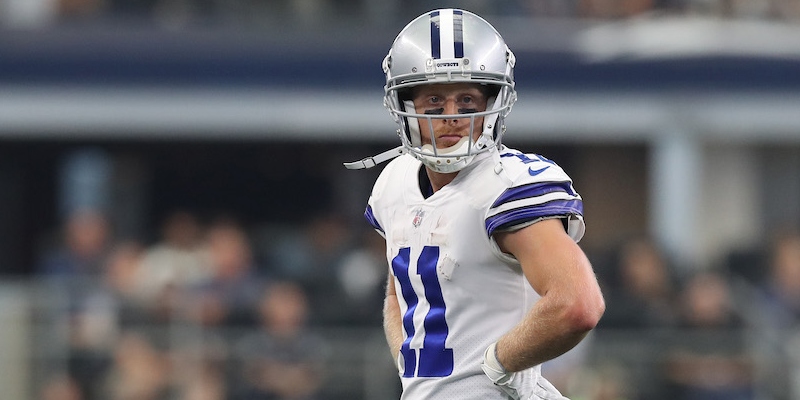 As for touchdowns, Beasley has averaged just 3.8 over the past six years in a respectable offense, and last year Allen had just 10 passing touchdowns in his 11 starts.
In fact, offensive coordinator Brian Daboll's systems have been among the least aerially impressive over the past decade. Daboll has coordinated for four different teams over five seasons: The 2009-10 Browns, 2011 Dolphins, 2012 Chiefs and 2018 Bills. Together, those teams have averaged just 13 passing touchdowns per year. Not once has a team of his had more than 20 touchdowns through the air.
With so few receiving scores to go around, it's easy to see how Beasley could hit the under.
THE PICKS: Under 575.5 yards (-115); Under 4.0 touchdowns (-115)
John Brown Props
625.5 receiving yards: Over -115, Under -115
4.0 total touchdowns: Over -115, Under -115
Joining Beasley with the Bills is Brown, who revived his career in 2018 with the Ravens. In his first two years in the league, Brown flashed with the Cardinals, putting up 696 yards as a rookie before breaking out with 1,003 yards as a sophomore.
Although Brown's 2016-17 campaigns were significantly impacted by leg issues stemming from his sickle-cell trait, he looked to have the situation under control last year, playing in all 16 games for the first time since his rookie year.
A speedster, Brown will likely serve as the primary deep threat for Allen.
#Bills WR John Brown: There aren't quarterbacks who I would say could overthrow me but Josh Allen can.

Allen was the first person to call me from the Bills when I signed.

— Josh Reed (@4JoshReed) March 14, 2019
While Allen is yet to prove himself an accurate passer, he has a strong arm, and he did display a late-season deep-ball connection with Robert Foster, an undrafted rookie wide receiver who had 511 yards and three touchdowns in the final seven games, when he started regularly playing in three-receiver sets.
I'd expect some of Allen's affinity for and chemistry with Foster to transfer over to Brown.
In Brown's three healthy seasons, he's averaged 15.7 games, 6.4 targets per game, a 51.7% catch rate and 15.6 yards per reception. Not once in those years has Brown had fewer than 696 yards and five touchdowns.
But let's assume that maybe Brown misses a couple of games, and his numbers drop to 6.0 targets per game, a 50% catch rate and 15.0 yards per reception. Even in those circumstances, he would still have 630 yards receiving.
I'll pass on the touchdown prop because offensive coordinator Brian Daboll's offenses have historically produced few touchdowns via the passing game, but if I had to lean in a direction I'd optimistically go over: I'm an original JoBro truther, and I'm encouraged by Foster's three touchdowns in the second half of the season.
THE PICK: Over 625.5 yards (-115)
Adam Humphries Props
750.5 receiving yards: Over -115, Under -115
4.0 total touchdowns: Over -115, Under -115
After four seasons with the Buccaneers, Humphries has signed with the Titans.
Not to sound like a horrible person, but I can't imagine living on planet Earth and betting these overs.
Last year Humphries set career-high marks with 105 targets, 76 receptions, 816 yards receiving and five touchdowns, thanks primarily to an offensive system overseen by Todd Monken. The Bucs were first and third in the league with 5,125 yards and 36 touchdowns receiving.
In contrast, over the past four years with quarterback Marcus Mariota, the Titans have averaged 3,302.5 yards and 21 touchdowns receiving.
Also, in 2018 the Titans had the league's second-most run-heavy offense under first-year head coach Mike Vrabel, rushing on 48.5% of their plays. I would expect them to focus on the ground game once again this year with running backs Derrick Henry and Dion Lewis.
Humphries will likely trail wide receivers Corey Davis and Taywan Taylor in targets, and tight end Delanie Walker will also see significant action, especially in the middle of the field where Humphries will run most of his routes as a slot receiver.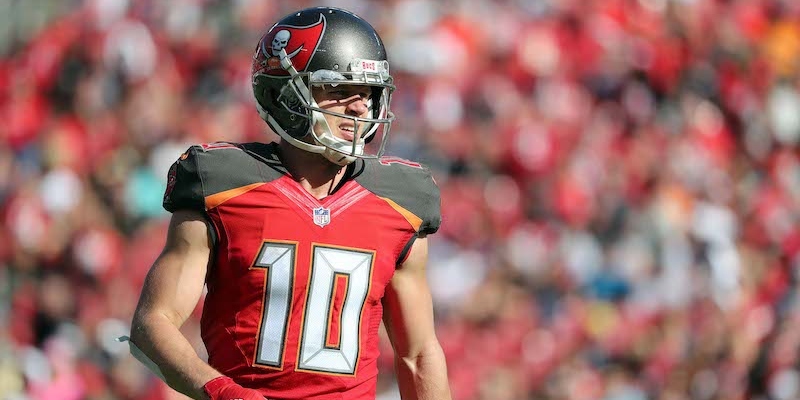 Over the past three seasons, Humphries has averaged 689.7 yards and 2.7 touchdowns in 15.7 games per year. And I think even those numbers would be optimistic projections for what he could do in 2019.
THE PICKS: Under 750.5 yards (-115); Under 4.0 touchdowns (-115)
Jamison Crowder Props
700.5 receiving yards: Over -115, Under -115
4.0 total touchdowns: Over -115, Under -115
Crowder has signed a three-year, $28.5 million contract with the Jets after four seasons with the Redskins.
I tend to find Crowder's low-ceiling slot-based style of play uninspiring, but he seems likely to get a lot of targets in Adam Gase's offense.
While Crowder's 2018 season was marred by injuries, the offseason departure of quarterback Kirk Cousins and the in-season injuries to quarterbacks Alex Smith and Colt McCoy, he was productive in his first three NFL seasons, averaging 93.3 targets, 64 receptions 746.7 yards and four touchdowns in 15.7 games per year.
Although the Jets could conceivably use a ground-focused offense to get the most out of running back Le'Veon Bell and to protect developing second-year quarterback Sam Darnold, it's possible that Crowder could be the team's primary receiver.
Neither Robby Anderson nor Quincy Enunwa established themselves last year as Darnold's preferred option, and Gase historically has funneled targets to the slot. Over the past six years, Gase's offenses have distributed 126.8 slot targets per season to some of the best middle-of-the-field receivers in the league, namely Wes Welker, Eric Decker and Emmanuel Sanders (2013-14 Broncos) as well as Jarvis Landry and Danny Amendola (2015-17 Dolphins).
I'll take the under on the touchdown total, because I'm not expecting the Jets offense to be prolific and Crowder has hit the under in three of his four NFL seasons.
But I like the over on yardage as long as Crowder doesn't miss more than a couple of games.
THE PICKS: Over 700.5 yards (-115); Under 4.0 touchdowns (-115)
---
Matthew Freedman is the Editor-in-Chief of FantasyLabs. He has a dog and sometimes a British accent. In Cedar Rapids, Iowa, he's known only as The Labyrinthian.
How would you rate this article?