Stuckey: My 10 Favorite Player Props for Rams-Saints, Patriots-Chiefs
Credit:
USA Today Sports. Pictured: Robert Woods, James White
While I don't see much value in either conference championship's spread or total, I did bet a number of NFL player props.
I highlight my favorite 10, featuring at least two for all four teams playing on Sunday in Rams-Saints and Patriots-Chiefs.
With only three football games left until August, I know some of you won't be able to resist betting both conference championship games on Sunday. But sometimes lines are just pretty spot on, which shouldn't surprise anybody at this stage of the enormous NFL market — especially with four similarly rated teams.
After diving in all week, I personally decided to pass on any sides or totals — though I did throw in a small teaser — but do fancy plenty of individual matchups, which led me to bet on a plethora of player props.
I will highlight at least two specific player props for each of the four teams playing this weekend.
Let's jump in, starting with the NFC Championship Game.
Spread: Saints -3
Over/Under: 57
Time: Sunday, 3:05 p.m. ET
TV channel: FOX
Favorite Rams Props
Brandin Cooks Over 73.5 Yards
Robert Woods Over 5.5 catches
Robert Woods Receiving TD +160
Making his third return to the Superdome since being traded by the team that drafted him, I'm sure Cooks would love nothing more than to punch a ticket to the Super Bowl in the Big Easy.
I think this still somewhat classifies as a #RevengeGame, as the fantasy kids say.
More importantly, it's just a great matchup for the former Oregon State Beaver, who I think can get behind cornerback Marshon Lattimore a few times.
I fully expect Sean McVay to take a number of deep shots against a Saints pass defense that ranked 32nd in the NFL against deep passes and bottom three against both No. 1 and No. 2 receivers, per Football Outsiders.
Against the Saints earlier this season, Cooks finished with six catches (on eight targets) for 114 yards and a touchdown. I wouldn't be shocked to see a similar stat line on Sunday.
When the Rams aren't taking deep shots or utilizing their backs, I expect Jared Goff to look for Robert Woods early and often. Woods has a favorable matchup in the slot against cornerback P.J. Williams, who finished the regular season with a 47.0 cover grade — the second-worst among 87 qualified corners who played at least 500 snaps, per Pro Football Focus.
Williams also allowed the fifth-highest QB rating (111.5) in the slot, per PFF (min. 250 snaps). Woods should eat in the slot and haul in plenty of easy catches in space in the Rams' beautiful motion.
Favorite Saints Props
Ted Ginn Jr. Over 3.5 Catches
Ted Ginn Jr. 51 Receiving Yards
Ted Ginn Jr. Receiving TD +215
I'm thinking the Rams will simply not let Michael Thomas beat them again. In the first meeting, the former Buckeye went absolutely bonkers, catching 12 balls for 211 yards and this glorious touchdown.
Have a day.
Thomas also had 12 catches (to go along with 171 yards and a touchdown) last week against the Eagles. The Rams simply have to find a way to stop him or else their season might end on Sunday.
Well, in the first matchup, Marcus Peters shadowed Thomas — which is not ideal. Peters has been horrible all season, playing in a scheme that doesn't really fit him … while banged up. Per PFF, Peters actually ranked 74th in coverage out of 87 corners (min. 500 snaps) this season.
I don't think Thomas will see much of Peters this time, as the Rams have Aqib Talib back for this game. Talib, who fits much better in Wade Phillips' defense, has a top 20 PFF cover grade among corners in 2018 despite a few subpar games when he first returned from injury.
While Talib doesn't usually shadow, he could on Sunday — even when Thomas lines up in the slot, which he does quite often. (Notice where Thomas lined up in that touchdown video above.)
Talib doesn't often play in the slot, but he has before. He led all corners in yards per slot snap by a wide margin (min. 50 slot snaps) last season. And while his sample size is small, the point is he has done it before.
He has also shadowed before — and against the Saints — and in the slot! Let's take a trip back to 2013, when Bill Belichick decided he would move Talib to the slot to shadow prime Jimmy Graham (who had an absolute monster season). Well, Talib held Graham to ZERO CATCHES.
I don't expect that same level of success, but it will help. And I think the Rams will also give help where necessary.
So, what does that mean for player props? Well, for one, I think there's value in some Thomas unders, but I'd rather focus on who I think will benefit from seeing lots of Marcus Peters.
That should be none other than another Buckeye: Ted Ginn Jr. And even if Talib doesn't shadow Thomas (which I'm simply guessing on), these still certainly all have a shot.
Spread: Chiefs -3
Over/Under: 56
Time: Sunday, 6:40 p.m. ET
TV channel: CBS
Favorite Patriots Props
James White Receiving TD +200
Rob Gronkowski Receiving TD +160
It's easy to say New England's biggest advantage when they have the ball on Sunday will either be:
Tom Brady vs. any secondary in the postseason, specifically Julian Edelman in the slot.
Sony Michel vs. a run defense that allowed a league-worst 5.0 yards per carry.
But I want to focus on White out of the backfield, which I think the Pats can and will utilize tirelessly as an extension of the running game.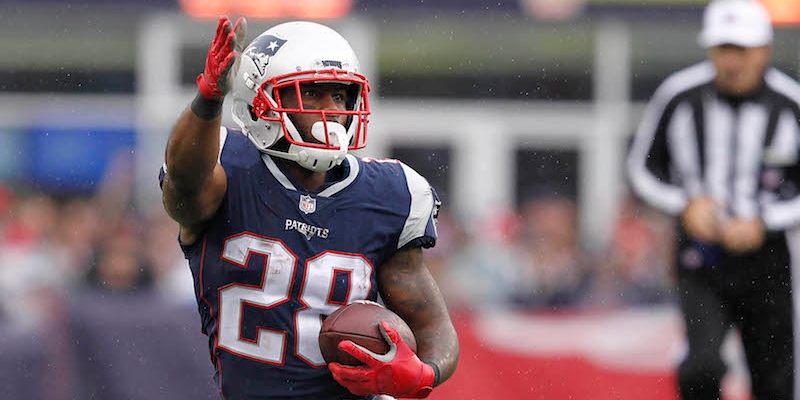 The Chiefs allowed the third-most receiving yards per game to opposing backs. You know which team was second-worst? The Chargers, who White caught 15 passes against last week.
Here's how prolific White's receiving numbers were this season:
123 targets (most among backs; three more than Christian McCaffrey)
87 catches (third behind McCaffrey and Saquon Barkley)
751 yards (second to McCaffrey)
7 touchdowns (first among backs)
35 receptions for first downs (first among backs)
8.2 average yards per reception (0.2 behind Alvin Kamara)
Now, let's bust a few myths.
First, I've heard the Chiefs defense has improved remarkably covering backs out of the backfield in the second half of the season. While technically true, the improvement is only a product of their competition. Over the final six games of the regular season, they faced the Seahawks and Ravens (two run-heavy teams that don't throw to backs), Chargers (who were missing both starting backs) and Raiders twice.
Let's instead focus on the first 10 games of the season, where they faced plenty of capable backs in the passing game.
For the full season, the Chiefs allowed 93 catches on on 118 targets (78.8%) for 895 yards to opposing backs. That 55.9 yards per game average ranked as one of the worst in football, but those first 10 games paint a more accurate and bleaker picture.
First 10 games: 75 catches for 733 yards (73.3 per game) and 6 TD
Final six games: 18 catches for 162 yards (27.0 per game) and 0 TD
Second, everyone has been talking about the Chiefs home-road splits on defense. They are real, but it is only a product of their pass defense improving at Arrowhead, where the pass rush is more effective. Their run defense has been equally bad at home.
Regardless of the location, you can't fix the issues they have in the middle of the field at safety and at linebacker, which impact the run game and extension of the run game (quick passes to running backs … plus tight end and slot).
Things could even get worse for the Chiefs if linebacker Dorian O'Daniel can't go, as they could really use his speed in coverage.
I think White and Gronk have a good shot at finding pay dirt, exploiting the Chiefs' weakness at linebacker (and safety) on critical downs inside the red zone. Yes, Gronk is a shell of himself, but this is a great matchup for him in the red zone.
Also, for what it's worth, I don't see as much value in the White over 5.5 catches prop, which everyone seems to love. That's a total White hasn't surpassed in any of the four previous matchups with Kansas City. He had five catches for 53 yards in a shootout earlier in this season.
Favorite Chiefs Props
Damien Williams Over 64.5 Rushing Yards
Williams Over 31.5 Receiving Yards
By now, you're probably sick of hearing about the poor Chiefs run defense. And it's true: Kansas City allowed a league-worst 5.0 yards per carry this season and ranked dead last against the run in DVOA.
But what you don't hear as much about is how poor New England's run defense has been this season — ESPECIALLY ON THE ROAD.
Overall, the Patriots allowed 4.8 yards per carry (27th in the NFL), in large part due to a defensive line that ranked 26th in adjusted line yards during the regular season. You can run at the Patriots.
You might see a stat that New England only allowed the ninth-fewest rushing yards per game (107.2) this season, but don't fall for that misleading nugget. Since the Pats played from ahead so often against their cake schedule, opponents only ran it 22.2 times per game — the fourth-fewest in the NFL.
Look no further than last week when the Chargers only rushed the ball 10 times after falling behind big early. Yes, you read that correctly: TEN TIMES ON THE ROAD IN THE PLAYOFFS!
I don't think the Chiefs will get blown out in this game, so let's look at those home vs. road splits for the Patriots run defense:
Home: 169 carries for 789 yards (4.67 average)
Away: 198 carries for 1014 yards (5.12 average)
That's 126.8 rushing yards per game on the road compared to just 98.6 at home
And you can't blame it on tough competition, either.
Yup, the Patriots only faced one playoff team on the road: The Bears, who finished the regular season 27th in yards per rush. In fact, six of the Pats' eight road opponents ranked 22nd or worse in rush yards per attempt and only one was in the top 13 — yet they still allowed 5.1 yards per rush, which would rank dead last in the NFL over the entire season.
Now they face a Chiefs' rushing offense that averaged 4.8 yards per carry (fifth in the league).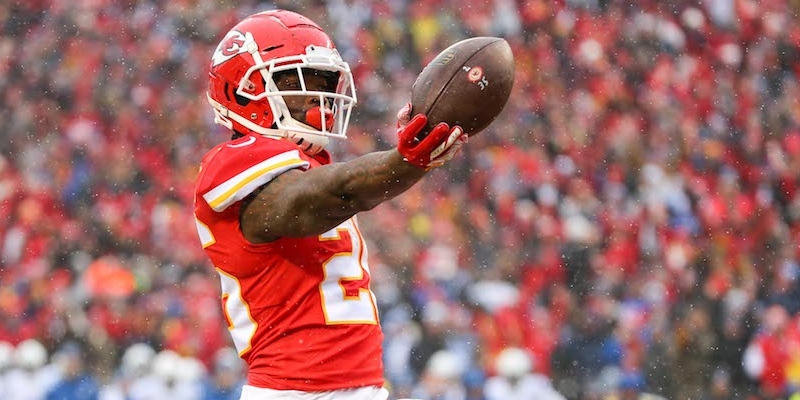 With the Patriots keying on Travis Kelce and Tyreek Hill, I expect a huge game from Williams — who averaged more than 5.0 yards per carry this season and, per Pro Football Focus, had the third-most 15-plus yard runs between Weeks 15-17 after taking over the starting role.
I think the Pats road run defense gets exposed by Williams, who is as safe as any back to get the highest percentage of his team's carries.
Williams can also expose the Patriots' pass defense biggest weakness — their slow linebackers (22nd defending backs per Football Outsiders).
The former Oklahoma Sooner is more than a capable pass catcher (caught 23-of-24 targets this season) and the Chiefs already know how successful throwing to backs can be against the Patriots: Kareem Hunt had 105 receiving yards and a touchdown in the first meeting earlier this year.
How would you rate this article?