NFL Playoff Picks: Our Favorite Bets for Every Divisional Round Matchup
Credit:
USA TODAY Sports. Pictured: Todd Gurley, Drew Brees and Tyreek Hill
The Action Network's NFL experts break down their favorite Divisional Round bets, including Colts-Chiefs and Eagles-Saints.
We also have against-the-spread and over/under picks for Cowboys-Rams and Chargers-Patriots.
College football has sadly come to an end, but the Divisional Round might just be the best weekend of the NFL season.
Remember last season's Divisional Round? Let me jog your memory:
The Eagles held off the Falcons with a goal-line stand to win 15-10;
The Jaguars upset the Steelers in a 45-42 thriller;
The Vikings stunned the Saints on a last-second prayer to win 29-24.
Oh, and the Patriots rolled the Titans. Three out of four thrillers ain't bad.
To help narrow down your final wagers for the weekend, our staff has angles on all four games — including sides, over/unders and even a player prop for Eagles-Saints. And for even more analysis, check out our in-depth betting guides.
Our staff picks are 148-133-16 (52.7%) for the 2018-19 NFL season, including last week's wild-card selections.
---
>> All odds pulled on Jan. 10, so slight line variations are possible. Download The Action Network app to get real-time NFL odds and track your bets.
---
Spread: Patriots -4
Over/Under: 47.5
Time: Sunday, 1:05 p.m. ET
TV channel: CBS
The Chargers are the most popular bet of the week, just as they were last week. And while I often fade the public, casual bettors are on the right side.
Our NFL simulations from Bet Labs makes this line -3, which suggests that it's inflated for the Patriots.
We've established that the Patriots struggle to cover when Tom Brady gets sacked: They're 39-43-4 ATS when he's sacked three or more times. Joey Bosa, Melvin Ingram and the Chargers sacked Lamar Jackson seven times last Sunday. I expect LA to harass Brady, too.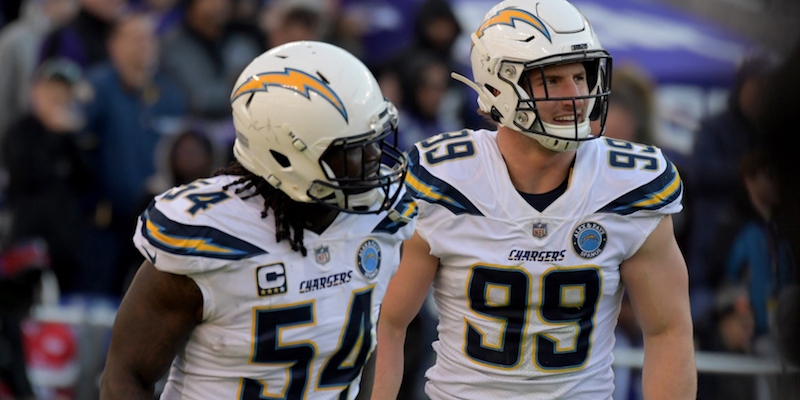 The Chargers should also be able to slow down the rest of the Patriots' offense — LA is the only defense remaining that ranks inside the top 10 in Football Outsiders' rushing and passing DVOA.
We're gonna keep hammering the Patriots' historical struggles against elite pass rushes here.
New England has faced teams in the playoffs with a Pro Football Focus pass rush grade of 30 or higher seven times since 2006. In those seven games, opponents have gone over their implied team total five times — and have averaged 27.3 points per game.
I'm also relatively unconcerned about the effect of the Chargers' cross-country travel — they've won each of their East Coast road games this season.
If you're crazy enough to bet against Brady and Bill Belichick in January, you might as well go all-in with it.
Seriously, I don't see an area in which the Patriots should be considered significantly "better" than the Chargers …
Explosive pass play rate (offense): Chargers (3rd), Patriots (12th)
Explosive run play rate (offense): Chargers (5th), Patriots (21st)
Explosive pass play (defense): Chargers (16th), Patriots (15th)
Explosive run play rate (defense): Chargers (19th), Patriots (20th)
Adjusted line yards per rush (offense): Chargers (5th), Patriots (3rd)
Adjusted line yards per rush (defense): Chargers (17th), Patriots (26th)
Net yards per pass attempt (offense): Chargers (4th), Patriots (6th)
Net yards per pass attempt (defense): Chargers (9th), Patriots (10th)
… other than pressure, but those figures aren't exactly accurate for the Chargers considering they only got seven regular-season games from Bosa.
Heroes get remembered, but legends never die. Gimme the Chargers out-right over the Brady bunch.
If you read my article this past Sunday after lines opened for the Divisional Round, you know I loved the Chargers and the under in a game I expect to start slow. (I will probably be on the first-half under as well.)
I've said it before and I'll say it again: The Chargers are a snail! No team is slower — they rank dead last in adjusted pace.
While the Patriots are the opposite of a snail, ranking first in adjusted pace in the first half (which is really what matters), I think Belichick and Co. will run it a ton against this Chargers defense that's built to contain a modern day passing offense.
And don't sleep on the Patriots defense, which is their most underrated unit.
Spread: Saints -8
Over/Under: 50.5
Time: Sunday, 4:40 p.m. ET
TV channel: FOX
I'm breaking nearly every rule I live by: Betting a huge favorite against a hot team with a quarterback who has proven he can win in pressure situations and, at the very least, bring his team back in furious comeback for a backdoor cover.
Whew … take a breath.
Here's why I'm backing the Saints: For all the improvements the Eagles have made during their furious playoff run, their secondary is still the weak link. That was obvious in the second half against the Bears, when Mitchell Trubisky consistently threw over the top with ease, hitting receivers who were getting separation.
Drew Brees is a better quarterback than Trubisky, his receivers are better than any the Bears have and, unlike Matt Nagy, Sean Payton will not wait until the final quarter to be aggressive.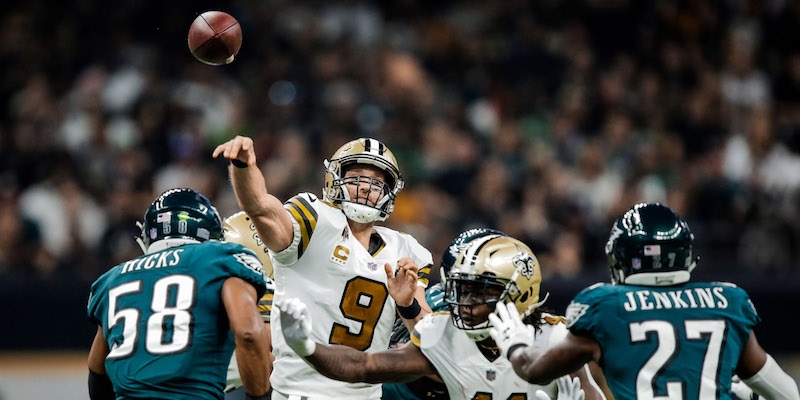 The Bears' other failing: They ignored Tarik Cohen, their best playmaker. He caught one pass on the first drive for 20 yards and was targeted just three times the rest of the game.
In space and on the edge against the Eagles defensive backs, he would have made a difference.
You might have noticed, but the Saints have Alvin Kamara, who is better and more productive than Cohen. I don't expect Payton and Brees to forget that, either.
We could use as many dome trends in the world to advocate for the Saints to win and cover this number, but the advanced stats alone provide a clear enough discrepancy as to why this should be the end of the road for the Eagles.
We start with the New Orleans offense, which has significant advantages over Philadelphia's defense. The Saints rank top five in categories like Standard Downs Success Rate and Big Play Rate (defined as the percentage of plays gaining at least 20 yards between your 10-yard line to the opponent's 30). The Eagles defense ranks 28th and 31st in those respective categories.
The Philly defense does excel on third downs, but the gap in Standard Down Success Rate leads me to believe the Saints might not even have to see many third downs.
I also expect a monster DFS day out of the New Orleans skill position players, specifically Kamara and Mark Ingram. The Saints' sixth-ranked Rush Explosiveness offense should gash an Eagles defense that ranks 31st in that same category.
While Brees and the offense will get the glory, it is the Saints defense that will get this number to the window. The Philadelphia offense should move the ball thanks to edges in…
Third Down Success Rate
Passing Downs Efficiency
Ball protection
However, once the Eagles get to the red zone, the advanced stats completely tilt in favor of the Saints. New Orleans ranks in the top five in success rate from every yardage situation, including No. 1 overall against first-and-goal situations.
Philly should have plenty of offense between the 20s, but the Eagles will simply settle for too many field goals to stick with this Saints team in New Orleans.
I'm with Collin and Chad. I also can't believe I'm going to lay more than a touchdown in the NFL playoffs, but this game has some serious blowout potential. Collin did a great job of outlining why the Saints should score 30 in this game, more often than not.
That would be problematic for the Eagles and Foles. Three of the four games Foles has started this season have come against offenses rated 20th or worse in DVOA (Texans 21st, Redskins 28th, Bears 20th). The lone exception is the Rams (second), which I write-off a little bit because LA was coming off a brutally physical game against the Bears the week prior.
This go-round, the Eagles are the ones coming off a physical game against the Bears, and their reward is a game against a top-five quarterback in one of the league's toughest venues.
Good luck.
I have to go against the crew here and back the underdog.
The NFL playoffs are all about underdogs. Since 2003, playoff dogs have gone 92-72 (56.1%) ATS. Dogs getting seven or more points are even better at 34-23 (59.6%).
The Eagles are only getting 55% of bets yet they have attracted 70% of dollars. The line has also moved in their favor from +10 to +8 showing that sharps are eyeing this spread. It doesn't hurt that Philly is 4-1-1 in its past six games while New Orleans is 1-4 ATS in its past five.
Also, don't sweat the Saints off a bye. Playoff teams off a bye have gone just 39-50 (43.8%) ATS since 2003. Fading teams in this position would have produced a 9.6% return on investment.
The Eagles might not win this game straight up, but I think they keep this close. Give me big bad Nick Foles and the points.
This trend failed me last week, but I am back on the wagon. I thought I was well on my way to Green Dot City with the way the Colts-Texans game started, but I was hung out to dry in Red Dot Unincorporated Township.
Playoff dome overs have been very profitable historically. The over has hit in 29-of-39 games since 2003, winning by an average margin of 5.58 points.
Despite last week's loss, games with totals of 47 or higher have still been the real money makers: The over has hit in 21-of-25 games by a margin of more than eight points.
History suggests this will get back on the winning track.
In the words of my boss, Chad Millman: "The Nick Foles story is done." I think the Saints roll the Eagles to eliminate the reigning champs.
With that said, I love the value of the Saints in the first quarter.
Brees has outscored his opponents 47-19 in the opening quarter of home games since the Saints' Week 1 loss to Ryan Fitzpatrick and the Bucs. Brees is 34-for-45 (75.6%) passing in those six quarters with 9.4 yards per attempt, 21 passing first downs and no sacks taken. And in six home playoff games, Brees has three touchdowns, no picks, no sacks, higher than a 70% completion percentage and 9.8 yards per attempt in the first quarter.
The Eagles are going up against a giant. I'll roll with the Saints early.
Chris Raybon: Michael Thomas Over 81.5 Receiving Yards
Thomas has put up at least 81 yards in eight of 15 starts with Brees this season, including 92 on only four catches against the Eagles in Week 11.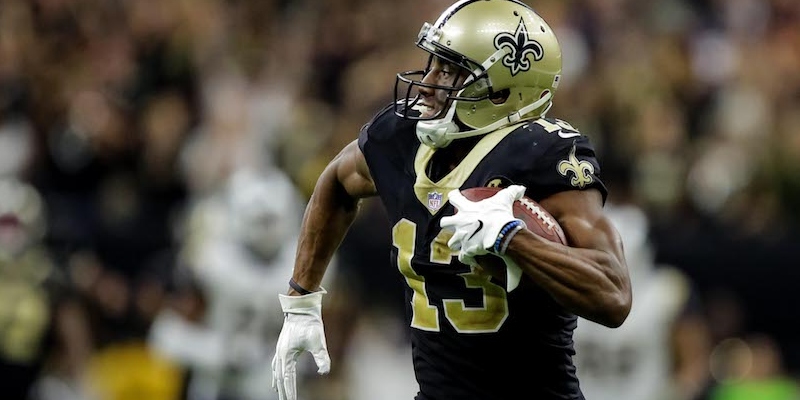 Thomas, who averages 9.2 targets per game, should get even more chances in a game likely to be far more competitive: Underdogs that lost the previous head-to-head meeting against their Divisional Round opponent are 28-15 (65.3%) ATS since 2003, covering by an average of 2.49 points according to our Bet Labs data.
The Eagles finished the regular season allowing 90.9 schedule-adjusted receiving yards per game to No. 1 wide receivers — the most in the league, per Football Outsiders.
Then they got destroyed by Allen Robinson for 143 yards on 10 catches in last week's wild-card meeting, his highest total since December 2016.
Counting Robinson's effort, the Eagles have allowed a wide receiver to go for 100 or more yards in eight games, 90 or more in 10 games and 83 or more in 12 games.
I'd bet this into the low 90s.
---
Spread: Chiefs -5
Over/Under: 57
Time: Saturday, 4:35 p.m. ET
TV channel: NBC
This is the only number that's more than one point off from my projections as of writing.
I have this total at 55.5, which was the opening number. Predictably, this has been bet up to 57 with 65% of the tickets on the over as of writing (see live data here) Now is the time to pounce on the inflated number.
There are also weather reports that could significantly impact on this game, especially with two potent passing offenses. Temperatures should be around freezing with a chance of snow or even a snow/rain mix.
As the forecast becomes more definitive and the general public becomes aware of it, we could see this total drop — and fast.
I'm taking it now before it's too late.
I agree with Sean here.
It's basically automatic for me to bet the under at Arrowhead Stadium. With Andy Reid, no home team has been more profitable for under bettors than the Chiefs, who have a 32-17-1 record to the under since 2013 (including playoffs), good for a 27.2% return on investment (per Bet Labs).
The outdoor elements and raucous environment inside Arrowhead makes it a hard place for visiting offenses to play, especially once the weather is cold.
And it's not just road teams that have played worse in Kansas City this season (per the RotoViz Game Splits App):
Home Games: 52.81 total | 50.38 points scored | Chiefs 32.38 | Opponents 18
Road Games: 55.19 total | 72.87 points scored | Chiefs 38.25 | Opponents 34.62
Throughout the Reid era, the Chiefs have scored 3.08 fewer points at home and opponents have scored 6.25 fewer points in Kansas City.
It's just an added bonus that the Colts are a dome team that could struggle outdoors.
Underdogs went a perfect 4-0 against the spread on Wild Card Weekend. An obvious public reaction would be to bet all favorites in the Divisional Round because it's bound to "even out."
But since 2003, underdogs have gone 37-21 (63.8%) ATS in the Divisional Round.
Not only is Indianapolis in a strong historical spot, but the current data favors the Colts. They're getting only 56% of bets but nearly 70% of dollars, indicating moderate public support but heavy smart money.
Also, the line has moved in the Colts' favor since opening (+6 to +5.5, with some books down to +5). Since 2003, playoff teams with line movement in their favor have gone 34-11 ATS (75.6%).
Take me home, Captain Luck!
The Chiefs allow 26 points per game, so this looks like a good number on the surface given the overall over/under of 57.
But if we dive into the numbers, the Chiefs defense benefited from playing a ton of "bad" quarterbacks.
Case Keenum (twice)
Derek Carr (twice)
Blake Bortles
Andy Dalton/Jeff Driskel
Josh Rosen
Lamar Jackson
Against those quarterbacks, the Chiefs allowed only 16.25 points per game.
But against other quarterbacks, including …
Philip Rivers 2x
Ben Roethlisberger
Jimmy Garoppolo,
Tom Brady
Baker Mayfield
Jared Goff
Russell Wilson
… they allowed an astounding 34.6 points per game.
Seven of the eight "good" QBs scored more than 26 points. Only Baker Mayfield's Browns scored fewer (21).
Look for Andrew Luck and the Colts' running game to put up points against the Chiefs' lackluster defense.
Spread: Rams -7
Over/Under: 50
Time: Saturday, 8:15 p.m. ET
TV channel: FOX 
This line is simply too high.
The Cowboys have been a different team offensively since trading for Amari Cooper. That's allowed Dak Prescott to have a legitimate deep threat while also using his tight ends more effectively. And Ezekiel Elliott looked great against Seattle.
The Cowboys defense has been playing exceptionally well to boot. They can get pressure up front and have two of the league's best, young linebackers in Leighton Vander Esch and Jaylon Smith.
The Rams may well win this game — I expect them to — but laying a touchdown is too much for a team that struggled ATS this season.
I'd hold off on betting this until you see whether it moves to +7.5. The juice was trending in that direction as of writing.
I'll tangle with BlackJack here. The Rams covered the spread just 46% of the time during the regular season, so it feels uncomfortable to lay seven points with them.
Perhaps that's why the public is going with the dog here.
"Uncomfortable," however, is my sweet spot. Teams that cover less than 50% of the time have gone 20-14-2 (58.8%) ATS in the playoffs, a record that improves significantly if the public has lost faith.
In fact, filtering for teams that are also getting less than 50% of bets in the game improves the record to 12-4-2 (75%) ATS.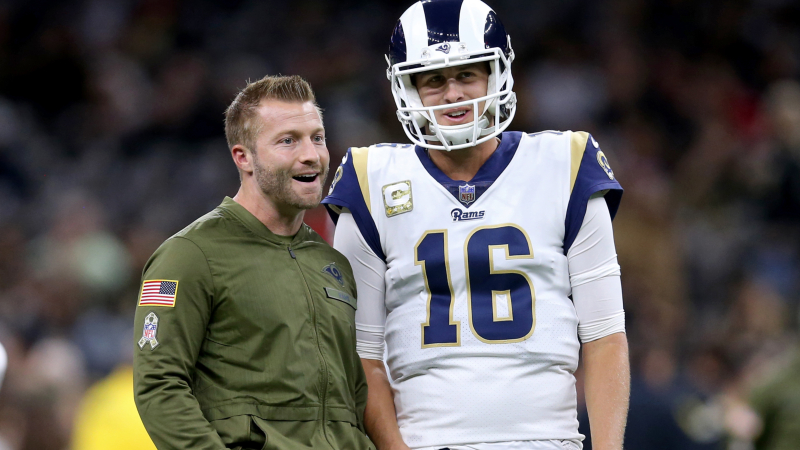 What we saw from the Cowboys in the Wild Card Round was a very straightforward gameplan based on running Elliott as much as possible (26 carries), avoiding mistakes and relying on a great defense.
Kris Richard's unit did a good job against an admittedly mediocre Seattle offense for most of the game, and I think this defense can travel and play well against the Rams, too.
With the Cowboys now playing in a somewhat more hostile road environment, I don't expect the plan gets any less conservative.
Two teams that really want to establish the run could create a field-position, clock-control game. I was surprised this wasn't closer to 47, to be honest.
I'll take the under.
Editor's note: The opinions on these games are from the individual writers and are based on their research, analysis and perspective. They are independent of, and may not always match with, the algorithm-driven Best Bets from Sports Insights.
How would you rate this article?