Koerner: My Betting Angles for Chargers-Patriots, Other 3 NFL Divisional Round Games
Credit:
USA Today Sports. Pictured: Justin Houston, Sony Michel and Michael Thomas
Sean Koerner runs through each of the four NFL Divisional Round games from a betting perspective.
How do the spread and over/under compare to our proprietary power ratings? And where can you find betting value.
Each week, I release an updated version of The Action Network's NFL Power Rankings. These ratings mirror those used by Vegas oddsmakers and project NFL point spreads each week.
Below I've listed each matchup with the actual consensus spread (via The Action Network App) and compared them to our numbers and added a few thoughts on each matchup.
---
Betting odds: Los Angeles Chargers at New England Patriots
Actual spread: Patriots -4
The Action Network spread: Patriots -4.9
We discussed this matchup at length on our Divisional Round Fantasy Flex podcast. It is a tricky spread to dissect. A sharp NFL expert would realize that the Chargers are the better team on paper and this matchup sets up well for them.
But there is no denying that betting against Brady and Belichick in January is a scary side to be on.
I felt this number would open around -4.5, which it did. Despite 60%+ of the tickets on the Chargers we've only seen this drop to -4.
If sharps were fully aligned on LA, the line would have pushed harder to a key number like -3.5, but it didn't quite get there.
So I'm thinking this is more of a split-decision, and not a side I feel too comfortable on one way or another.
After some wild line movement earlier in the week, the total has ended right back up around my number (47).
Rumors about 3-5 inches of snow caused the initial drop to 45/45.5, but with the weather report clearing up (0% chance of snow), we have seen the total creep back up to 47.5.
So don't read too much into this line move; the over/under appears to have settled where there is no value on either side.
---
Betting odds: Philadelphia Eagles at New Orleans Saints
Actual spread: Saints -8
The Action Network spread: Saints -8.3
The market has learned from the past year that there isn't much drop off from Carson Wentz to Nick Foles. Our ratings had this opening Saints -8.3, so when the number opened -7.5, I figured we may see it bet up to the 8 or 9 range.
Sure enough, it seems to have settled right in the -8.3 range where books are laying -8.
With 55% of the action coming in on Philly, the public wasn't expecting the Saints to be favored by this much.
The Saints have been our No. 1 team in our power ratings since Week 10 and haven't looked back. They are the most complete team on both sides of the ball.
This looks like a rare time where some sharp action is coming down on a team that's more than a touchdown favorite.
Our projected total for this matchup is 51.2. After opening at 51.5, we have seen the total drop to 51. Some books are offering light juice on the over, meaning the market is essentially in line with our 51.2 projection.
The line drop is a reverse line move, with 69% of the action is on the over so far.
Considering this is the last game of the Divisional Round, we still might see enough public money to push this up to 52.
And by the looks of the early line movement, sharps may keep it from getting any higher.
Betting odds: Indianapolis Colts vs. Kansas City Chiefs
Actual spread: Chiefs -5
The Action Network spread: Chiefs -5.4
Our power ratings agreed with the opening number of Chiefs -5.5, but books appear to have taken enough money on Indy to lower the spread to a consensus of Chiefs -5.
There isn't much to take away from this considering we aren't working with a key number, so this is a perfect line and betting on it should be for entertainment purposes only.
The over/under, however, does offer some value. Our power ratings had the total pegged at 55.5, which matched the opener at BookMaker.
To no surprise, the over is a popular bet, getting 66% of the tickets at the time of writing (see live betting data here).
All of that over action has pushed the total up to 57. With weather also looking like it'll be a factor — freezing temps and a chance of snow/rain mix is forecasted — the under has some value.
These are two pass-heavy that could very well be impacted by the conditions.
As the weather report becomes more definitive and the general public more aware of it, we could see this total drop — fast. So it may not be at 57 for too much longer and could drop quite a bit before kickoff.
---
Betting odds: Dallas Cowboys vs. Los Angeles Rams
Actual spread: Rams -7
The Action Network spread: Rams -7.8
I had the projected line for this matchup as Rams -7.8 so I figured the opening number would be -7.5, but the line opened Rams -7.
It makes sense for books to be a bit cautious of some overzealous Dallas action. The Cowboys are 8-1 in their past nine games, while the Rams stumbled to the finish with brutal losses in Weeks 14 and 15 before losing Todd Gurley for the final 2 games of the season due to injury.
Gurley is expected to play but likely going to be less than 100%.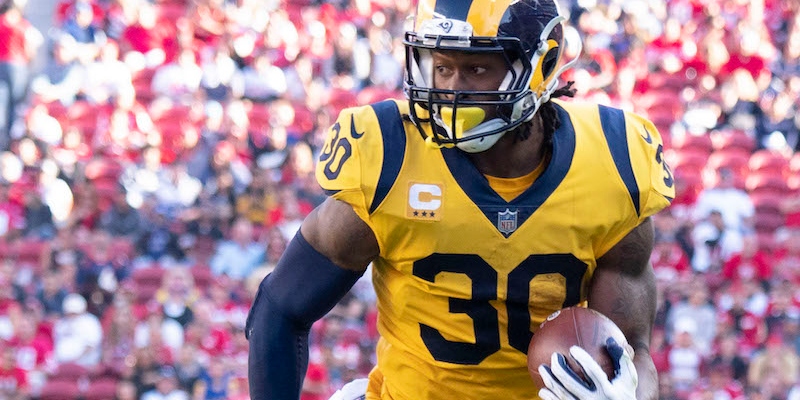 Despite Dallas getting around 55% of the action, this number is trending toward my projected line, with BookMaker listed at -7 (-120) at the time of writing.
The Rams are likely taking some pretty significant sharp action to be moving to a key number of -7.5. If it sails past that, it would all but confirm sharps were all over Rams -7, but that the value is all but gone by that point.
The total opened right in line with my projection of 49. This game kicks off on a Saturday night, so as soon as the earlier game concludes, we may see a rush of public action on the over here.
Sharps may wait until then for the number to break 50, before coming in on the under.
How would you rate this article?