Koerner's NFL Power Ratings: My Betting Approach for Every Week 3 Game
Credit:
USA Today Sports. Pictured: Teddy Bridgewater, Mason Rudolph, Daniel Jones
Sean Koerner uses his NFL Power Ratings to find the best Week 3 bets.
Compare his projected spreads and over/unders to the market.
We have two massive favorites. At least three teams without future Hall of Fame quarterbacks. And two flashy young QBs facing off in the highest total game of the week.
But what are the best value bets?
Odds above as of Wednesday and via PointsBet, where Action Network users can exclusively bet every NFL spread this season at reduced juice (-105).
Let's compare the odds to my projected spreads and over/unders for every game to identify the best bets for Week 3, including sides in Jets-Patriots and Dolphins-Cowboys.
---
Titans at Jaguars
Odds: Titans -1.5; 39
My Projections: Titans -1.5; 39.5
The Titans opened as 2.5-point favorites, but despite receiving 70% of the tickets as of writing (see live public betting data here), they've dropped to -2. This tells me there wasn't sharp money pushing the line toward the most valuable number in NFL betting, 3.
Gardner Minshew was able to hold his own in his first NFL start, but the Jaguars ultimately lost a 13-12 nail-bitter when Leonard Fournette got stuffed on a two-point attempt after they scored in the final minute.
The Jags have slight value here, but one would think that with their 0-2 record, starting quarterback on IR and star cornerback demanding a trade, their team chemistry and motivation will take a hit.
Broncos at Packers
Odds: Packers -7.5; 43
My Projections: Packers -7; 43.5
The Packers look like a top-five NFC team thanks to their defense.
Their offense, however, has been fairly average through two games. A lot of that could be due to the fact they've gotten out to early leads. Last week they scored a touchdown on each of their first three drives to go up 21-0 against the Vikings, then switched to a much more conservative game plan, allowing Minnesota to score 16 unanswered points.
The Packers could win 10 or more games but suffer from back door covers, in which case a line like -7.5 sticks out as a potential trap. But it appears sharps were comfortable enough to bet the Packers off the key number of 7 and up to 7.5.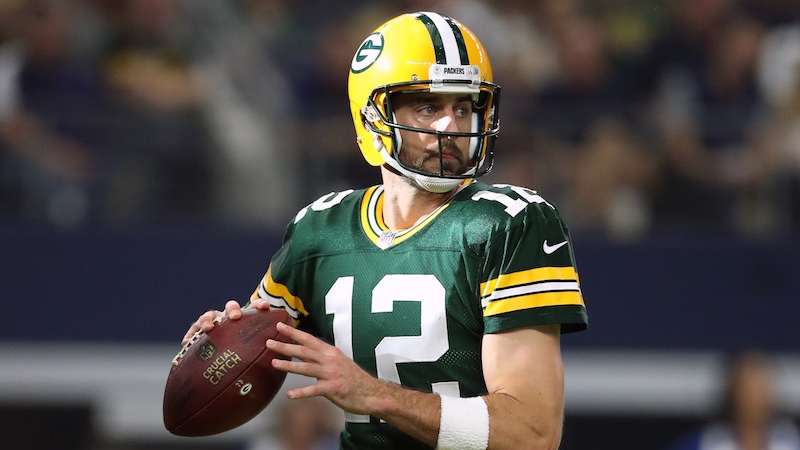 I'm going to pass on this line, but if the Packers start 3-0, books could add an extra point or two to their spread against the Eagles in Week 4.
Lions at Eagles
Odds: Eagles -6.5; 46.5
My Projections: Eagles -6.5; 47
Normally when two starting wide receivers are expected to miss a game, it can impact the line. But that's not the case with the Eagles, who design their roster to have depth at every position to avoid such drop-offs.
So while Alshon Jeffery and DeSean Jackson are expected to miss Sunday's game, Nelson Agholor, Mack Hollins and rookie JJ Arcega-Whiteside can step up. The Eagles can also just pepper their main target, tight end Zach Ertz, and even pass-catching back Darren Sproles.
The lines for this matchup are right in line with my projections, but I wanted to highlight how the Eagles are able to survive the poor injury report thanks to their roster construction. Of course, with Nick Foles no longer their backup, they're praying Carson Wentz can stay healthy all 16 games.
Ravens at Chiefs
Odds: Chiefs -6.5; 53.5
My Projections: Chiefs -6.5; 53
When this total opened at 51.5, I felt it was a bit low, but not enough to bet — especially since 51 is a fairly key number. Bettors have since flooded the over with 73% of tickets and 83% of the money, pushing the line as high as 55 at some books, but it appears the market realized it overshot and is starting to correct itself.
I'd lock in the under at 54.5, but would try to hunt down a book still offering 55 if you can.
Bengals at Bills
Odds: Bills -6; 44
My Projections: Bills -6.5; 42
The Bills are correctly favored here.
The total opened 1.5 points below my projection, but has been bet up to two points higher than my projection with 82% of tickets and 89% of money flooding the over.
It looks like the market hasn't reached its apex, as it looks like this number could go up to 44.5. Forty-four is a fairly key number, so it's worth waiting to see if we can get the hook with 44.5. Once it reaches that number, I think the sharps will come in and quickly send it back down to 44 — or even 43.5 — before kickoff.
Falcons at Colts
Odds: Colts -1.5; 47
My Projections: Colts -2; 47
While the Colts might not be Super Bowl contenders without Andrew Luck, they're still equipped to be competitive in close games.
They came away with a two-point road victory over the Titans last week following a hard-fought road loss to the Chargers in overtime. Now the Colts get back-to-back home games against the Falcons and Raiders.
The Colts should be able to establish the run behind their solid offensive line and lean on their defense to keep them in games, so Jacoby Brissett should only need to manage both games to win them.
The market is trying to push this week's game to a pick 'em, so if that happens, we can come in on the Colts as they should be favored by a couple points here.
Raiders at Vikings
Odds: Vikings -8.5; 43.5
My Projections: Vikings -8.5; 42.5
The action on this total has been completely split, yet it's been bumped from 43 to 43.5 since opening. Despite my number only being a point lower, it's worth pulling the trigger on the under if the total reaches 44.
Both teams are 2-0 to the under, and while we don't give a whole lot of weight to small sample sizes like that, their game plans are conducive to a low-scoring matchup.
The Vikings will try to run the ball at will, and if they get out to an early lead, they'll continue to lean on their run game and defense to preserve it. The Raiders should have a similar game plan while the matchup is still competitive. And they don't have the talent to stage a comeback if they fall behind and are forced into a pass-heavy game script.
This game has under written all over it.
Jets at Patriots
Odds: Patriots -22.5; 43.5
My Projections: Patriots -21; 44
The Patriots made a mockery of the 19-point spread last week by shutting Miami out, 43-0. Now they face the Jets, who will roll our their third-string quarterback Luke Falk.
One thing I overlooked last week was Bill Belichick vs. Dolphins head coach Brian Flores and offensive coordinator Chad O'Shea, who recently left New England for Miami. Belichick left Tom Brady in with a 37-point lead late in the game to throw another touchdown pass, which had to be some sort of reminder from Belichick that he is the boss.
We might get him to ease off the gas a bit this week if the Patriots take an early lead.
Dolphins at Cowboys
Odds: Cowboys -21.5; 47
My Projections: Cowboys -18.5; 46.5
We have two teams favored by 20 or more points this week: The Cowboys and Patriots.
NFL teams that have been favored by 17 or more points are 6-15 against the spread all-time. But despite that, sportsbooks are undoubtedly getting hammered with action on both favorites and would like both underdogs to cover.
What makes it even harder for people to back these underdogs is the recency bias of the Patriots making the 19-point spread against the Dolphins appear way too conservative. Part of sports betting is being willing to gamble on spreads like this simply being way too high.
I'm going to bite the bullet and take the Dolphins and Jets knowing full well they're terrible teams, but that the imaginary points we're assigning these games have been inflated enough that books know both are more likely to cover than not.
Giants at Buccaneers
Odds: Buccaneers -6.5; 47.5
My Projections: Buccaneers -6; 49
The Daniel Jones era has arrived.
Eli Manning has been benched in favor of the sixth overall pick, who will make his NFL debut on the road. Before the season started, I wrote that when this switch was made, it likely wouldn't impact my Giants' power rating. The market seems to agree, as the line has stayed at the 6.5 opener despite the surprise announcement.
Last week I recommended taking the Buccaneers moneyline in the +240 and +260 range instead of at +6.5 since their Thursday night showdown against the Panthers featured two highly-volatile QBs. I'm thinking the same thing here with the Giants moneyline available in the +240 range — that way you get the built-in uncertainty of Jones' debut and Jameis Winston's wide range of week-to-week performances.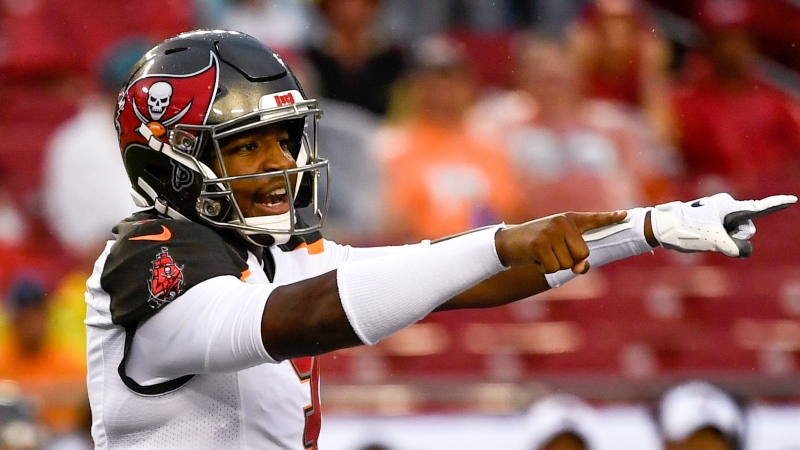 While I agree the Bucs should be right around 6-point favorites, it's a line that has a wider range of outcomes than most, which is why taking the dog on the moneyline here makes the most sense.
Panthers at Cardinals
Odds: Off the board
My Projections: PK; 45
Cam Newton's status is up in the air, so this line is currently off the board.
The Panthers opened as 2.5-point favorites with a total of 46.5, but I think it's likely the Panthers hold Newton out as he didn't look right on Thursday Night Football.
Newton is coming back from shoulder surgery, which seemed to impact his throwing motion and accuracy quite a bit. There were certain throws that looked flat out ugly last week, but other throws looked like they could have resulted in huge gains if he was able to lead the receiver.
Newton is also dealing with an ankle injury that's prevented him from having a game with positive rushing yards, which as always been his way of keeping defenses honest and masking his inaccuracy as a thrower — but right now, it's simply the worst of both worlds.
The Panthers will be better off going with Kyle Allen or rookie Will Grier here and letting Newton get closer to 100%. I'm thinking this line re-opens as a pick 'em, or even Arizona -1, if Newton is ruled out with the total closer to 45.
Saints at Seahawks
Odds: Seahawks -4.5; 45
My Projections: Seahawks -4.5; 45.5
The Saints have a very capable backup in Teddy Bridgewater, who should be able to manage games enough that they should be able to rely on their strong running game and defense to keep them in games. But without Drew Brees (thumb), they go from Super Bowl contender to a league-average team.
This line opened a bit too high with the Seahawks as 6-point favorites, but the market has since corrected closer to my projected line. I think the public is clearly on the Seahawks while the sharps appear to be on the Saints.
The Seahawks are 2-0 with a point differential of only +3! (They beat the Bengals by one and Steelers by two.) Having that type of "luck" in close games is how teams can quickly be overrated by the public.
I still think this number is pretty good, but if the Seahawks start 3-0, they could be a good team to fade in Week 4 at Arizona.
Texans at Chargers
Odds: Chargers -3.5; 47.5
My Projections: Chargers -4; 46.5
The Chargers could be one of the few favorites sharps are going to back in Week 3.
An opening number of -3.5 is always a good way to tell what side sharps are on. If it quickly gets bet down to -3, the sharps are on the dog and wanted to lock such a key number at +3.5. If the line hovers around 3.5 or starts to trend toward -4, it's a sign the sharps are more in line with the favorite.
So with the line sticking around -3.5 despite 64% of tickets and 83% of money being on the Texans, all signs point to the sharps on the Chargers, which lines up with my expected line of -4. Look for pass-rushers Melvin Ingram and Joey Bosa to wreak havoc on Deshaun Watson, who has been sacked a league-high 10 times.
Steelers at 49ers
Odds: 49ers -6.5; 44
My Projections: 49ers -7; 45.5
This is a fascinating week from a handicapping perspective as we have multiple future Hall of Fame quarterbacks either out with injury or benched. Big Ben is the only one who has suffered a season-ending injury, so it'll be Mason Rudolph's team in Pittsburgh.
It's a huge loss for the Steelers, whose power rating has taken a big hit.
On the other side of the ball we have a 2-0 49ers team that I still think have one of the most underrated coaches in the NFL in Kyle Shanahan. He's almost always being dealt a bad hand, yet seems to make the most of it.
The Niners' luck is starting to turn for the best as they get to face the Steelers for Rudolph's first start and should absolutely be favored by 6.5 points, which is where the market has settled.
Rams at Browns
Odds: Rams -3; 49
My Projections: Rams -2; 49
The 2-0 Rams have somehow exceeded expectations after being the Super Bowl runner-up and are 2-0 against the spread.
But their wins have come against the Panthers, who have clearly been playing Newton at less than 100%, and the Saints, who lost Drew Brees during the first quarter of their Week 2 matchup. So one can imagine how the Rams could a tad overrated right now.
On the other side, we have a Browns team that has started off 2019 on a shaky note, with their only win coming against the Jets who were forced to play their third-string QB for most of the game. I actually pointed out the potential for the Browns to get off to a slow start as the first half of their schedule is full of potential playoff teams while the second half is the exact opposite.
This is our first real buy-low opportunity on the Browns getting a key number in +3 at home. The line could go up to +3.5, so it's worth waiting for the market to drive it up enough to get the hook on the most valuable key number.
Bears at Redskins
Odds: Bears -4; 41.5
My Projections: Bears -4; 42
I don't currently see any value on what should be a real doozy of a Monday Night Football game.
Typically we would expect a favorite like the Bears to get a bit more action on MNF, but Mitchell Trubisky has looked so lost that I don't think the public will be willing to back them on the road.
I'm not expecting the lines to move much between now and kickoff as this matchup likely isn't going to draw as much handle as MNF games typically do or have as much conviction from either the public or sharps.
How would you rate this article?