Saturday NFL Wild-Card Mega Preview: How to Bet Colts-Texans, Seahawks-Cowboys
Credit:
USA Today Sports. Pictured: J.J. Watt, Pete Carroll and Amari Cooper
All odds as of Friday morning. Download The Action Network App to get real-time NFL odds and track your bets.
---
Spread: Texans -1
Over/Under: 48
Time: Saturday, 4:35 p.m. ET
TV channel: ESPN/ABC
Betting Market
The Colts have been a trendy dog all week, receiving more than 50% of bets and dollars as of writing (see live data here). This support has pushed them from a 3-point underdog to just +1 on the road.
The over/under has received sharp action on each side. After opening at 47, the total rose to 49.5 behind steam on the over. But once it got that high, there was a reverse line move on the under, dropping it back down to 48 around the market. — Mark Gallant
Trends to Know
Andrew Luck is 20-8-3 (71.4%) against the spread vs. the AFC South, covering by 5.8 points per game. But this will be the first time he's seen a division opponent in the postseason.
According to our Bet Labs data, Luck is 4-0 straight-up (3-0-1 ATS) against divisional opponents that allowed fewer than 17 points in their previous game, covering by 11.3 points per game. He's also 5-0 SU when the Colts opponents are coming off a double-digit win. — Evan Abrams
This is a matchup of the Colts offense versus the Texans defense. Indy has averaged 27.1 points per game (fifth in the NFL) while Houston has allowed 19.8 points per game (tied for fourth).
When defenses allowing fewer than 20 points per game face offenses scoring more than 26 points per game in the playoffs, the defensive team has gone 39-29-2 (57%) ATS since 2003. — John Ewing
According to Pythagorean expectations, the Colts have underperformed this season.
Since 2003, when a team with a winning record has underperformed according to point differential, it's been profitable to bet them in December or later. These teams have gone 33-20-3 ATS in the playoffs. — John Ewing
Biggest Mismatches
When the Colts have the ball: T.Y. Hilton vs. Texans Secondary
Despite Hilton being plagued by a nagging ankle injury that's caused him to miss practice time and might have cut short a potential 90-yard catch-and-run touchdown after 43 yards in Week 17, the stud WR is undoubtedly the biggest threat to a Texans defense that's the NFL's second-worst unit at defending No. 1 wide receivers according to Football Outsiders' DVOA.
Hilton's two stat lines against Houston this season are 4-115 on six targets and 9-199 on 12 targets, including gains of 60, 42, 40, 34, 29 and 28.
And despite the Texans securing a first-round home playoff game for the third time in four seasons, you couldn't blame fans for not feeling like home field is an advantage against this particular opponent.
Under Bill O'Brien, the Texans are 1-4 at home against the Colts, and a big reason why is that Hilton in Houston channels MJ in Madison Square Garden: Of Hilton's five combined regular season and playoff games with at least 175 yards receiving, three have taken place in Houston — all one-score losses for the Texans. — Chris Raybon
When the Texans have the ball: DeAndre Hopkins vs. Colts Secondary
For the first time in a long time, the Colts' pass defense has been middling rather than flat-out bad, ranking 20th in overall DVOA and 17th against No. 1 wide receivers — yet it's still clearly outmatched by Hopkins.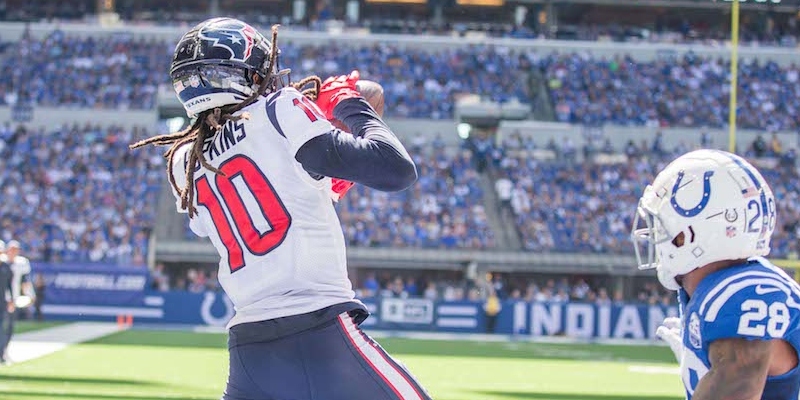 Such is life when you're going up against a receiver who not only set a career-high in catches (115) and yards (1,572) this season, but did so on 163 targets — 29 fewer than it took to establish his previous career-best marks.
Perhaps most impressively, Hopkins' 115 grabs came without a single drop. To put that into context, the receiver with the second-most catches without a drop (Tyler Lockett) caught just 57 balls.
Even containing Hopkins is relative.
After he roasted first-year coordinator Matt Eberflus' defense for a 10-169-1 line in the teams' first meeting of 2018, Hopkins saw that same unit return in the second meeting with a game plan that resulted in nearly as many pass breakups (3) as receptions (4) on his 10 targets.
And even though the Texans lost that game 24-21, Hopkins was still able to secure the clutch 7-yard touchdown that pulled the Texans within three points with 2:37 remaining before an untimely third-down penalty by Jadeveon Clowney allowed the Colts to run out the clock — Raybon
Who Has the Advantage in Key Areas?
Quarterback: Texans
There aren't many quarterbacks you'd rather have than Luck, who has excelled in high-leverage situations this season, leading the Colts to the top-ranked third-down offense and fifth-ranked red-zone offense in the league, while Watson's Texans ranked 20th and 27th, respectively.
But despite Luck's superior situational success and his 6-0 edge over Watson in career playoff starts, there's reason to believe that Watson is the more trustworthy quarterback in a game that's expected to come down to the wire.
Luck falls off on the road. While Watson's splits at home (13 TD/4 INT, 8.2 YPA) and on the road (13 TD/5 INT, 8.3 YPA) this season were nearly identical, Luck's outstanding performance in Indy (21 TD/5 INT, 7.8 YPA) didn't always translate well on enemy turf, where he became more turnover-prone and less efficient (18 TD/10 INT, 6.6 YPA).
Luck hasn't been as good in the clutch, either.
Not only has Watson led more fourth-quarter comebacks (5) and game-winning drives (5) this season than Luck (3 and 3), but Watson's 7-of-10, 81-yard performance with five first downs in overtime when these teams met in Week 4 bested Luck (8-of-13, 75 yards and three first downs) in the extra period, allowing Houston to escape with a three-point win.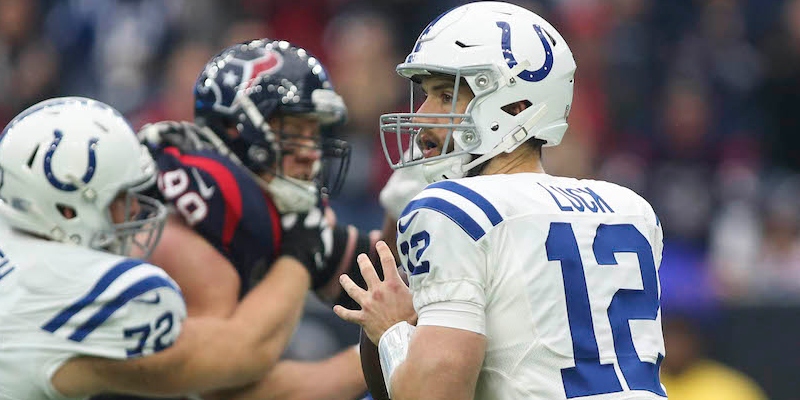 Luck also isn't as good under pressure. Among 33 quarterbacks with 250 or more dropbacks, Watson was pressured at the highest rate in the league this season (44.1%) while Luck was pressured at the sixth-lowest rate (29.1%), per data from Pro Football Focus.
Yet Watson was still able to post the league's best passer rating under pressure (88.4) while Luck ranked 15th (73.4).
Turnovers were again an issue for Luck, too, as he threw seven picks on 173 attempts under pressure while Watson threw just five on 183.
Watson's play has been more even across all situations than Luck's.
Watson averaged 8.3 yards per attempt last season and 8.2 this season while Luck has ranged from 6.4 to 7.8 over his six seasons. Even in games without Will Fuller this season, Watson's 7.9 yards per attempt is easily better than Luck's 7.2 mark overall.
Luck's edge in playoff experience doesn't come without reason for pause, either — he's compiled a 9-to-12 touchdown-to-interception ratio with a passer rating of just 70.5 in six career playoff games. — Raybon
Coaching: Texans
The Colts have assembled an excellent coaching staff, which is a huge reason for their quick turnaround. But the experience on the Texans' sideline wins out in this case.
Just as Frank Reich has done in his first season in Indianapolis, Bill O'Brien led the Texans to a 9-7 record and playoff berth in his first season in Houston in 2014.
But O'Brien's five-year head-coaching resume features four nine-plus-win seasons and three playoff berths in all, in addition to holding various positions from quarterbacks coach to offensive coordinator under Bill Belichick in New England from 2007-11.
And while Eberflus improved the Colts defense from 27th to 10th in DVOA, this is still Year 1 for the 48-year-old while the 71-year-old Romeo Crennel — who improved the Texans from 23rd to seventh in DVOA in his first year back at coordinator after Mike Vrabel coordinated the defense last season — has held coordinator or head-coaching positions since 2000. — Raybon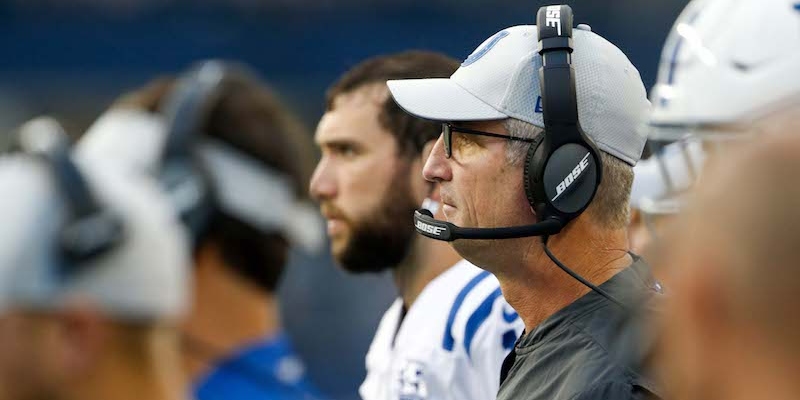 Special teams: Texans
Despite the name recognition of Adam Vinatieri, I have to give a slight edge to Ka'imi Fairbairn in the kicking game.
Fairbairn has been the model of consistency, connecting on all 41 attempts within 40 yards and making 95% of his extra-point attempts. Meanwhile, Vinatieri is 23-for-27 on field goals (extremely average percentage) and has missed three extra points.
Both teams are almost identical in punt return production, averaging right around nine yards per return, but Houston could have a tough time breaking any long returns against Indy's coverage unit, which ranks third in net punting and first in opponent return average.
The Texans have had one of the NFL's best kick coverage units, while the Colts have been about average, another slight edge.
Houston ranks seventh in special teams DVOA; the Colts rank 20th. I don't think the discrepancy is that big, but I do give the Texans a very small edge. That advantage shouldn't be swinging your bets, though. — Stuckey
Injury Report
Which team is healthier? Texans
The Colts and Texans have frequently stacked their early week injury reports, though Houston is in slightly better shape.
Cornerback Johnathan Joseph (neck), slot receiver Keke Coutee (hamstring) and defensive tackle Brandon Dunn (ankle) all practiced in full on Wednesday. Still, O'Brien called Coutee a game-time decision.
Meanwhile, the Colts are tentatively expected to have Hilton (ankle) and starting center Ryan Kelly (neck). Hilton's presence is especially crucial considering Ryan Grant (toe), Zach Pascal (knee) and Dontrelle Inman (shoulder, finger) are also all banged up.
The defense isn't exactly functioning at 100% with safety Clayton Geathers (knee), defensive end Tyquan Lewis (knee) and defensive end Jabaal Sheard (knee) should be considered questionable.
Note: Info as of 6 p.m. ET Thursday. See our Injury Report for daily practice participation and game statuses up until kickoff. — Ian Hartitz
DFS Edge
For the Colts: Luck
Inside NRG Stadium, Luck is in one of the best game environments for DFS.
He should have plenty of time to throw from the pocket thanks to the Texans' 28.9% pressure rate (25th in the NFL), per Sports Info Solutions.
It also helps that the Colts' offensive line was tremendous at protecting him, allowing a pressure rate of just 29.5%. He was sacked on only 9.0% of those pressures, the lowest rate in the league per PFF.
Luck's Median Projection on DraftKings and FanDuel trails only Watson's among quarterbacks in this round, according to our FantasyLabs Models.
For the Texans: Hopkins
The Colts have been stronger against the run (fourth in rush DVOA) this season than the pass (20th in pass DVOA), making Hopkins the perfect Texans player to roll back a game stack with.
Hopkins has seen 35% of the Texans' targets share and 49% of their air yards over the past six weeks, and his Median Projection on DraftKings and FanDuel leads all receivers by nearly four points.
DeAndre Carter could be an interesting salary-relief option on DraftKings for $3,300 with Demaryius Thomas (Achilles) out for the season. Carters' +3.37 Projected Plus/Minus leads all receivers on DraftKings. — Justin Bailey
Bets to Watch
Colts +1: Has any team had an easier stretch of games than the Texans? Their schedule featured only two opponents inside the top 12 of Football Outsiders' DVOA metric — the Colts and Patriots — who the Texans went 1-2 against with the one win coming in overtime.
The heart of Houston's issues is the offensive line, which ranks dead last in Football Outsiders' adjusted sack rate. Watson has been on the run in every single game.
In addition to poor protection, the run-blocking ranks outside the top 20 in power rank, stuffed and second-level yards.
These rankings indicate Saturday will be a long day against a Colts D-line that's fourth in stuffed and seventh in second-level yards.
And if all that weren't enough, the Colts' offensive line ranks second in adjusted sack rate. J.J. Watt and Jadeveon Clowney might stop the run, but they will have issues getting to Luck.
The Texans have not covered against the Colts at home in the the past six tries. Indianapolis, meanwhile, finished the season red hot, winning nine of its last 10 games.
Contrary to what Raybon said earlier, I trust Reich to out-coach O'Brien — then to give Andy Reid and the Chiefs plenty of problems in the divisional round. — Collin Wilson
Over 48: This is the highest over/under of the weekend. It's also the most popular.
I don't care.
Playoff games in domes have been straight cash, homie. The over has hit in 28-of-37 games since 2003, winning by an average margin of more than six points.
One might think that games with lower totals in this sample would have gone over more often, but they would be wrong: In games with totals of 47 or higher, the over has hit 21 out of 24 times by a margin of almost 10 points. If there's a 24-game sample you want to lay down a handsome wager on, this could be it.
The games with lower totals are just 7-6 with a margin of practically zero, which is why I don't like Seahawks-Cowboys as much. — Gallant
Over 48: There are many reasons why this is the week's highest over/under.
The Colts (No. 2 in situation neutral pace) and Texans (No. 9) easily boast the round's fastest-paced matchup.
It boasts the two highest combined net yards per pass attempt rates of the week.
The Texans are one of six defenses to allow at least 75 receiving yards per game to opposing No. 1 wide receivers, and Hilton has historically dominated at NRG Stadium.
The Texans and Colts are the league's only defenses that have allowed at least 70 yards per game to opposing tight ends.
The Colts (No. 20 in DVOA vs. pass, No. 4 vs. run) and Texans (No. 18 vs. pass, No. 1 vs. run) feature pass funnel defenses that should be exploited by the other pass offense.
The biggest concern on both sides of the ball is pressure. The Texans have done a terrible job of protecting Watson, but he's continued to make the best of his situation.
Meanwhile, the Colts did a great job limiting hits on Luck, but the Texans were surprisingly able to cause some problems — he was sacked six times in two games against the Texans, but just 12 times in his other 14 games.
I'll bet on these two elite quarterbacks to make big plays despite the potential for some muddled pockets. — Hartitz
---
Spread: Cowboys -2
Over/Under: 43
Time: Saturday, 8:15 p.m. ET
TV channel: FOX
Betting Market
The Seahawks have been trendy among public and sharp bettors. They're getting the slight majority of spread bets, but have also been hit by a steam move that dropped them from +2.5 to +1.
Seattle is back at +2 at the time of writing (see live odds here).
The over was hit by early money as big bets pushed the line from the opener of 41 to 44 in just about 12 hours, but that might have been an overreaction.
Buyback on the under has dropped it back down to 43, with 60% of the tickets and 66% of the money on the over. — Mark Gallant
Trends to Know
The under has gone 3-0 in Russell Wilson's three wild-card appearances, failing to hit the total by 13.7 points per game with opponents scoring 14 or fewer points in each matchup. — Evan Abrams
Since 2003, the over has gone 640-519-21 (55%) in non-division games with low totals (44 or fewer points) in which wind is blowing at <9 mph or is being  played in a dome.
If the over/under has increased by one or more points (like this one has), it's still been profitable to bet the over: 137-106-3 (56%). — John Ewing
The Cowboys have gone 35-23-1 (60%) against the spread as an underdog under Jason Garrett compared to 32-45-3 (42%) ATS as a favorite, per our Bet Labs data.
As a home favorite, Dallas has gone 17-32-1 (35%) ATS under Garrett, including 0-2 ATS in the playoffs. — Ewing
Officiating report: Walt Anderson will be the head official at AT&T Stadium. Here are home team results for playoff games he's officiated over the past decade. — Abrams
2015: Patriots (-7) over Jets, 45-7
2014: Colts (+2) over Chiefs, 45-44
2010: Vikings (-2.5) over Cowboys, 34-3
2009: Cardinals (+3.5) over Eagles, 32-25
Biggest Mismatches
When Cowboys have the ball: WR Amari Cooper vs. CB Shaquill Griffin
Although his boom-or-bust ways followed Cooper to Dallas, he has never been better. His Pro Football Focus receiving grade of 81.2 and 80.6 receiving yards per game since being traded from Oakland are both career-high marks.
Lining up mostly out wide on the right side of the formation, Cooper is likely to face Griffin for the majority of snaps.
Although Griffin had a promising rookie campaign in 2017, he's since regressed. On 605 coverage snaps this season, Griffin has earned a subpar 51.9 PFF coverage grade and allowed a catch rate of 66.2%.
The Cowboys will likely look to run the ball early and often. Cooper has also been held to receiving performances of 32, 20 and 31 scoreless yards since his massive 217-yard, three-touchdown onslaught in Week 14 — but he's averaged 8.4 targets with the Cowboys, who have given him fewer than seven targets in a game only twice.
If the Cowboys commit to giving Cooper the ball, he should be able to produce against Griffin. — Matthew Freedman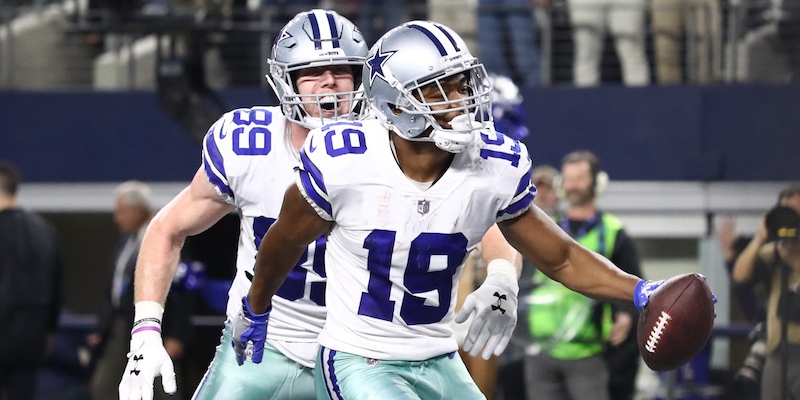 When Seahawks have the ball: WR Tyler Lockett vs. CBs Chidobe Awuzie & Jourdan Lewis
Lockett, who will likely face Awuzie and Lewis for the supermajority of his snaps, has had a quietly dominant campaign with 1,034 yards and 10 touchdowns from scrimmage on just 70 targets and 13 carries.
The receiver has bestowed a perfect 158.3 QB rating to Wilson when targeted (per PFF) — quite a feat to accomplish through 16 games — as well as an elite 16.4 adjusted yards per attempt.
In short, Wilson and Lockett have been as dynamic as any QB/WR connection in 2018.
With Pro-Bowler Byron Jones locked in at right corner, the Seahawks will likely look to attack Awuzie on the left side of the field and Lewis in the slot when they have to pass.
Neither cornerback is bad, but they have combined to allow a catch rate of 64.9%.
Not once this season has Lockett had more than seven targets in a game, so he's unlikely to put up a monster performance. But he's delivered with clutch catches when the Seahawks have needed him.
In a game that figures to be close, even just a few key receptions could be enough to give Seattle the victory. — Freedman
Who Has the Advantage in Key Areas?
Quarterback: Seahawks
Even though Wilson threw the worst pick in Super Bowl history — as well as one of the worst regular-season picks in recent memory against the Vikings just a few weeks ago — he is the easy answer here.
Prescott did well in his lone playoff appearance with 302 yards, three touchdowns and one interception in a loss to the Packers in 2016, but his ring-less resume pales in comparison to Wilson's 8-4 record and Super Bowl title in 12 postseason starts.
Wilson tossed a career-best 35 touchdowns on only 427 attempts this season, which looks even more absurd when considering it took Prescott 99 more attempts to throw 13 fewer touchdowns.
And although Prescott added six scores on the ground while Wilson had none, Wilson was the more efficient rusher with 376 yards on 67 attempts (5.6 yards per carry) compared to Prescott's 305 yards on 75 carries (4.1). — Chris Raybon
Coaching: Seahawks
Garrett's career winning percentage (.566) isn't far off Pete Carroll's (.589). But while Garrett has had only three double-digit-win seasons in nine seasons and two winless postseason appearances over that span, Carroll's teams have reached 10 wins in six of the past seven seasons with two Super Bowl appearances and one title.
Carroll has also become excellent at challenges, winning 8-of-11 since the start of the 2017 season. Garrett hasn't posted a winning challenge record since 2014 (4-3), going 7-of-20 since.
And while Garrett's impact on his team has often come into question — no better illustrated than his nickname, "the Clapper" — Carroll deserves a lot of credit for his.
He's been one of the foremost implementers of sports science and mental health practices. He's also maximized talent and demonstrated a willingness to play his best players regardless of draft pedigree (such as his decision to roll with Chris Carson as his No. 1 back over first-round pick Rashaad Penny).
And just when it appeared Carroll was losing the locker room — both literally, given last offseason's mass exodus, as well as figuratively — he did well to overhaul his coaching staff and entrust Brian Schottenheimer and Ken Norton as his new coordinators despite questionable track records.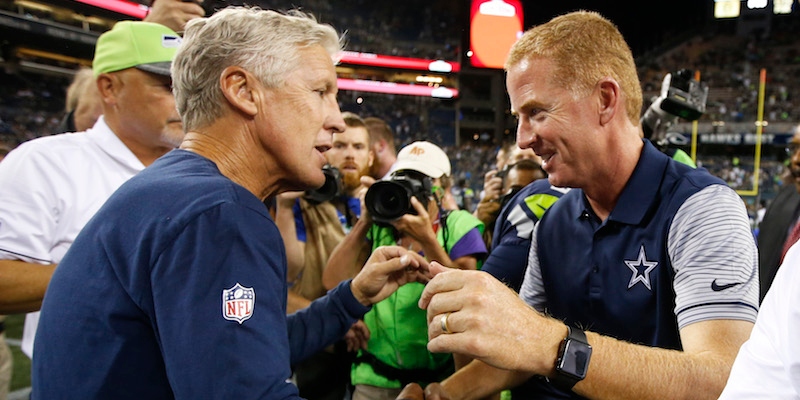 Replacing Tom Cable with Mike Solari was also a key hire who has turned around Seattle's once-dismal offensive line.
Garrett's staff has made strides as well, but it's telling that his one key hire — defensive backs coach Kris Richard — formerly coached under Carroll. — Raybon
Special Teams: Seahawks
Seattle kicker Sebastian Janikowski has been a bit more consistent from makable distances, as Dallas' Brett Maher has missed six kicks from shorter than 50 yards compared to Janikowski's three. And while Maher is 6-for-7 from at least 50 yards, I ultimately trust Janikowski's experience more.
Meanwhile, the Cowboys are allowing opponents to return kicks 26.5 yards on average — the second-highest in the league. That could be dangerous against Lockett, who is averaging more than 25 yards per return.
The Seahawks' kick coverage isn't much better at 24.8 (sixth-highest), but the Cowboys have returned a league-low 13 kicks.
As for punting, both teams average only 5.7 yards per punt return (second-worst) and are nearly identical in punt return yardage allowed at pedestrian 8.4 (Seattle) and 8.5 (Dallas) marks. But the Seahawks will still have the advantage here thanks to Pro Bowl punter Michael Dickson.
I would be remiss not to mention that the Seahawks' punting team almost cost them the game last week when they had two punts blocked by the Cardinals, including one returned for a touchdown.
The Seahawks have the overall edge on special teams, but not by much. These subpar units are much more likely to lose the game than win it.
Dickson's leg could be the only real factor in terms of changing field position. — Stuckey
Injury Report
Which team is healthier? Cowboys
Both teams have had to overcome the loss of key starters this season, but the Cowboys seem to be in slightly better shape at the moment.
Pro Bowl left tackle Tyron Smith (neck) and right guard Zack Martin (knee) are each expected to return after resting in Week 17.
Dallas' only real question mark on offense is the status of left guard Xavier Su'a-Filo (ankle), while the defense could once again be without defensive tackles Tyrone Crawford (neck) and David Irving (ankle).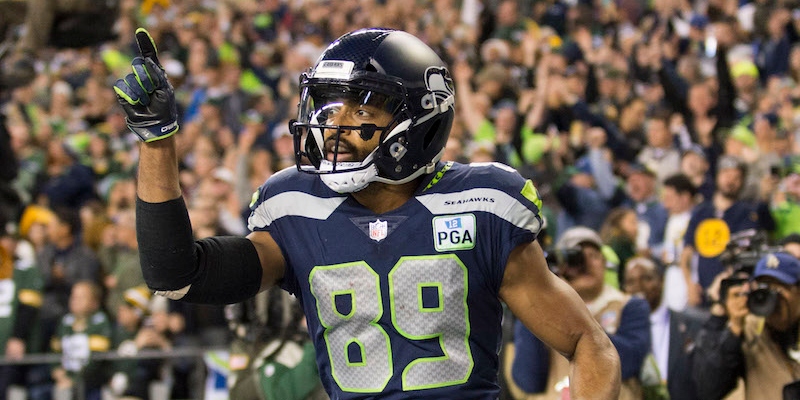 The Seahawks are dealing with apparently serious injuries to Shaquill Griffin (ankle), left guard J.R. Sweezy (foot) and safety Bradley McDougald (knee) while left tackle Duane Brown (knee) failed to practice on either Tuesday or Wednesday.
No. 1 receiver Doug Baldwin (knee) and backup running back Mike Davis (foot) also aren't 100%, but they are both tentatively expected to suit up.
Note: Info as of 6 p.m. ET Thursday. See our Injury Report for daily practice participation and game statuses up until kickoff. — Ian Hartitz
DFS Edges
For the Seahawks: Lockett
Wilson and Lockett have been the NFL's most efficient duo since joining forces in 2015. The only problem is Lockett's lack of volume: The Seahawks' overqualified field-stretcher never earned even eight targets in a game this season.
Still, he should have favorable matchups.
Lockett is $5,300 on DraftKings with a 94% Bargain Rating. He also boasts an 18.4-point projected ceiling in our FantasyLabs Models. — Hartitz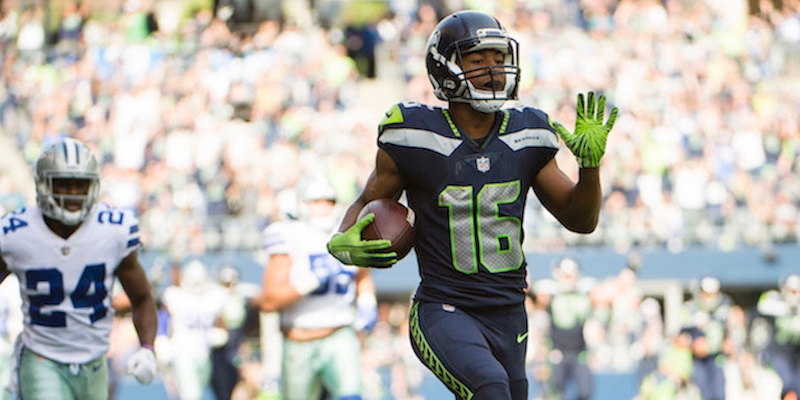 For the Cowboys: Prescott
Prescott has always had a fantasy-friendly rushing floor, joining Cam Newton as the only quarterbacks in league history with at least five touchdowns on the ground in each of their first three seasons.
The 2018 version of Prescott took off even more after Cooper arrived, thanks to his increased efficiency as a passer.
2016: 67.8% completion rate, 7.99 yards per attempt, 229.2 yards per game, 5.8 TD-INT ratio
2017: 62.9% cmp, 6.78 Y/A, 207.8 yards per game, 1.7 TD-INT ratio
2018 before Cooper: 62.1% cmp, 6.88 Y/A, 202.4 yards per game, 2.0 TD-INT ratio
2018 with Cooper: 71.3%, 7.71 Y/A, 274.2 yards per game, 3.5 TD-INT ratio
Now Cooper gets to help Prescott overcome a Seahawks defense that's limited the Cowboys to fewer than 200 passing yards in each of their past two matchups.
Dak is $5,500 on DraftKings and has a solid +2.2 Projected Plus/Minus in our FantasyLabs Models. — Hartitz
Bets to Watch
Seahawks +2: I bet this at +2.5, and I'd honestly bet it all the way to a pick'em.
Since Carroll and Garrett became the head coaches of their respective teams in 2010, Carroll is 4-2 straight-up and ATS in this head-to-head matchup.
The Seahawks are 3-0 ATS as underdogs against the Cowboys. Against Prescott, they're 2-0 ATS. The Seahawks also easily covered as 1-point favorites in Week 3 with their 24-13 win.
The Seahawks have the better coach and better quarterback. They've already beaten the Cowboys this season. And they have a better record of postseason success.
I'm a Cowboys fan, so I freely admit that I can't be objective here. But I see the Seahawks winning this game more often than not. — Freedman
Under 43: These teams have played basically every season in the Garrett era. And in their past four meetings, the Cowboys have one touchdown on 33 drives. Even in what was essentially a "playoff elimination game" in 2017, Dallas scored 12 points and turned it over three times.
I think a heavy dose of Ezekiel Elliott, conservative play-calling and relying on defense is in the cards for Dallas.
And with a couple offensive linemen banged up, Seattle allowed a lot of pressure last week while trying to reconfigure. The Cowboys should exploit those same weaknesses to make things difficult on Wilson.
I don't like either offense here and make this game closer to 40-41 despite ideal stadium conditions. — Ken Barkley
Chris Carson rushing touchdown (-110): Carson has scored a rushing touchdown in four straight games and in six of his past seven, so clearly the Seahawks are focused on feeding on him, especially in the red zone.
Carson also enters the playoffs with 100-plus rushing yards in three straight games for the first time in his career, averaging a robust 5.3 yards per carry.
The one stat I love during that stretch: Carson has 11 rushes for 10 or more yards and only eight rushes for negative yards.
The Cowboys have allowed a rushing touchdown in three straight games (five in total), which is by far the most rushing touchdowns they've allowed over a three-game span this season.
I'll roll with Carson finding the end zone, especially behind a Seahawks' O-line that's ranked in a tie for fifth in power success, which should help Carson get to pay dirt. — Abrams
---
Editor's note: The opinions on these games are from the individual writers and are based on their research, analysis and perspective. They are independent of, and may not always match with, the algorithm-driven Best Bets from Sports Insights.
How would you rate this article?