Koerner's NFL Strength of Schedule Rankings: Patriots Have Easiest Path
Credit:
USA Today Sports. Pictured: Tom Brady, Von Miller
Sean Koerner uses his Power Ratings to rank the strength of schedule for all 32 NFL teams.
The Patriots have the easiest regular season while the Broncos have the hardest.
See how many games Koerner projects each team to be favored in and more.
One of the most helpful tools for analyzing a team's win total? The strength of their schedule.
I ranked the strength of schedule for all 32 teams — from the most difficult (1) to the easiest (32) — by averaging my Power Ratings of each teams' regular-season opponents. I've also highlighted the number of games I have each team projected to be favored in as well as their easiest and hardest games according to my point spread projections.
Let's get started with the team with the hardest schedule. (You can also jump to the full rankings below.)
---
NFL Strength of Schedule Rankings
1. Denver Broncos
Games Favored: 5
Easiest Game: Broncos -4.5 vs. Raiders (Week 17)
Hardest Game: Broncos +9 at Chiefs (Week 15)
2. Houston Texans
Games Favored: 9
Easiest Game: Texans -6.5 vs. Raiders (Week 8)
Hardest Game: Texans +7 at Chiefs (Week 6)
3. Oakland Raiders
Games Favored: 3
Easiest Game: Raiders -4 vs. Bengals (Week 11)
Hardest Game: Raiders +11 at Chiefs (Week 13)
4. Tennessee Titans
Games Favored: 5
Easiest Game: Titans -5.5 vs. Bills (Week 5)
Hardest Game: Titans +6 at Colts (Week 13)
5. Atlanta Falcons
Games Favored: 9
Easiest Game: Falcons -6.5 vs. Buccaneers (Week 12)
Hardest Game: Falcons +5.5 at Saints (Week 10)
6. Kansas City Chiefs
Games Favored: 15
Easiest Game: Chiefs -11 vs. Raiders (Week 13)
Hardest Game: Chiefs +1.5 at Patriots (Week 14)
T-7. Chicago Bears
Games Favored: 11
Easiest Game: Bears -9 vs. Giants (Week 12)
Hardest Game: Bears +4.5 at Rams (Week 11)
T-7. Jacksonville Jaguars
Games Favored: 6
Easiest Game: Jaguars -6 vs. Buccaneers (Week 13)
Hardest Game: Jaguars +5.5 at Colts (Week 11)
T-9. Tampa Bay Buccaneers
Games Favored: 2
Easiest Game: Buccaneers -5 vs. Cardinals (Week 10)
Hardest Game: Buccaneers +9.5 at Rams (Week 4)
T-9. Carolina Panthers
Games Favored: 8
Easiest Game: Panthers -7.5 vs. Redskins (Week 13)
Hardest Game: Panthers +5.5 at Saints (Week 12)
11. New Orleans Saints
Games Favored: 11
Easiest Game: Saints -11.5 vs. Cardinals (Week 8)
Hardest Game: Saints +3.5 at Rams (Week 2)
T-12. Los Angeles Chargers
Games Favored: 12
Easiest Game: Chargers -9 vs. Raiders (Week 16)
Hardest Game: Chargers +4.5 at Chiefs (Week 17)
T-12. Minnesota Vikings
Games Favored: 10
Easiest Game: Vikings -8 vs. Redskins (Week 8)
Hardest Game: Vikings +6.5 at Chiefs (Week 9)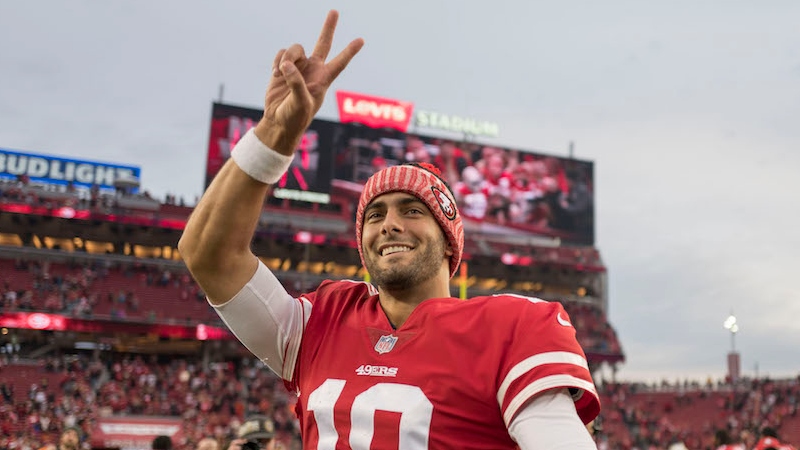 T-12. San Francisco 49ers
Games Favored: 9
Easiest Game: 49ers -7 vs. Cardinals (Week 11)
Hardest Game: 49ers +7 at Rams (Week 6)
T-15. Indianapolis Colts
Games Favored: 10
Easiest Game: Colts -12.5 vs. Dolphins (Week 10)
Hardest Game: Colts +5 at Chiefs (Week 5)
T-15. Detroit Lions
Games Favored: 4
Easiest Game: Lions -5.5 vs. Giants (Week 8)
Hardest Game: Lions +7 at Eagles (Week 3)
T-17. Arizona Cardinals
Games Favored: 0
Easiest Game: Cardinals +0.5 vs. Lions (Week 1)
Hardest Game: Cardinals +12 at Rams (Week 17)
T-17. Green Bay Packers
Games Favored: 10
Easiest Game: Packers -8.5 vs. Redskins (Week 14)
Hardest Game: Packers +6 at Chiefs (Week 8)
19. Seattle Seahawks
Games Favored: 7
Easiest Game: Seahawks -8 vs. Cardinals (Week 16)
Hardest Game: Seahawks +6.5 at Rams (Week 14)
20. Los Angeles Rams
Games Favored: 14
Easiest Game: Rams -12 vs. Cardinals (Week 17)
Hardest Games: Pick'em at Browns (Week 3); Pick'em at Falcons (Week 7)
21. Miami Dolphins
Games Favored: 1
Easiest Game: Dolphins -0.5 vs. Bengals (Week 16)
Hardest Game: Dolphins +13.5 at Patriots (Week 17)
22. Baltimore Ravens
Games Favored: 10
Easiest Game: Ravens -7.5 vs. Cardinals (Week 2)
Hardest Game: Ravens +8 at Chiefs (Week 3)
23. Cincinnati Bengals
Games Favored: 1
Easiest Game: Bengals -3 vs. Cardinals (Week 5)
Hardest Games: Bengals +8.5 vs. Rams (Week 8); Bengals +8.5 at Browns (Week 14)
24. Pittsburgh Steelers
Games Favored: 10
Easiest Game: Steelers -10 vs. Dolphins (Week 8)
Hardest Game: Steelers +6 at Patriots (Week 1)
25. Washington Redskins
Games Favored: 1
Easiest Game: Redskins -2.5 vs. Giants (Week 16)
Hardest Game: Redskins +9 at Eagles (Week 1)
26. Dallas Cowboys
Games Favored: 9
Easiest Game: Cowboys -9.5 vs. Dolphins (Week 3)
Hardest Game: Cowboys +6.5 at Patriots (Week 12)
27. New York Giants
Games Favored: 4
Easiest Game: Giants -4 vs. Dolphins (Week 15)
Hardest Game: Giants +11.5 at Patriots (Week 6)
28. Cleveland Browns
Games Favored: 10
Easiest Game: Browns -10.5 vs. Dolphins (Week 12)
Hardest Game: Browns +6 at Patriots (Week 8)
29. Philadelphia Eagles
Games Favored: 12
Easiest Game: Eagles -9.5 vs. Giants (Week 14)
Hardest Game: Eagles +2 at Packers (Week 4)
30. Buffalo Bills
Games Favored: 6
Easiest Game: Bills -6 vs. Dolphins (Week 7)
Hardest Game: Bills +10 at Patriots (Week 16)
31. New York Jets
Games Favored: 5
Easiest Game: Jets -7 vs Dolphins (Week 14)
Hardest Game: Jets +9 at Patriots (Week 3)
32. New England Patriots
Games Favored: 15
Easiest Game: Patriots -13.5 vs. Dolphins (Week 17)
Hardest Game: Patriots +0.5 at Eagles (Week 11)
---
Full Ranking