NFL Wild Card Fantasy Football Takeaways: Nick Foles' Legend Grows, Andrew Luck Advances, More
Credit:
USA TODAY Sports. Pictured: Nick Foles (9), Andrew Luck (12).
The opening weekend of this year's playoffs had some great offensive performances as well as some dramatic finishes.
Eagles QB Nick Foles found his the magic from last year's postseason run in an improbable win over the Bears.
Colts QB Andrew Luck came out of the gates on fire in a blowout win over the Texans.
Wild Card weekend didn't give us the high-octane offense we saw throughout the regular season, but playoff football remains one of the world's greatest treasures.
Saturday's action featured a dominant victory for the underdog Colts on the road in Houston, while Dak Prescott and Ezekiel Elliott were able to pick up their first career playoff victory courtesy of the Seattle Seahawks.
Philip Rivers and the Chargers brought the Lamar Jackson hype train to a screeching halt on Sunday, and Nick Foles managed to once again lead the Eagles to playoff glory against the Bears.
Let's take a look back at some of top performers and takeaways from each team that suited up over the weekend, starting with those that were lucky enough to advance to the Divisional Round.
Andrew Luck and T.Y. Hilton Keep Rolling
The Colts managed to seize a 14-0 lead after just 11 minutes of action, and they ultimately coasted to a 21-7 victory over the Texans. Andrew Luck and T.Y. Hilton were able to make plays early and often against their division rival's below-average secondary.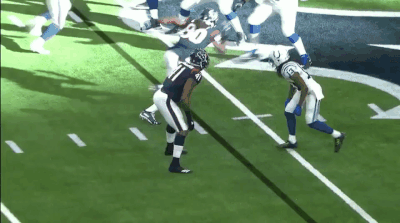 Luck finished the day with 222 passing yards, two touchdowns as well as an interception to go along with 29 scoreless yards on the ground. Hilton added another feather to his NRG Stadium-cap with a 5-85-0 line on 10 targets.
Up next is a road trip to Arrowhead against the Chiefs' 26th-ranked defense in overall DVOA. There doesn't seem to be a defense capable of completely shutting down Luck and Hilton, but their respective indoor/outdoor splits don't bode well for the Colts in the Divisional Round.
The Cowboys' Modern-Day Triplets Came Through in a Big Way
It wasn't easy, but the Cowboys were able to secure their first playoff win since 2015 after defeating the Seahawks 24-22. The Dallas defense was masterful in shutting down the vaunted Seahawks rushing attack thanks to consistent excellence from Demarcus Lawrence, Jaylon Smith and Leighton Vander-Esch.
Still, it was the Cowboys' starting quarterback, running back and wide receiver who ultimately stole the show.
Prescott completed 22-of-33 passes (66.7%) for 226 yards (6.9 Y/A) with one touchdown and an interception. He also added 29 yards on the ground — 16 came on a gutsy game-sealing conversion on third-and-14 late in the fourth quarter.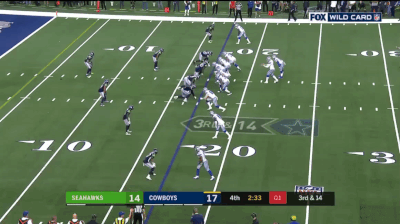 Elliott converted 26 carries into 137 yards and one touchdown on the ground while also catching 4-of-5 targets for another 32 yards through the air. Only Le'Veon Bell (12) has more games with 30-plus touches than Zeke (9) since the Cowboys drafted their stud back in 2016.
And then there's Amari Cooper, who caught 7-of-9 targets for 106-scoreless yards. He continues to excel inside the friendly confines of Jerry World:
That luxury won't be afforded in the Divisional Round when the Cowboys travel to Los Angeles to take on the Rams. On the contrary, Dallas will now have to deal with Jared Goff and his pro-home splits dating back to 2017.
On road (16 games): 62% cmp | 7.72 Y/A | 28 TDs, 11 INTs | four games with 300+ yards | four games with 3+ TDs
At home (16 games): 64% cmp | 8.38 Y/A | 33 TDs, 8 INTs | 9 games with 300+ yards | six games with 3+ TD passes
The Chargers Get the Job Done
Nothing was easy for either offense during the Chargers' 23-17 victory over the Ravens on Sunday. In the end, none of LA's high-profile running backs or receivers managed to surpass even 50 total yards of offense, while Rivers converted 32 pass attempts into a pedestrian 160-scoreless yards (5.0 Y/A).
Instead it was the Chargers' defense that took control of this contest. Jackson didn't take more than three sacks in any of his previous seven career starts, but the Chargers' ferocious front-seven managed to bring down the Ravens' hyper-athletic rookie on seven separate occasions.
Stud defensive ends Melvin Ingram (2 sacks) and Joey Bosa (1) each made a habit of consistently penetrating into the Ravens backfield. The latter defensive end has truly been one of the league's elite talents, when healthy, since the Chargers selected him with the No. 3 overall pick in the 2016 draft.
The Chargers managed just 13 points during their last trip to Foxborough in Week 8 of 2017, but their new-look balanced offense and lethal pass rush could present some problems for Bill Belichick and Co.
The Patriots opened as 4.5-point favorites, while the over/under has already moved from 47 to 47.5 (per our NFL Live Odds Page).
The Legend of St. Nick Grows
The Eagles earned a thrilling Wild Card victory Sunday with a 16-15 win at Soldier Field. Foles managed to drive the offense 60 yards during the final minutes of the game, culminating with a go-ahead touchdown to Golden Tate on fourth-and-goal from two yards out.
Moving the offense was largely on the shoulders of Foles throughout the afternoon, as Darren Sproles, Wendell Smallwood and Josh Adams converted 22 carries into just 41 scoreless yards. Foles completed 25-of-40 passes (62.5%) for 266 yards (6.7 Y/A) with two touchdowns and a pair of interceptions.
The Eagles' balanced passing attack managed to get seven (!!!) different receivers multiple catches.
Alshon Jeffery caught 6-of-9 targets for 82 scoreless yards in his #RevengeGame.
Zach Ertz built on his record-breaking regular season with five catches for 52 scoreless yards on seven targets.
It's safe to say nobody in Philadelphia will be complaining about the Golden Tate trade after he converted eight targets into five receptions for 46 yards and what proved to be the game deciding touchdown.
Nelson Agholor (3-32-0), Dallas Goedert (2-20-1), Smallwood (2-20-0) and Sproles (2-14-0) also managed to come through with their respective opportunities.
Next up for the Eagles is a trip to the Superdome for a rematch with the Saints. Philadelphia was pummeled 48-7 during their last trip to New Orleans back in Week 14, but that was with Carson Wentz under center.
Deshaun Watson Didn't Have a Great Day
Watson attempted a career-high 49 passes during the Texans' Wild Card loss to the Colts. The problem was he completed just 29 of them (59.2%) for 235 yards (4.8 Y/A) with one touchdown and an interception.
The league's premiere dual-threat quarterback chipped in another 76 yards on the ground, but the once dangerous Texans are officially eliminated after losing three of their final five games.
The Colts' underrated zone-heavy defense didn't make things easy for the second-year quarterback, although Watson left plenty of plays on the field last Saturday afternoon.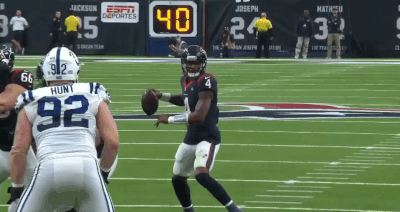 Nuk (5-37-0) reportedly suffered a Grade 3 AC sprain during the first half of the loss, although the All-Pro receiver refused to exit the game. Keke Coutee (11-110-1) and Lamar Miller (8-63-0) picked up some of the slack, but at this point it's fair to question the overall upside of the Texans offense without elite field-stretcher Will Fuller.
What Does Seattle Have Against Passing?
The Seahawks worked as the league's most-pass adverse offense during the regular season. This was again the case during their Wild Card loss to the Cowboys, although there's a strong case to be made that Russell Wilson should've had a few more chances to try and win the game with his arm.
24 run plays: 73 yards | 3.04 yards per play | 1 TD
27 pass plays: 226 yards | 8.37 yards per play | 1 TD
Chris Carson and company were largely successful for most of the season, but the offense's willingness to handcuff Wilson was truly puzzling considering how incredibly effective he was all season.
The continued presence of Seahawks offensive coordinator Brian Schottenheimer likely won't lead to a pass-first overhaul in 2019.
There's also plenty of uncertainty in next year's pecking order in the run game considering first-round pick Rashaad Penny figures to eventually have a bigger role after playing just 5-of-55 snaps (9%) while working behind J.D. McKissic (11%), Mike Davis (33%) and Chris Carson (47%).
Jackson's Rough Playoff Debut
The Ravens had three first downs after 50 minutes against the Chargers. Jackson and the pass offense finally came alive during a couple late-game drives , but there's still no debate that the Ravens' offense had a brutal all-around game.
Jackson completed 14-of-29 passes (48%) for 194 yards (6.7 Y/A) with a pair of touchdowns and one interception. The rookie converted nine carries into 54 yards on the ground.
Kenneth Dixon and Gus Edwards combined for just 36 scoreless yards on 14 carries — good for a brutal average of 2.6 yards per carry.
None of Willie Snead (3-50-0), Michael Crabtree (2-38-2) nor John Brown (2-14-0) were able to consistently get open on a combined 13 targets against the Chargers' talented secondary.
Of course, Jackson also finished the day with three fumbles. He was one of just eight quarterbacks with double-digit fumbles during the regular season.
Despite the erratic performance, head coach John Harbaugh left no doubt regarding who would be under center in Week 1 of 2019.
The Ravens proved capable of making the playoffs while utilizing a run-first offense to fit Jackson's talents, although the former first-round pick needs to do a better job taking care of the ball to better maximize the offense's potential in 2019.
Cancel the Bears
The Bears' second-year quarterback threw for the most yards of any quarterback (303) in the Wild Card round, although Mitch Trubisky accounted for just nine rushing yards and didn't seem to possess his usual athleticism after getting hobbled during the first half.
The Bears' inefficient rushing attack didn't help matters, as Jordan Howard (10 carries-35 yards-0 TD) and Tarik Cohen (1-0-0) were each held in check.
The biggest bright spot on offense was the performance of Allen Robinson, who consistently broke free on crafty double-moves on his way to catching 10-of-13 targets for 143 yards and a clutch 22-yard score.
Cody Parkey's missed 43-yard field goal with just 10 seconds remaining ultimately denied the Bears of their first playoff victory since 2010. Long live the double-doink.
---
Be sure to check out FantasyLabs' industry-leading NFL News and Models, along with the Multi-Lineup Builder, Stack Builder, ownership projections and more. Other tools for the 2018 season are also available, including the Matchups page, DFS Contests Dashboard, NFL Ownership page and NFL Correlations page.
How would you rate this article?