Schwartz's Favorite NFL Win Totals: Why You Should Bet the Ravens Right Now
Credit:
USA Today Sports. Pictured: Lamar Jackson, Russell Wilson
Former offensive lineman Geoff Schwartz analyzes 2019 NFL win totals and offers his four favorite bets.
Sure, it's March Madness and the start of the Major League Baseball season. But it's also NFL win total season.
CG Technology was the first sportsbook to release win totals for the 2019 season. And I have some thoughts.
Let's start with my favorite bet, then highlight a few more interesting totals.
Baltimore Ravens Under 8.5 Wins
This is the only one bet I'd make right now.
The Ravens went 6-1 over their final seven regular-season games to win the AFC North and host a playoff game, which they promptly lost to the Chargers.
Their third-ranked defense in Football Outsiders' DVOA led the way over that streak. They harassed quarterbacks, stopped the run and forced turnovers. Well, that defense is going to look different on paper heading into 2019.
The Ravens lost three linebackers to free agency, including decorated pass rusher Terrell Suggs. They did replace Eric Weddle with Earl Thomas, but as it stands, their defense is worse. I'd also expect some regression with a tougher schedule: Cleveland is much improved, Pittsburgh will be just fine without Antonio Brown and they add the NFC West and AFC East to the mix, plus Kansas City and Houston.
Yet, while the defense could regress, it should still be a top-10 unit.
The biggest worry is at quarterback and with their offensive scheme.
Lamar Jackson is an inaccurate quarterback in a league that requires pinpoint accuracy to succeed. Can he improve? Sure. But history has shown otherwise, especially when the Ravens have a below-average wide receiver corps.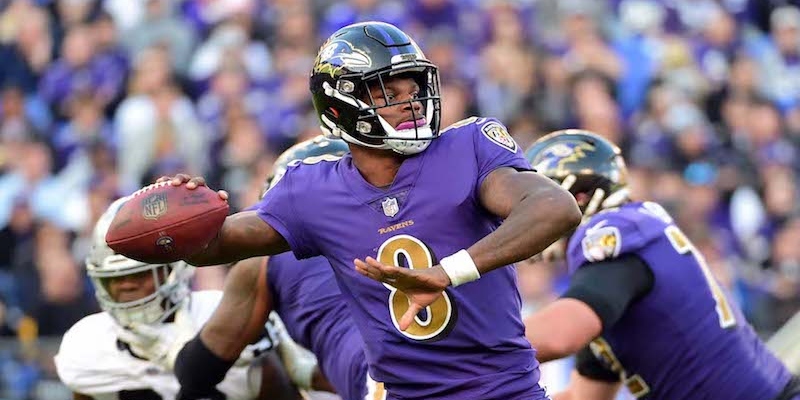 As for their run game? It's 2019: Offenses can't be built around the run game; they have to be balanced and able to attack defenses from multiple angles.
The top-five offensives in DVOA last season were all in the top five in passing DVOA. And yes, most of them rushed the ball well. But they were balanced. We saw how the Chargers shut down the Ravens' run game in the playoffs, the second time the teams met with Jackson as the starter.
I'm not a fan of the direction the Ravens are heading in. Give me under eight wins.
Carolina Panthers Over 8 Wins
Cam Newton will be fully healthy again, which is huge — the Panthers were 6-2 before he injured his shoulder in 2018.
The Panthers have historically followed up a poor season with a good one. And lastly, there will be pressure to win for jobs as new owner David Tepper probably won't stand for back-to-back losing seasons.
At minimum, I think we'd get a push here.
Seattle Seahawks Over 8.5 Wins
This number seems low.
Since Russell Wilson began his career in 2012, the Seahawks have won at least nine games. Wilson is 44-12 at home in his career, and with an average of at least six wins at home, they would need to piece together only three road wins to hit the over.
Seattle's defense, which was doubted last season, improved with new players in new roles. The offense, led by Wilson, finished ninth in DVOA. After being so conservative in their playoff loss to the Cowboys, I hope the Seahawks have a more aggressive offense, which will lead to more improvement.
Miami Dolphins Under 5 Wins
Some team is going to lose 12 or 13 games. And it's going to be Miami.
The Dolphins are purposely "tanking" and don't have much talent. Add in a rookie quarterback and a new head coach, and this has disaster season written all over it.
How would you rate this article?