NFL Week 14 WR/CB Matchups: Who Will Win Between Mike Evans and Marshon Lattimore?
Credit:
New Orleans Saints cornerback Marshon Lattimore (23) tackles Tampa Bay Buccaneers wide receiver Mike Evans (13) during the first half of a game at the Mercedes-Benz Superdome. Credit: Derick E. Hingle-USA TODAY Sports
Week 14's WR/CB matchups will feature a a familiar meeting between Giants receiver Odell Beckham Jr. and Redskins corner Josh Norman.
Nine other wide receivers are likely to draw shadow coverage. We also break down plus and minus matchups.
I'll be breaking down the top wide receiver/cornerback matchups every week throughout the 2018 NFL season.
Below is a data-driven analysis of the week's best passing-game matchup, seven potential shadow matchups and an additional nine potential non-shadow matchups. At the end, I'll wrap up with a quick look at plus and minus matchups.
Visit the FantasyLabs NFL page for more weekly fantasy breakdowns. You can also view all of this week's WR/CB matchups using our Matchups tool.
Jump to: Matchup of the Week | Shadow Matchups | Non-Shadow | Plus/Minus
Matchup of the Week
Steelers Offense vs. Raiders Defense
The Steelers are somewhat reeling at the moment, as they've lost back-to-back games after winning six-straight matchups from Weeks 5-11. Still, their offense has combined for 47 points during this recent slide, indicating Ben Roethlisberger and company are largely still operating as the league's fourth-ranked scoring offense.
Any discussion about the Steelers on the road must include an indictment on the passing game's horrific splits away from Heinz Field, although Big Ben and company have seemingly been better quipped to handle late-afternoon road games.
I agree with the Action Network's Matthew Freedman that Antonio Brown isn't the same monster we've grown accustomed to seeing in recent seasons. Still, AB's absurd workload and status as the No. 1 receiver in the slate's second-highest implied offense sets him up exceptionally well in this smash spot vs. the Raiders' league-worse secondary in pass DVOA.
Also helping matters for Brown's outlook is his historical dominance with the Steelers' No. 1 running back (Le'Veon Bell) sidelined over the years.
You should sign Jaylen Samuels in the wake of James Conner's (ankle, out) injury, but there's a chance we see the Steelers increase their pass-game volume without an established running back. All that stands in their path is the Raiders' league-worst defense in pass DVOA. They don't boast a single player graded among PFF's top-30 defensive backs this season and have allowed at least 20 points in every game.
Basically the only nice thing anyone can say about the Raiders pass defense is that they haven't allowed huge yardage totals. They join the Ravens, Bills, Bears and Chargers as the only defenses that have allowed just one quarterback to surpass 300 passing yards this season. Still, this has largely been due to opponents consistently building large leads and not needing to throw the ball, as the Raiders rank dead last in point differential this season.

As always, Juju Smith-Schuster is in play regardless of the matchup. Juju (10 targets per game) joins AB (11), Keenan Allen (11.4), Stefon Diggs (11.3) Travis Kelce (11) and Julio Jones (10.4) as the only players averaging double-digit targets per game since November.
The Week 14 Shadow Club
Not many cornerbacks are consistently asked to travel with the opposition's No. 1 wide receiver, but we can expect the following seven teams to regularly line up across from their opponent's top receiver in Week 14. (That doesn't include Jalen Ramsey's shadow date with Corey Davis on Thursday night.)
Jets WR Robby Anderson vs. Bills CB Tre'Davious White
Anderson was one of only two receivers who the Bills asked White to shadow last season, but he didn't suit up in Week 10 during the first matchup between these AFC East teams.
There's a chance the Bills decline to have White shadow Anderson considering they've left their stud corner on the left side of the field for the past four weeks, but those matchups have come against underwhelming receiving groups lacking a clear No. 1 receiver in the Bears (without Allen Robinson), Jets (without Anderson), Jaguars and Dolphins.
White is a baller, but Anderson did prove in 2017 that he's capable of creating big plays against the Bills' No. 1 cornerback.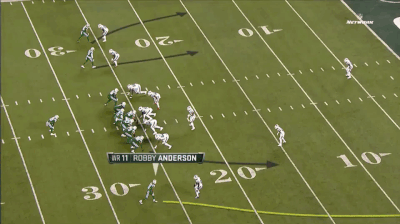 Anderson's field-stretching ability gives him a chance to win any matchup, though he's received a pedestrian 5.4 targets per game to work with this season.
Adding to Anderson's troubles is the expected return of quarterback Sam Darnold (foot, probable), who has thrown for more than 230 yards only twice.
No one involved in the Jets' low-volume passing game is an intriguing play against the Bills' top-three ranked defense in overall and pass DVOA.
Giants WR Odell Beckham Jr. vs. Redskins CB Josh Norman
Update: Beckham (quad) has been ruled out. Read about the impact of Beckham's injury here.
The Redskins have utilized Norman in shadow coverage whenever No. 2 cornerback Quinton Dunbar (leg) has been unable to suit up this season. This hasn't exactly worked out so far, although Norman deserves some slack considering the Redskins utilize a ton of zone defense and don't make a habit of moving him into the slot.
Still, Julio Jones (7-121-1), Mike Evans (3-51-0), DeAndre Hopkins (5-56-1), Alshon Jeffery (3-31-0) and OBJ (8-136-0) have largely been able to produce in Norman's shadow this season.
There's certainly been plenty of bad mojo during Beckham and Norman's on-field rivalry over the years, but it's tough to deny that OBJ would be scored the winner if this battle went to the judge's scorecards.
The Redskins have allowed a league-high 88.5 yards per game to opposing No. 1 receivers this season. OBJ currently has the third-highest projected ceiling among all wide receivers in our Pro Models.
Sterling Shepard (ribs) is set up particularly well if Dunbar is sidelined, but he remains a thin play considering he's failed to gain over 40 yards in a game since Week 7. The potential return of Evan Engram (hamstring) could also hurt Shepard's target share.
Buccaneers WR Mike Evans vs. Saints CB Marshon Lattimore
It took Evans just seven targets to hang a 7-147-1 line on Lattimore in Week 1. This performance was so bad that it literally took months for the fantasy community to respect Lattimore as a No. 1 cornerback again, but he's managed to mostly win each of his other five shadow matchups.
Week 4 vs. Odell Beckham Jr.: 7 receptions-60 yards-0 TD (11 targets)
Week 7 vs. Michael Crabtree: 5-66-0 (9)
Week 11 vs. Alshon Jeffery: 4-33-0 (5)
Week 12 vs. Calvin Ridley: 8-93-1 (13)
Week 13 vs. Amari Cooper: 8-75-0
Additionally, Evans posted mediocre 1-13-0 and 5-55-0 lines on six and 13 targets, respectively, during their two meetings in 2017.
It's pretty much impossible for any corner to consistently fend off Evans and his 6-foot-5 and 230-pound frame for 60 whole minutes, but it would be surprising to see him dominate this matchup as thoroughly as he did in Week 1. Lattimore has earned PFF's No. 24-overall grade among all cornerbacks and boasts the type of size (6-foot-0 and 193-pounds) and speed (4.36-second 40-yard dash) that is capable of giving the league's best receivers problems.
Slot receiver Adam Humphries is set up exceptionally well in the slot against P.J. Williams (PFF's No. 103 overall cornerback), while Chris Godwin should see plenty of Eli Apple (PFF's No. 101 CB). Godwin's matchup in particularly will be elevated if DeSean Jackson (thumb) is unable to suit up again Sunday considering he's posted 3-98-0, 7-111-1 and 5-101-1 lines in three games with D-Jax sidelined over the past two seasons.
Be sure to monitor our Week 14 Injury Report for D-Jax's daily practice participation along with his estimated and official game statuses.
Browns WRs Antonio Callaway, Rashard Higgins and Jarvis Landry vs. Panthers CBs Donte Jackson, James Bradberry and Captain Munnerlyn
Panthers rookie Donte Jackson (4.32-second 40-yard dash) has typically taken the offense's field-stretcher, nominal No. 1 cornerback James Bradberry (6-foot-1 and 211-pounds) has tracked the bigger-bodied outside receiver, and nickel corner Captain Munnerlyn has taken anybody and everybody in the slot.
The Panthers' zone-heavy defense is similar to the Redskins in that their cornerbacks aren't consistently asked to track their assignment all over the field. Still, their coverage assignments in recent matchups against similar three-pronged receiving attacks could indicate how the Panthers plan on matching up with the Browns.
Week 8 vs. Ravens: Jackson on John Brown, Bradberry on Michael Crabtree, and Munnerlyn on Willie Snead.
Week 10 vs. Steelers: Jackson on Antonio Brown, Bradberry on James Wshington, and Munnerlyn on Juju Smith-Schuster.
Week 13 vs. Bucs: Jackson on Chris Godwin, Bradberry on Mike Evans, and Munnerlyn on Adam Humphries.
The good news for the Browns is that none of the Panthers cornerbacks are graded among PFF's top-60 corners this season. They've allowed the fifth-most DraftKings points per game to opposing wide receiver units through 13 weeks.
The Panthers more-closely resemble the Chiefs/Falcons/Bengals defenses that the Browns wrecked in Weeks 9-12 as opposed to the Texans' ferocious group that held Cleveland to just 13 points last week. Baker Mayfield hasn't shown consistent target allocation yet, but it appears Landry and Callaway are the offense's best bets are making plays this week.
Dolphins WRs DeVante Parker and Kenny Stills vs. Patriots CBs Stephon Gilmore and Jason McCourty
The Patriots asked Gilmore to shadow Parker in both of their matchups last season, with the Dolphins' de facto No. 1 receiver catching 5-of-9 targets for just 45-scoreless yards. This will likely mean McCourty on Kenny Stills assuming Danny Amendola (knee) remains sidelined.  Stills has gained fewer than 60 receiving yards in each of his seven matchups against the Patriots since joining the Dolphins in 2015.
PFF has graded Gilmore and McCourty as the league's No. 2 and No. 7 overall cornerbacks this season, respectively.
There's hardly any upside for the Dolphins passing game with Tannehill under center, as he's thrown fewer than 30 passes in all but one of his seven starts this season. Neither Stills nor Parker have reached eight targets in a game with Tannehill under center.
Lions WR Kenny Golladay vs. Cardinals CB Patrick Peterson
Last Sunday's matchup vs. the Rams marked just the second time in 10 games that Golladay didn't score a touchdown or gain at least 90 receiving yards when targeted more than five times. Still, Babytron's 3-50-0 line demonstrated his new-look floor as the Lions' No. 1 target in the pass game.
Only Keenan Allen (47 targets) and Antonio Brown (45) have more targets than Golladay (44) since Week 10.
This week's matchup vs. Peterson is difficult, although this is another zone defense that doesn't necessarily ask its No. 1 cornerback to consistently travel with the opponent's No. 1 receiver all across the field. Peterson is largely having a great season and is PFF's No. 8 overall cornerback after 13 weeks, but he's spent just 11 total snaps in the slot and can be schemed out of the picture.
No. 2 receiver Bruce Ellington has averaged 8.7 targets over the past three weeks and is in play as a cash game option in PPR formats. Just be aware that Ellington hasn't surpassed 55 yards in a game all season and carries an unfriendly average target depth of just 3.1 yards.
Seahawks WR Tyler Lockett vs. Vikings CB Xavier Rhodes
The Vikings ask Rhodes to shadow more than any other cornerback in the league. Rhodes doesn't move into the slot all that often (like Peterson), but he does make a habit of playing air-tight man-coverage that has given most opposing No. 1 wide receivers fits this season.
Lockett presents the type of dynamic open-field ability that can give larger cornerbacks like Rhodes (6-foot-1 and 210-pounds) problems, but there simply isn't enough passing volume going around in this Seahawks offense to comfortably attack this matchup.
Lockett leads the Seahawks in targets, yet has seen five or fewer targets in seven of his last eight games.
Doug Baldwin offers a brutal floor considering he's finished with five or fewer targets in four of his last six games.
David Moore appeared to be positioned for a somewhat consistent deep-ball role, but was then held target-less in Week 13.
Baldwin (93% snaps in Week 13) and Lockett (69%) are the group's best bets of cashing in on Russell Wilson's staggeringly consistent stream of touchdowns, but the likes of Moore (48%), Jaron Brown (26%) and even Malik Turner (24%) are candidates to vulture touchdowns during any given week.
---
Potential Non-Shadow Matchups
Cowboys CB Byron Jones: PFF's No. 3 overall cornerback is one of the main catalysts behind the Cowboys' newfound elite defense. Jones has helped limit the likes of Michael Thomas (5-40-0), Devin Funchess (3-41-0), Alshon Jeffery (4-48-0) and OBJ (4-51-0), but the Cowboys have asked him to stick to the right side of the field. This has allowed the likes of DeAndre Hopkins (9-151-1), Golden Tate (8-132-2) and Julio Jones (6-118-1) to thrive vs. Chidobe Awuzie and Anthony Brown. The Eagles' target distribution in four games since adding Tate: Zach Ertz (37 targets), Tate (27), Jeffery (21) and Nelson Agholor (18).
Dolphins CB Xavien Howard: Howard receives plenty of blame after allowing a big play, but he deserves credit for nabbing a league-high 11 interceptions since entering the league in 2016. The Dolphins' No. 1 cornerback has created a formidable one-two-punch with No. 1 draft pick Minkah Fitzpatrick in recent weeks, with Howard sticking to the left side and Fitzpatrick the right. Still, Howard is considered week-to-week with a knee injury and not expected to suit up Sunday. Josh Gordon already had a decent floor considering he's scored a touchdown or gained at least 70 yards six of his past eight games, but Julian Edelman is still set up the best inside vs. Bobby McCain — PFF's No. 97 cornerback.
49ers CB Richard Sherman: Sherman has routinely done a damn good job as the defense's left cornerback all season. Unfortunately, his teammates have not, particularly liability Akhello Witherspoon. The 49ers have kept Witherspoon as the right cornerback on the field during each of his past seven games, so we can expect up-start rookie Courtland Sutton to play roughly 55% of his snaps against the 49ers' biggest liability. Emmanuel Sanders (Achilles) is done for the season, so DaeSean Hamilton is expected to take over in the slot. Hamilton is certainly in play on DraftKings at just $3,000. The 49ers' 26th-ranked defense in pass DVOA shouldn't be feared.
Ravens CB Jimmy Smith: The Ravens have utilized Smith twice this season for shadow matchups vs. Julio Jones (2-18-0) and Michael Thomas (7-69-1). It seems unlikely Tyreek Hill gets this treatment considering he's spent 44% of his snaps in the slot or the backfield. Smith hasn't played more than seven snaps in the slot during a game this season, so TyFreak should see plenty of average nickel back Tavon Young. The Chiefs' historically-prolific offense isn't a unit to fret about matchups with, although the Ravens' slow-paced and run-first offense fits perfectly with their devastating defense.
Giants CB Janoris Jenkins: The Giants' post-bye renaissance has been fueled by matchups against the likes of Nick Mullens, Chase Daniel and a bad-version of Ryan Fitzpatrick. Still, Redskins quarterback Mark Sanchez is probably the worst member of the group, making the Giants' underwhelming defense a streaming option against a guy who has inefficiently thrown 21 passes since 2016. Sanchez's target distribution after entering last Monday night's game featured: Jordan Reed (5 targets), Chris Thompson (4), Josh Doctson (3), Jamison Crowder (3), Vernon Davis (2), Michael Floyd (2) and Maurice Harris (1).
Steelers CB Joe Haden: It seems unlikely the Packers will waste Haden's time with tracking Jordy Nelson's corpse. Sure, Nelson put together a solid 10-97-0 line on 11 targets in comeback mode against the Chiefs last week, but the Raiders' "No. 1 receiver" has gained more than 50 yards in just six of his past 26 games. Nelson will at least continue to benefit from Martavis Bryant's (knee, IR) absence, although the Raiders pass offense is always at risk of Derek Carr simply feeding Jared Cook and Jalen Richard all the dump offs they can handle. Targeting offenses implied for just 20.25 points isn't usually a great idea.
Browns CB Denzel Ward: The Browns' stud rookie cornerback is presently in the concussion protocol and should be considered questionable for Sunday. No. 2 corner T.J. Carrie could shadow Devin Funchess, but Funchess worked behind D.J. Moore during his first week back from injury. The upside of the Panthers offense is compromised with Cam Newton (shoulder) banged up vs. the Browns' fourth-ranked defense in pass DVOA, but Moore, Funchess and Curtis Samuel could see enhanced target share with Greg Olsen (foot, IR) done for the season.
Lions CB Darius Slay: Slay has played more snaps in the slot than most No. 1 corners make a habit of doing. It still seems unlikely that Slay (17% slot rate) spends the majority of his afternoon across from Larry Fitzgerald (64%). The loss of Christian Kirk (foot, IR) could feasibly funnel more targets inside to Fitz, but this is a low-volume and low-upside pass offense considering Josh Rosen has cleared 250 passing yards just once in nine starts this season. Fitz has just 12 combined targets over the Cardinals last three games, although the matchup is pristine vs. slot corner Nevin Lawson – PFF's No. 93 overall corner.
Chargers CB Casey Hayward: Hayward was roasted in his first real test of the season against AB last Sunday night. He won't be needed as much for Week 14's matchup against the A.J. Green (toe, IR)-less Bengals, as No. 1 receiver Tyler Boyd should mostly be tracked by stud slot corner Desmond King. Boyd has posted 7-81-1 and 6-97-0 lines in his last two games with Jeff Driskel mostly under center, but this offense will continue to carry a low floor/ceiling with so many playmakers sidelined. The Chargers defense held seven straight opponents to 23 or fewer points before Week 13's shootout vs.  Pittsburgh.
---
Potential Plus Matchups
Saints WRs Michael Thomas and Tre'Quan Smith vs. Buccaneers
You should never count out the Saints offense, but it's worth questioning the volume upside in the passing game with Mark Ingram and Alvin Kamara functioning at full capacity. Per Justin Bailey, the Saints ranked ninth and 21st in pass attempts and rush attempts, respectively, in Weeks 1-4 without Ingram, but 29th and second in pass and rush attempts from Weeks 5-13.
Michael Thomas has caught virtually every ball thrown his way without Ingram in the lineup, but we've only seen him reach double-digit targets in a game once from Weeks 5-13 after doing so in three or the first four weeks of the season. Of course, Thomas exploded for an absurd 16-180-1 line vs. the Buccaneers in Week 1, and he carries the highest median projection and projected ceiling among all wide receivers in our Pro Models.
Meanwhile, Smith has been the biggest victim of the Saints' low-volume passing games. He's posted some absurd home/away splits during his short career.
---
Texans WRs DeAndre Hopkins and Demaryius Thomas vs. Colts
The Texans are playing winning football and should be thrilled with their season. With that said, Hopkins hasn't exhibited the same level of dominance with Will Fuller sidelined over the past two seasons. Overall, Hopkins has scored 17 touchdowns in 16 games with Fuller compared to just four touchdowns in 11 games without since the beginning of 2017. Nuk has surpassed 100 yards in just two of those 11 games.
And just like Thomas, none of this could matter considering how well off Nuk is against the Colts' porous pass defense. He hung a 10-169-1 line on the Colts in Week 4, and they rank just 23rd in DVOA vs. No. 1 receivers.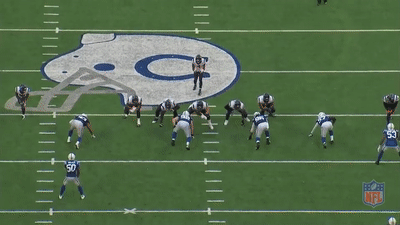 Demaryius Thomas has five targets in consecutive games and offers enhanced red zone upside, but the ceiling and floor will each likely remain low in this slow-paced and run-first offense. Deshaun Watson has attempted more than 25 pass attempts in a game just once since Week 5.
---
Colts WR T.Y. Hilton vs. Texans
There's a decent case to be made that Hilton owns the Texans.
Hilton's adversaries this Sunday will include …
34-year old Johnathan Joseph, who has started for the Texans since 2011.
Talented Kareem Jackson, who has started for the Texans since 2010.
Slot cornerback Aaron Colvin, who is PFF's 110th-ranked cornerback among 113 qualified players.
The Browns figured out a way to mess up two 70-plus yard touchdowns to Antonio Callaway on the same drive last week vs. the Texans. My money will be on Andrew Luck and company not making those same mistakes.
---
Falcons WR Julio Jones vs. Packers
Yes, Jones only gained 18 yards last week at home against the Ravens. And yes, he's already posted a season-long 86-1,323-3 line after totaling an 88-1,444-3 line in 2017.
Get ready for a Mt. Saint-Julio eruption.
Helping matter for a potential blow-up spot in Week 14 is Jones' history of success against the Packers.
2011 Week 5: 1 reception-16 yards-0 TD
2014 Week 14: 11-259-1
2016 Week 8: 3-29-0
2016 NFC Championship: 9-180-2
2017 Week 2: 5-108-0
Calvin Ridley and Mohamed Sanu are both in play as well against a Packers secondary that will start two (talented) rookies and 35-year old Tramon Williams.
---
Packers WRs Davante Adams, Randall Cobb and Marquez Valdes-Scantling vs. Falcons
Adams has scored an incredible 31 touchdowns in 38 games with Rodgers under center since 2016. He's the only player in the league with double-digit touchdowns in each of the past three seasons. There doesn't appear to be much the Falcons' league-worst defense in overall DVOA will be able to do to stop that connection come Sunday.
The bigger question is who might emerge as Aaron Rodgers' No. 2 receiver in their new-look offense post-Mike McCarthy. Last Sunday's loss to the Cardinals featured Adams (95% snaps), Cobb (80%) and Valdes-Scantling (84%) in three-receiver sets, while Equanimeous St. Brown (20%) was mostly left on the sideline. MVS ultimately out-targeted Cobb seven to five.
---
Cowboys WR Amari Cooper vs. Eagles
Cooper has brought out the very best version of Dak Prescott that we've seen to this point.
This career-best version of Prescott has accordingly helped bring out a more consistent version of Amari Cooper, as he's averaged a career-high 84.8 yards per game with a career-best 75% catch rate. Prescott has completed just 53% and 47% of his targets to Allen Hurns and Michael Gallup this season, respectively.
Up next is an Eagles defense that has allowed the second-best yards per game to opposing No. 1 wide receivers this season. Each of the Eagles projected starting cornerbacks, Rasul Douglas (No. 90), Jalen Mills (94) and Sidney Jones (No. 102), rank among PFF's bottom-25 cornerbacks this season.
---
Potential Minus Matchups
Ravens WRs John Brown, Michael Crabtree and Willie Snead vs. Chiefs
Life for Ravens wide receivers has been tough with Lamar Jackson under center. None have managed to clear even 10 receptions in Jackson's three starts, and none have surpassed 65 yards. Feel free to ride with Jackson in daily fantasy, but there's no need to stack him with one of his pass-catchers considering the immense uncertainty.
Not helping matters is a Chiefs defense that has allowed 16.4 PPG at home compared to 25.4 PPG on the road since 2015.
---
Rams WRs Brandin Cooks, Robert Woods and Josh Reynolds vs. Bears
The Rams join the Chiefs as the league's most-matchup proof offenses thanks to their top-tier scheme and consistently excellent quarterback play. Unfortunately, it's impossible to call Sunday night's matchup against the Bears anything but tough, as Kyle Fuller (No. 4), Bryce Callahan (No. 9) and Prince Amukamara (No. 15) rank among PFF's top-15 corners this season.
All three receivers are still certainly in play in season-long league of all formats. As Chris Raybon and I discussed on last Sunday night's edition of The Action Network NFL Podcast, Reynolds could carry enhanced value down the stretch if the Rams rest their starters considering he'd likely work as the offense's No. 1 receiver with the rest of the backups.
---
Be sure to check out FantasyLabs' industry-leading NFL News and Models, along with the Multi-Lineup Builder, Stack Builder, ownership projections and more. Other tools for the 2018 season are also available, including the Matchups page, DFS Contests Dashboard, NFL Ownership page and NFL Correlations page.
How would you rate this article?