NFL Week 16 WR/CB Matchups: Michael Thomas vs. Joe Haden, More Shadow Dates
Credit:
USA Today Sports. Pictured: Michael Thomas, Joe Haden
Week 16's WR/CB matchups feature a shadow date between Saints wide receiver Michael Thomas and Steelers cornerback Joe Haden.
Seven other wide receivers are likely to draw shadow coverage. We also break down plus and minus matchups.
I'll be breaking down the top wide receiver/cornerback matchups every week throughout the 2018 NFL season.
Below is a data-driven analysis of the week's best passing-game matchup, eight potential shadow matchups and an additional nine potential non-shadow matchups. At the end, I'll wrap up with a quick look at plus and minus matchups.
Visit the FantasyLabs NFL page for more weekly fantasy breakdowns. You can also view all of this week's wide receiver/cornerback matchups using our Matchups tool.
Jump to: Matchup of the Week | Shadow Matchups | Non-Shadow | Plus/Minus
Matchup of the Week
Colts Offense vs. Giants Defense
The Giants have won four of six games since their Week 9 bye, but last week's 17-0 loss to the Titans was a brutal reality check. The Giants benefited from great matchups against Nick Mullens, Ryan Fitzpatrick, Chase Daniel and Mark Sanchez in their wins, but Carson Wentz and Marcus Mariota were able to take care of business.
Andrew Luck and Co. should also have every opportunity to thrive against this mediocre secondary.
The Giants rank 23rd in Football Outsiders' DVOA against the pass and 32nd against No. 1 wide receivers.
Their trio of underwhelming starting cornerbacks rank 45th or lower among corners graded by Pro Football Focus: Grant Haley (45), Janoris Jenkins (47) and B.W. Webb (83).
Julio Jones (9 receptions-104 yards-0 TD), Alshon Jeffery (8-74-2), Mike Evans (6-120-1) and Will Fuller (5-101-1) were able to clear 20 DraftKings points against the Giants (per our NFL Trends tool).
Now the Giants will have to travel to Lucas Oil Stadium to deal with Luck's and T.Y. Hilton's indoor fantasy-goodness.
Hilton (ankle) was a game-time decision last week and only wound up playing 41-of-72 (57%) snaps. Be sure to monitor our Week 16 Injury Report for Hilton's daily practice participation as well as his estimated and official game status.
Chester Rogers, Ryan Grant and Zach Pascal each carry one-catch floors, but it'd be surprising if Eric Ebron doesn't bounce back this week. The Colts are in must-win mode against a Giants team that was eliminated from playoff contention last week and have every reason to feed Ebron the ball in scoring position early and often.
The Week 16 Shadow Club
Not many cornerbacks are consistently asked to travel with the opposition's No. 1 wide receiver, but we can expect the following eight teams to regularly line up across from their opponent's top receiver in Week 16.
Titans WR Corey Davis vs. Redskins CB Josh Norman
Davis is technically a No. 1 wide receiver, but he's had fewer than eight targets in 10 of his 14 games this season. This trend has been particularly pronounced since Tajae Sharpe and Taywan Taylor returned to the lineup in Week 13. Taylor (17 targets), Davis (16), Sharpe (11) and Dion Lewis (11) have been plenty involved in the Titans' low-volume pass offense over the past three games.
Up next is a likely shadow date with Norman, who hasn't exactly shut down the opponent's No. 1 receiver on a regular basis this season. Julio Jones (7-121-1), Mike Evans (3-51-0), DeAndre Hopkins (5-56-1), Alshon Jeffery (3-31-0) and Odell Beckham Jr. (8-136-0) were largely able to produce in Norman's shadow this season.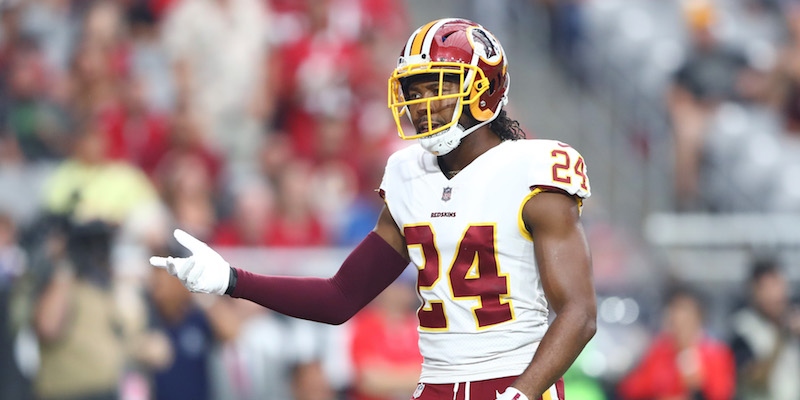 This isn't entirely Norman's fault: The Redskins' zone-heavy scheme and unwillingness to let Norman travel into the slot (5% of snaps) has allowed opponents to scheme their No. 1 receivers into plenty of success. The Redskins are one of just eight defenses that have allowed at least 75 receiving yards per game to the opponent's No. 1 wide receiver.
Vikings WR Stefon Diggs vs. Lions CB Darius Slay
Diggs didn't suit up in Week 9 when these two teams squared off, but he's historically had little trouble winning his matchup with Slay:
Diggs vs. Lions in Week 7, 2015: 6 receptions-108 yards-1 TD (9 targets)
Week 9, 2016: 13-80-0 (14)
Week 4, 2017: 5-98-0 (7)
Week 12, 2017: 6-66-0 (7)
However, there are a number of fantasy-relevant takeaways from the Vikings' first game with former quarterbacks coach Kevin Stefanski calling plays.
Kirk Cousins threw a season-low 21 passes. This marked just his second game all season with fewer than 30 pass attempts.
Dalvin Cook out-snapped Latavius Murray, 42 to 27, and Cook received at least 20 touches for the first time since Week 1.
Diggs (7 targets) was easily the offense's No. 1 receiver.
Kyle Rudolph (3), Tyler Conklin (3), Adam Thielen (2), Aldrick Robinson (2) and Cook (2) were the only other Vikings with more than one target.
It's unlikely that Thielen remains buried in Cousins' pecking order for long, but a potential low-volume passing attack is bad news for everyone involved.
Lions WR Kenny Golladay vs. Vikings CB Xavier Rhodes
Golladay rebounded from his tough matchup with Patrick Peterson (2-5-0) in Week 14 with a dominant performance against fellow-stud corner Tre'Davious White (7-146-0) last Sunday.
Babytron is a pretty tough guy to stop as long as he gets a decent amount of targets.
The 6-foot-4, 218-pound Golladay has enough size and natural ability to win any matchup with the right amount of volume, but Rhodes (6-foot-1, 210 pounds) has made life tough for similar big-bodied receivers such as Alshon Jeffery (2-39-0), Marvin Jones (6-66-0), Josh Gordon (3-58-1), Davante Adams (6-64-1, 5-69-1) and Kelvin Benjamin (3-29-0) this season.
Matthew Stafford (back) has been listed as questionable for the last two weeks and is a candidate for rest or limited snaps against the Vikings' ferocious defense that's fighting for a playoff berth.
This just isn't the best spot to hope for another explosion from Golladay.
Patriots WR Josh Gordon vs. Bills CB Tre'Davious White
Flash Gordon saw a season-low two targets last week against Joe Haden and the Steelers, finishing with one reception for 19 scoreless-yards. Still, Gordon wasn't exactly buried on the depth chart, as only Julian Edelman (94%) played more snaps than Gordon (92%) in Week 15. Chris Hogan (63%) and Cordarrelle Patterson (8%) also received more targets than Gordon.
This week's matchup is far from an ideal bounce-back spot against White, who held Gordon to a 4-42-0 line in Week 8. Of course, last week was a far from ideal matchup for Golladay to rebound with as well, and Gordon maintains a lofty ceiling in a Patriots offense presently implied to score an impressive 29 points at home.
Still, Edelman again appears to be the best play against a Bills defense he shredded for a 9-104-0 line in Week 8. Slot corner Taron Johnson (PFF's No. 42 overall cornerback) is the weaker link compared to No. 2 outside corner Levi Wallace (No. 14).
Bills WR Zay Jones vs. Patriots CB Stephon Gilmore
Perhaps the Patriots won't bother asking Gilmore to travel with any single receiver, but history suggests that he could shadow Jones instead of Robert Foster.
Gilmore was asked to shadow Kelvin Benjamin in 2-of-3 matchups with the Bills since joining the Patriots. Gilmore shadowed Jones in the other matchup that Benjamin didn't suit up for.
The Lions (coached by ex-Patriots defensive coordinator Matt Patricia) had Darius Slay shadow Jones instead of Foster in Week 15.
This doesn't exactly mean Foster will be in for a walk in the park, as Patriots No. 2 cornerback Jason McCourty is PFF's No. 14 overall cornerback this season. Nickel back J.C. Jackson managed to hold JuJu Smith-Schuster to a 4-40-0 line on 10 targets last week (per ESPN's Mike Clay).
It's tough to discount the big-play ability of Foster at this point …
… but the Bills are implied for just 16 points in a road matchup against a team they've scored 16 or fewer points against in five of their last six matchups.
Falcons WR Julio Jones vs. Panthers CB James Bradberry
Jones has had more success than not against the Panthers in five games since they released Josh Norman.
Week 4, 2016: 12 receptions-300 yards-1 TD (15 targets)
Week 16, 2016: 4-60-0 (7)
Week 9, 2017: 6-118-0 (12)
Week 17, 2017: 5-80-0 (11)
Week 2, 2018: 5-64-0 (9)
Note that Jones is dealing with a rib injury that shouldn't hold him out of Sunday's game, but could leave him at less than 100% with the Falcons already eliminated from playoff contention.
As I discussed with Chris Raybon on this week's episode of The Action Network NFL Podcast, Bradberry and speedy rookie Donte Jackson are better players than the defense's status as the 28th-ranked unit in pass DVOA would indicate. They went on to help limit Drew Brees to 203 scoreless-yards on 35 attempts during Monday Night Football.
The Falcons have scored 20 or fewer points in seven of Ryan's 10 career games in Carolina. None of their wide receivers are ranked inside the top 50 flex options on DraftKings in the Adam Levitan Pro Model.
Steelers WR Antonio Brown vs. Saints CB Marshon Lattimore
The Saints have varied their shadow coverages this season, sometimes simply sticking Lattimore on the opposition's No. 1 receiver, and other times putting Lattimore on the No. 2 receiver while Eli Apple takes care of the top pass-game option with consistent safety help.
The former seems like the most likely scenario this week considering Lattimore (6% slot rate) and Apple (7%) have barely moved inside, and JuJu Smith-Schuster (64%) has played the majority of his snaps in the slot. This presents an A-plus matchup for Smith-Schuster in the week's highest-implied matchup.
AB is certainly capable of balling out in any matchup, but the Steelers' top-two receivers carry an unfriendly-fantasy correlation of -0.54 on DraftKings since the beginning of last season. This means DFS players are better off stacking Ben Roethlisberger with one of Smith-Schuster or Brown, not both.
Saints WR Michael Thomas vs. Steelers CB Joe Haden
Thomas managed to post a respectable 7-49-0 line last week despite having what felt like another seven receptions called back by penalties. Drew Brees' best receiver ever is a matchup-proof beast capable of taking over any game at any moment.
Still, Haden certainly deserves plenty of credit for his ability in shadow coverage over the past two seasons. DeAndre Hopkins (4-65-1), Julio Jones (5-62-0), A.J. Green (7-85-0), John Brown (3-15-0), Devin Funchess (3-32-0) and Josh Gordon (1-19-0) have all largely lost their respective one-on-one battles with the Steelers' stud cornerback.
Thomas can win any matchup, but it wouldn't be shocking if Brees doesn't force the issue (at least on the outside) against a player of Haden's caliber.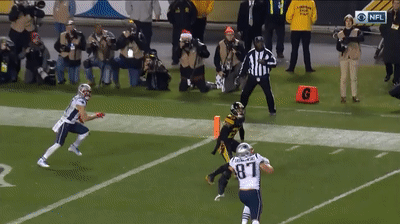 Elsewhere, Tre'Quan Smith has played three games at home since becoming a full-time player, and dominated:
Week 5 vs. Washington: 3-111-2
Week 9 vs. Rams: 2-23-1
Week 11 vs. Eagles: 10-157-1
---
Potential Non-Shadow Matchups
Titans CB Adoree' Jackson: Jackson has shadowed Josh Gordon (4-81-0), T.Y. Hilton (9-155-2) and Robby Anderson (4-48-0) in recent weeks. Still, Jackson stayed at left cornerback against the Jaguars in Week 14, indicating he won't shadow against a run-first offense without a clear-cut No. 1 receiver. That would describe the Redskins, who have thrown for fewer than 200 yards in seven of their last 10 games. The absence of slot corner Logan Ryan (leg, IR) will help Josh Johnson and company, but it's tough to get behind anyone in an offense that's scored 16 or fewer points in three consecutive games.
Chargers CB Casey Hayward: The Chargers have generally refrained from asking Hayward to shadow against the league's elite field-stretchers, so John Brown should see plenty of Michael Davis — PFF's No. 40 overall cornerback this season. This means that Michael Crabtree and Chris Moore should run most of their routes against Hayward and Davis. Willie Snead will have to deal with slot corner Desmond King (PFF's No. 2 overall cornerback). No Ravens receiver should be considered in any fantasy format in this tough matchup, especially considering Lamar Jackson is yet to throw for more than 180 yards in game.
Ravens CB Jimmy Smith: Keenan Allen (hip) wasn't able to practice to open the week, but he reportedly has a legitimate chance to suit up on Saturday night. Smith is expected to stick to the right side of the field regardless, as only primarily-outside receivers Julio Jones (2-18-0) and Michael Thomas (7-69-1) have earned his shadow treatment this season. Mike Williams (nine targets) and Tyrell Williams (12) each received season-high targets in Week 15 when Allen was sidelined for most of the game. Still, things won't be easy against Marlon Humphrey (PFF's No. 8 CB) and the rest of the Ravens' second-ranked defense in pass DVOA.
Cowboys CB Byron Jones: The Cowboys haven't asked Jones to move inside this season save for a few high-leverage situations per game. Overall, he's spent 88% of his snaps as the defense's right cornerback. PFF's No. 6 overall cornerback through 15 weeks should spend most of his snaps across from Mike Evans, while Adam Humphries and Chris Godwin should get chances to feast on slot corner Anthony Brown (No. 61) and Chidobe Awuzie (No. 85), respectively. Jameis Winston carries a strong +2.6 Projected Plus/Minus and is the highest-rated quarterback in Adam Levitan's Pro Model.
49ers CB Richard Sherman: Sherman has struggled over his last month of football, but the Bears' low-volume passing attack has resulted in zero games with more than eight targets for any of the team's wide receivers since Mitchell Trubisky returned in Week 14. The Bears' evenly-distributed passing game is clearly great for business, although it's a volatile fantasy situation to target even in a good matchup against the league's 25th-ranked defense in pass DVOA. None of the Bears receivers have a Projected Plus/Minus of even +1.0 on DraftKings in our Pro Models despite all being $5,400 or less.
Jaguars CB Jalen Ramsey: Ramsey hasn't shadowed during the last two weeks and doesn't seem like a strong candidate to track Kenny Stills, DeVante Parker or Brice Butler. Production will be hard to come by for any receivers involved in the Dolphins' run-first offense, as Ryan Tannehill is averaging a pathetic 187.3 yards per game through the air this season. Jaguars-Dolphins joins Redskins-Titans as the week's only games with implied game totals under 40 points. These passing "attacks" should generally be avoided in fantasy.
Dolphins CB Xavien Howard: Howard (knee) almost assuredly will stick to his spot as the defense's left cornerback if he's ultimately able to suit up. Stud rookie Minkah Fitzpatrick shadowed Josh Gordon (5-96-0) with Howard sidelined in Week 14, but the Jaguars' run-first offense still doesn't have a clear-cut No. 1 receiver after 15 weeks. Dede Westbrook has the best matchup in the slot against Bobby McCain (PFF's No. 107 CB), although the ceiling and floor are low for every receiver involved in an offense that has scored 28 total points with Cody Kessler under center over the past three weeks.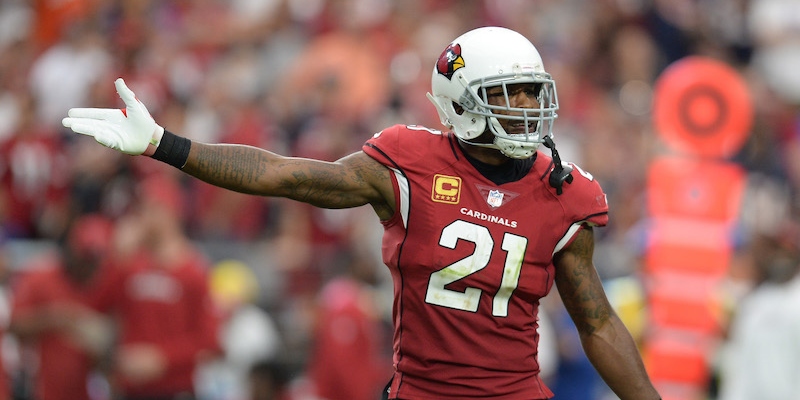 Cardinals CB Patrick Peterson: Peterson shadowed Sammy Watkins twice against the Rams in 2017, but he played all 66 snaps at cornerback on the left side of the field in Week 2 of this season. This strategy would result in roughly 16.6% of his snaps against Brandin Cooks, who hung a 7-159-0 line in the teams' first meeting of 2018. Cooks is also set up exceptionally well in the University of Phoenix Stadium's dome setting, as he's averaged  a 5.1-72.1-0.5 line in 33 games indoors compared to a 4.7-68.5-0.3 line in 39 games outdoors. Robert Woods is set up well in the slot against Budda Baker (PFF's No. 44 CB).
Packers CB Jaire Alexander: Alexander's two shadow dates this season against Adam Thielen (8-125-1) and Julio Jones (8-106-2) didn't exactly work out all that great for the Packers. Robby Anderson presents the type of deep speed that makes him mostly matchup-proof anyway. He's managed to post 4-76-1 and 7-96-1 lines over the past two weeks on a combined 18 targets. No other Jets player has received more than eight targets since Sam Darnold returned to the field in Week 14.
---
Potential Plus Matchups
Packers WR Davante Adams vs. Jets
Adams continued to make his case as the league's most matchup-proof receiver by catching 8-of-13 targets for 119 yards and a two-point conversion against the league's best defense against No. 1 wide receivers entering Week 15.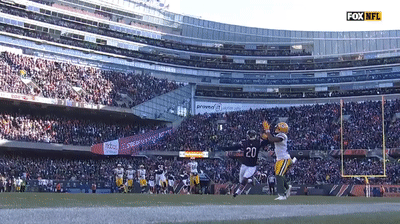 Adams has caught a touchdown and/or gained at least 100 receiving yards in 28 of his 37 games (76%) with Aaron Rodgers under center over the past three seasons. Adams needs just two more total targets over the next two weeks to surpass Jordy Nelson as Rodgers' most-targeted receiver in a single season.
There's certainly a chance that the Packers choose to rest their franchise quarterback and receiver during a meaningless Week 16 matchup, but they're both set up well if active against the Jets' league-worst defense in DraftKings points allowed per game to opposing wide receivers.
---
Texans WR DeAndre Hopkins vs. Eagles
Nuk popped off for a massive 10-170-2 performance in Week 15 against that aforementioned porous Jets defense. He's racked up at least 10 targets in four of his last six games, as Deshaun Watson has upped his passing volume since the team's Week 10 bye.
It's hard to understate just how incompetent the Eagles have been against opposing No. 1 wide receivers this season.
There isn't another secondary in the league that's offered a higher floor/ceiling combination than the Eagles, who have allowed a league-high 93.5 yards per game to opposing No. 1 wide receivers.
Nuk has the highest median projection of any wide receiver in Sunday's main slate in our Pro Models.
---
Browns WRs Jarvis Landry and Antonio Colloway vs. Bengals
Baker Mayfield objectively balled out over the last two months. He's largely functioned as a similar monster as rookie year Deshaun Watson, who was more-or-less the Michael Jordan of fantasy football last season.
However, Mayfield's target distribution over this stretch has been far too spread out for potential fantasy owners to consistently take advantage of.
Jarvis Landry (38)
Antonio Callaway (26)
David Njoku (26)
Duke Johnson (23)
Rashard Higgins (18)
Nick Chubb (17)
Breshad Perriman (15)
Callaway (92%), Landry (94%) and Njoku (92%) all boast guaranteed prize pool-friendly Leverage Ratings on DraftKings in our Pro Models for their matchup against the Bengals' bottom-five defense in both scoring and overall DVOA, but the floor for each remains low as well.
Cowboys WRs Amari Cooper and Michael Gallup vs. Buccaneers
Cooper has posted 8-180-2, 8-76-0 and 10-217-3 lines in three home games with the Cowboys compared to 6-75-0, 3-36-0 and 4-32-0 lines in three road games.
This makes sense considering Dak Prescott's fairly drastic career home/away splits.
Away (24 games): 64.5% cmp, 7.2 Y/A, 27 TDs, 12 INT, 212 yards per game
Home (23 games): 67.1% cmp, 7.48 Y/A, 38 TDs, 14 INT, 239 yards per game
Prescott has also demonstrated better splits against man coverage and is thus set up well against a Buccaneers defense that has flipped from zone defense to a more man-heavy scheme under interim defensive coordinator Mark Duffner (per Rotoworld's Evan Silva).
This season's enhanced receiving role for Ezekiel Elliott has resulted in low-ceiling and low-floor roles for Gallup and Cole Beasley alike.
---
Chiefs WR Tyreek Hill vs. Seahawks
The Seahawks have largely exceeded expectations this season while attempting to move on from the Legion of Boom, but cornerback has remained a problem all season.
Slot corner Justin Coleman: PFF's No. 48 overall cornerback
Right corner Tre Flowers: No. 65
Left corner Shaquill Griffin: No. 109
Head coach Andy Reid should be free to scheme TyFreak against Griffin to his heart's desire. Hill's legendary home/away and prime-time splits will be in effect for this Sunday night matchup in Seattle.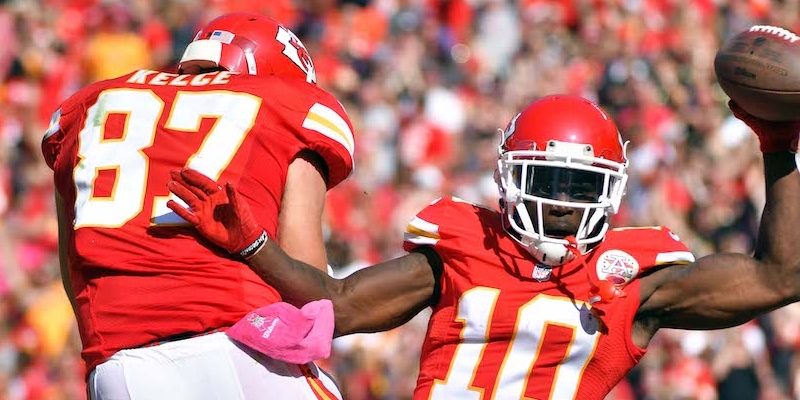 Travis Kelce — who is in the midst of one of the best seasons ever from a tight end — is also set up well considering he runs 68% of his routes from the slot or out wide.
---
Potential Minus Matchups
Eagles WRs Alshon Jeffery, Golden Tate and Nelson Agholor vs. Texans
It's difficult to put much behind the target numbers for the Eagles during Nick Foles' time under center considering both the acquisition of Golden Tate and Alshon Jeffery's absence in Weeks 1-2 this season.
Sunday night's season-saving victory over the Rams featured a steady dose of targets to Jeffery (8), Zach Ertz (7), Golden Tate (5) and Darren Sproles (4). Jeffery's targets in particular were of the fantasy-friendly variety, as his three targets thrown 20-plus yards downfield were as many as the Eagles' No. 1 wide receiver had in Weeks 8-14 combined.
Still, things won't be easy this week against a Texans defense that's one of just eight units to allow 12 or fewer touchdowns to wide receivers this season. Their fifth-ranked scoring defense boasts two of PFF's top-12 cornerbacks in Kareem Jackson (No. 5) and Johnathan Joseph (11).
---
49ers WR Dante Pettis vs. Bears
Marquise Goodwin played just 7-of-62 snaps last week, as the 49ers utilized plenty of 2-TE sets with Garrett Celek (17 snaps), and also got slot receiver Trent Taylor (15) more involved. This paved the way for Kendrick Bourne and Pettis to start in 2-WR sets, although Bourne remains a thin play considering he's surpassed 75 yards just once in 25 career games.
That leaves us with a banged-up Pettis against the league's premiere defense. Pettis has more-or-less worked as a true No. 1 receiver since the team's Week 11 bye in everything except workload related metrics.
Targets: 26 (T41st among all WRs)
Receptions: 17 (T35th)
Receiving yards: 338 (15th)
Yards per target: 13 (7th)
Receiving TDs: 4 (T2nd)
PPR: 74.6 (13th)
Pettis is capable of having a decent afternoon this Sunday, but don't expect a massive performance against a secondary featuring two of PFF's top-15 cornerbacks in Kyle Fuller (No. 3) and Prince Amukamara (No. 14). Backup slot corner Sherrick McManis has also graded out well in limited action.
---
Be sure to check out FantasyLabs' industry-leading NFL News and Models, along with the Multi-Lineup Builder, Stack Builder, ownership projections and more. Other tools for the 2018 season are also available, including the Matchups page, DFS Contests Dashboard, NFL Ownership page and NFL Correlations page.