How Early Is Too Early to Draft Patrick Mahomes in Fantasy?
Credit:
Jay Biggerstaff-USA TODAY Sports. Pictured: Patrick Mahomes
Our experts debate the earliest Patrick Mahomes should be going in fantasy football drafts and more quarterback draft strategy.
Patrick Mahomes was the QB15 in average draft position heading into 2018, then finished the season as the far-and-away QB1 after tossing 50 touchdowns — tied with Tom Brady for the second-most in a single season behind only Peyton Manning.
Now his draft price is way up as the QB1 and the 28th overall pick in 12-team PPR leagues. But is the top of the third round too early to be rolling the dice?
Four of our fantasy experts debate when Mahomes should be coming off draft boards and their overall strategy at quarterback for 2019.
---
>> See our experts' latest fantasy football rankings in our Draft Kit.
---
There's a ton of talk about Mahomes' regression coming into 2019. But I want to remind you that while above-average players can regress toward the average, it does not mean they regress to be average.
This is a huge distinction to make. And it's the case with Mahomes. I'm projecting him to "regress" from 50 passing TDs in 2018 to 35.7 in 2019. That's a ton of regression, but guess what? That's still my highest passing TD projection for any quarterback heading into this season (and about 2.5 more than the next QB).
So yes, I'm projecting Mahomes to a bit more human, but a human who is still the best QB in fantasy football.
Having said that, the QB position is extremely deep, and most leagues allow you to start only one QB, which actually makes it one of the easiest positions to take late and be perfectly fine.
In a typical 1QB league I would say Round 3 is where Mahomes makes sense. I personally wouldn't take him there because you can get a QB who is going to average just about three fewer points a game about seven to eight rounds later. I'd rather load up at RB/WR/TE early on since those positions have much steeper drop-offs in expected production.
Mahomes would likely have to fall to about Round 5 for me to completely abandon my plan of waiting at QB.
In 2QB formats, I think you'll find Mahomes is a first-round pick, easily. There's a case to be made that 2QB and superflex formats should be more popular in the future because, in my opinion, they make the QB position important — it's without a doubt the most important position in real-life football, which means it should be as important in fantasy football.
Like Sean said, there's been a lot made of Mahomes' likely regression this season, and that's true; any player who put up outlier numbers like he did in 2018 is probably not going to match the prior season's output. That's not really a knock on Mahomes as much as it's a statistical fact.
Mahomes' draft slot is obviously dependent on your scoring and starters, but in most leagues, I think he should be drafted starting in the back of the third round. That's later than he goes in most leagues — and this is coming from someone who believes Mahomes is potentially the best quarterback in NFL history (not kidding).
The issue with drafting any quarterback so high is that the position is replaceable. Unless you're in a 2QB league, it's easy to get quality production from your quarterbacks, regardless of when you draft your first one. Because it's the most predictable position on a weekly basis, you can effectively play matchups with mid-tier players to replace top-tier production.
It's not just what you're getting that makes a pick valuable, but also what you're giving up. Replaceability matters. A lot.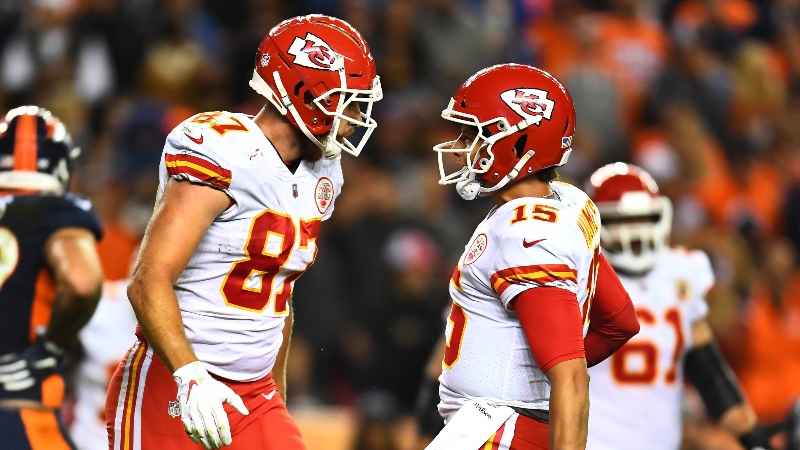 Further, although you're getting an incredible weekly floor with Mahomes (which has some value in head-to-head leagues), it's tough to pull off what I think is an underrated season-long draft strategy: Stacking offenses. The cost of Mahomes, Travis Kelce and Tyreek Hill is so high that you pretty much can't pair them together, limiting the feasibility of realizing their upside within the context of your entire lineup.
Two hundred and eighty-one quarterbacks have started at least 16 games since the 1970 AFL-NFL merger. Mahomes already finds himself among the game's best of the best in just about any efficiency metric.
Completion rate: 65.9% (No. 6)
Touchdown rate: 8.1% (No. 1)
Quarterback rating: 111.7 (No. 1)
Yards per attempt: 8.75 (No. 1)
Adjusted yards per attempt: 9.42 (No. 1)
Yards per game: 316.5 (No. 1)
Fantasy points per game: 25.2 (No. 1)
Mahomes also passed 2013 Peyton Manning (412) for the single-best fantasy football season from a quarterback ever with 417 points last season.
He has a couple underrated factors working in his favor that could help replicate his QB1 performance in 2019:
The Chiefs defense again looks like a below-average unit that shouldn't necessarily allow their offense to put games away too early.
Mahomes has some room for positive rushing regression. He's scored two rushing touchdowns on 67 career carries, but racked up 22 scores on the ground during his final 25 collegiate games at Texas Tech.
It's unwise to assume Mahomes will throw for 5,000 yards and 50 touchdowns every season, but he once again has one of the league's best play-callers in Andy Reid along with arguably the most explosive group of weapons thanks to the league's decision to not discipline Hill.
I'm more of a late-round quarterback guy thanks to the abundance of dual-threat signal callers available outside of the top-10 quarterbacks in average draft position. Still, Mahomes is more than worthy of a top-four round pick in most draft formats.
The 2019 version of Patrick Mahomes will be nothing like 2018 version of Patrick Mahomes. It's not that he'll regress — he's still the same laser show that should have started from Day 1 of his rookie season, and I happen to think a QB who threw 50 touchdowns in career starts Nos. 2-17 at age 23 is more likely to continue to progress than already begin to regress — it's all about opportunity cost.
Mahomes could often be had late in drafts last season, whereas now you're essentially counting on him being far and away the best QB in fantasy just to break even at his current ADP. The days are long gone of top-tier QB production making or breaking your fantasy team because of how pass-happy the league has become, how predictable the position is and the surplus that exists in leagues that start one QB.
If you miss out on Mahomes, you can still get QBs with elite weekly upside like Jared Goff and Carson Wentz around Pick No. 100, and let's not forget, a QB by the name of Josh Allen outscored every QB in fantasy — including Mahomes — over the past five weeks of 2019, mostly thanks to his scrambling ability.
Yes, Mahomes will be among the highest-scoring players in fantasy, but that's because the QB position in general scores higher than the other positions. Mahomes could finish as the QB1 and not help his fantasy team at a second-round ADP as much as, say, Dak Prescott could if he finishes as the QB7 with a 12th-round ADP.
And even if you're itching for Mahomes-ian upside, look to a QB like Baker Mayfield, who still goes early for a QB, but usually four to five rounds after Mahomes. Mayfield made guys like Rashard Higgins and Breshad Perriman as efficient as Jerry Rice last season, and with a full offseason under his belt and Odell Beckham Jr. now in tow, what's stopping the 2018 No. 1 overall pick from pushing for 50 TDs in 2019?
Mahomes might look tempting — especially compared to RBs, WRs or TEs who might not feel like as much of a sure thing — but don't let that psych you out. Because of the way fantasy football is played, taking any QB that high is a much bigger risk than taking a less elite player at another position.
How would you rate this article?