Raybon: Patrick Mahomes, and the Myth of Sitting Good QBs in Year 1
Credit:
Credit: Jay Biggerstaff-USA TODAY Sports. Pictured: Kansas City Chiefs quarterback Patrick Mahomes (15).
Patrick Mahomes had a season for the ages in 2018 en route to an MVP award after sitting behind former Chiefs QB Alex Smith in 2017.
After studying 14 years worth of data, Chris Raybon thinks Mahomes' breakout season could have come one year sooner.
When Patrick Mahomes was in the midst of turning the NFL upside down last season, I assumed that the year he spent on the bench turbo-charged his development.
But when current Giants GM/internet meme David Gettleman is touting the virtues of something, it might be a good idea to check your assumptions at the door.
(Side note: It's interesting that leading up to the draft, Gettleman touted the "Kansas City model"–  sitting a quarterback for one year a la Patrick Mahomes —  but afterward, he pivoted to the "Green Bay model" — sitting your quarterback for three years a la Aaron Rodgers. There's a joke about coming to the realization that you drafted a guy three times worse than you expected in there somewhere, but I digress.)
Do QBs benefit from sitting in Year 1?
I ran the numbers for all quarterbacks taken on Day 1 or 2 since 2005 — the year Aaron Rodgers was drafted — and found that the more starts a quarterback makes in Year 1, the more likely he is to have a successful career.
There is a moderate-to-strong correlation between a passer's Year 1 starts and career total (passing plus rushing) yards (r = 0.53) and TDs (r = 0.61), as well as wins (r = 0.54). The same is true when looking at Year 1 starts vs. Year 2 performance.
Correlation is not causation — quarterback who start in Year 1 don't necessarily turn out better because of it so much as better quarterbacks earn their chance sooner — but the numbers show no evidence of any edge to be gained from a guy spending his rookie year as a clipboard holder.
But what if we narrow it down to the true essence of the so-called Kansas City and Green Bay models and look at only passers who made 0-1 starts and sat behind a starter at least 30 years of age?
The winning percentage jumps to .484 and the adjusted net yards per attempt climbs to 5.53 while the guys who sat behind twenty-somethings have dismal .403 and 3.01 marks, respectively. So is Gettleman onto something?
He is, if we're looking to sell franchise-shaping decisions based on misinterpreted results of small-sample data skewed by obvious outliers. While that group is comprised of Mahomes and Rodgers — and, screw it, let's stay #onbrand and also give him Jimmy Garoppolo — here's a list of the rest of the group:
Brodie Croyle
Brock Osweiler
Chad Henne
Garrett Grayson
Jake Locker
Kevin Kolb
Kellen Clemens
Essentially, a quarterback sits in Year 1 for one of two reasons:
He's behind a player on the level of Tom Brady or Brett Favre.
He's not very good.
Except Alex Smith is no Brady and Mahomes is, in fact, very good, which makes a season commonly billed as a nothing more than a smooth transition start to look like a waste of the beginning of the team's Super Bowl window.
I realize this may sound crazy, so let's do some myth-busting.
Myth 1: What Mahomes did in Year 2 would have been impossible in Year 1
This seems plausible at first; after all, quarterbacks drafted in Rounds 1-3 since 2005 who started least eight games in Year 1 and Year 2 saw their total yardage increase by 5%, total touchdowns jump by 27%, and ANY/A rise by 11%. Applied to Mahomes, though, those increases would still equate to a rookie-year projection of 5,098 total yards, 37 total touchdowns, and 7.94 ANY/A — all of which would have ranked first or tied for first among quarterbacks.
This version of Mahomes would have still been 0.5 TDs per game better than Smith was that season, and three extra points per game could have come in handy for a team that lost in the Wild Card Round by a single point and also suffered 1-point and 3-point defeats during the regular season.
But even that may be underselling how good Mahomes could have been as a rookie.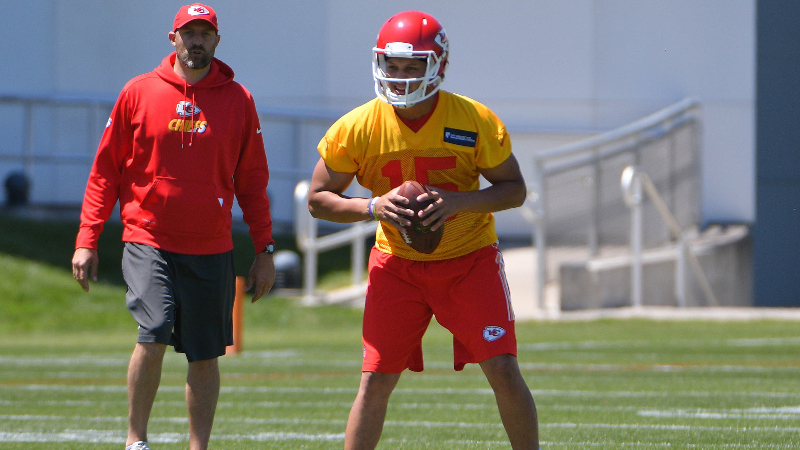 Many of the quarterbacks who make the biggest leaps in Year 2 turn out to be not very good (think Blake Bortles), and therefore had more room for improvement. On the other hand, many of the better signal callers posted rookie seasons that would end up being on par with their Year 2 campaigns.
Cam Newton: 297 Yd, 1.3 TD, 6-10 W/L ('11) | 288 Yd, 1.7 TD, 7-9 W/L ('12)
Russell Wilson: 225 Yd, 1.6 TD, 11-5 W/L ('12) | 244 Yd, 1.7 TD, 13-3 W/L ('13)
Andrew Luck: 289 Yd, 1.4 TD, 11-5 W/L ('12) |  262 Yd, 1.7 TD, 11-5 W/L ('13)
Deshaun Watson: 328 Yd, 3.2 TD, 3-3 W/L ('17) | 295 Yd 1.9 TD, 11-5 W/L ('18)
We'll never know for sure what would have come of Watson and the Texans had he finished out his rookie season, but he serves as perhaps the best evidence that Mahomes' otherworldly season in 2018 is not entirely out of the realm of possibility for a rookie. Watson's 16-game pace that season projected to 5,248 yards and 48 touchdowns, which is startlingly close to the 5,369 yards and 52 scores Mahomes would go on to pile up a season later.
If Mahomes lands anywhere on the spectrum between his souped-down projection and an even closer approximation of his 2018 self in Year 1, it would have had major implications on the Chiefs' Super Bowl odds in 2017. Increased passing efficiency leads to additional points, which leads to a greater scoring differential, which leads to higher win probabilities.
If predictive modeling isn't your thing but you're more in tune with betting concepts, think of it as similar to spread-to-moneyline conversion: an additional point on the spread equates to an increase of roughly 3% in moneyline implied win probability.
Given what could be considered a conservative 2017 projection for Mahomes would yield an additional 3 points per game, and that the 2018 Chiefs outscored the 2017 squad by 9.4 points per game, you can see that the potential was there for Mahomes to drastically alter the team's fate as a rookie.
Heading into the playoffs, Kansas City's Super Bowl odds were +1800 (5%) in 2017 and +400 (20%) in 2018, meaning that in a worst-case scenario, not starting Mahomes from Day 1 may have cost the franchise a chance to quadruple its chances at winning a title that season.
Myth 2: Alex Smith was too good to bench for Mahomes
Smith fooled many observers into thinking he had turned a corner in 2017 by posting career highs in yards per attempt (8.0) and TD passes (26) while seemingly becoming a willing and effective deep passer.
In reality, Smith had never exorcised the demons that haunted him into becoming possessed by the checkdown. What spooks him is not throwing deep in itself, but throwing into tight windows, and his supporting cast was so good that he rarely had to face his fears. Case in point: Albert Wilson ranked first in the league in separation at the target point; Tyreek Hill ranked sixth; and Smith ranked in the bottom three in rate of tight-window throws, per NFL Next Gen Stats.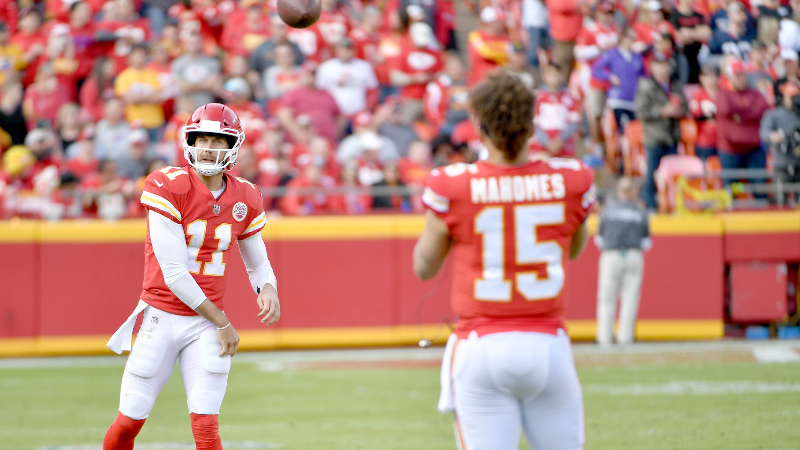 The ghosts of Smith's past came out after Travis Kelce went down with a concussion in the Wild Card game, with Smith going 5-for-10 for 33 yards in a scoreless second half. Smith isn't the only one to blame — there were multiple drops and a missed field goal — but on several occasions he was far too willing to either throw short or pull the ball down on key second and third downs that went nowhere.
He dropped back 40 times in the game, and only three, or 7.5%, ended with him attempting a pass that traveled 20 yards downfield, according to Pro Football Focus (one was a last-ditch effort on fourth-and-9 on the team's final offensive play of the game, and none were completed).
That lack of aggression also allowed Tennessee to zero in on the run game during the second half, limiting Kareem Hunt to 17 yards on five carries. It's hard to imagine Mahomes letting the defense off the hook in such a manner: 14.6% of his dropbacks ended with an attempted deep pass last season, and he led the league in deep attempts (92) and yards (1,514) while tying for the lead in touchdowns (15).
That would all be moot if Smith was benched when his issues crept up during a 1-6 midseason lull in which Kelce at one point essentially called Smith out in the media without naming names.
To be clear, it's not that Smith didn't help Mahomes in Year 1 — Mahomes readily admits that Smith did — it's that Smith didn't need to be starting to teach him these things. At some point, you have to question how beneficial it is for Mahomes to watch Smith run an offense in such a manner that put Mahomes in position to be his successor in the first place.
Myth No. 3: The Chiefs felt Mahomes wasn't ready
Even though there's plenty to suggest Mahomes would have given the Chiefs a better chance to win than Smith from Day 1, if the organization simply thought he wasn't ready, it's an honest mistake. But that's what makes this whole "what if" scenario a lot more interesting: According to a report from ESPN's Kevin Seifert, that was far from the case:
The conventional narrative suggests Mahomes benefited from his year watching Smith. But the truth is the Chiefs knew what he could do right away from the moment they got him in the door.
There is also a Kansas City Star report that "there was near unanimous agreement when [Mahomes] was drafted" that he wouldn't start in Year 1. If true, it raises the question of why the franchise felt the need to so far as to make a seemingly binding decision, as opposed to simply deciding to continue to stand behind Smith as the starter publicly while letting things play out in camp. (In case you're wondering, Mahomes posted a 4/0 TD/INT ratio and was PFF's second-highest graded quarterback among 92 qualifiers that preseason.)
That a decision was finalized so early before it became necessary despite being merely "near-unanimous" rather than fully unanimous is also strange, as is the collaboration on a decision that you would think would fall solely at the feet of Andy Reid.
All signs point to owner Clark Hunt.
Hunt is a polarizing decision maker, so him wanting his hotshot rookie quarterback to take over right away would seem to be right up his alley at first. But he is also known to be an owner who has "shown himself willing to sacrifice short-term pain for long-term certainty," and one who is "hyper-sensitive about his franchise being known as 'doing things the right way.'"
Then there's the fact that Hunt had already declared Smith the starter two months before the draft, and even once the Smith succession plan was no secret, Hunt went out of his way to praise Smith and was protective of how the narrative of Smith's imminent departure was spun. There were also tensions between Hunt and then-GM John Dorsey, who played a key role in acquiring Mahomes before being fired by Hunt not long after the draft.
Reid's inaction in regard to Mahomes would make a lot more sense if orders were coming from upstairs. He knew better than anyone that Mahomes was exactly what his offense needed, and it's not like he was one of those football lifers with a stigma against air raid quarterbacks.
Regardless of who is ultimately responsible or how justified their reasoning was, this situation provides a fascinating undercurrent to keep in mind as Mahomes pursues what would be the first championship for the Chiefs since 1968. He could render all of this moot as soon as this season, but missed opportunities loom larger in the wake of the Tyreek Hill suspension — especially since the organization continues to take chances on high-risk players.
Kansas City's Super Bowl odds opened as high as +600 (14%) but have dropped to as low as +1000 (9%) at some spots, presumably due to the Hill situation, and with Mahomes expected to land the richest contract in NFL history as soon as 2020, the Chiefs literally cannot afford to waste any of his rookie-deal Super Bowl window.
Or rather, more than they already have.
Chris Raybon is a Senior Editor at the Action Network and a co-host of "I'll Take That Bet" on ESPN+. He has watched every snap of every NFL game since 2010 — even the kneel downs. Follow him on Twitter @ChrisRaybon and read about how he quit his accounting job and got paid to watch sports.
How would you rate this article?