NFL Divisional Round: Analyzing Each Team's Strongest Defensive Unit
A good amount of NFL teams playing this weekend are known for their offense, but their defenses stand out this season, too.
Here's a look at the best defensive unit from each of the remaining teams in the divisional round of the 2019 NFL postseason.
Offensive players get all the shine, but as the old cliché goes: Defense wins championships.
So, in preparation for this weekend's Divisional Round playoff games, I'm breaking down each team's strongest defensive unit.
Dallas Cowboys: Linebackers
Rookie phenom Leighton Vander Esch and second-year standout Jaylon Smith anchor a linebacking corps that combined for the most tackles (253) among linebacker units during the regular season.
Dallas ranks fifth in Football Outsiders' run defense DVOA, and ranks third in adjusted line yards allowed per rush (3.87). The Cowboys also rank fifth in Stuffed-Rate (24.5%), fifth in rushing yards allowed per game (94.6), and eighth in fantasy points per game (16.9) allowed to running backs.
But, Dallas can do more than just stop the run. The Cowboys also rank 11th in pressure and eighth in coverage per Pro Football Focus, in large part due to their stellar linebacking play.
The versatility of Dallas' linebacking corps provides much-needed support to a thin, but talented, defensive line. Headlining that group is Demarcus Lawrence, who ranks seventh in PFF grade among edge rushers, 11th in rush defense and ninth in pressure.
Nose Tackle Antwaun Woods and Edge Rusher Tyrone Crawford (questionable — neck) both rank among the top-20 at their respective positions in PFF grade.
Nonetheless, it's the stellar play of Vander Esch and Smith that enables that defensive line to flourish. Their versatility in run defense, pass rush, and coverage raises the profile of the entire defense and compensates for some of Dallas' deficiencies in the secondary.
---
Indianapolis Colts: Linebackers
Admittedly, the Indianapolis defense doesn't feature one stand-out group. The real strength of its defense is its sure-tackling, disciplined run defense and depth. Nonetheless, the Colts' linebackers are perhaps the best example of this strength.
Darius Leonard (questionable — shoulder) and Anthony Walker lead a linebacking corps that ranks third in tackles (240) and tied for fifth in sacks (8). The Colts are one of just four teams featuring two linebackers (Leonard and Walker) with 80 or more tackles this season.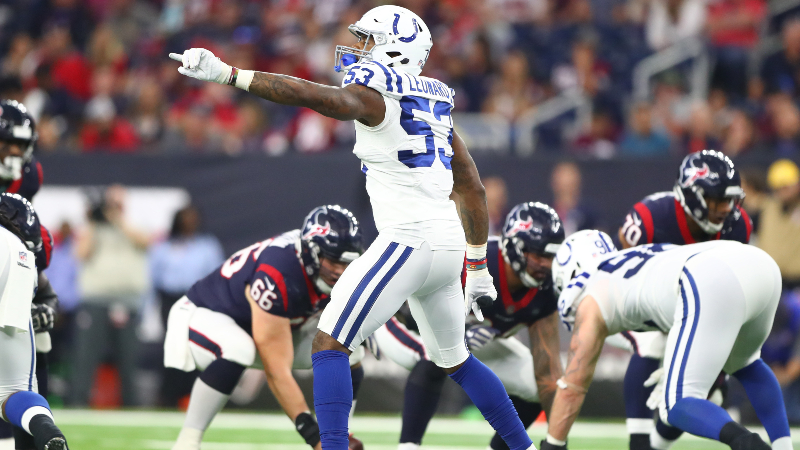 Behind the strength of Leonard and Walker — along with contributions from Matthew Adams and Zaire Franklin — the Colts rank fourth in rush defense DVOA, seventh in adjusted line yards allowed (3.96) and fourth in Stuffed Rate (24.7%).
They concede the 12th-fewest fantasy points (17.8) and eighth-fewest rushing yards (101.6) per game to running backs.
---
Kansas City Chiefs: Pass Rush
The Rams may receive the most public acclaim for their pass rush, but it's the Chiefs who rank first in PFF's Pressure grade. The Chiefs rank first in sacks (52), fifth in quarterback hits (50) and second in quarterback hurries (198) this season.
Chris Jones, Dee Ford and Justin Houston rank among the elite pass rushers at their respective positions and lead arguably the best individual defensive unit in football. They quietly combined for 37.5 sacks during the regular season.
That prolific trio of pass rushers is supported by Xavier Williams (47th in pressure among interior defensive linemen) and Reggie Ragland (11th in pressure among linebackers). Linebacker Terrance Smith also ranked 36th in pressure before his season-ending torn ACL in Week 7.
Kansas City's offense is so prolific — and quarterback Patrick Mahomes is so eye-popping — that the Chiefs' defensive line has gone largely unappreciated. If the Chiefs pull off a Super Bowl Championship, Mahomes may get the glory, but the defensive line deserves an equal share of MVP honors.
---
Los Angeles Chargers: Secondary
This decision was difficult. Choosing between the Chargers' pass rush and their secondary is close to splitting hairs.
Joey Bosa and Melvin Ingram III rank among the elite edge rushers in the league. Plus, they just contributed three combined sacks as part of an epic seven-sack team performance against Baltimore last week.
By most advanced metrics, Los Angeles' pass rush and secondary are approximately evenly-matched in terms of positional dominance. I already touched on the prowess of the Chargers' pass rushers, so here are some coverage-based metrics to set in contrast.
The Chargers rank:
Third in PFF team coverage grade.
Seventh in fantasy points per game allowed to wide receivers (20.4).
Ninth in passing yards per game allowed (227.9).
Ninth in quarterback rating allowed (89.1).
10th in pass defense DVOA.
Desmond King II and Casey Hayward Jr. form a lethal cornerback tandem. King ranks second in PFF's overall grade and first in coverage grade among cornerbacks; Hayward ranks 22nd overall and 25th in coverage.
Still, there remains one factor that pushes the Chargers secondary over the top: Their safeties can apply elite quarterback pressure, too.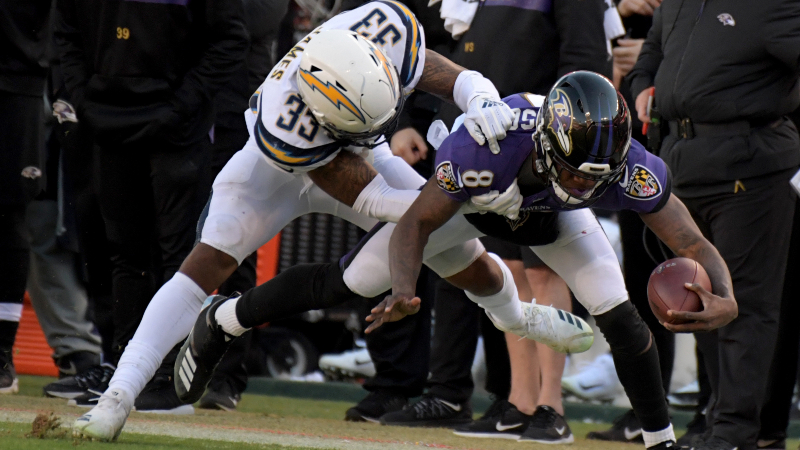 Los Angeles' trio of safeties in Derwin James, Jahleel Addae and Rayshawn Jenkins produced 30 combined quarterback pressures during the regular season. That mark ranks first among secondary units across the NFL.
James' 19 individual pressures rank higher than 28 teams' safeties' combined pressures this season.
The Chargers secondary is excellent in coverage, but their ability to contribute to the pass rush flies under the radar. Their safeties — especially Derwin James in particular — bolster an already-scary pass rush unit, which makes them a nightmare for opposing offensive coordinators.
Los Angeles Rams: Pass Rush
I may or may not have thrown slight shade at the Rams' pass rush when discussing the Chiefs. Now it's time to give them their due credit.
The Rams rank second in PFF's team pressure grade, third in quarterback hurries (191) and fourth in quarterback hits. Most importantly, however, they have Aaron Donald.
Donald ranks first in PFF overall grade and first in pressure grade among interior defensive linemen. He totaled the most sacks (20.5), eighth-most combined tackles (59) and second-most forced fumbles (4) among defensive linemen. His 20.5 regular season sacks are tied for seventh all-time — just two short of Michael Strahan's single-season record set in 2001.
Reminder: He's a defensive tackle, NOT an an edge rusher.
It is incredibly taxing on opposing offensive lines to commit double-teams to Donald when the Rams boast elite pass-rushers all over the field.
Starting defensive linemen Ndamukong Suh, Dante Fowler Jr. and Samson Ebukam all rank among the top-50 at their positions in pressure grade. On top of that, linebacker Mark Barron ranks 40th in pressure at his position, and safety Lamarcus Joyner (probable — ankle) ranks fourth!
The Chiefs may boast the top pass rush unit, but the Rams have the best overall defensive player in the league. Dallas will have its hands full trying to corral the Rams' pass rush — especially considering the Cowboys' comprehensive injuries at offensive line.
---
New England Patriots: Secondary
The Patriots have been ahead of the coaching curve by utilizing nickel coverage as their de facto base personnel and liberally deploying their linebacking corps as part of their pass rush. But, a defense can only afford to do this if their secondary unit is very strong in coverage.
And New England's secondary is one of the best in the league.
The Patriots rank 14th in pass defense DVOA, but that metric is somewhat deceiving. New England's defensive philosophy concedes underneath coverage zones, which naturally deflates their DVOA rating.
However, they rank third on throws over the middle and rank second on deep passes. The latter, more specific metrics convey strong coverage in the back-end of the secondary.
This interpretation justifies New England's second overall PFF coverage grade. The Patriots secondary created the third-most interceptions (15) and fourth-most pass breakups (38) during the regular season. They allow the 12th-fewest fantasy points to wide receivers (22.2) and seventh-lowest quarterback rating (85.4) per game.
A quick dive into New England's PFF player grades demonstrates just how dominant they really are.
All five of their defenders in nickel coverage boast top-50 coverage grades at their positions. Even more impressively, cornerbacks Stephon Gilmore, Jason McCourty, and J.C. Jackson each rank among the top-20 in coverage grade.
Safety Devin McCourty is currently in concussion protocol, rendering him questionable to play against the Chargers. If he does not suit up, his absence would undoubtedly hurt New England.
Nonetheless, the Patriots boast one of the deepest and most adept coverage units in the league. Regardless of McCourty's status, they should still apply tremendous pressure on the Chargers' passing game.
---
New Orleans Saints: Front-Seven
The Saints have amassed an embarrassment of riches on defense, resulting in likely the deepest, most dominant front-seven unit in the NFL.
Their front-seven's flattering defensive statistics, metrics and rankings are indeed so extensive that they demand a two lists to be fully appreciated:
Rush Defense
Third in PFF rush defense grade
Third in rush defense DVOA
Second in adjusted line yards allowed per rush (3.61)
First in second-level yards allowed per rush (0.87)
Sixth in stuffed rate (23.7%)
Second in rushing yards per game allowed (80.2)
Third in fantasy points per game allowed to running backs (14.3)
Pass Defense
Fifth in PFF pressure grade.
Ninth in pass defense DVOA on passes over the middle.
Ninth in pass defense DVOA on short passes.
Fourth in adjusted sack rate (8.7%).
Third in quarterback pressures by linebackers (46).
Tied for third in sacks by linebackers (10).
Tied for fifth in quarterback hurries by linebackers (25).
The Saints also boast an astounding eight players in their front-seven with PFF grades among the top-50 at their respective positions.
Was all that data-reporting overkill? Absolutely. I over-loaded you with statistics in order to drive a point home: The Saints front-seven is currently unmatched in its depth and excellence.
New Orleans has pass rushers who defend the run well. They have interior linemen who can apply quarterback pressure. They have linebackers who are equally adept at rushing the passer or dropping into coverage.
With that much defensive versatility, it's no wonder the Saints are the current odds-on favorite to win the Super Bowl.
---
Philadelphia Eagles: Defensive Line
Brandon Graham and Michael Bennett are two of the most under-appreciated all-around defensive ends in the league. Both rank among the top-32 in PFF overall grade and top-20 in pressure grade among defensive ends.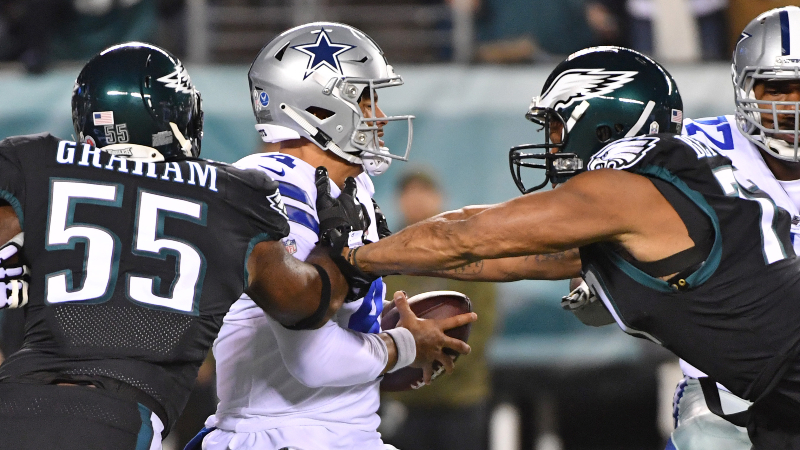 They are also good defenders against the run, which grants Eagles defensive coordinator Jim Schwartz substantial flexibility in his stunt and blitz packages — even in apparent rushing situations.
Treyvon Hester serves as a valuable interior lineman, ranking 13th in pressure grade at his position. Derek Barnett also ranked 26th in rush defense grade before a Week 7 shoulder injury landed him on injured reserve.
This combination of defensive line talent has resulted in excellent team rush defense and pass rush statistics. The Eagles rank ninth in rush defense DVOA, second in stuffed rate (25.8%) and sixth in adjusted line yards allowed per rush attempt (3.93).
Philadelphia also ranks third in PFF team pressure grade, first in total quarterback pressures (335), fifth in sacks (43), first in quarterback hits (80) and first in quarterback hurries (212).
Simply put, there's nothing the Eagles defensive line isn't good at it.
How would you rate this article?