NFL Divisional Round WR/CB Matchups: Robert Woods, Tyreek Hill Positioned for Success
Credit:
USA TODAY Sports. Pictured: Rams WR Robert Woods (17), Chiefs WR Tyreek Hill (10)
The NFL playoffs roll on with four divisional round matchups: Colts-Chiefs, Cowboys-Rams, Chargers-Patriots and Eagles-Saints.
Below is a game-by-game breakdown of the top WR/CB matchups, featuring Rams WR Robert Woods and Chiefs WR Tyreek Hill in favorable spots.
Welcome to the Divisional Round! Only eight teams remain, so we'll be able to focus on each team's respective wide receiver and cornerback groups more than usual.
Visit the FantasyLabs NFL page for more on this week's slate. You can also view all of the week's WR/CB matchups using our Matchups tool and check out matchup-specific stats for every wild-card matchup in the Matchup Manifesto.
Jump to: Colts-Chiefs | Cowboys-Rams | Chargers-Patriots | Eagles-Saints
Wild Card Matchup Matrix
The fine folks at Football Outsiders offer their DVOA metric specific to against the run, pass and certain positions. The ranks for all eight defenses are below, with red meant to indicate the best and green the worst.
Los Angeles is the home of two elite secondaries, as the Chargers (No. 10 in overall pass DVOA) and Rams (No. 9) each boast dominant pass rushes to complement their plethora of playmakers at safety and cornerback.
Neither defense has excelled at taking away No. 1 receivers, although the Rams have been a bit better since the return of No. 1 corner Aqib Talib.
The Chargers are at least positioned to match strength-on-strength with the Patriots, as Julian Edelman is expected to spend most of his day across from Desmond King — PFF's No. 2 overall cornerback this season.
The Cowboys and Chiefs are the defenses best positioned to take away their opponent's top-two receivers. However, this attention could lead to openings for auxiliary options such as Josh Reynolds and Chester Rogers.
Neither the Colts nor Chiefs have anything resembling a competent defense vs. opposing tight ends this season. Eric Ebron will be set up particularly well if Eric Berry (calf) is unable to suit up. Be sure to monitor our Divisional Round Injury Report for Berry's daily practice participation along with his estimated and official game statuses.
The Patriots haven't been quite as dominant against top pass-game receivers as the public might think. Overall, they've allowed 65 yards per game to No. 1 wide receivers (19th most) and 53 yards per game to No. 2 receivers (ninth most).
The Saints have allowed 87.8 yards per game to No. 1 receivers (second most), 80.4 yards to No. 2 receivers (most) and 43.2 yards through the air to running backs (17th).
Only the Eagles allowed more yards per game than the Saints to opposing No. 1 receivers (90.2).
The Saints-Eagles' matchup currently has the second-highest over/under in the slate at 51 points. Only Colts-Chiefs at 57 points is higher (per our Live NFL Odds Page).
Divisional Round WR/CB Matchups
We can determine where each receiver will line up as well as which cornerback each receiver will see the most of with help from the snap counts provided by PFF.
We'll also use PFF to compare each receiver's and defender's respective yards per route run and yards allowed per cover snap, along with their height, weight and 40-yard dash time. (Non-listed 40-times courtesy of DraftScout.com.)
Snap Percentage: Each receiver's respective percentage of snaps spent as the offense's left, slot or right wide receiver along with each cornerback's respective percentage of snaps spent covering an offense's left, slot or right wide receiver.
Physical: Each player's respective height (inches), weight (pounds) and 40-yard dash time (seconds). The players with the biggest advantages are identified in green while those that are undersized or slow are in red.
Production: Each wide receiver's respective targets per game and yards per route run along with each cornerback's respective targets allowed per game and yards allowed per cover snap.
---
Indianapolis Colts at Kansas City Chiefs
Colts WRs vs. Chiefs CBs
Hilton (ankle) not practicing all week is the new normal, and he's fully expected to suit up Sunday. Inman possesses his usual height and weight advantage on the outside and is the higher-upside option over Rogers, who typically works underneath as the offense's slot specialist.
It's been tough to slow down Hilton all season, but his recent stretch of excellent play has been aided by seven of the Colts' nine games since their Week 9 bye coming indoors. Hilton has scored just one touchdown outside all season and all five of his games with over 100 yards came inside.
This isn't exactly a new phenomenon for either Hilton or his quarterback, who will now have to deal with a Chiefs defense that has been significantly better at home in recent history.
Ebron is set up well against the Chiefs' porous secondary vs. tight ends, but be aware he's playing through injuries and was on the field for just 36-of-73 snaps (49%) last week.
Chiefs WRs vs. Colts CBs
The Colts utilize zone coverage at the highest rate in the league. This hasn't exactly been a problem for Patrick Mahomes this season.
As it turns out Hill has been the larger beneficiary compared to Travis Kelce during those five games:
Don't let noisy home/away short-term splits and a coverage scheme distract you from Hill's massive speed advantage over the entire Colts secondary. Hill is set up brilliantly considering the Chiefs easily boast the week's highest combined net yards per pass attempt rate.
This doesn't mean you should fade Kelce: The Colts' 29th-ranked defense in DVOA against tight ends has yielded a league-high 76.2 yards per game to opposing tight end units. Kelce is fresh off of finishing one of the greatest regular seasons in the history of the position.
The Chiefs' all-world tight end is arguably the most-matchup proof receiver in the league thanks to his unrivaled combination of size (6-foot-5 and 260-pounds) and athleticism for the position.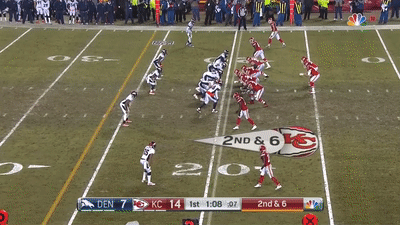 Also helping matters for the Chiefs is the expected return of Watkins (foot). He emerged as the second-most efficient target of Mahomes' young career in terms of adjusted yards per attempt in Weeks 1-11.
It's unclear if the Chiefs' overqualified field-stretcher is anywhere close to 100%, but he's at least boosted Mahomes' average yards per attempt during their time together.
Dallas Cowboys at Los Angeles Rams
Cowboys WRs vs. Rams CBs
The Rams haven't asked any of their cornerbacks to travel since Talib returned to action in Week 13.  The results against No. 1 receivers have been better, but still not necessarily great.
Week 13 Kenny Golladay: three receptions-50 yards-zero TD (eight targets)
Week 14 Allen Robinson: 5-42-0 (8)
Week 15 Alshon Jeffery: 8-160-0 (8)
Week 16 Larry Fitzgerald: 6-53-0 (9)
Week 17: Kendrick Bourne: 5-59-1 (6)
Both Cooper and Prescott possess less-than-ideal home/away splits for the Cowboys' trip to Los Angeles (per the FantasyLabs NFL Trends Tool). Still, Prescott could feed his No. 1 receiver more than ever before if Beasley (ankle) and tight end Blake Jarwin (ankle) are ultimately unable to suit up. No. 4 receiver Allen Hurns (ankle) is done for the season.
However, Talib presents a size-speed combo that has given most of his opponent's fits during the better part of the last decade. Talib's rivalry with Michael Crabtree got most of the attention during recent Raiders-Broncos matchups, but Cooper sure didn't do anything to deserve any headlines himself during these games.
Gallup is the preferred pivot play off of Cooper thanks to his fantasy-friendly target depth of 14.4 yards. Prescott also seemingly trusts the rookie receiver near the end zone, as Gallup was fed back-to-back fades during the Cowboys' Wild Card victory over the Seahawks.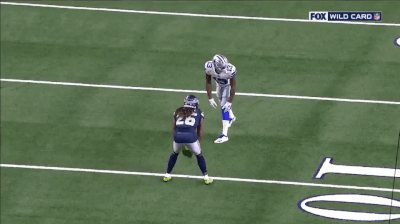 Rams WRs vs. Cowboys CBs
The Cowboys were largely picked apart by Russell Wilson last week, although the Seahawks stubbornly continued to try to run the football. The Dallas defense boasts plenty of speed and talent at all three levels, but they've resembled a pass-funnel unit by ranking 16th in DVOA against the pass compared to fifth against the run.
This is great news for Woods and Cooks, who are the second and fourth-highest rated wide receivers in Adam Levitan's Pro Model on DraftKings. Cooks has the group's toughest matchup against Byron Jones (PFF's No. 10 overall cornerback this season).
Meanwhile, Reynolds has more-or-less worked as the passing game's third option in eight games without Cooper Kupp (knee, IR) this season.
Woods (65 targets in eight games without Kupp)
Cooks (57)
Reynolds (47)
Todd Gurley (40 — missed two games)
Gerald Everett (32)
Tyler Higbee (18)
Helping matters for everyone involved in the passing game is the fact that Goff has easily been at his best when operating in the Los Angeles Memorial Coliseum under Sean McVay.
On road (16 games): 62% cmp | 7.72 Y/A | 28 TDs, 11 INTs | four games with 300+ yards | four games with 3+ TDs
At home (16 games): 64% cmp | 8.38 Y/A | 33 TDs, 8 INTs | 9 games with 300+ yards | six games with 3+ TD passes
Still, there's also been some evidence that Goff simply struggles without his favorite check-down option, as he's averaged 9.65 yards per attempt in eight games with Kupp this season compared to just 7.32 yards per attempt in eight games without.

Los Angeles Chargers at New England Patriots
Chargers WRs vs. Patriots CBs
It's unclear exactly how the Patriots will choose to match up with Allen. My best guess is that McCourty will slide into the slot (as he did against Adam Thielen) to try and take away the Chargers' No. 1 receiver, but Bill Belichick could also ask undrafted rookie J.C. Jackson to handle the job (as he did against Juju Smith-Schuster).
While their strategies have varied, the Patriots haven't consistently been able to shut down No. 1 wide receivers for most of the season.
Either way, expect to see plenty of Gilmore (PFF's No. 1 cornerback) on the bigger-bodied Mike Williams. This theoretically sets things up nicely for Tyrell Williams, who is the best bet of the group to take the top off the defense and create a chunk play down the field.
The expected return of Hunter Henry (knee) won't help the red zone target share of any of the wide receivers, but it'd be surprising if Henry plays anything close to a full game's worth of snaps.
Patriots WRs vs. Chargers CBs
The Chargers have both the athleticism and skill to shut down the Patriots' passing game. Joey Bosa and Melvin Ingram are the toughest pair of defensive ends remaining in the playoffs and have the potential to make life difficult for Tom Brady.
Even if Brady has time to throw, it's unclear what matchup the Patriots will deem exploitable.
King (PFF's No. 2 overall cornerback) has emerged as the league's premiere slot corner and will be a handful for Edelman to consistently break down.
Davis (No. 39) possesses enough size and speed to hang with either Phillip Dorsett or Chris Hogan. Josh Gordon might've been a different story.
Hayward (No. 18) is one of the league's premiere shadow cornerbacks and is more than capable of erasing Hogan.
Rookie safety Derwin James (No. 4) leads the league's No. 1 defense in DVOA against tight ends. James is a nightmare matchup for Gronk.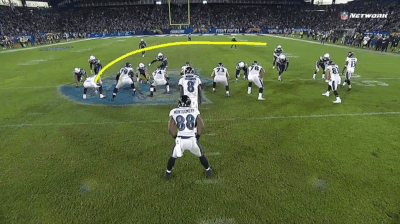 Of course, the mythological creature also known as Playoff Brady has been overcoming the odds in January for the better part of the past two decades. Another week of excellence would likely result in a big day for Edelman based on Brady's target distribution over the past two weeks without Gordon.
Philadelphia Eagles at New Orleans Saints
Eagles WRs vs. Saints CBs
Nick Foles has continued to utilize Zach Ertz as the offense's de facto No. 1 option since taking over for Carson Wentz (back, out) in Week 15.
Zach Ertz (34 in four games with Foles since Week 15)
Jeffery (27)
Tate (22)
Agholor (21)
Darren Sproles (16)
Wendell Smallwood (13)
Dallas Goedert (12)
Tate's eight targets in the Wild Card round trailed only Jeffery (9). Foles was confident enough in the Eagles' mid-season addition to throw him the ball on the team's biggest play of the season to this point.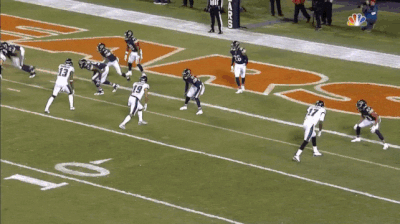 Jeffery is expected to again see shadow coverage from Lattimore (PFF's No. 25 overall cornerback), so Agholor should see plenty of Apple (No. 77), and Tate will get to feast on Williams (No. 110).
Still, it's tough to ignore just how dominant the Saints were during their 48-7 victory over the Eagles back in Week 11. Neither Ertz (2-15-0, Jeffery (4-33-0), Agholor (0-0-0) nor Tate (5-48-0) were able to get much of anything going in the alleged Coors Field of Fantasy Football.
The presence of Foles under center appears to be enough of a change to convince the public that things will be different this time around. The Saints opened as 10-point favorites before dropping to -8 as of Thursday morning.
Saints WRs vs. Eagles CBs
Drew Brees completed  22-of-30 passes (73.3% completion rate) for 363 yards (12.1 Y/A) with four touchdowns and zero interceptions against the Eagles in Week 11. Thomas (4-92-1), Smith (10-157-1) and Alvin Kamara (1-37-1) made their presence felt against the league's fourth-worst defense in DraftKings points per game allowed to opposing wide receiver units.
The Eagles have honorably dealt with their injury-riddled secondary during the second half of the season and managed to hold the Bears (15 points) and Redskins (13 points in two games) offenses in check since their Week 11 debacle. Still, the Giants (22), Cowboys (29), Rams (23) and Texans (30) were all able to find a decent amount of success through the air against this rag-tag cornerback group.
Douglas has allowed team-worst marks in catch rate (68.5%), yards allowed (641), yards allowed after the catch (249) and touchdowns (3).
LeBlanc is PFF's No. 53 overall corner. He's played for three teams during the last 12 months and didn't make his Eagles debut until Week 10.
Maddox is PFF's No. 97 overall corner. The fourth-round rookie is undersized and was routinely roasted by Allen Robinson last week.
The latter cornerback in particular could be Sean Payton's key target this week. It's impossible for Maddox to fully cover the current talent gap that exists between him and the Saints' No. 1 receiver in less than a week.
Thomas is locked-and-loaded as the offense's featured pass-game target, but the rest of the pecking order is a bit of a mystery. Ginn returned off the injured reserve list in Week 16 and had eight targets, but the Saints' field-stretcher played just 41% of the offense's snaps. Both Keith Kirkwood (4 targets, 58% snaps) and Smith (1 target, 39% snaps) were also plenty involved.
---
Be sure to check out FantasyLabs' industry-leading NFL News and Models, along with the Multi-Lineup Builder, Stack Builder, ownership projections and more. Other tools for the 2018 season are also available, including the Matchups page, DFS Contests Dashboard, NFL Ownership page and NFL Correlations page.
How would you rate this article?