Raybon's QB Confidence Rankings: Who To Trust In the Divisional Round
Credit:
Getty Images. Pictured: Aaron Rodgers, Lamar Jackson, Ryan Tannehill
An utterly insane Wild Card Weekend that saw Ryan Tannehill's Titans upset Tom Brady's Patriots and Kirk Cousins' Vikings upset Drew Brees' Saints was a good reminder that while the team with the best quarterback doesn't always win or cover, the men who lineup behind center remain more likely to swing the outcome of a game than any other factor.
And while we know a quarterback won't always be the deciding factor in whether a team covers, if they do end up being the X-factor, how confident should we be that they will get the job done? To that end, I've decided to rank the eight Divisional Round starting quarterbacks in order of betting confidence.
Let's run through what factors I considered, then dig into the actual rankings.
---
Odds as of Wednesday morning and via FanDuel, where Action Network users get a risk-free bet up to $500.
---
Divisional Round QB Confidence Rankings
In assembling these rankings, I take into account how well the eight quarterbacks performed vs. the odds in the past, particularly in similar situations — favorite/underdog, home/road, vs. wining teams this season, etc.
I also look at how they compare to each other in three key metrics:
Yards Per Play: Passing yards plus rushing yards minus sack yards lost, divided by total dropbacks plus carries. This measures how efficient is a quarterback at moving his team downfield when he has the ball in his hands, regardless of whether he tends to rely more on his arm or his legs.
Third/Fourth-Down Conversion Rate: Rate of first down conversions on all third- or fourth-down plays in which the quarterback either dropped back or had a rushing attempt. I chose third/fourth down splits over other "clutch" situational splits, such as red-zone conversion rate, passing under pressure, etc., because it encompasses each of the latter. Ultimately, we want a quarterback who can convert late in the down, regardless of whether they're in the red zone, pressured, etc.
Percentage of Negative Plays: Sacks plus interceptions plus total fumbles divided by dropbacks plus carries. This is essentially the "game manager" component. Though turnovers are relatively unpredictable, they still have an outsized impact on the final outcome, and quarterbacks are generally responsible for the majority of their team's turnovers. To get a greater sense of turnover-worthy plays, I include fumbles both lost and recovered rather than just fumbles lost, and I also include sacks despite the aforementioned yards per play metric already accounting for sack yardage lost, as sacks tend to result in fumbles at a high rate.
Without further ado, here are my QB Confidence Rankings for the Divisional Round.
Note: All betting data is via Bet Labs. Passing under pressure data is via Pro Football Focus. Blitz rates, pressure rates, QB knockdown rates and all other data is via Pro Football Reference. All data includes regular and postseason unless otherwise noted.
8. Ryan Tannehill, Tennessee Titans
+9.5 at Ravens, +350
Career Records
Overall: 50-49 Straight Up (SU), 48-48-3 Against the Spread (ATS)
Underdog: 24-34 SU, 29-28-1 ATS
Road: 19-29 SU, 22-26 ATS
Postseason: 1-0 SU, 1-0 ATS
2019 Record
Overall: 8-3 SU, 7-3-1 ATS
vs. Winning Teams: 3-2 SU*, 3-2 ATS*
Key Metrics
Yards Per Play: 7.35 (second)
3rd/4th Down: 40.5% (sixth)
Negative Plays: 12.4% (eighth)
*One win came against Texans as they rested their starters in Week 17
Reasons to Believe: Tannehill beat Brady and Bill Belichick. In the playoffs. In Foxborough.
He's not only gone 8-3 SU, but has also been a cover machine, posting a 7-3-1 ATS mark. His 7.35 yards per play is second only to Patrick Mahomes among passers still alive entering the Divisional Round.
Also: Trent Dilfer, Eli Manning and Joe Flacco have won Super Bowls.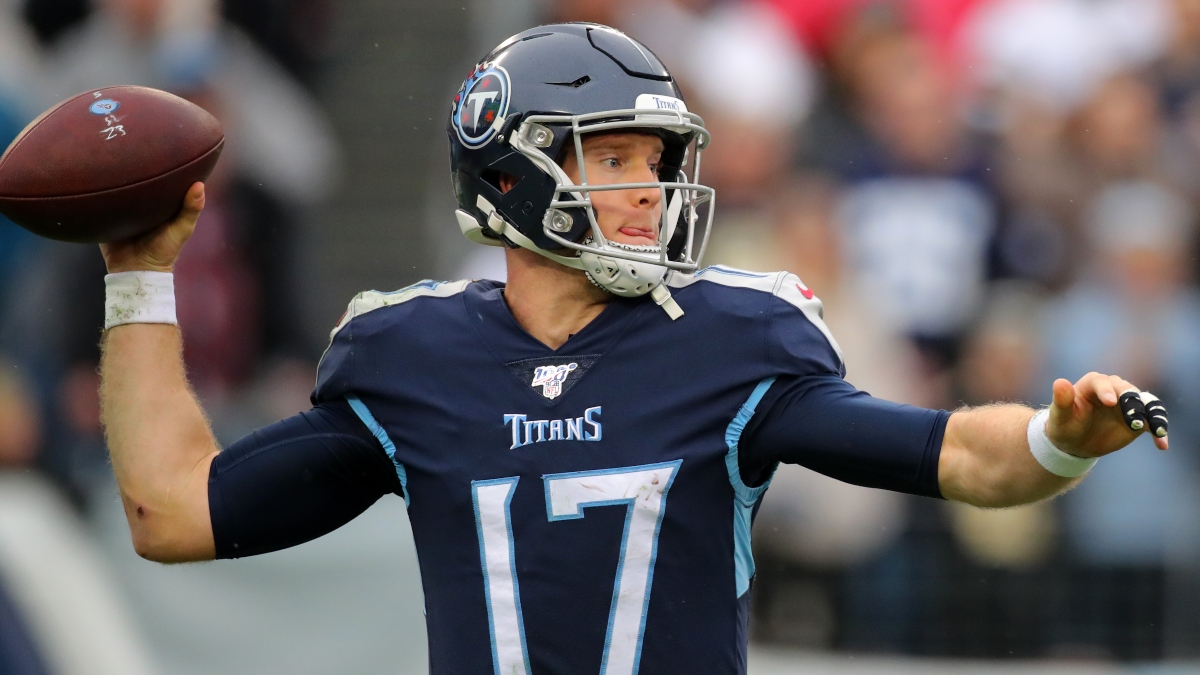 Why You Might Regret It: He didn't beat Brady and Belichick. Sure, his squad notched the win, but Tannehill was about as easy to find as Jimmy Hoffa's remains. The former Dolphin attempted only 15 passes, completing eight for 72 yards while the Titans ran the ball 40 times for 201 yards.
Tannehill has committed a negative play 12.4% of the time — the highest rate of any signal caller left in the playoffs — so things could get dicey if he's not handing off twice as often as he's dropping back.
The monster that is Derrick Henry has helped the Titans stay ahead of the chains more often than not, but if Baltimore jumps out to a lead, Tannehill's 40.5% conversion rate on third/fourth downs could also become an issue.
You could say Tannehill has been good under pressure — his 98.4 rating under duress was second-best in the NFL — but you could also say he literally doesn't stand a chance. His 31.0% sack rate when pressured was third-highest. And he just so happens to be facing the Ravens, whose 54.9% blitz rate led the league by a wide margin.
7. Kirk Cousins, Vikings
+7 at 49ers, +270
Career Records
Overall: 45-43-2 SU, 47-42-1 ATS
Underdog: 18-28-1 SU, 21-21-1 ATS
Road: 18-26-1 SU, 24-21 ATS
Postseason: 1-1 SU, 1-1 ATS
2019 Record
Overall: 11-5 SU, 9-7 ATS
vs. Winning Teams: 2-4 SU, 2-4 ATS
Key Metrics
Yards Per Play: 6.86 (fourth)
3rd/4th Down: 46.1% (fourth)
Negative Plays: 8.6% (fourth)
Reasons to Believe: He hasn't been terrible at any one thing, metrics-wise, and has been slightly profitable to back throughout his career.
He just out-dueled Taysom Hill, er, Drew Brees on the road. Adam Thielen looks fully healthy. And this matchup against the 49ers isn't in primetime — a time slot which Cousins has infamously struggled in — going just 7-15 SU and ATS.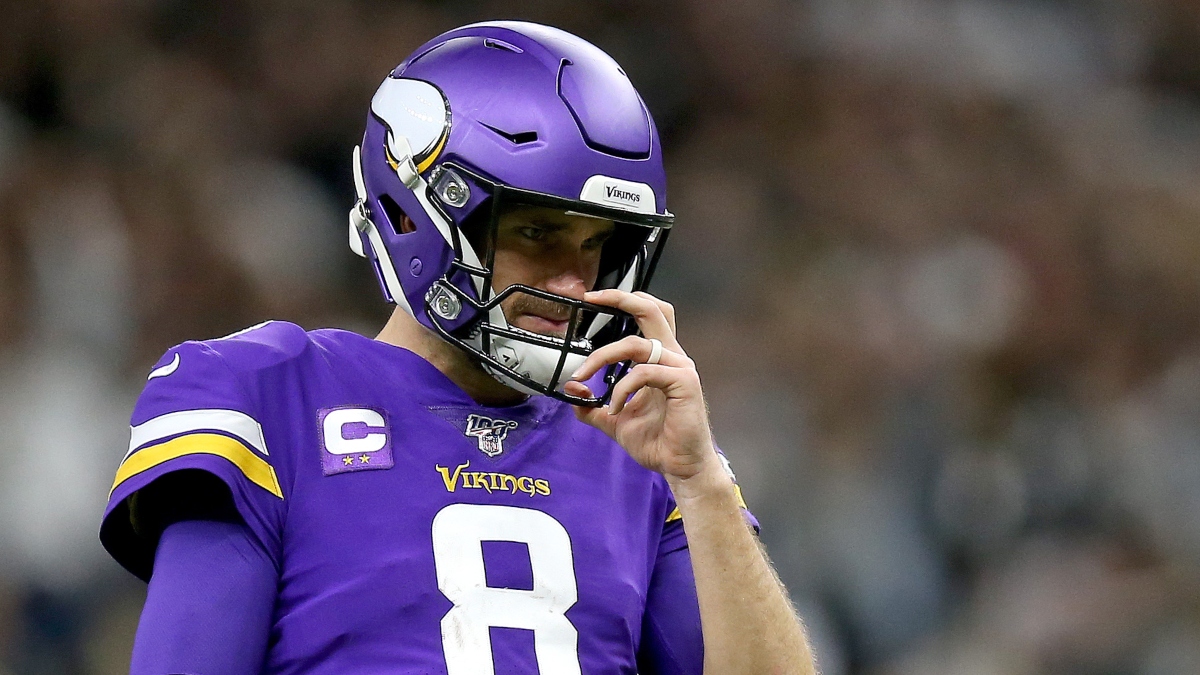 Why You Might Regret It: He hasn't been great at any one thing, metrics-wise, and he's barely been profitable to back throughout his career.
Stefon Diggs is one target-less offensive series away from going to war with Cousins, which would continue the season-long trend of his top receivers publicly airing him out. The 49ers defense also allowed a league-best 4.8 net yards per pass attempt.
Even after beating New Orleans, Cousins is just 2-4 SU and ATS against teams that finished with a winning record. In those six games, he averaged only 7.15 YPA compared to 8.90 in 10 games versus teams that finished .500 or worse. His 4-10 SU and 5-9 ATS records in the 4 p.m. ET window is nearly as bad as his primetime mark.
And if you back Cousins and lose, you'll be subject to an endless barrage of "you like that!" from anyone you know who gets wind of it.
6. Jimmy Garoppolo, 49ers
-7 vs. Vikings, -320
Career Records
Overall: 21-5 SU, 15-10-1 ATS
Favorite: 13-2 SU, 6-8-1 ATS
Home: 10-2 SU, 5-6-1 ATS
Postseason: N/A
2019 Records
Overall: 13-3 SU, 9-6-1 ATS
vs. Winning Teams: 5-2 SU, 5-2 ATS
Key Metrics
Yards Per Play: 6.82 (fifth)
3rd/4th Down: 49.1% (second)
Negative Plays: 10.6% (sixth)
Reasons to Believe: He's won 81% of his career starts and covered in 60% of them. He's been money on third and fourth down, converting at the second-highest clip among remaining postseason quarterbacks (49.1%).
Despite no prior postseason experience, he's still battle-tested this season, going 5-2 SU and ATS against teams over .500. He's coached by one of the best offensive minds in the game in Kyle Shanahan, and we're still roughly 10 quarters away from when Shanahan usually blows this type of thing.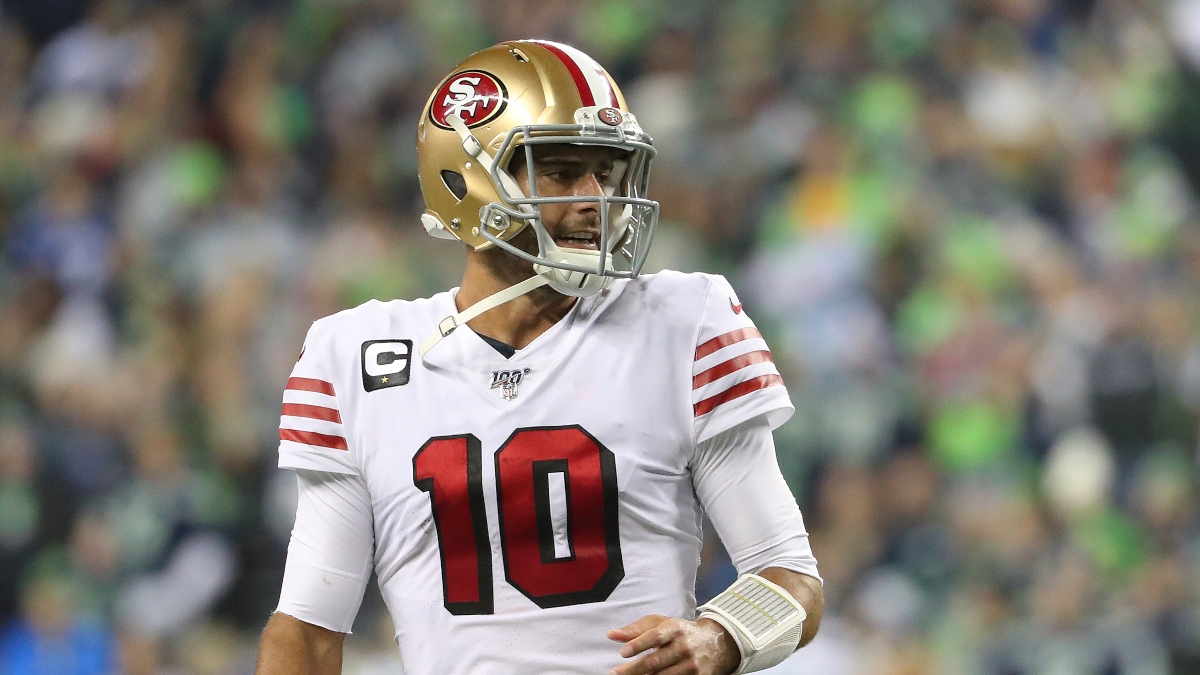 Why You Might Regret It: Much of his profitability ATS disappears when you look at spots in which his team was at home (5-6-1) or favored to win (6-8-1). He's making his first playoff start against a quarterback in Cousins who now counts as having postseason experience, and QBs making their first playoff start have struggled mightily against those with at least one playoff start under their belt.
And finally, the worst start of his career came against Mike Zimmer's defense: A 15-of-33, 261-yard performance with one touchdown and three interceptions in Week 1 of the 2018 season.
5. Aaron Rodgers, Packers
-4 vs. Seahawks, -190
Career Records
Overall: 122-67-1 SU, 108-77-5 ATS
Favorite: 107-37 SU, 84-57-3 ATS
Home: 71-19 SU, 55-32-4 ATS
Postseason: 9-7 SU, 10-5-1 ATS
2019 Record
2019: 13-3 SU, 10-6 ATS
vs. Winning Teams: 3-2 SU, 3-2 ATS
Key Metrics
Yards Per Play: 5.99 (eighth)
3rd/4th Down: 36.5% (eighth)
Negative Plays: 6.8% (third)
Reasons to Believe: He's won 78.9% of his career starts at Lambeau and covered 63.2% of them. He's also covered in 59.5% of his career games as a favorite and two-thirds of his postseason starts overall. Him throwing a pick would qualify as a black swan event.
He's unquestionably one of the greatest quarterbacks of all-time, as well as the greatest Hail Mary QB of all-time.
Seattle's defense finished the regular season 28th in pressure rate (19.3%) and quarterback knockdown rate (6.4%), so it shouldn't matter that Rodgers' collarbones are cut from the same cloth as Will Fuller's soft tissue. Also, there are no replacement officials to worry about.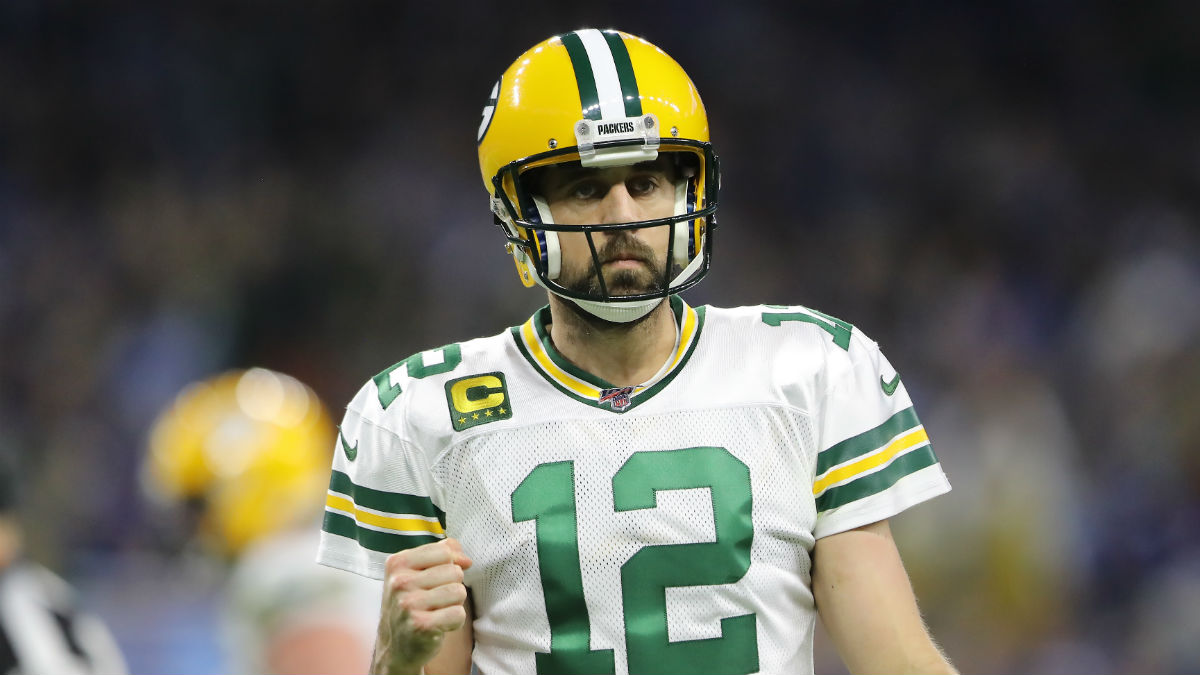 Why You Might Regret It: Many of the confidence-inspiring accolades on his resume can be credited to Rodgers Version 1.0, aka his pre-2015 self.
Version 1.0 averaged 8.22 yards per attempt and covered the spread at a rate of 66.7%. Version 2.0 averages 7.10 yards per attempt and covers the spread at a 55.4% clip.
This season, Rodgers ranks dead last among remaining postseason signal callers in third/fourth-down conversion rate (36.5%), passer rating under pressure (74.0) and yards per play (5.99).
In the eight games since Davante Adams returned from his toe injury, the Packers are 6-2 SU, but the combined record of opponents they faced over that stretch is 51-76-1 (.405). Despite that soft slate, they went 4-4 ATS, averaging 20.1 points per game with an average margin of victory of 1.4. Rodgers tossed just 1.25 touchdowns per game over that span while averaging 5.87 yards per attempt — 31st of 33 quarterbacks with at least 120 attempts.
---
FanDuel is boosting the odds on the 49ers, Ravens, Chiefs and Packers all to win this weekend from +206 to +250. Bet now — PA, NJ, IN and WV only.
---
4. Russell Wilson, Seahawks
+4 at Packers, +164
Career Records
Overall: 95-46-1 SU, 76-59-7 ATS
Underdog: 19-20-1 SU, 26-12-2 ATS
Road: 40-29-1 SU, 37-29-4 ATS
Postseason: 9-5 SU, 8-6 ATS
2019 Record
Overall: 12-5 SU, 8-8-1 ATS
vs. Winning Teams: 6-4 SU, 5-5 ATS
Key Metrics
Yards Per Play: 6.62 (sixth)
3rd/4th Down: 37.7% (seventh)
Negative Plays: 9.3% (fifth)
Reasons to Believe: He's been even more prolific as an underdog in his career (68.4%) than Rodgers has as a favorite (59.5%).
D.K. Metcalf had a rookie year so good that shirtless Combine photos may become the new analytics craze. And as far as we know, Brian Schottenheimer doesn't have "season-ending interception at the opponent's 1-yard line" in his playbook.
Wilson wins approximately 100% of the games he has no business winning, with playoff games against the Packers coming as no exception.
Why You Might Regret It: He's playing behind a third-string O-line moonlighting as a first-string O-line, and with his 2014 backfield moonlighting as his 2019 backfield. If you want to get scammed by Russell Wilson, it would be cheaper to bang your head against a wall and drink Nanobubble water.
3. Deshaun Watson, Texans
+9.5 at Chiefs, +350
Career Records
Career: 25-14 SU, 20-17-2 ATS
Underdog: 9-8 SU, 12-5 ATS
Road: 10-8 SU, 10-6-2 ATS
Postseason: 1-1 SU, 1-1 ATS
2019 Record
Overall: 11-5 SU, 8-7-1 ATS
vs. Winning Teams: 4-2 SU, 5-1 ATS
Key Metrics
Yards Per Play: 6.42 (seventh)
3rd/4th Down: 44.9% (fifth)
Negative Plays: 11.1% (seventh)
Reasons to Believe: Plays like this:
Watson went 5-1 ATS and 4-2 SU against teams that finished better than .500, including a 31-24 upset of the Chiefs at Arrowhead in Week 6. He's won more games than he's lost in his career as an underdog while posting a 12-5 ATS mark. He's also been a strong bet on the road (10-6-2 ATS).
It looks like he'll get back Will Fuller (groin), who has been in and out of the lineup for Watson's entire career. With Fuller, Watson averages 8.72 yards per attempt and and a touchdown every 14.0 attempts. Without Fuller, Watson dips to 7.26 yards per attempt and a touchdown every 24.0 attempts.
Why You Might Regret It: In two games and over 130 minutes of playoff ball, his team has led for precisely four minutes and 33 seconds — and never by more than three points.
Since opening at +8, the Texans have seen the line move 1.5 points against them as of early Tuesday, which is currently the biggest shift of the four Divisional Round games (find live odds here).
Watson consistently defied the odds as an underdog (6-2 ATS this season), but there's a reason those odds aren't shorter in the first place. In addition to rating below-average in each of the the key metrics compared to the other seven Divisional Round quarterbacks, Watson's marks also don't look very good compared to the league at large: Of 32 quarterbacks with at least 240 pass attempts, Watson ranks 14th in yards per play, 22nd in third/fourth-down conversion rate and 25th in negative play rate.
2. Lamar Jackson, Ravens
-9.5 vs. Titans, -430
Career Records
Overall: 19-4 SU, 13-10 ATS
Favorite: 15-2 SU, 8-9 ATS
Home: 10-2 SU, 4-8 ATS
Postseason: 0-1 SU, 0-1 ATS
2019 Record
2019: 13-2 SU, 9-6 ATS
vs. Winning Teams: 6-1 SU, 5-2 ATS
Key Metrics
Yards Per Play: 7.05 (third)
3rd/4th Down: 50.3% (first)
Negative Plays: 6.3% (second)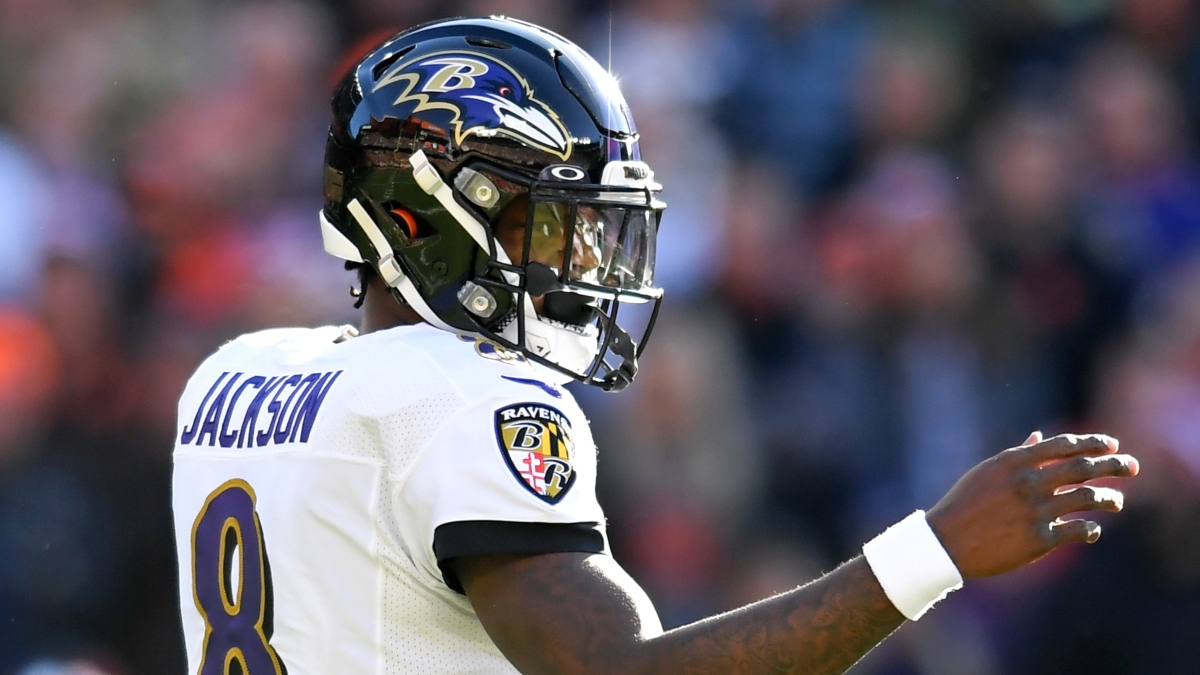 Reasons to Believe: In his 15 starts, Baltimore's average margin of victory is 15.4. He's the only QB in the league to convert on at least half of his third- and fourth-down attempts. And he joins Mahomes as the only two quarterbacks to rank top-three in third/fourth-down conversion rate, yards per play and negative play percentage.
Though Jackson has covered less than half the time as a favorite and at home over his career, much of that has to do with the Ravens being overvalued against bad teams: He won 6-of-7 and covered 5-of-7 against teams that finished above .500 this season.
He's the MVP frontrunner.
Why You Might Regret It: He's 3-8 ATS as a home favorite, and you would have to lay more than $400 to win back $100 on the moneyline.
He didn't quite know how to throw a football at this time last year, and no-showed against the Chargers in his only postseason appearance. By the time Ravens-Titans kicks off, he won't have played a snap in three weeks.
He's averaging 11.7 rushing attempts per game and figures to lay it all on the line for the playoffs, meaning there's a non-zero chance that the ghost of RGIII will factor into your wager.
1. Patrick Mahomes, Chiefs
-9.5 vs. Texans, -440
Career Records
Overall: 25-8 SU, 20-11-2 ATS
Favorite: 21-6 SU, 15-11-1 ATS
Home: 12-4 SU, 8-7-1 ATS
Postseason: 1-1 SU, 1-1 ATS
2019 Record
Overall: 11-3 SU, 9-4-1 ATS
vs. Winning Teams: 2-2 SU, 2-2 ATS
Key Metrics
Yards Per Play: 7.58 (first)
3rd/4th Down: 47.1% (third)
Negative Plays: 4.6% (first)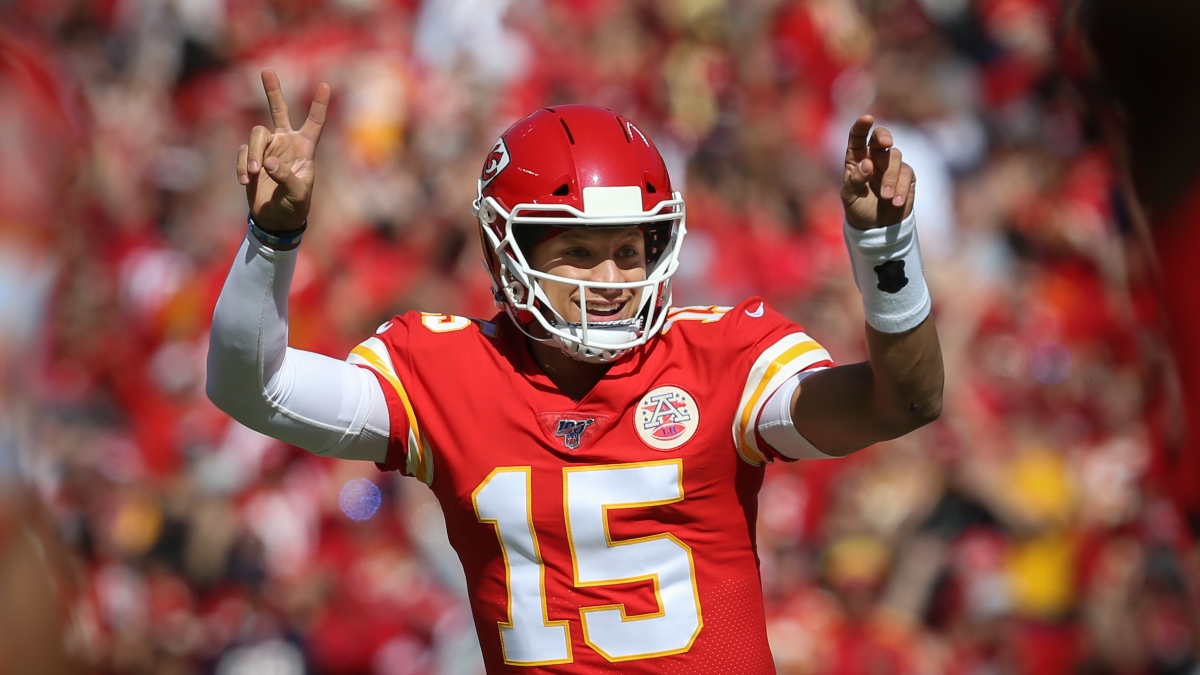 Reasons to Believe:  His 4.6% negative play rate leads not just all quarterbacks in the Divisional Round, but the entire league.
We've been here before: The Chiefs earned a bye and drew an AFC South opponent in last season's Divisional Round, crushing the Colts, 31-13, as 4-point favorites. Mahomes went 27-of-41 for 278 yards passing, scored a rushing touchdown and didn't turn the ball over.
One of Mahomes' losses against winning teams this season came against the Texans, but he was banged-up after injuring his ankle in the previous game. This time around, he figures to be not only healthy, but better prepared by Andy Reid, who is 36-25-1 ATS with more than a week between games.
Dee Ford is also gone.
Why You Might Regret It: The loss to the Texans was the only game this season in which he committed multiple turnovers. Reid's late-game clock is the only clock that's not right at least two times a day.
There may come a time in the game in which the situation calls for a quarterback sneak.
How would you rate this article?