Koerner's Fantasy Football Tiers: Ranking QBs and When to Draft Them
Credit:
USA Today Sports. Pictured: Andrew Luck, Patrick Mahomes, Deshaun Watson
Welcome to Sean Koerner's 2019 fantasy football tiers, where he ranks all 32 starting quarterbacks into groups based on their value.
See his overall draft strategy at the position as well as when to target certain QBs in season-long re-draft leagues.
Tiers are a very important way to analyze fantasy football rankings.
All too often people use rankings too literally without accounting for drop-offs within a position. The difference in rank between my No. 3-ranked QB and No. 5-ranked QB, for example, can be bigger than the difference between my QB12 and QB20.
That's why it's important to rank players within tiers — one tier can consist of only one player or as many as seven depending how far or close their projections are to others. And it's not necessary to split hairs over who should be ranked higher in those instances. Instead, it's important to identify players the market is either overvaluing or undervaluing so we can anticipate who offers the most value, then use that to create a draft plan.
That's what we'll do with my quarterback tiers below. But before we dig in, let's run through my overall strategy at the position.
---
>> Create custom cheat sheets using Sean Koerner's fantasy football rankings with our Draft Kit.
---
My 2019 QB Draft Strategy
The position is extremely deep this season, so if you're in a 12-team league that starts only one QB, you should try to bolster other positions before drafting a QB. To help with this, I've identified QBs you can afford to wait on throughout my tiers.
It's very likely you'll be able to get a solid QB extremely late, and the talent available on the waiver wire during the season will also be better than we've ever seen thanks to the QB situation being arguably the best it's ever been across the league: We have a handful of future Hall-of-Fame quarterbacks still playing at a high level well into their late 30s or even early 40s. Couple that with a ton of up-and-coming QBs entering their prime, and we're set up for one of the best overall seasons we've seen from the position.
I'm much more likely to take a high-upside QB later on. And if he doesn't pan out, you should be able to just add a steady veteran from the waiver wire. Think of it as a safety net for attempting a death-defying stunt. There really isn't as much downside to this plan when you think of it that way, so we might as well shoot for the moon.
If you're in a 2QB or superflex league, you'll instead need to target the QB position fairly early then draft two to three "safer" QBs. The reason you can't wait as long in these formats is the massive drop-off after QB30-32: There are only 32 possible starting QBs in a given week (sometimes fewer with BYEs), therefore the demand to draft two to three QBs before that drop off and before the rest of your league does is critical.
Now let's break down my tiers.
IMPORTANT NOTE: This article is meant to give my general drafting strategy for the QB position. To get my up-to-date rankings, check out our draft kit, where you can download my projections/Tiers for your exact league settings.
---
More Tiers: RB | WR |TE
---
Tier 1
Patrick Mahomes, Kansas City Chiefs
Yes, Mahomes will regress this season — I actually have him passing for 13.5 fewer touchdowns than the 50 he tossed in 2018. But my projection of "only" 36.5 TDs is still 3.5 more than the QB with my second-highest projection (Andrew Luck). So think of this as me projecting Mahomes to be more human — just a human who is far-and-away the best fantasy football QB on the planet.
Given the difference of 25 projected fantasy points between him and the next QB, Mahomes gets Tier 1 all to himself.
I wouldn't blame you if draft him in the third round of a 12-team league that you start only one QB. He fully deserves to go in that range. However, given that the drop-off at QB is so steady after Mahomes, you can get some nice value way later in the draft. I've been passing him up unless he falls to me in the fifth round.
Tier 2
Deshaun Watson, Houston Texans 
Despite the 25-point difference between Mahomes and Watson in my projections, I think Watson is almost as likely as Mahomes to finish as the QB1. One thing to note about my projections is that they're meant to represent the median of a player's expected range of outcomes: 50% of the time they'll finish higher, 50% of the time they'll finish lower.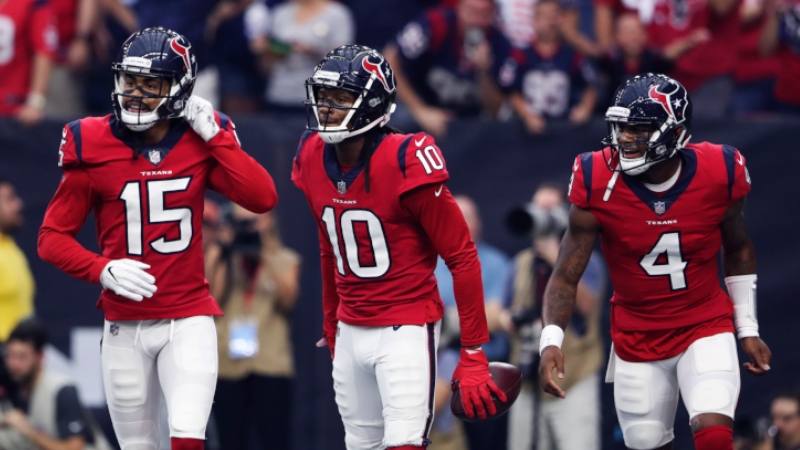 Watson's ceiling is much higher than most QBs, and he'll reach it if he and all three of his main weapons — DeAndre Hopkins, Will Fuller and Keke Coutee — can stay healthy.
Watson suffered a chest injury in Week 5 of last season that prevented him from traveling with the team by plane. It impacted his fantasy value a ton as he averaged only 14.8 rushing yards in the five games following that injury. He seemed to get closer to 100% following the Texans' Week 10 BYE and averaged 46 rushing yards over the final six games.
Watson is being drafted as the QB4 as of writing, which means he's the first QB to offer some value given he's left on the board a bit longer than he should be. He makes it very hard to stick to the plan of waiting at QB if he's still available in Rounds 5-6.
Tier 3
Aaron Rodgers, Green Bay Packers
Andrew Luck, Indianapolis Colts
Editor's note: This story was first published before the news of Andrew Luck's retirement. See how Koerner has adjusted his QB rankings to account for Jacoby Brissett taking over as the starter here.
Another very solid tier featuring two quarterbacks with very high floors.
Rodgers and Luck are very likely to provide top-five value, however I think spending draft capital this high in order to be "safe" could actually lower your odds of winning your league. They're typically being drafted when players like Josh Jacobs, Chris Carson, Chris Godwin and Calvin Ridley are still on the board.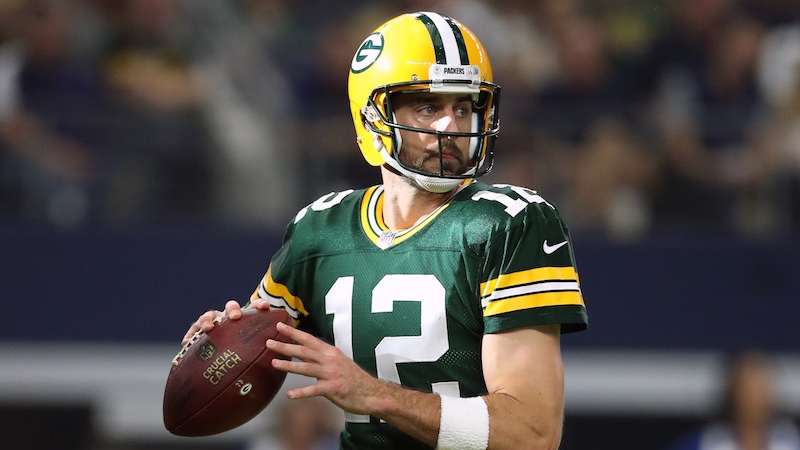 It's much better to load up on RBs and WRs in this range given the safety net at QB. You don't really have that luxury at other positions.
Tier 4
Matt Ryan, Atlanta Falcons
Baker Mayfield, Cleveland Browns
This is another very high-floor tier. But while both QBs are very likely to put up top-10 numbers and have top-five upside, it's still too early to spend a top-100 overall pick.
If you're in a 2QB or superflex league, then your strategy is much different and you should absolutely target this tier. Ryan and Mayfield will be steady weekly QB1s for you, which will allow you to snag whichever QB2 falls to you later in your draft.
Tier 5
Cam Newton, Carolina Panthers
Russell Wilson, Seattle Seahawks
Newton and Wilson used to have overall QB1 upside, but I'm afraid those days are over — we can't expect either to use their legs going forward. However, both have grown enough as passers to be very high-floor weekly options.
Entering last season, Newton's longest stretch of games with at least two TD passes was only four. He shattered that in 2018 by throwing for two or more in 11 straight games. A lot of that has to do with the fact that he's surrounded by the best set of weapons he's had in his career. Look for his passing production to become more stable going forward, which should mitigate his decline in rushing stats.
Wilson's decline in rushing stats, on the other hand, is a bit concerning — especially in the red zone.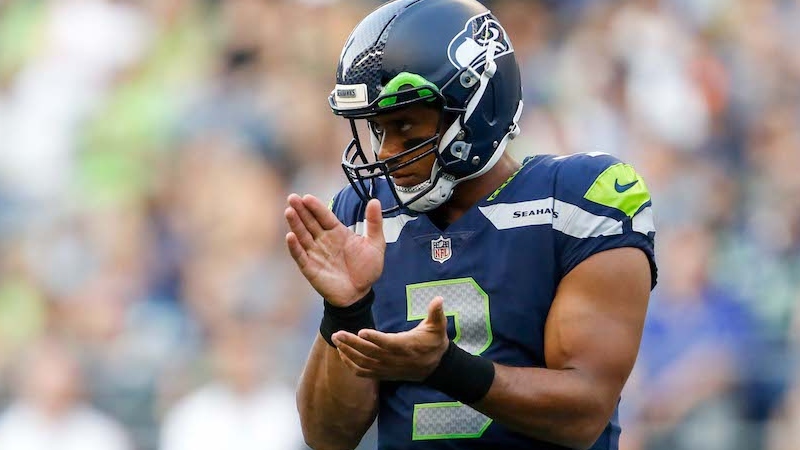 Willson had only three rush attempts inside the 10-yard line in 2018. To put that in perspective, that was fewer than DeAndre Washington (OAK) and Kapri Bibbs (WAS) — and I would forgive you for forgetting those guys even played in the NFL last year.
It's concerning since Wilson's zero rushing TDs might not have been a fluke, and we can't project much positive regression. (He still finished as the QB9 despite the lack of rushing stats and attempting only 427 passes last season.) He's likely to be less efficient throwing the ball, but that can be offset a bit considering we can expect an increase in attempts.
The Seahawks defense is likely to take a step back and force Wilson into more pass-friendly game scripts (much to the coaching staff's chagrin).
I'm typically not targeting this tier.
Tier 6
Kyler Murray, Arizona Cardinals
Jameis Winston, Tampa Bay Buccaneers
Carson Wentz, Philadelphia Eagles
Dak Prescott, Dallas Cowboys
Drew Brees, New Orleans Saints
Jared Goff, Los Angeles Rams
Lamar Jackson, Baltimore Ravens
This tier is full of possibilities.
Murray, Winston, Prescott and Jackson all provide value given their current average draft positions (ADPs). I typically head into my drafts with these four as my ideal QB1 targets. Each of the four (in order) provides you a backup plan: Once the first one is off the board, you usually have one to two rounds before the next is taken, which allows you to be flexible and to let the draft come to you.
Murray has overall QB1 upside so he's worth taking in Rounds 9-10 if you want to shoot for the moon. He should be a fantasy stud in Kliff Kingsbury's Air Raid offense, which will make its NFL debut. There's a chance it can backfire and Murray can flat out stink this year. But it's worth the risk because there will be reliable veterans like Kirk Cousins and Jimmy Garoppolo on the waiver wire if you need to go a safer route in-season.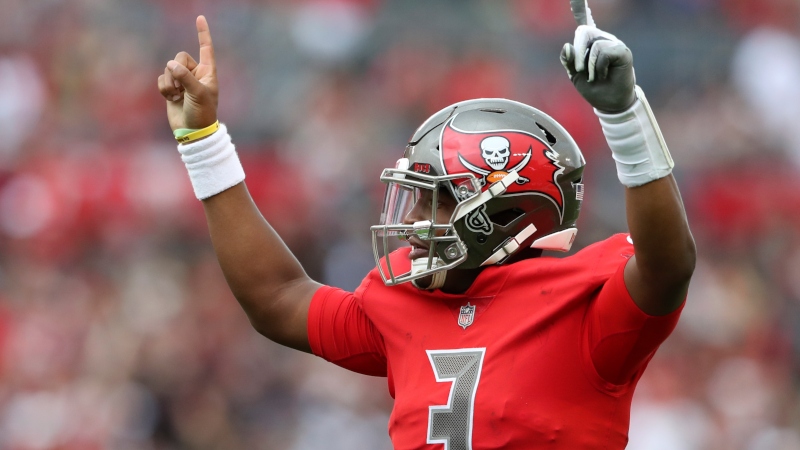 Winston should have the Bucs' QB snaps all to himself with Ryan Fitzpatrick and Dirk Koetter no longer in Tampa Bay. Bruce Arians is more likely to leave Winston in there all season and even help him work on his mechanics to limit his turnovers. The Bucs also led the NFL in passing last season and I think they're a lock to be top-five passing offense again this season.
Prescott is Mr. Reliable at the position and is going way too late as his current ADP as the QB17 indicates. His upside is much higher than people think given he has a stud WR at his disposal in Amari Cooper. Dak was the QB6 from Weeks 9-17 after the Cowboys acquired Cooper last season, and the two should only improve on their chemistry.
Jackson provides a nice weekly floor with his rushing ability. His ceiling will be dictated by how much of an improvement we see in his passing game: If he's able to hit a balance of 200 passing yards and 55 rushing yards, he'll be much more valuable on a week-to-week basis as high-floor player with some spiked weeks.
Tier 7
Mitchell Trubisky, Chicago Bears
Josh Allen, Buffalo Bills
Ben Roethlisberger, Pittsburgh Steelers
Kirk Cousins, Minnesota Vikings
You should view this tier in two parts: Trubisky and Allen are the high-upside fliers while Big Ben and Cousins are the potential reliable veterans who could be available on the waiver wire as a safety net.
I typically avoid Allen because his extreme high-ceiling/low-floor combo is not ideal for head-to-head formats. I always urge aiming for high floor (with a high ceiling) if possible. Remember: We don't have to beat every team in our leagues each week — only our direct opponents. Being able to produce an above-average score each week will result in more wins than an inconsistent team with huge spiked weeks.
Allen would have to maintain his huge rushing stats from a season ago, but I'm worried that the additions of Cole Beasley and a pass-catching back like T.J. Yeldon could signal that the Bills want Allen to check down to them rather than pull it down and run as much.
Trubisky has a much more optimal blend of pass/rush ability that lends itself to overall QB1 upside, and he can be had extremely late in drafts.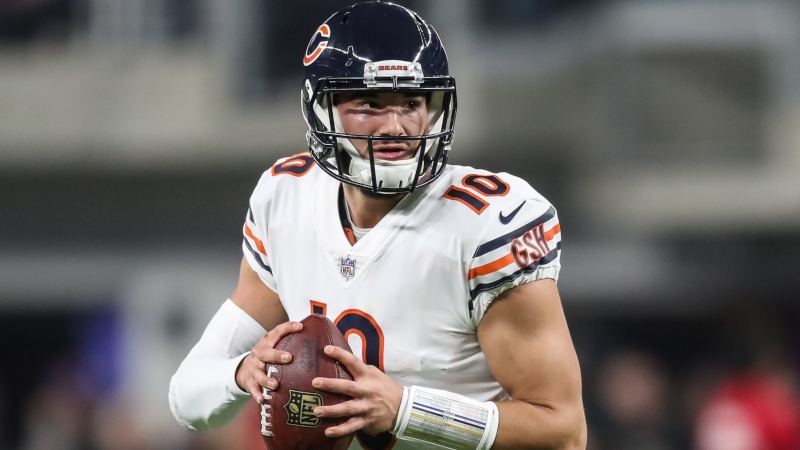 While Allen and Jackson have upside with their rushing ability, neither is a threat to throw for 300-plus yards any given week. Trubisky, meanwhile, threw for at least 300 yards in four games last season. He also rushed for 40-plus yards in five. We actually saw a three-week stretch in which he had at least 300 passing yards, two TDs and 40 rushing yards. Unfortunately, he also flashed a very low floor with five games of fewer than 200 yards passing.
For Trubisky to become an every-week QB1, he'll have to be more consistent. And there are reasons to believe he can this season.
If the Bears' defense takes a step back under new coordinator Chuck Pagano, it'll force Trubisky to throw more. He has a ton of weapons around him and will be entering Year 2 in Matt Nagy's system and will be much more comfortable in it. The loss of Jordan Howard could also free up some more passing and rushing plays designed for Trubisky near the goal-line that can boost his TD odds on a weekly basis.
Trubisky makes as an excellent late-round QB target this season.
Tier 8
Tom Brady, New England Patriots
Philip Rivers, Los Angeles Chargers
We've reached the point in the draft when you should probably already have your QB1.
It's also very likely that both of these QBs are already off the board by now. There's someone in every league who reaches for these future Hall-of-Fame QBs based on their name value. We have to remember that in the event we need to stream the position, it's going to be very easy to just play matchups on the waiver wire to generate a QB8 type stat line from the position if needed.
I like this tier much more in 2QB formats as both provide extremely safe floors.
Tier 9
Jimmy Garoppolo, San Francisco 49ers
Jimmy G is the last QB I would be willing to draft in a 1QB format. His current ADP (QB21) is a reminder of just how deep the QB position is this season.
Due to his lack of rushing ability, I'm afraid Garoppolo doesn't have top-five upside. But he's a very cheap high-floor option and could become a steady low-end QB1. Waiting until the very end of the draft to take him also means you can load up at all other positions and even take more gambles knowing you can get a fairly steady QB for nearly free later on.
Tier 10
Matthew Stafford, Detroit Lions
Derek Carr, Oakland Raiders
We have entered 2QB-only territory here. But with that context, Stafford and Carr are fairly good QB2 options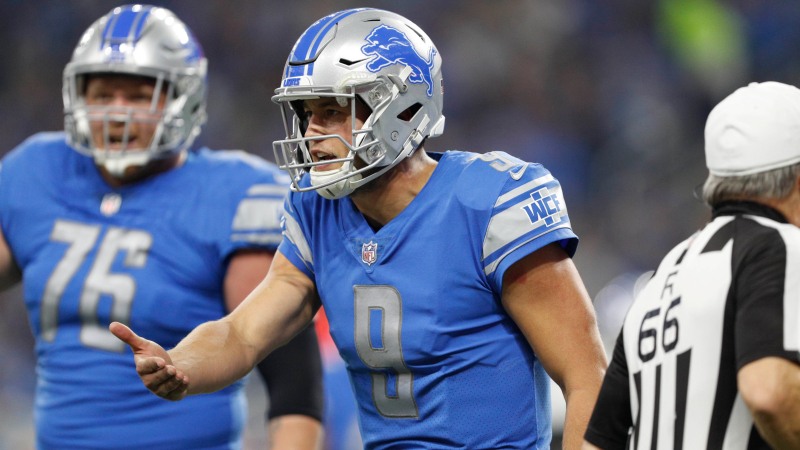 Stafford is an absolute warrior and apparently played through a broken back last season. He hasn't missed a game since 2010, which is incredibly valuable in a 2QB league — if you one of your QBs goes down, it can be detrimental to your team. Despite the fact that the Lions brought in new offensive coordinator Darrell Bevell and likely want to become more balanced, they should still be a sub-.500 team and be forced into pass-friendly game scripts.
Carr will have a ton of pressure on him with the Raiders bringing in Antonio Brown and Tyrell Williams. Both wide outs have had future HOF quarterbacks who know how to improvise plays and were able to be on the same page whenever they broke off a route. I'm afraid we could see some lapses in communication that have a chance to get ugly. Because of this, I'm viewing Carr as having a very high ceiling if all goes well, but a scary low floor if things get off to a shaky start.
I'm avoiding Carr (if I can).
Tier 11
Sam Darnold, New York Jets
Andy Dalton, Cincinnati Bengals
Dalton was looking like a decent late-round flier in 2QB formats with new head coach Zac Taylor looking to structure the offense similar to Sean McVay's in Los Angeles. But Dalton's stock took a bit of a tumble with A.J. Green set to miss the first few weeks. Dalton has a brutal matchup Week 1 at Seattle, where the Bengals have the second-lowest team total of the week.
It's best to not have Dalton in your draft plans, but will be worth monitoring as a possible streamer when Green is close to 100% and the Bengals have a good matchup.
Darnold had an up-and-down rookie season but ended on a relatively high note. The Jets brought in Le'Veon Bell to help bolster the run game, but should also be another option for Darnold in the passing game. They also brought in Jamison Crowder, who could be a go-to target over the middle with Robby Anderson keeping defenses honest with his deep-threat potential.
New head coach Adam Gase should have the Jets operate at a much slower pace, so it's hard to get too excited about Darnold. But you could do worse than him as a late-round QB2 option as the position really starts to fall off a cliff after this tier.
Tier 12
Marcus Mariota, Tennessee Titans
Nick Foles, Jacksonville Jaguars
Ideally you won't have to dip this far down into the QB pool. But if you do, Foles is worth a flier.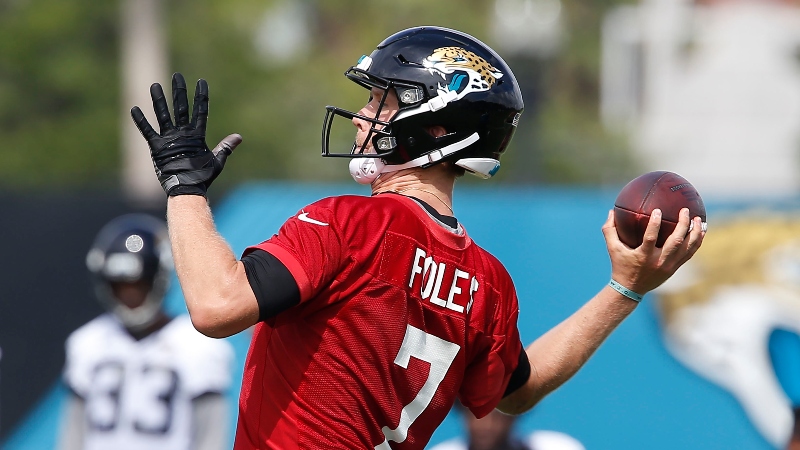 I'm of the belief that Foles makes the Jaguars better, but I have a hard time making the case that the Jaguars make Foles better. They brought in two-time demoted offensive coordinator John DeFilippo, who was recently fired by the Vikings because they wanted to run the ball more, to call plays. There's a chance DeFilippo tries to impose his will and make the Jaguars much more of a pass-happy team than we are used to.
I'm not banking on Foles to have a top-20 season and have not been targeting him.
The same is true for Mariota, who just can't seem to stay healthy. Even when he's on the field, he's a very sub-par fantasy option and will likely be asked to hand the ball off to Derrick Henry a ton.
Tier 13
Eli Manning, New York Giants
Joe Flacco, Denver Broncos
There's nothing worse than rostering either of these veterans, who are a weak blend of low ceiling and low floor — not to mention that their job security is far from safe with backup rookie QBs who both franchises will want to find out could be their QBs of the future.
Stay far, far away from either this season.
Tier 14
Dwayne Haskins, Washington Redskins
Case Keenum, Washington Redskins
Josh Rosen, Miami Dolphins
Ryan Fitzpatrick, Miami Dolphins
Daniel Jones, New York Giants
The final tier is a mixture of QBs we can't safely project to start at least eight games. Draft them at your own risk — they should be nothing more than potential weekly streamers in a pinch.
How would you rate this article?