Rashan Gary NFL Combine Prop Bets: How Freaky Is Michigan's Stud Lineman?
Credit:
Rick Osentoski-USA TODAY Sports. Pictured: Defensive lineman Rashan Gary
All eyes will be on Indianapolis this week as prospects try to help their draft stock at the 2019 NFL Combine.
We've got picks on various performance props, including DL Rashan Gary's 40-yard dash time and bench press.
The 2019 NFL combine is here and sportsbooks have released performance props. Our staff will be making official picks for prop bets on a number of different prospects, including defensive lineman Rashan Gary.
Here's the workout schedule for the various position groups:
Friday: Running backs, offensive linemen, kickers, special teams
Saturday: Quarterbacks, wide receivers, tight ends
Sunday: Defensive linemen, linebackers
Monday: Defensive backs
Now let's dig into the Gary props that are on the market as of writing, as well as our analysis based on research and official combine data going back to 2006.
Gary boasts the types of physical advantages that not many humans on this lovely planet can attest to having, and even fewer people have worked as hard as him to effectively deploy those gifts on the football field. At 6-foot-5 and 283 pounds, Gary has the feet of a running back and the tenacity of an actual wolverine.
FantasyLabs' editor-in-chief Matthew Freedman had the following to say about Gary in his 2019 mock draft:
The No. 1 player in the 2016 recruiting class, Gary is versatile enough to move around the defensive front and has elite athleticism for a lineman.
Rashan Gary 40-Yard Dash Time
Over 4.65 seconds: -130
Under 4.65 seconds: -102
The Athletic's Dane Brugler indicated that Gary is expected to run a sub 4.65-second 40-yard dash. This threshold actually gives the absurdly talented defensive end some room to spare based on his time from spring of 2017:
Proud to announce top position performers of 2017 Michigan Football Spring Combine. Offense led by Chris Evans, defense led by Rashan Gary! pic.twitter.com/hAQKJo07Lc

— Coach Harbaugh (@CoachJim4UM) March 16, 2017
Gary's 4.57-second 40-yard dash is preposterous, and he was accordingly named college football's second-biggest freak athlete by NFL.com prior to the 2018 season. This time is quite a bit faster than his confirmed 4.74-second dash from high school.
Fifteen defensive linemen or edge defenders have beat 4.65 seconds in the past three combines, so it's not an impossible number.
Of course, the list of players weighing 275 or more pounds who have clocked a number that low is a bit shorter: Only former first- and second-round picks Will Smith (4.6) and Margus Hunt (4.62) have met both of those marks since 2000.
Men with the strength and size of Gary aren't supposed to move this fast…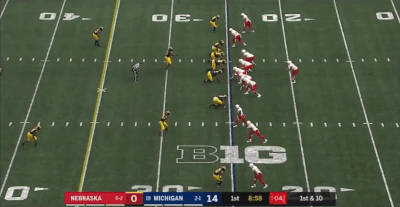 …but that's also why Gary has been a household name for the better part of the past half decade.
THE PICK: Under 4.65 seconds
Rashan Gary Bench Press Reps
Over 30.5 reps: -115
Under 30.5 reps: -115
Gary's strength is nearly as legendary as his speed, as weight room stories claim that he was able to bench 225 pounds for 26 reps as a freshman.
There have been 63 examples of a player standing at least 6-foot-5 and weighing 275-plus pounds benching 225 at least 31 times. Fourteen defensive linemen and edge defenders have reached that threshold in the past three combines alone.
Thirty one reps of bench press is a significantly less freaky accomplishment for a monster like Gary than running a sub-4.65 second 40-yard dash. I'm not about to bet against the potential Mr. Combine in either drill, but the bench press prop is particularly appealing.
THE PICK: Over 30.5 reps
More 2019 NFL Combine Props
How would you rate this article?