Koerner's Fantasy Football Tiers: RB Rankings and Draft Strategy
Credit:
USA Today Sports. Pictured: David Johnson, Saquon Barkley, James Conner
Welcome to Sean Koerner's 2019 fantasy football tiers, where he ranks running backs into groups based on their value.
See his overall draft strategy at the position as well as when to target certain RBs in season-long re-draft leagues.
Running back is, without a doubt, the most important position in fantasy football — anyone who has been playing it long enough knows that. But what's the best draft strategy at RB? Well, it depends on your league's draft order, but I'll get to that later.
It's important to first acknowledge the position's importance and its volatility.
By volatility I mean that it can be very difficult to predict exactly how the position will unfold over the course of a season. It's physically demanding: Most workhorse backs will get tackled 20-plus times a game — more than any other position — and are therefore more prone to injuries. Players' roles can also change in a heartbeat. Royce Freeman, for example, was the RB15 this time last season, and by Week 5, he was nothing more than Philip Lindsay's touchdown-dependent backup.
So how can we use this volatility to our advantage and find an edge to win? Let's run through my draft strategy for this season, then break down how more than 50 running backs rank within my tiers.
---
>> Create custom cheat sheets using Sean Koerner's fantasy football rankings with our Draft Kit.
---
My 2019 RB Draft Strategy
If you have one of the top-five picks, you're going with a RB. The top-five RBs should be their team's workhorse all season, and the only real way they can bust is if they suffer a serious injury (or holdout).
Once you get past the top-five picks in a draft, you need to attack WR pretty aggressively throughout the first couple rounds and find the right spot snag a tight end in Travis Kelce. Why? Because you can rarely add a WR1 or even a WR2 off the waiver wire in-season. It's such a much more stable position in that regard. That's why we should spend our highest draft capital to lock in stud WRs and use our mid- to late-round draft capital (and even our bench spots) to load up on as many high-upside RBs as we can.
For an in-depth look at how I identify RBs with hidden upside, check out my Undervalued Upside Ratings.
One of the most common ways a RB can crush their ADP or become a league winner is if their team's starting RB misses extended time, paving way for that back to take over a workhorse role that gives them weekly RB1/2 value. Some examples of that in 2018 included James Conner, Nick Chubb, Tevin Coleman, Matt Breida, Gus Edwards, Damien Williams, C.J. Anderson … I could go on and on, but you get the point.
Every season we can bank on undervalued RBs producing for stretches, far exceeding their preseason expectations thanks to the volatility of the position.
People target RBs early and often in drafts, but often get complacent once they have about four as if they're content with their RB situation. I'm the exact opposite. I always try to make sure I have too many RBs, so I'm still taking RBs late in drafts — specifically backs with RB2 upside if/when their starter were to ever miss time.
If your leagues allow it, you should to skip drafting a kicker and/or defense altogether and instead draft two more RBs with upside.
In almost every 2018 draft I loaded up on James Conner and Chris Ivory: If Le'Veon Bell's holdout went into the season, Conner would give me RB1/2 type value, and if LeSean McCoy's legal situation landed him a suspension, Ivory would become a RB2/FLEX. It's safe to say that stashing Conner was like hitting the jackpot, and I simply dropped Ivory right before the season started.
Once the season starts, it's just as important to make sure your bench is loaded with RBs. I avoid rostering a backup QB and/or TE (if I can), keep one to two WRs on my bench and fill the rest with RBs. You can best avoid the pitfalls of spending too much high draft capital on RBs this way, and by knowing when to target RBs based on your draft position and by understanding the types of backs to stash to give your entire team the perfect amount of safe floor and upside to become your league's champion.
Now let's dig into the tiers. (Note that they are based on half-PPR scoring.)
IMPORTANT NOTE: This article is meant to give my general drafting strategy for the RB position. To get my up-to-date rankings, check out our draft kit, where you can download my projections/Tiers for your exact league settings.
---
More Tiers: QB | WR | TE
---
Tier 1
Saquon Barkley, New York Giants
Christian McCaffrey, Carolina Panthers
Alvin Kamara, New Orleans Saints
Ezekiel Elliott, Dallas Cowboys
You really can't go wrong with any one of these backs to start the draft.
We'll have to monitor Elliott's holdout closely, and there will come a point (soon) when we need to start moving him down our draft boards. But for now, I'm still going to draft him fourth overall because there's enough drop-off from him to Tier 2 to make taking on the risk worth it.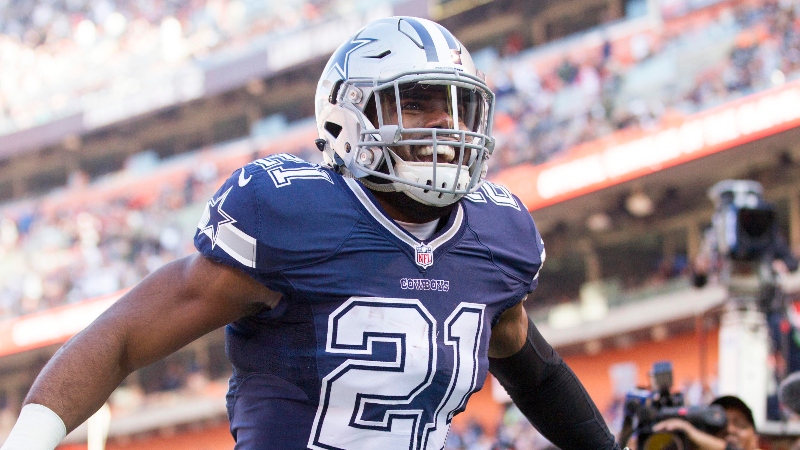 RB is such a volatile situation that there could be a development regarding Zeke's Week 1 status by the time you read this — a reminder that we need to approach this position on a day-to-day basis. Despite recent reports that he won't play without a new contract, I'm still confident he and the Cowboys will work a deal out and that he'll play Week 1.
This is a matter of risk management and calculating how much you're willing to take on. It's also important to note that Le'Veon Bell's situation last season was likely a worst-case scenario that will be remembered as the exception, not the rule.
I wouldn't want to make that decision if I had the fourth-pick in a draft today, but would love to have Zeke fall all the way to me with the 10th pick.
Tier 2
David Johnson, Arizona Cardinals
I've been calling the fifth pick this year "fantasy purgatory" because you're essentially being handed Johnson. He's far enough away from the four RBs above that he always falls to the fifth pick, and that might be a bit too early to snag a WR, so you are essentially stuck with DJ.
Despite a poor season on a brutal Cardinals offense, DJ finished 2018 as the RB9, which has to be his floor. We'll likely see him bounce back in a big way in what will be a much faster and exciting offense. Kliff Kingsbury will heavily involve DJ in the passing game once again, giving his fantasy value a major boost.
Tier 3
James Conner, Pittsburgh Steelers
Le'Veon Bell, New York Jets
Conner was the late-round lottery stash who hit the mega jackpot last season.
As I mentioned above, instead of drafting a K or DEF, stash high-upside backups (like Conner was in 2018) if you can. Conner now requires a first-round pick but is well worth it as he continues to be the Steelers' workhorse back. I do not view Jaylen Samuels or Benny Snell as serious threats to Conner's role this season.
Bell's patient running style might be disrupted a bit behind the Jets' shaky offensive line. We also have to worry about how Adam Gase offenses operate at a slower pace, and Bell's workload could be a bit lighter than we are used to.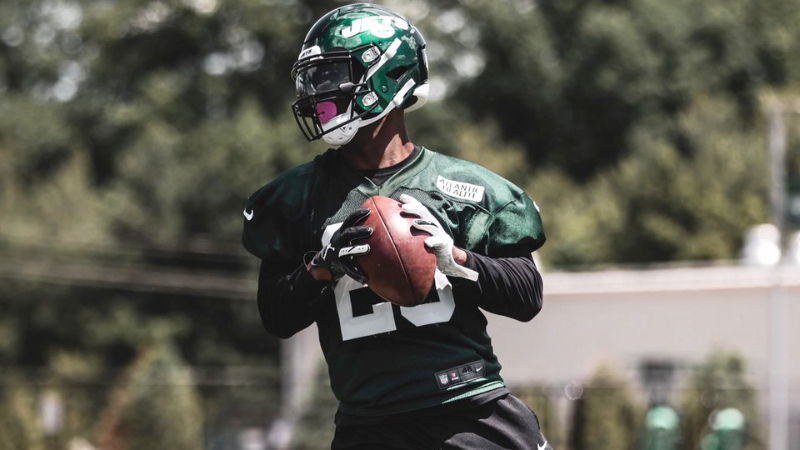 Bell is coming off draft boards when I'm typically trying to snag two of the top-six or -seven WRs (or even taking Kelce if he's available near the end of the first round), so I'm typically passing on Bell.
Tier 4
Joe Mixon, Cincinnati Bengals
Todd Gurley, Los Angeles Rams
Nick Chubb, Cleveland Browns
Melvin Gordon, Los Angeles Chargers
Dalvin Cook, Minnesota Vikings
This is the tier that's causing a headache in Rounds 2-3.
As much upside all five backs have here, they have almost as much downside. Going with a WR/TE-heavy approach in the first couple rounds this season has made it easy for me to avoid this tier in general, and allowed me to instead target a couple backs from Tiers 6-7 in Rounds 3-4.
The Bengals attempted to improve their offensive line by drafting Jonah Williams 11th overall, but he's now likely to miss his entire rookie season after suffering a torn labrum. Clint Boling also retired, which means their depth is already shaky. Having said that, Mixon is talented enough to again overcome a poor offensive line. But it's a bit concerning that the new coaching staff seems to want to keep Giovani Bernard heavily involved.
Concern over Gurley's knee dominated the offseason news cycle. It might have been overplayed, though, given that we didn't have much else to talk about. He should be fairly healthy to start the season, but the Rams will likely lighten his workload to keep him fresh for the playoffs. It still feels fairly risky taking a back with so much concern heading into the season.
Another risky back who would likely be a first-round pick if we had more clarity is Gordon.
He's currently holding out and seems like a serious threat to sit out at least Week 1. Uncertainty is not our friend in the first few rounds, so I've typically passed on Gordon. If anything, the uncertainty allows us to take Austin Ekeler or Justin Jackson as mid- to late-round fliers with upside that's not being fully priced into their current average draft positions (ADPs).
Chubb and Cook seem like the safer bets of this tier.
Chubb should be primed for a big season. It helps that the Browns are set up to be a 10-plus-win team, which will pave way for more positive game scripts and will lean on Chubb a lot more as a result. He'll also benefit from defenses focusing on the top-flight passing attack.
There's obviously some concern over Kareem Hunt's return in Week 10. His presence could lower Chubb's projected per-game touches by two to three, but one way to mitigate that risk would be to sell high on Chubb if he's a top-five RB come Week 6 and possibly trade him for a current top-five RB who might be struggling in the first half. I don't think this would be 100% necessary, but the slight dip in expected production would line up with the fantasy playoffs — a time when we want our team up to be trending up, not down.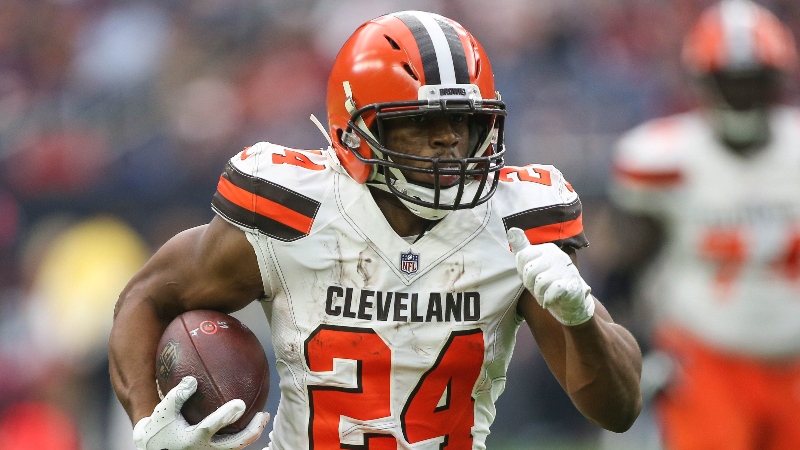 Either way, I'm not too worried about Chubb at his current ADP as the RB12.
Cook, meanwhile, could be in for a monster season if he can stay healthy. I tend to view injury history as a bit more random than people think. It seems like Cook can fall a bit in drafts because people don't trust him to stay healthy, creating potential value.
Tier 5
Damien Williams, Kansas City Chiefs
Williams really is one of the most intriguing backs heading into 2019.
I sounded the alarm on last season's RB2 Tier by labeling it the "Frozen Pond" Tier. It featured a handful of RBs who seemed worth spending high draft capital on, but had way too many trap doors that could crash their fantasy stock in an instant. Sure enough, that's exactly what happened for nearly all of them. But that's not the case for 2019.
Tier 4 is full of potential landmines, but the market seems to be fully aware of that. Tier 6 is this season's RB2 Tier — and I'm going out of my way to target two to three backs from that tier if possible (after spending my first couple picks on WR/TE assuming I don't have a top-five pick).
This leaves Damien Williams on an island. And I'm treating this island like the one Fyre Festival scammed people onto.
From the plane ride above, Williams is an attractive RB who put up overall RB3 numbers in his four starts to end last season after taking over as the Chiefs' lead back. Now he's priced as the RB13 in what seems like a steal of a lifetime. However, once we land on this attractive island, we're all crammed into buses that take us to the campsite where there's nothing but disaster relief tents and sad cheese sandwiches.
I'm afraid spending a second-round pick on Williams can lead to similar buyer's remorse.
The problem is that we're only remembering that four-game stretch and ignoring the fact that he had zero games with 15-plus touches over his five-year career leading up to Week 15 of last season. If you're a Damien Williams truther, you can easily come up with excuses about how that was simply due to coaching and that, if anything, it only means he'll be more fresh than your typical 27-year-old RB.
But deep down, everyone going all-in on D-Will knows they might be falling for a con.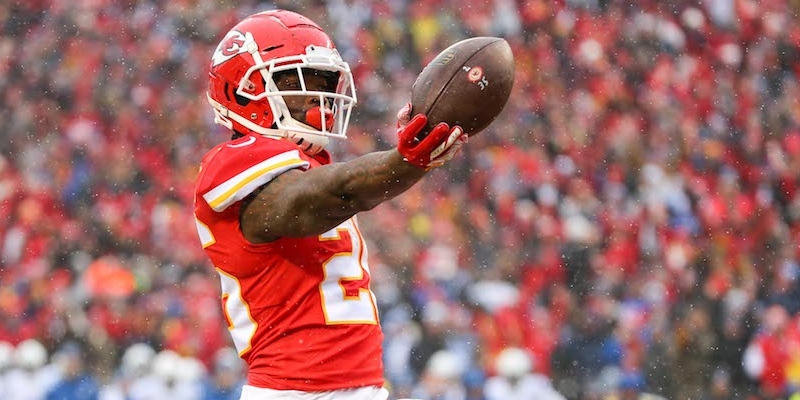 Having said all that, I do think Williams can handle 15-plus touches a game and I'm projecting him to do just that. He's nearly the optimal size at 5-foot-11 and 222 points, and he'll be able to crush his current ADP if he maintains that role for all 16 games. But with the added competition of Carlos Hyde and rookie Darwin Thompson, that might be tougher than it seems. It could turn into a backfield committee in which Damien becomes more of a weekly low-end RB2, leaving his fantasy managers with that buyer's remorse.
Just remember that we were able to pick up Williams off the waiver wire last season, and there will be plenty of backs like him again this season, which is why I try to load up on WR/TE early on because we typically don't have the ability to add top-10 producers at either position from the waiver wire as much.
Tier 6
Aaron Jones, Green Bay Packers
Derrick Henry, Tennessee Titans
Leonard Fournette, Jacksonville Jaguars
Marlon Mack, Indianapolis Colts
Kerryon Johnson, Detroit Lions
Josh Jacobs, Oakland Raiders
Devonta Freeman, Atlanta Falcons
This is the Tier I've been targeting the most in drafts.
The RB2 Tier is lightyears ahead of the RB2 Tier from a season ago. Every single one of these backs is without question the best back on their team and should have fairly safe job security all season. Being able to target this tier in Rounds 3-4 makes it easier to load up on WRs and Travis Kelce in the first couple of rounds, depending on your draft order.
This tier also sits just ahead of a steep drop-off at RB: Only 10 points separate the eight players above, but there's a nearly 30-point drop from Freeman as the RB20 to the RB30.
It's absolutely critical to draft at least two RBs before this tier dries up.
Tier 7
Chris Carson, Seattle Seahawks
Chris Carson Island is a much safer place than Damien Williams Island.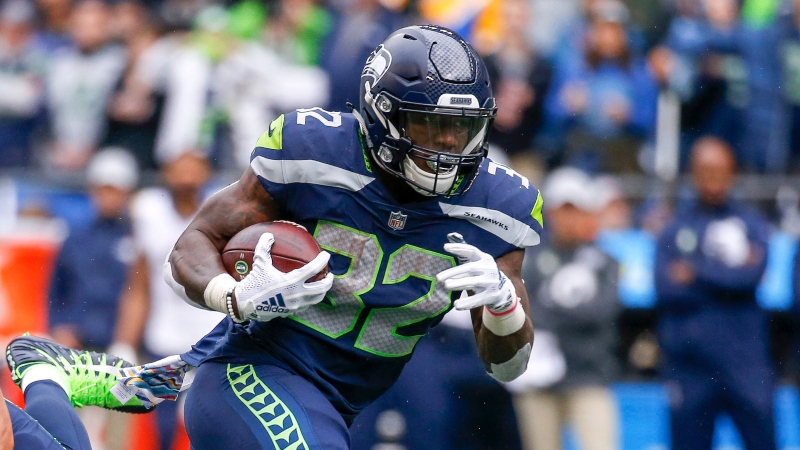 Carsons acts as a safety net in case you were unable to snag two RBs by this point. His current ADP (RB25) means he also comes at a discount, which could be a mixture of overreaction to his offseason knee procedure and the threat of Rashaad Penny possibly overtaking him as the main back. But Caron's knee appears to be close to 100%, and even if Penny were to command a larger share of touches, the Seahawks' run-heavy approach should be able to fuel two fantasy-relevant backs.
Another thing to note is, as I mentioned in my QB Tiers, Russell Wilson only had three rush attempts inside the 10-yard line last season. Carson had the fifth-most with 28. With Mike Davis out of the picture, it's safe to assume Carson will maintain close to the same amount of touches and still be the Seahawks' main goal-line threat.
Tier 8
Mark Ingram, Baltimore Ravens
Sony Michel, New England Patriots
I view Carson as the clear pick over Ingram, who is being drafted a few slots higher. Both backs are on run-heavy teams and should lead their backfield in touches. The main thing going against Ingram is that, unlike Wilson, Lamar Jackson has a high number of rushing attempts inside the 10-yard line. Jackson was on pace to have ~28 rush attempts inside the 10 (tied with Carson) had he played the full season.
You can make the case that having a back like Ingram would allow the ravens to lighten the load on Jackson near the goal-line, but it's most likely going to limit Ingram's TD upside and, in turn, his fantasy value.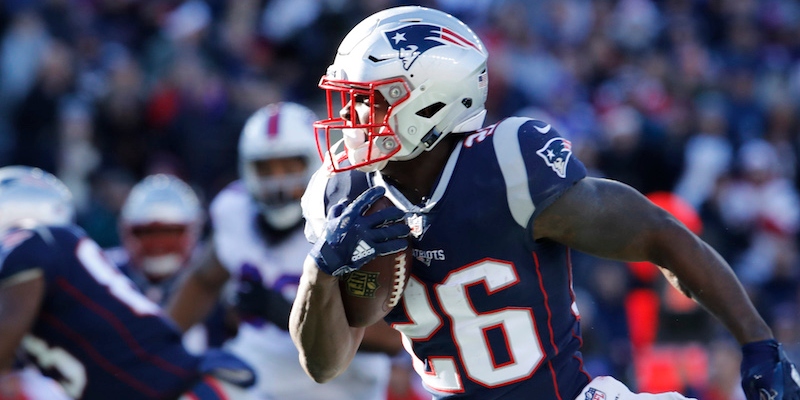 Michel will likely need to be managed all season given his chronic knee injuries. When he's active and the game script calls for a heavy workload, he'll be a mid-range RB2 who can provide quite a few spiked weeks. But we could see a few games in which he's be downright inactive and/or the Patriots let rookie Damien Harris take over. But in either case, we should know ahead of time when to start him and when to bench him, which is where his inherit value lies.
Tier 9
Kenyan Drake, Miami Dolphins
Phillip Lindsay, Denver Broncos
James White, New England Patriots
Tarik Cohen, Chicago Bears
Lamar Miller, Houston Texans
David Montgomery, Chicago Bears
Editor's note: Miller has torn his ACL since this story was first published.
There's enough value in this tier to like it. It's also the next tier before another massive drop-off.
White, Cohen and Miller offer the "you know exactly what you are going to get" type of value while Drake, Lindsay and Montgomery have a wider range of potential outcomes — you could end up with an every-week high-end RB2 back or an inconsistent FLEX back.
If you're dipping into this tier for your second RB, you're in trouble. If anything, these should either be your FLEX or starting to fill out your bench depth.
Tier 10
Tevin Coleman, San Francisco 49ers
Derrius Guice, Washington Redskins
LeSean McCoy, Buffalo Bills
Latavius Murray, New Orleans Saints
Darrell Henderson, Los Angeles Rams
Jordan Howard, Chicago Bears
Rashaad Penny, Seattle Seahawks
We've reached the point in the draft when we see a mixture of lead backs in very crowded backfields and the second half of a committee on a very good run offense.
By the end of the season, one to two of these backs could very well be a RB1/2 value. While we'd like to think it's going to be based on talent alone, it's much more likely going to hinge on their counterpart(s) missing extended time. This isn't something we can really predict — it ultimately comes down to luck.
That's why I like targeting backs like Murray, Henderson and Penny in this range. Their current ADP reflects what their typical value will be any given week if the main RB on their team stays healthy. All three should be RB3/FLEX options to begin the season, but if their team's starter were to ever miss time, they would see their value sky rocket to RB1/2 status.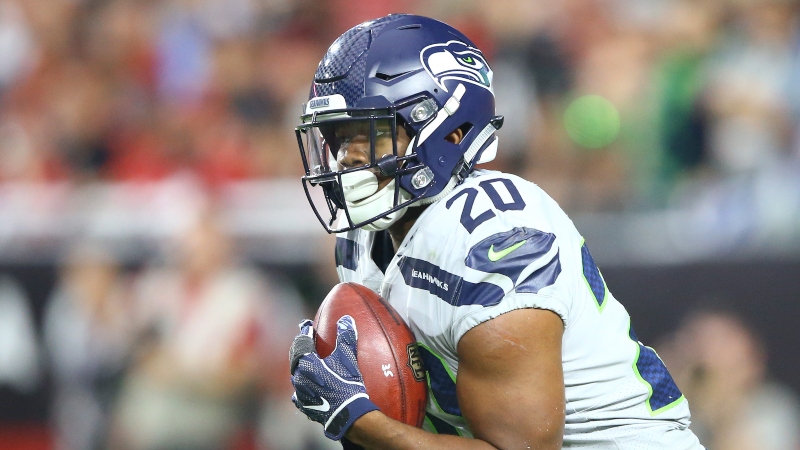 I dig further into this concept in my Undervalued Upside Ratings: It's a strategy to identify backs to target in the mid-late rounds.
Tier 11
Austin Ekeler, Los Angeles Chargers
Dion Lewis, Tennessee Titans
Jerick McKinnon, San Francisco 49ers
Peyton Barber, Tampa Bay Buccaneers
Royce Freeman, Denver Broncos
Miles Sanders, Philadelphia Eagles
Lewis and McKinnon would likely need their teams' starting RBs to miss time in order to become trustworthy RB3/FLEX options.
Barber is the default starting back for the Bucs until Ronald Jones proves he can take over as lead back. He'll start the season with a pretty high floor, but his ceiling is nothing more than a low-end RB2, and we can do better.
Ekeler, meanwhile, is priced about right at his current ADP of RB38 if Gordon is able to reach a deal before Week 1. Given that seems less likely each day Gordon holds out, there's some obvious upside in taking Ekeler given he'd become an every-week RB2 option whenever Gordon is out of the lineup.
It makes sense to draft Freeman and Sanders for bench depth as there's a chance both could become the lead back for their respective teams. Given their stock should only rise during the season, having them on the bench to start the season means you won't rely on them for the first few weeks, making them ideal backs to target in this range.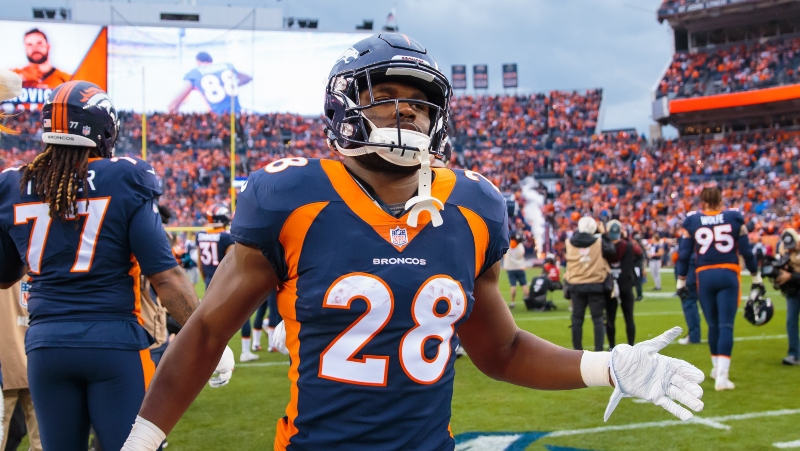 I happen to Royce Freeman a lot in the new scheme offensive coordinator Rich Scangarello is implementing in Denver — he worked under Kyle Shanahan the past two seasons in San Francisco and is likely to implement a similar wide zone run game. Scangarello has also compared Freeman/Lindsay to Devonta Freeman/Tevin Coleman. I'll gladly take the back set to be in the Devonta Freeman role at an ADP of RB39.
Tier 12
Nyheim Hines, Indianapolis Colts
Kalen Ballage, Miami Dolphins
Ito Smith, Atlanta Falcons
Adrian Peterson, Washington Redskins
Ronald Jones II, Tampa Bay Buccaneers
Chris Thompson, Washington Redskins
Jamaal Williams, Green Bay Packers
C.J. Anderson, Detroit Lions
Duke Johnson Jr., Cleveland Browns
Carlos Hyde, Kansas City Chiefs
Giovani Bernard, Cincinnati Bengals
Jalen Richard, Oakland Raiders
This tier is a mix of high-upside bench stashes and low-upside/high-floor pass-catching backs.
You should target Hines, Thompson, Johnson, Bernard and Richard only in full PPR formats as BYE week plug-and-plays. They're able to give you several points any given week you need them to fill in, but aren't likely to turn into league winners.
Smith, Peterson, Jones, Williams, Anderson and Hyde should be considered the upside bench stashes. All of them could be solid BYE week plug-and-plays if their backfields play out the way we expect. But they're also the backs who could see an increase in touches if they suddenly get the hot hand or could become low-end RB2 options if their starters were to ever miss time.
These are the types of backs I like to add to my bench to start the season.
Upside Bench Stashes
Kareem Hunt, Cleveland Browns
Matt Breida, San Francisco 49ers
Damien Harris, New England Patriots
Chase Edmonds, Arizona Cardinals
Alexander Mattison, Minnesota Vikings
Malcolm Brown, Los Angeles Rams
Ty Johnson, Detroit Lions
Trayveon Williams, Cincinnati Bengals
Darwin Thompson, Kansas City Chiefs
Justin Jackson, Los Angeles Chargers
Spencer Ware, Indianapolis Colts
Dexter Williams, Green Bay Packers
Devin Singletary, Buffalo Bills
Qadree Ollison, Atlanta Falcons
RB rankings from this point on can be a bit misleading. I dig into this idea in more detail in my Undervalued Upside Ratings, but RB projections/rankings aren't two-dimensional — they're very complex/highly volatile and should be analyzed as such. So, at this point, I'd rather identify which among the remaining backs we want to round out our bench to begin the season.
The 14 backs above would either command a fantasy relevant role if they outperform expectations or if their team's starting RB were to ever miss time — the most likely way they vault into RB2/3 territory.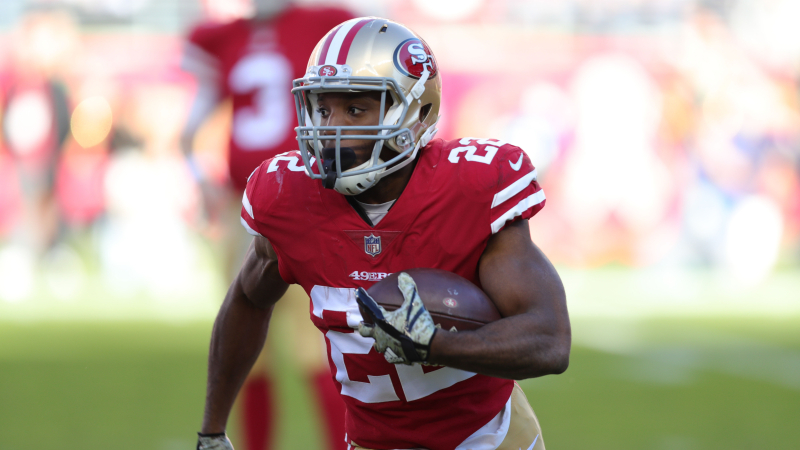 In leagues where you aren't required to draft a K/DEF, you really should select two RBs from this list instead. You'd be able to hold onto these penny stocks during the final week(s) of preseason and Week 1 practices for free. And if anything were to happen to one of their team's starters or they otherwise emerge as potential league winners, you'll have two more lotto tickets by not wasting it on a K or DEF. Once we get to be a couple days away from the start of the season, you can cut bait to clear room to add your K/DEF streamers.
To be clear, I'm not saying to not roster a K or DEF for Week 1. I take K and DEF positions very seriously — they're part of our fantasy football team's output, so I spend just as much time ensuring that my K/DEF projections are just as accurate as all the other positions. But you can use my weekly in-season projections and rankings to stream the top available K/DEF each week. You can stream your way to top-five K/DEF outputs using this strategy. It's a win-win.
Since Hunt is suspended for the first eight games of the season, we need to treat his situation differently. He's being drafted way too early (RB34), so let someone else stash him as a potential league winner in the event Chubb goes down. I think having a bench slot tied up for that long prevents us from having the flexibility needed to stash better high-upside backs who could have an even league winner upside earlier than Week 10.
Only gamble on Hunt if he falls outside of the top 50 to 55 at RB.
How would you rate this article?