Millman's NFL RedZone Diaries: Believing in Baker Mayfield and Cashing in on Home Underdogs
Credit:
Ken Blaze-USA TODAY Sports. Pictured: Baker Mayfield
Week 5 of the NFL season was about one thing: Betting on unpopular home underdogs.
The good news? Baker Mayfield and the Browns ... Russell Wilson and the Seahawks ... Josh Allen and the Bills ... I bet 'em all -- and won!
The bad news? I'm a total coward. Let me explain ...
You know how sometimes you just get itchy to act? It's impulse and ambition rolled into a messy trigger. Plenty of folks will tell you that's the worst time to make a decision. But I disagree.
That's when you've got to roll. (Of course, that's also how I ended up leaving a cush job at ESPN for a sports betting start-up!) But I digress.
On Monday morning Geoff Schwartz, Paul Lo Duca and I were taping The Favorites pod (go rate, review, subscribe, unsubscribe, resubscribe) in which we try to pick a nine-team parlay for $20,000.
As I mentioned in last week's opus, I am a sucker/professionally inclined to favor home dogs and short road faves. Can't resist them, like Jordan Almonds at the movies. Just the best! And if you believe in something, I think you have to go all-in.
Last weekend, in Week 4, there were six games that fit these criteria. I bet them all and won four of them, including the Broncos at +5.5. (I also middled it, betting the Chiefs at -3.5 just before kickoff. When I explained this to my wife as the game ended she asked, "Are we rich?" Me: "Only in love." Her: "Not enough for me, goodnight.")
During the podcast, the Seahawks game stuck out. A big home dog getting the half-point hook is a juicy ripe spread begging to be taken. But I still didn't bet it.
Then, on Tuesday morning, I read this from PJ Walsh about wiseguys hitting the Seahawks. I checked my sportsbook, and it was sitting there, a heavy peach waiting to be plucked at +7.5 (-105).
So I held my nose, stuck to my home dog principles and made the play. I guess that's how decisions get made.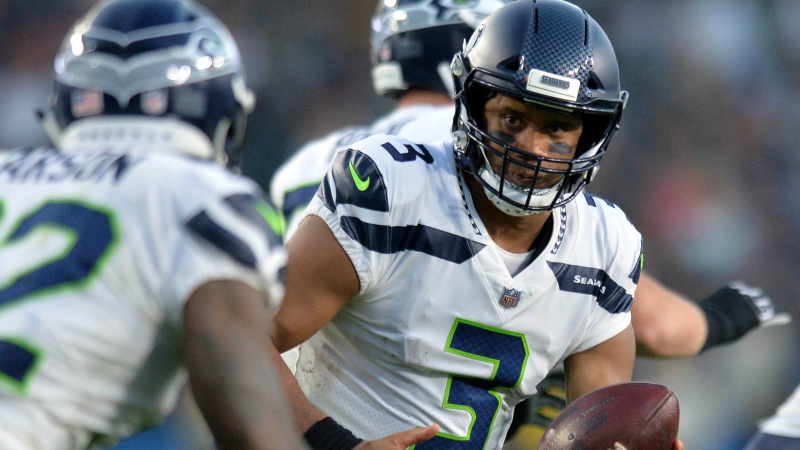 Of course, come Sunday, during my morning segment on SportsCenter, I had a chance to prove how bold I really am, how courageous I can be, how connected I am to the market, by choosing the Seahawks to cover.
I didn't.
I'm ashamed.
Instead, here is the tally I took into Sunday.
My bets:
Seahawks +7.5 vs. Rams
Browns +3.5 vs. Ravens
Bills +3.5 vs. Tennessee
Cards +4.5 vs. 49ers
Jags +3 vs. Chiefs
SC picks:
Jags +3 vs. Chiefs
Browns +3 vs. Ravens
Cards +3.5 vs. 49ers
How did it go? Read on…
1:04 p.m. ET: One of the main reasons I bet the Browns (besides the whole "fade the public and take the home dog" thing): Baltimore was gaining a measly 3.1 yards per rush, tied for worst in the NFL. Against an improving Browns D, I saw the Ravens becoming one-dimensional.
Sound logic, right?
The first highlight Scott Hanson sends me is Ravens running back Alex Collins rumbling for 19 yards. Omen? Or are we just getting the scary ones out of the way?
1:19 p.m.: The Chiefs score a touchdown after a Jags late-hit penalty. I don't even have to ask about this one: omen.
1:22 p.m.: Back to the Browns and my man, Baker Mayfield.
Aaaaaand Baker throws a pick, which leads to a Ravens field goal. Come on, Baker, don't you know I went on national TV and backed you?!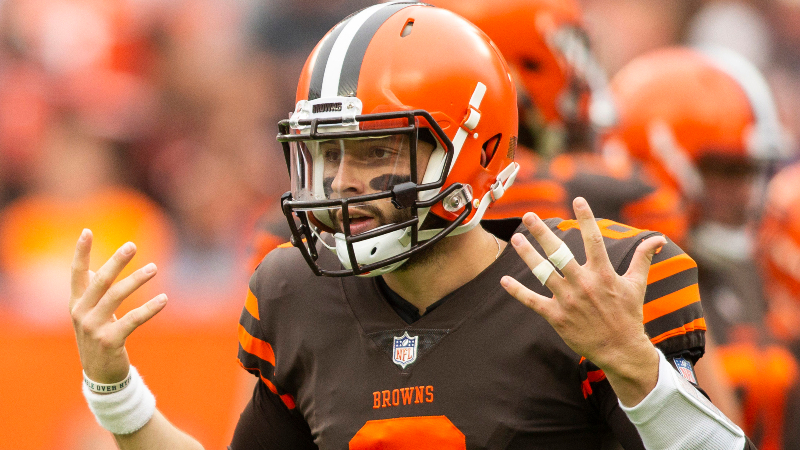 1:26 p.m.: I get a Jags update! And it's Blake Bortles dropping back. And immediately my stomach drops. Blake in the rain, oh no oh no oh no … He hits it! 38 yards to DJ Chark.
1:28 p.m.: The Jags punt.
A couple of weeks ago I was listening to Mike Francesa on WFAN. He is an Action Network office fave, a fan club led by do-it-all editor/writer, Mike Leboff, from Rockville Centre, Long Island.
Leboff is such a big Francesa fan that, several years ago, he started Francesa-con.
That's right, a conference that celebrates everything Francesa. Leboff is impossible not to like, even when you are convinced he is mocking you right to your face. (Although, that might also be why he lost his campaign to become mayor of his hometown; it could also be because he ran when he was 20 years old and skipped the only debate to attend Bonnaroo instead. "I was going to be set up!" he tells me all the time.)
Leboff eventually convinced Francesa to join Francesa-con and they became happy as Long Island clams together. Before the NFL season, Francesa told Leboff he wanted to, "check out our Action operation," since, you know, we're all in the app business.
We brought in sandwiches and loads of Diet Coke. Mike wasn't interested in food, but he did drink half of a diet coke, which we saved when he left.
But, my point is, I was listening to The Pope in the office one day and he had a caller who was convinced everything in the NFL was scripted. The owners were in on it. Roger Goodell was in on it. The refs were in on it. Literally, scripts were written, like in WWE.
The caller was a mad genius who was trolling Francesa. Or just mad. But Francesa entertained it. Until he decided he was done.
Sometimes I watch the RedZone and agree with the caller. Especially when every play is against me.
1:46 p.m.: Chiefs kick a field goal. They're up 10-0.
1:49 p.m.: Lions recover an Aaron Rodgers fumble deep in Green Bay territory. The Jets sack Case Keenum deep in Broncos territory.
Did I mention my principles above? Short road faves and home dogs. Gotta take 'em.
So, uh, why didn't bet the Lions (-1) or Jets (PK)?
Have I mentioned that I'm a coward?
1:54 p.m.: Sam Darnold 76-yard TD pass to Robby Anderson. I'm the worst.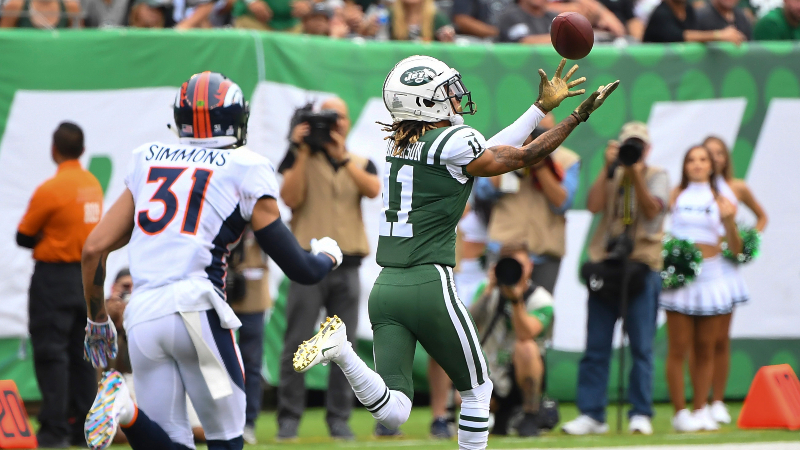 1:55 p.m.: Browns pick off Joe Flacco on their own 1-yard line. I'm a genius.
1:59 p.m.:  The Jags go for it on fourth-and-goal. Incomplete pass.
2:00 p.m.:  The Bills go for a field goal, and botch the snap.
We need to flip this script.
2:08 p.m.: My wife interrupts this afternoon to tell me she's going out, no cherry pitters this week, just taking the dog for a walk. Because, she tells me, it's beautiful outside and it is supposed to be 20 degrees next Sunday. Seriously. 20 degrees. When my 15-year-old hears this earlier his only response is, "Connecticut weather is whack."
More importantly. My wife tells me I've got to help our 12-year-old with homework.
2:09 p.m.: I stop watching and the Jags intercept Patrick Mahomes for the first time this year. What else can I do other than watch games right now?
2:11 p.m.: Did the Jags just fumble on the first play of the drive after the Mahomes pick? I heard that may have happened, but I'm not sure because I'm not watching.
2:21 p.m.: I can't resist Baker Mayfield. He's so much fun. So I'm glad I decided to start watching again when he hits Rashard Higgins for 19 yards to give the Browns a lead.
The rub: The Browns miss the extra point, which means I can still experience heartache when the Ravens win by four and I lose my bet by half a point.
2:22 p.m.: I'm not watching anymore. Because Blake Bortles just threw a pick six on a screen pass with 1:49 left in the first half. The Jags are down 20-0.
2:27 p.m.: Let's check in on the Bills. When I turned in my script for SportsCenter over the weekend I originally had the Seahawks, the Bills and the Cardinals. But I became convinced that the Jags and Browns were better plays.
The Bills are winning, dominating in fact. The Browns are struggling. The Jags are screwed.
2:32 p.m.: Blake Bortles drove the Jags down the field just before the half! There he is, my guy, Blake.
Oh, what's that? Blake threw another pick? Inside the Chiefs 5-yard line? And it went off an offensive lineman's helmet?
So that's two picks, one for a touchdown, in the final 1:49 of the half?
3:05 p.m.: The Bills kick a field goal to go up 10-6 in the third quarter. Have I mentioned that I wish I talked about them on SportsCenter instead of the Jags?
3:10 p.m.: My wife just texted me. She's an architect, and a client asked her if we wanted to come over to their house, which she just finished renovating, later tonight.
At this exact moment I'm on the couch, eating popcorn, watching football, making GIFs, betting our hard-earned money and ignoring my kids.
This moment is everything. My options are:
A. "Sorry honey, I really need to watch the games." It's both true and also written in a nice tone.
B. "Can't, gotta work." Also true, but terse, may cause some trouble.
C. "Love it!"
3:12 p.m.: I go with "C."
3:13 p.m.: (From my wife): 😊
3:40 p.m.: As Blake Bortles throws another INT at the goal line, Bills WR Ray-Ray McCloud nearly breaks one to get the Bills deep into field goal range. They're down two with 1:45 left.
I'm having deep, dark gambling thoughts driven by fears of what historically incompetent teams do. Meaning: How will the Bills mismanage the clock or screw up the field goal attempt in a way that leads to a miracle cover by the Titans?
3:45 p.m.: The Bills win! The Bills win! I win! I win!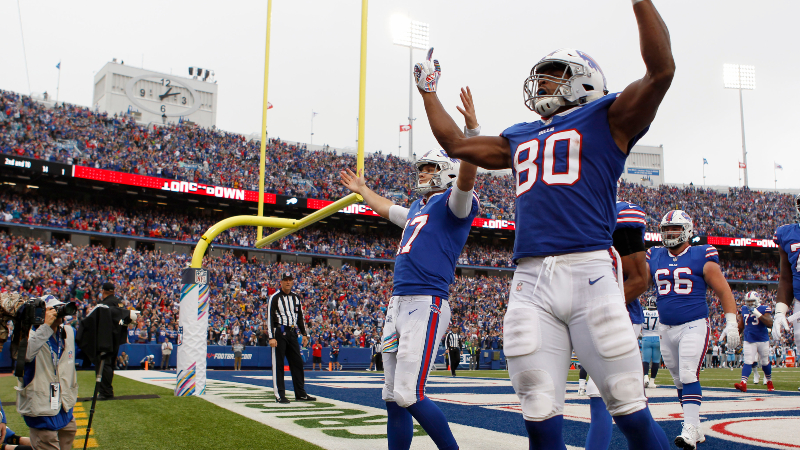 3:53 p.m.: The Ravens are driving, down by three points. Please see the entry at 2:21 p.m.: "The Browns missed the extra point, so I can still experience heartache when the Ravens win by four and I lose my bet by half a point."
3:58 p.m.: The one thing the Ravens offense has done consistently well this season is convert on third downs. They entered Sunday tops in the league.
For 58:05 against the Browns, they were 2-for-11. Then Joe Flacco got flushed out of the pocket and threw a short screen pass to running back Javorius Allen … who proceeded to gained 16 yards, converting a third-and-13, to the Browns' 14-yard line.
Have I mentioned the Bills?
4:00 p.m.: Ravens FG! Ravens FG! Overtime! I can now lose this bet by 2.5 points if the Ravens get the ball and score a TD in overtime, instead of just by half a point!
4:24 p.m.: My best friend Scott Hanson tells me Rams and Niners are both in RedZone. I have Seahawks and Cards.
4:26 p.m.: Baker Mayfield has a third-and-8 from his own 18 with two minutes left. This is when legends are made, when wagers are won, when bettors see something that makes them believe forever in what a player can do, regardless of the odds against him.
And that's what Baker does: He gets pressure from the right and from the left. He steps up and drops a pass into Derrick Willies, who then scampers 39 yards to the Ravens 43.
And then this is what Hue Jackson does: Even though his team has two timeouts and is only at the Ravens 43-yard line, Coach Hue never calls a timeout.
It's the kind of thing that bettors remember forever, when they are convinced a coach can pull a loss out of victory, no matter how much the odds are in his favor.
The Ravens bail him out and call the timeout with 1:16 left.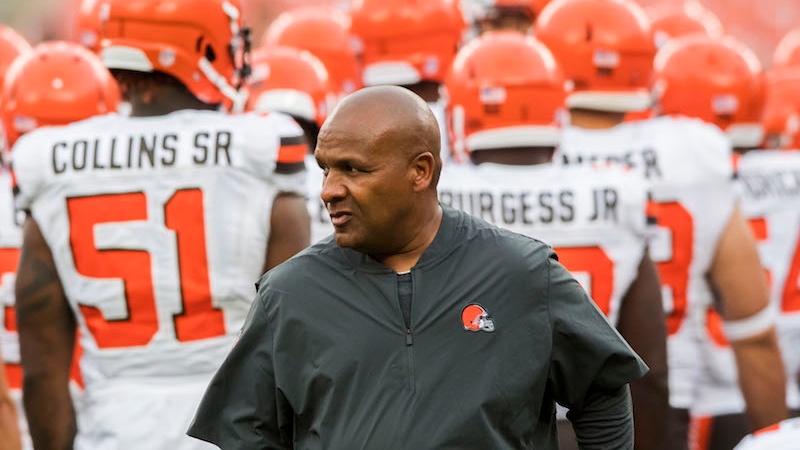 4:37 p.m.: The Seahawks force a turnover deep in their territory and return it to their own 26.
4:38 p.m.: Somehow the Browns remember to call a timeout with six seconds left in OT to set up a 37-yard field goal.
"It went in!" the announcer yells, astonished, because it was a line drive kick that looked more like a laser off of David Price.
But … Browns win! Browns win!
4:40 p.m.: On the Cardinals' first play from scrimmage, rookie quarterback Josh Rosen connects with Christian Kirk for 75 yards.
I am a super genius!
4:46 p.m.: Seahawks go up 7-0.
4:47p.m.: C.J. Beathard throws a pick to Arizona's Tre Boston.
Is it possible this is the best 10-minute run of luck anyone has had in the history of someone keeping a diary of what happens to them while they bet and watch the RedZone at the same time?
5:16 p.m.: Hello again, Cardinals! My best friend Scott informs me Arizona has forced a turnover and returned the fumble inside the 20.
Immediately I'm thinking about next week, as I've been on the Cardinals for the past three weeks. I can't claim I saw their improvements coming.
Two weeks ago I liked them as six-point home underdogs against the Bears because, as noted, I love home dogs and am a man who has the courage of his convictions.
Last week, based on what I saw from Josh Rosen in mop-up duty and the Cards defense against the Bears, I liked them again as home dogs against Seattle at +4.5. That one I get credit for.
This week, based on everything I saw against the Seahawks last Sunday, I loved the Cardinals when they opened as 4.5-point road dogs against the Niners. Wiseguys did, too, as the line moved to Cards +3.
My buddy BlackJack said on The Favorites pod that he liked them to win on the moneyline. I'm not that brave.
But now, with the Cards dominating the 49ers, I'm already thinking about next week. Arizona plays at the Vikings. The Vikings will be big favorites.
Can I squeeze another week of value out of the Cardinals? Am I being greedy?
5:24 p.m.: Russell Wilson just threw to Tyler Lockett for a 39-yard TD. Is now a good time to remind myself that the Seahawks were the first game I bet during the week and I was too scared to say it on SC?
5:47 p.m.: Sebastian Janikowski kicks his 58th field goal of more than 50 yards, an NFL record.
I wonder: How many of those have hurt my feelings?
For the next hour I feel completely at peace. It's a strange feeling of bliss and relief, as the Cards pressure Beathard into turnovers and desperate plays and, eventually, with 4:40 left in the game, recover one of his fumbles deep in Niners territory and return it for a touchdown.
The Seahawks and Rams do what the Seahawks and Rams do: They trade touchdowns, back and forth. 17-17, 24-24, 31-31…wait. The Rams missed the extra point? Then the Seahawks stall and the Rams drive for a field goal.
Don't they know I promised my wife we'd go to her clients' house for dinner and we are leaving in 11 minutes? Don't they know I got a smiley face emoji for agreeing to this commitment?
Is it possible to be a good husband and an attentive bettor? Is this question concept of storytelling too reductive of "Sex & the City"? Is that too old of a reference?
Meanwhile…
7:27 p.m.: The Rams take over with a two-point lead and 3:28 left. I've got one option: hope and pray they play against their nature. Milk the clock, run the ball, get first downs, end the game.
Also: WHY DIDN'T I CHOOSE THIS GAME ON SPORTSCENTER? Seriously, this was the game I targeted from the beginning. Why is betting so hard?
7:37 p.m.: It's fourth-and-1 from their own 42 with 1:39 remaining. Now is the time to be who you are. Don't punt it, just go for it, play to your nature, believe in your principles, get first downs, end this game.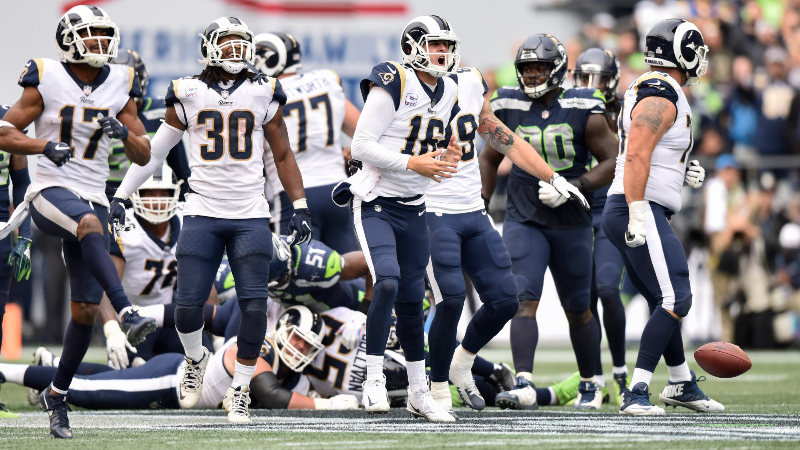 7:38 p.m.: Jared Goff, all six-feet-beautiful-four-inches of him, leans forward effortlessly for a first down. Ball game! Seahawks cover! Seahawks Cover! Chad wins!
And he learns a very valuable lesson. Your instincts are your friends.
Final Tally:
My bets:
Seahawks +7.5 vs. Rams ✅
Browns +3.5 vs. Ravens ✅
Bills +3.5 vs. Tennessee ✅
Cards +4.5 vs. 49ers ✅
Jags +3 vs. Chiefs ⭕️
SC picks:
Jags +3 vs. Chiefs ⭕️
Browns +3 vs. Ravens ✅
Cards +3.5 vs. 49ers ✅
How would you rate this article?