Millman's RedZone Diaries: Marcus Mariota, Miracle Covers and a Gambling Day for the Ages
Credit:
Christopher Hanewinckel-USA TODAY Sports. Pictured: Marcus Mariota
An epic NFL Week 4 deserves an equally epic diary.
Marcus Mariota and the Titans kicked things off by storming back to beat the Eagles.
And not to be outdone, the Oakland Raiders pulled off one of the most incredible wins (and covers) of the young season against the Cleveland Browns.
It hit me on Thursday morning. BlackJack Fletcher and I were recording The Favorites podcast. BlackJack likes to smoke a mango vape and pound 24-ounce cans of Coors while we record. He knows I'm more of a green tea and almonds kind of guy. So he's started bringing me a buffet that's more my speed. Last week was Amaretto and figs. This week it was Grand Mariner and dates.
I was halfway through a paper cup full of hooch when we started discussing the Patriots-Dolphins game. Oooh, I have always hated betting the Patriots; every time I feel it's like paying $20 for a $10 bottle of, well, Grand Marnier.
The whole idea makes my stomach burn.
But, suddenly, this past weekend, the Patriots were on a two-game losing streak, playing the Dolphins, who were on a three-game winning streak. And even though the game was being played at Gillette Stadium, by Thursday morning, for the first time in 1,771 days, a Tom Brady-backed Patriots team was not getting the majority of the action.
In fact, the line had dropped from Patriots -7 to Pats -6.5.
My oddsmaker buddy Scooch likes to tell me you don't make money betting against Bill Belichick. This week, I decided to amend that: You don't make money betting against Bill Belichick when he is less than a touchdown favorite at home.
With that idea floating in my head, I took another gulp of Grand Marnier, and then pulled the trigger on a Pats -6.5 bet.
Little did I know it would be the easiest thing I did all week.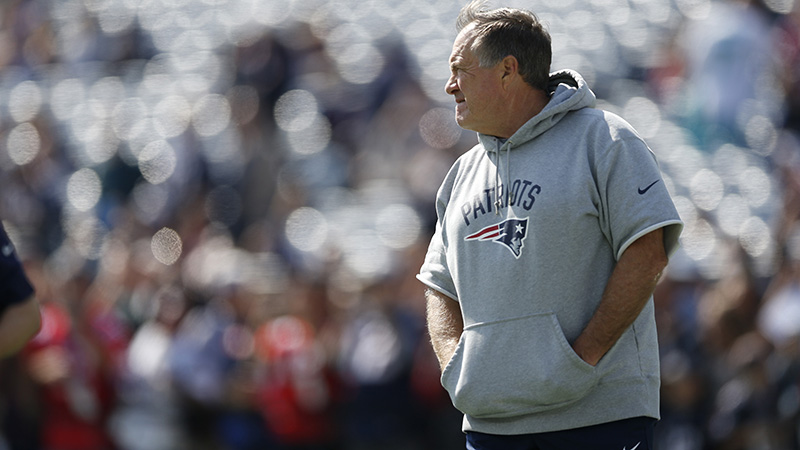 By the time Sunday morning rolled around, I would have action on six games:
Houston Texans at Indianapolis Colts (-2.5)
Miami Dolphins at New England Patriots (-6.5)
Cleveland Browns at Oakland Raiders (-2.5)
New Orleans Saints at New York Giants (+3.5)
Philadelphia Eagles at Tennessee Titans (+4.5)
Seattle Seahawks at Arizona Cardinals (+4)
But, this is where it gets trickier. On Sunday mornings I make an appearance on SportsCenter. Three picks, 120 seconds talking to a camera and a day full of misery, sweat and ulcers.
The fear of losing a couple of bucks cannot compare to the sheer terror of making picks on national television.
Being on the show is a blast. Lounging around the hallway outside the studio is like being at a wedding. Hey, there's Matthew Berry all dressed up. And there's Adam Schefter walking off the set, whispering sweet nothings about injuries in my ear.
But by the time I get back home, some day-after-a-wedding-bash feelings settle in. The next 12 hours are a swirling mix of "what ifs" and "I wish I had…" and "in retrospect that was probably a mistake."
My SC picks were:
Raiders -2.5
Pats -6.5
Giants +3.5
The game I included in the script that the SportsCenter producer had to cut for time: Cards +4
The game I deleted from the script and replaced at the last minute with Saints-Giants: Titans +4.5
In retrospect, I wish I had … blah, blah, blah.
Chances are, by the time an epic Sunday of last-second field goals, overtimes, overturned calls and miracles ended, you felt the same way.
Follow along to relive an excruciatingly glorious day.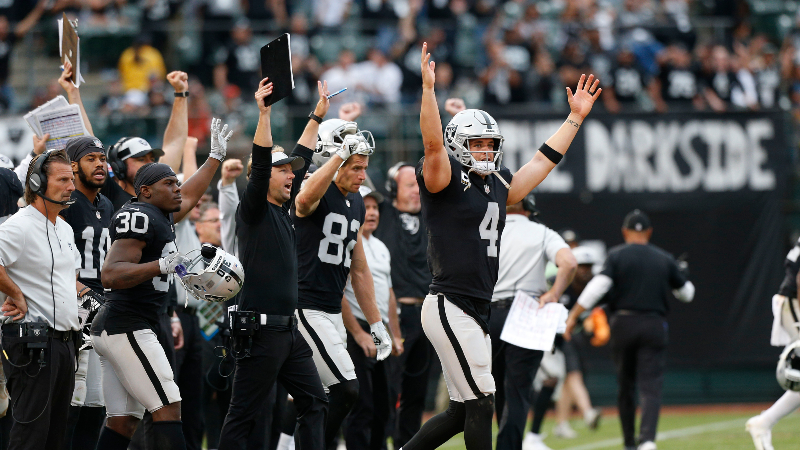 11:36 a.m. ET: I get an alert from ESPN that Patriots receiver Josh Gordon is going to play. Oh my God, is this what it feels like to bet on the Patriots?! It's amazing. More please!
1:08 p.m.: I've had the RedZone on for eight minutes. My best friend Scott Hanson shows me a Bears touchdown, followed immediately by a Falcons touchdown.
There should be a RedZone relief meter. Because those milliseconds between when a highlight comes on and when you know if it is affecting you feel like the cliffhanger ending from The Handmaid's Tale.
"Wait. What's happening? How am I going to feel?"
Can the RedZone please come up with a decoder that immediately and symbolically indicates which way a play is going to go. Something bright and easy to read, but better than the new score alert for college football on ESPN, which looks exactly the same as when a penalty is called (I'm going to bring that up at the wedding next weekend).
1:25 p.m.: My older son, who is 15, has a bunch of friends over. He asks me for my phone so he can order pizza from Ubereats.
Since I have no intention of paying any attention to him, his younger brother or my wife for the entire day, I try to answer in an overly sweet voice, as if to say, "I love you so much, son, so of course you can have my phone and do not misinterpret the fact I'm going to ignore you on Sunday even though I work nearly every hour of the day during the week as me not being there for you."
I look away to hand him the phone and miss the Colts fumbling in the end zone. The Texans recover to tie it up. Can I blame my son for this? Can this become something he talks about in therapy years later?
1:30 p.m.: I walk into the kitchen to get my phone, which my son neglected to bring back to me. My wife, who is an architect, is stretching a tape measure across the floor and taking notes.
She asks: "What would you think if we switched the dining room and the kitchen?" I'm thinking, but don't say, "This idea scares me as much as the Colts-Texans game right now." But I say, "I can't wait to see what you draw up!"
1:39 p.m.: My wife walks into the living room. She's bored. So is our younger son. And our neighbor. And their kids.
Her: "We may go to the mall."
Me: "Sounds great. "
Her: "Just something to do. Maybe I'll get a cherry pitter."
Me: "Really?"
Her: "I don't know, we can't watch these kids watch screens anymore."
I think a cherry pitter is better than a new kitchen.
2:07 p.m.: The Pats recover a Dolphins fumble, and on the next play James White runs 22 yards for a touchdown.
The Patriots are really fun to bet on! Why didn't anyone tell me about them?
2:09 p.m.: The one bet I regret not making: Bengals-Falcons over. I didn't bet it because it opened at 48, and when it was announced during the week that Falcons safety Ricardo Allen was out for the year, it jumped up to 51.5 before eventually settling at 53.
I felt like I wasn't getting the best of the number anymore, so I passed. Sometimes that's a mistake, especially when you are watching the game and 42 points are scored in the first 22 minutes.
Before the first half is over, the total points scored will reach 52 points. I apologize to the person on Twitter I told to pass because he didn't get the best of the number.
2:29 p.m.: Have I mentioned how much fun it is to bet on the Patriots? They're up by 24 at halftime. They are the best ever! Do people know this? Should I keep it a secret so no one else tries to take advantage of what I've discovered?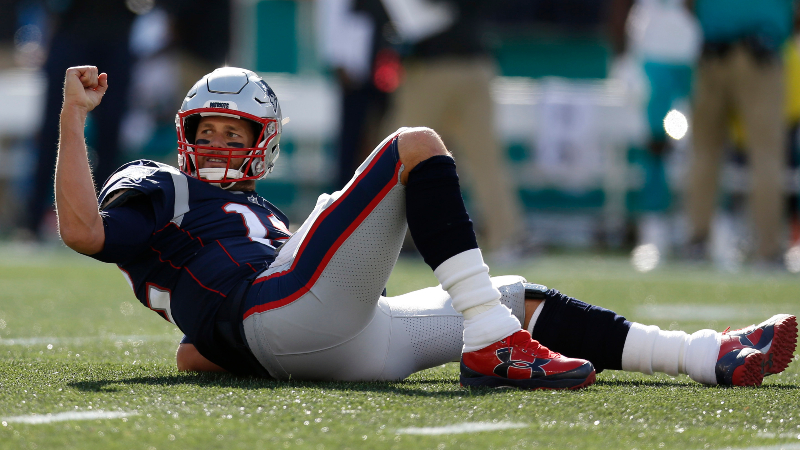 2:59 p.m.: I remember how great Carson Wentz is on third downs when he completes a 16-yard TD pass to Alshon Jeffery to put the favored Eagles up by two touchdowns in the middle of the third quarter.
Home underdogs, why can't I quit you?
3 p.m.: Seriously, dude on Twitter I told to pass on the Bengals-Falcons over, I'm truly sorry. It's now at 55 points before the third quarter is over. This one is on me.
3:03 p.m.: Deshaun Watson scores a touchdown to put the Texans up 28-10. I've been conflicted about this bet all week. It was the first one I made, on Sunday night, when the Colts opened as 2.5-point favorites.
I've watched them every week, bet against them in Week 1, and then won with them in Weeks 2 and 3. I thought Andrew Luck had been playing well enough and their defense was mediocre, which is to say it's better than expected.
I've also watched — and lost money on — the Texans, who have been downright bad.
So I was a little confused when I saw wiseguy money was moving the line in the Texans' direction.
And even more confused when all the research from our Action Network team indicated the Texans were the right side because of a variety of stats, including Pythagorean wins and DVOA and IHC (aka "I hate Chad").
I'm a man on an island, and I'm not quite sure how to feel about it.
3:09 p.m.: Hello Marcus Mariota! Welcome to the RedZone! Thanks for joining us. And thank you for bringing the Titans within a touchdown.
3:21 p.m.: Scott Hanson announces we are in the Witching Hour, as the eight early games near the fourth quarter. He has no idea how prescient he is.
3:22 p.m.: Carson Wentz fumbles on third down!
3:23 p.m.: Deshaun Watson throws an INT!!!!!!!!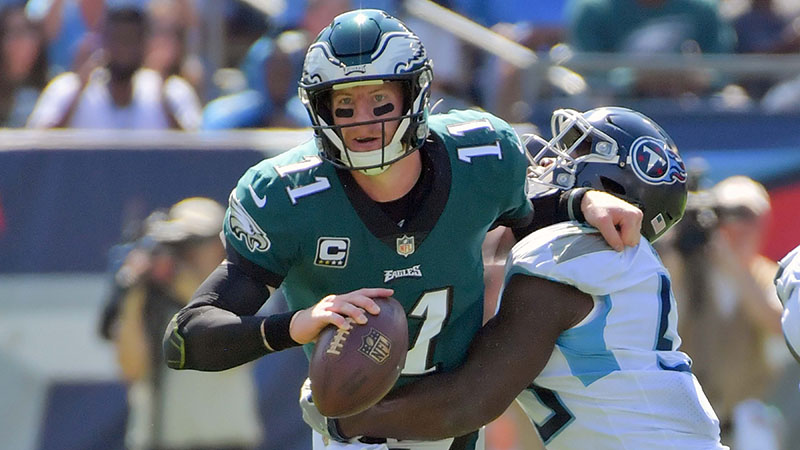 3:23:30 p.m.: I call my wife and tell her to buy all the cherry pitters she wants, because her man is a genius!
3:27 p.m.: Pats score again. Someone should talk about this team.
3:39 p.m.: Marcus! Marcus! Marcus! I triple-check the Action Network app to make sure that I bet the Titans at +4.5. I did! They're up 20-17.
I immediately start going through the heartbreak scenarios.
Philly scores, goes up 24-20. The Titans try desperately to come back, turn the ball over, Philly wins 30-20. I call my wife and tell her to slow down on the cherry pitters. This won't end well.
3:49 p.m.: When the Titans take the lead with a little less than three minutes left, I wonder, should I have talked about this game on SportsCenter? "In retrospect…" Then I wonder if the game would have played out differently had I talked about it on national TV.
Yes, I assume I can change the course of events just by talking about them.
3:54 p.m.: Holy s***, I can! Seconds after I typed the above sentence, I tweeted this.
Seconds later, Andrew Luck completes a touchdown pass to Eric Ebron, bringing the Colts to within five points.
I'm wondering what else I should ask for right now.
How much is too greedy? What other superpowers do I have? Can I stop a kitchen-and-dining-room renovation from happening?
4:07 p.m.: Dear Scott Hanson, I would like some OT in the Texans-Colts game.
4:14 p.m.: Andrew Luck touchdown. Holy holy holy holy holy holy. I really can make things happen with my mind!!! I can't breathe. Cnta teyp either. Too mhcu adrneelin.
4:22 p.m.: Fourth-and-15 for the Titans from their own 31 with 4:45 left in OT. They're down 23-20. I have grown to truly love this team for its grit and determination and defense and, my god, I hope they just lose this game already because every desperation play is one play closer to a pick-six!
4:23 p.m.: Of course the Titans convert on fourth-and-15. Why won't you quit Titans? Don't you know what is at stake here?!?!?!?!?
4:32 p.m.: On a third-and-19 Marcus! Marcus! Marcus! runs it 17 yards to put the Titans in field-goal range. They bring the field-goal team out. And then pull it back. Because, of course. Why not go for the win instead of the cover?
Doesn't Titans coach Mike Vrabel know what I can do to him with my mind if he screws this up for me?
4:33 p.m.: Text from my wife: "Can you make sure Zac does his math homework?"
4:34 p.m.: Titans get the first down and more. I love this team. Please win, please win, please win.
4:38 p.m.: Just as I planned. Titans win in overtime. I'm magical. Give me the Colts in OT, Scott Hanson.
4:47 p.m.: I can't believe I'm still watching this Texans-Colts game.
4:54 p.m.: See above.
4:57 p.m.: Texans 37, Colts 34 in OT. That's a heartbreaking L.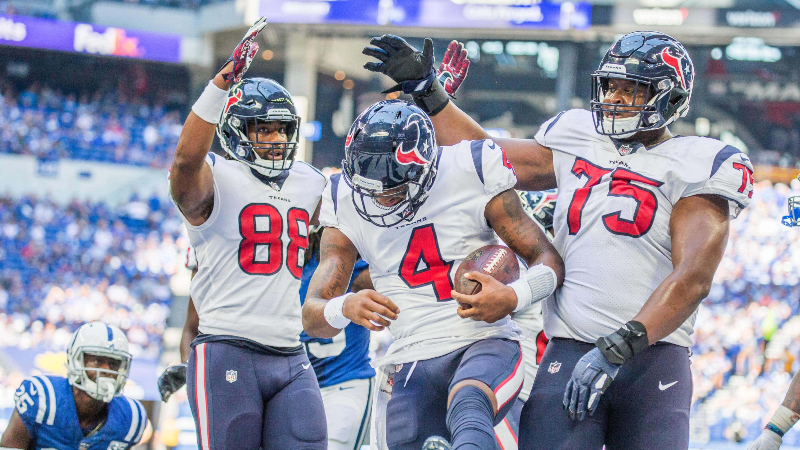 5:00 p.m.: I picked the wrong day to start this RedZone diary, because I have three late game bets (Giants +3.5, Cards +4, Raiders -2.5) and, after the Titans-Eagles and Colts-Texans, I am sweating, need a shower, a nap and someone on the Saints to stop giving the ball to Taysom F-ing Hill!
5:15 p.m.: My wife just texted to ask if we have any vegetables for dinner for the kids.
It's like she is unaware of what I am trying to do with my life, which is gamble away our renovation money for the purpose of entertainment, fame, glory, humor.
She and I are going to have to get on the same page if this is going to work out for the long haul.
5:16 p.m.: I wish I were still watching the Texans-Colts game.
6:05 p.m.: I ask Zac, the older son, if any part of his homework involves gambler's math.
Him: "No, it's mostly proofs and annoying stuff like that."
Me: "Well, the Browns are up by two touchdowns and I'm doing some math right now. As in: I need two touchdowns and a field goal in the second half to win this game. If daddy has already had one miracle comeback to win a bet, and another miracle comeback that got him close, what are the chances daddy gets another miracle comeback to win money, look good on television and feel better about himself?"
Him: "I don't see this being on the SATs."
7:02 p.m.: Not only can I make things happen with my mind, but I am also the GDE (greatest dad ever)! I've got the older kid making dinner and helping the younger one with his homework.
My wife is upstairs thinking I am doing it all. And the dog is outside. Everything is in slow motion for me right now. I can see the whole board.
7:35 p.m.: Cards +4. Check. Giants +3.5. I'm done with this team. Raiders -2.5? Oh hello game-tying-drive-with-90-seconds-left-followed-by-two-point conversion-to-tie-the-game.
The answer to the math question, my dear oldest son, is, "Hell yeah, miracles can happen thrice in one day, so put that in your proof and solve it!"
7:55 p.m.: 5:23 left in overtime. Raiders ball on their own 19. This is it.
8:01 p.m.: Third-and-3, Jared Cook over the shoulder from Derek Carr, who takes a torpedo to the ribs and gets up like he's Dennis Quaid in "Any Given Sunday".
8:11 p.m.: Breathe, breathe, breathe.
8:12 p.m.: Oh, did the Raiders win? I didn't even notice. I was busy perfecting the new math.
In my world it looks something like this: Seven hours on the couch, six bets, four wins, three games discussed on TV, two of those games won and three games in which I used Jedi mind tricks to sway the outcome.
Oh yeah, one new discovery: The Pats are money.
How would you rate this article?