Rhamondre Stevenson Dynasty Fantasy Outlook, NFL Draft Profile & Props
Credit:
Tom Pennington/Getty Images. Pictured: Rhamondre Stevenson.
Rhamondre Stevenson has a very strong chance of making an NFL roster in 2021 and beyond -- even if he slips to Day 3 of the 2021 NFL Draft.
Draft and fantasy football analyst Matthew Freedman evaluates the former Oklahoma running backs' potential at the next level.
Find Freedman's full profile on Stevenson below, complete with dynasty fantasy analysis and draft props to bet.
Rhamondre Stevenson Draft Profile
| | |
| --- | --- |
| Position | RB |
| School | Oklahoma |
| Height | 6′ |
| Weight | 231 |
| 40-Yard Dash | 4.64 |
| 2021 Age | 23 |
| Class | Senior |
| Recruit. Stars | 3-4 |
| Projected Round | 4-5 |
Rhamondre Stevenson Draft Props
Stevenson is +6600 at BetMGM to be the No. 1 back to be drafted. Not happening.
While I rely on my own research, I also take a "wisdom of the crowds" approach by surveying an index of mock drafts. I find that these drafts — created by experts with established records of success — collectively give me a good sense of the realistic range of outcomes for what we might see with any given player or pick.
In not one of the surveyed mocks has Stevenson gone in Round 1.
His draft stock has climbed significantly over the past year, but right now I'm expecting him to go on Day 3 (per Grinding the Mocks).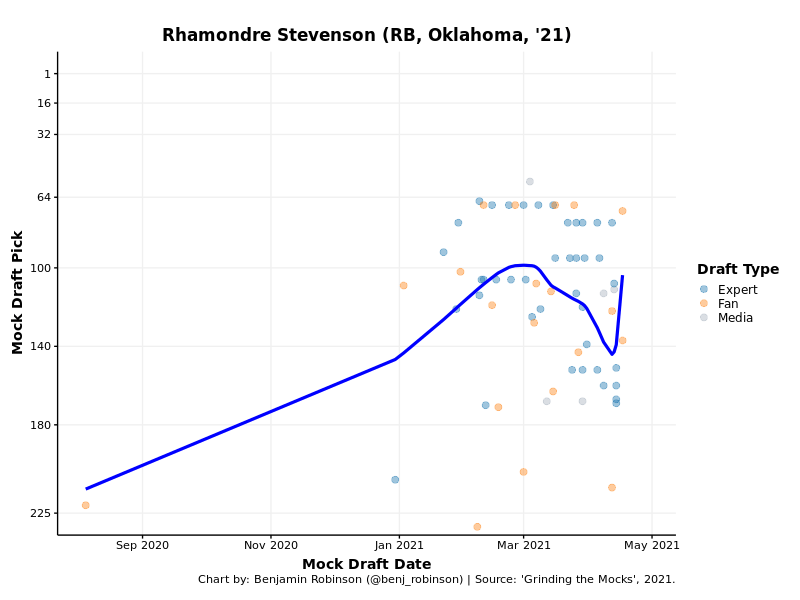 Stevenson has an over/under of 90.5 at Circa, but I haven't bet it because I think he has a wide range of draft outcomes as one of the few truly big backs in the class.
Dynasty Fantasy Analysis
Stevenson has had a long, winding road to this point. As a high-school junior in 2014, he was 179-1,457-17 rushing and 12-238-0 receiving in 11 games as the Las Vegas Sun High School Player of the Year, but he broke his foot as a senior and consequently drew no college interest as a zero-star recruit.
After graduating Stevenson took a year off and then in 2017 he enrolled at Cerritos Community College, where as a freshman he was the No. 2 back in a timeshare with 68-501-3 rushing and 5-38-2 receiving in 10 games for an uninspiring 3-7 team.
As a sophomore, though, Stevenson dominated, ranking No. 1 in the California Community College Athletic Association in both yards and touchdowns rushing.
In every game of the 2018 season, Stevenson rushed for 100-plus yards on his way to 222-2,111-16 rushing with 13-175-0 receiving.
In case you're not aware …
Look, if you're not even willing to dig into Rhamondre Stevenson's junior college data …

— Matthew Freedman (@MattFtheOracle) April 19, 2021
… that kind of junior college production is elite.
When adjusting for offense, it's comparable to what Damien Williams did at Arizona Western College in 2011 as the No. 1 JUCO back in the nation (259-1,931-26 rushing and 20-317-4 receiving in 12 games).
It's comparable to what LeGarrette Blount did at East Mississippi Community College.
2006 (8 games): 189-1,250-12 rushing | 11-139-1 receiving
2007 (9 games): 178-1,042-6 rushing | 8-144-1 receiving
When Blount left the JUCO ranks, he was the No. 1 two-year running back recruit in the country, and the same was true for Stevenson, who had 3-4 stars and scholarship offers from multiple schools.
Opting to sign with Oklahoma, Stevenson opened the 2019 season behind Trey Sermon and Kennedy Brooks — and quarterback Jalen Hurts dominated carries with his dual-threat capability — but with Sermon's eventual benching and season-ending injury, Stevenson carved out a supplementary role as the big-bodied No. 2 back with 64-515-6 rushing and 10-87-0 receiving.
Although he saw limited usage, Stevenson regularly flashed his playmaking ability with 8.0 yards per carry and 8.7 yards per target, and by the end of the season he was regarded as a regular contributor who could provide fresh legs off the bench.
But before the College Football Playoffs, Stevenson failed a drug test and was suspended for six games, forced to miss Oklahoma's Peach Bowl matchup with LSU as well as the first five games of the 2020 campaign.
Without Stevenson — as well as Brooks and Sermon, who respectively opted out and transferred in 2020 — the Sooners split the work between their remaining backs to open the year, but once Stevenson returned he owned the backfield.
In each of his six games as a senior, Stevenson either went over 100 yards from scrimmage or scored a touchdown. In total, he was 101-665-7 rushing and 18-211-0 receiving. Across a truncated season, those numbers definitely suffice.
Stylistically, Stevenson is very much the kind of runner you'd expect him to be given his size: He runs as if he hates humanity. He's a bully. A punisher. When he has a clean lane, he quickly becomes a north-south runner and seeks to destroy any would-be tackler who gets in his way.
This is a Rhamondre Stevenson stan account

— Thor Nystrom (@thorku) March 1, 2021
He slimmed down for the Senior Bowl and his pro day, but last year he was listed at 246 pounds and regularly played in the 240s. With that size, he scoffs off arm tackles and unsurprisingly leads the class in FBS production after contact (per 2021 Sports Info Solutions Football Rookie Handbook).
Yards After Contact per Attempt
Rhamondre Stevenson (2019-20): 4.8
Travis Etienne (2017-20): 4.3
Javonte Williams (2018-20): 4.1
Trey Sermon (2017-20): 3.8
Kenneth Gainwell (2018-19): 3.6
Michael Carter (2017-20): 3.5
Najee Harris (2017-20): 3.3
Kylin Hill (2017-20): 3.2
Chuba Hubbard (2018-20): 3.2
Although Stevenson can sometimes be a little slow to change direction — like a semitruck — at the Oklahoma pro day he flashed exceptional sized-adjusted agility with his 7.09-second short shuttle, which puts him in the 85th percentile of historical performers at the position (per RotoViz Prospect Workout Explorer).
Stevenson's agility translates to on-field performance. As noted of Stevenson in the Pro Football Focus Draft Guide: "Loves to hit 'em with the big-fella spin move." Haha, oh my. There's a 100% chance that Mike Renner wrote that sentence.
Although Stevenson has the look of a two-down back, his receiving numbers suggest otherwise. In 2020, he averaged three receptions per game, and at Oklahoma he caught 28-of-34 targets. On a per-target and -route basis, Stevenson was comparable to — in fact, somewhat better than — Harris throughout the 2019-20 seasons (per SIS).
Yards per Target
Rhamondre Stevenson (2019-20): 8.7 & 8.8
Najee Harris (2019-20): 8.7 & 8.0
Yards per Route
Rhamondre Stevenson (2019-20): 2.9 & 1.2
Najee Harris (2019-20): 2.1 & 0.9
Stevenson doesn't have Harris' soft hands and smooth routes, but he's capable as a receiver with the size and strength to hold his own in pass protection, which means he could actually be a three-down player if he's able to find the field.
On top of that, Stevenson proved himself at Oklahoma to be a willing and quite strong special teams contributor: He's not above doing the dirty work.
And that means he has a very strong chance of making an NFL roster in 2021 and beyond even if he slips to Day 3 of the draft.
Thor Nystrom compares Stevenson to Eddie Lacy — and I can see it, although I think it's on the optimistic side of the spectrum.
In truth, it's hard to come up with satisfying comps for Stevenson. Here are two that are close but not quite right.
LaGarrette Blount with a diet, more receiving production and draft capital
Matt Asiata with more total production, athleticism and draft capital but also less receiving production
In the end, I settled on the one that isn't promising but is perhaps telling.
NFL Prospect Comp: Daniel Thomas with less draft capital but more receiving ability and agility
---
Matthew Freedman is 1,018-828-37 (55.1%) overall betting on the NFL. You can follow him in our free app.
How would you rate this article?