Farewell, Rob Gronkowski: The Most Valuable NFL Tight End Ever
Credit:
Kirby Lee-USA TODAY Sports. Pictured: New England Patriots tight end Rob Gronkowski (87).
After nine seasons and three Super Bowl championships, Patriots tight end Rob Gronkowski is retiring.
In that brief time, Gronk had a huge impact on fantasy football and the betting market unlike any other player in his position.
The 2019 NFL Season won't include one of the league's best players and personalities, as long-time Patriots' tight end Rob Gronkowski officially announced his retirement from football on Sunday via his Instagram.
Without a doubt the game just lost one of the very best to ever play the glorious pastime known as football. Gronk is unequivocally on anyone's short list of the best tight ends to ever play the position.
Receiving yards per game: 68.4 (1st all-time among tight ends)
Yards per target (since 1992, min. 100 targets): 9.9 (1st)
Touchdowns: 79 (T-3rd)
PPR per game: 15.5 (1st)
Gronk's ability to consistently find the end zone from the day he signed an NFL contract was particularly impressive. Gronkowski (79 TDs in 115 games) would've surpassed Harold Carmichael (79 TDs in 182 games), Tony Gonzalez (111 TDs in 270 games) and Antonio Gates (116 TDs in 236 games) if he had better injury luck throughout his career.
It's almost insulting to only include Gronk among tight ends, as he worked as the Patriots' No. 1 receiver for the entirety of his career. Just four players have caught at least 70 touchdowns since Gronkowski entered the league in 2010: Gronk (79 TDs), Antonio Brown (74), Dez Bryant (73) and Jimmy Graham (71)
Being healthy enough to stay on the field is obviously a factor when evaluating any player's career, but it's close to impossible to say Gronk was anything but the best tight end of all time on a game-by-game basis.
Of course, Gronk's impact on the game didn't just stop when it came to his personal statistics.
Gronk Mightily Helped Extend Tom Brady's Career
Brady has never exactly had a prolonged down period during his long and illustrious career, but he was particularly dominant when targeting his trusty tight end.
Rob Gronkowski (and Josh Gordon!) have easily been the most-efficient targets of Tom Brady's career.

For reference, the top-three rates among QBs and WR1s …
Russ Wilson – Tyler Lockett (10.95)
Patrick Mahomes – Tyreek Hill (10.58)
Jared Goff – Brandin Cooks (10.47) pic.twitter.com/CWNf0RzFzM

— Ian Hartitz (@Ihartitz) March 24, 2019
Kings stay kings, although Brady has always been a bit more vulnerable without Gronk on the field since the Patriots drafted him with the 42nd overall selection of the 2010 draft.
Brady with Gronk (112 games): 25.2 PPR | 2.2 TDs | 0.5 INTs | 8.01 Y/A | 66% cmp | 289 yards per game
Brady Without Gronk (28 games): 21.4 PPR | 1.8 TDs | 0.6 INTs | 6.89 Y/A | 60% cmp | 260 yards per game
It's not as if Gronk benefited from an abundance of talented wide receivers during his career either. Gronk led the Patriots in receptions (521), yards (7,861) and touchdowns (79) from 2010-2018.
The only other Patriots who caught even 100 passes during this time:
Julian Edelman (462 receptions)
Wes Welker (326)
James White (248)
Danny Amendola (230)
Aaron Hernandez (175)
Deion Branch (115)
Brandon LaFell (111)
Chris Hogan (107)
Shane Vereen (107)
Notice a theme?
The Patriots consistently surrounded Brady and Gronk with a plethora of sure-handed receivers who specialized in attacking underneath routes on the field.
As Brady's splits with and without Gronk indicated, this task was largely unsuccessful without a dynamic tight end who possessed the ability to win one-on-one matchups in both the pass and run game.
Gronk Was a Badass Blocker
Fantasy football is awesome, but at times, it dominates the public perception of a player and doesn't give credit to some of the finer nuances of the sport.
It was well known that Gronk is one of the best offensive weapons in the game thanks to his gaudy touchdown numbers, but he also routinely functioned as one of the league's finest blockers at the position.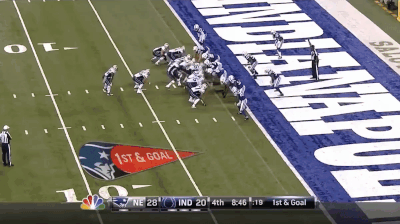 The above block was finished by Gronkowski slamming that poor Colts defender into the camera station. Gronk later told the media, "He was yappin' at me the whole time … so I took him and threw him out of the club."
It's impossible to understate how many matchup problems Gronk was able to cause thanks to his ability to thrive in both the pass and run game. There were very few defensive backs who could consistently hang with Gronk as a receiver and even fewer with the skill to handle him physically as a blocker.
Vegas Agrees … the Patriots Simply Weren't as Good Without Gronk
The fine folks at Sports Insights dove into the point-spread value of Gronk over the years and came to the following conclusions.
2016: Gronk joined Adrian Peterson, Le'Veon Bell, Antonio Brown, Odell Beckham Jr. and A.J. Green as the only six non-quarterback players who had the ability to move the line.
2017: Gronk was included alongside Le'Veon Bell, Antonio Brown, Julio Jones, David Johnson, Ezekiel Elliott, Odell Beckham, Mike Evans, and A.J. Green as the only positional players whose absence would likely move the line.
2018: The Patriots were listed anywhere from -6.5 to -7 vs. the Eagles in lookahead lines for the 2018 Super Bowl, but the line moved down to -5.5 following Gronk's concussion during the Patriots' AFC Championship win over the Jaguars.
Sure, the Patriots managed to win the 2016 Super Bowl against the Falcons with Gronk sidelined. They also won 11 games in 2008 with Matt Cassel at quarterback. Quit being a hater.
No single player ever deserves all the credit or all the fault on any football team, but it's tough to call Gronk anything but one of the most valuable non-quarterbacks in the league over the better part of the last decade.
---
Gronk operated as football's version of Shaq for most of his career: A player too big, athletic and strong for most defenders to deal with, but also an entertainer who managed to always have fun while dominating the competition.
The Patriots will continue to move forward as the dominant evil empire without the best tight end of all time. It would be shocking if they don't address the position in the draft, but it's tough to reasonably expect anything close to the impact we've seen from Gronk over the years.
Cheers to Gronkowski on one of the best and most-entertaining football careers the tight end position, and the game have ever seen.
How would you rate this article?