Sage Surratt NFL Draft Profile, Dynasty Fantasy Outlook & Props
Credit:
Dannie Walls/Icon Sportswire. Pictured: Sage Surratt
Sage Surratt is exactly the kind of wide receiver that fantasy football analyst Matthew Freedman likes too much.
That's why Freedman set out to debunk his own love for the WR out of Wake Forest ahead of the 2021 NFL Draft.
Find Freedman's full profile of Surratt, complete with how he projects as an NFL and dynasty prospect.
Sage Surratt Draft Profile
| | |
| --- | --- |
| Position | WR |
| School | Wake Forest |
| Height | 6'3″ |
| Weight | 209 |
| 40-Yard Dash | 4.68 |
| 2021 Age | 23 |
| Class | Double RS-Soph |
| Recruit. Stars | 3 |
| Projected Round | 3-4 |
---
Sage Surratt Draft Props
While I rely on my own research, I also take a "wisdom of the crowds" approach by surveying an index of mock drafts. I find that these drafts — created by experts with established records of success — collectively give me a good sense of the realistic range of outcomes for what we might see with any given player or pick.
In not one of the surveyed mocks has Surratt gone in Round 1. In fact, his draft stock has dropped so much over the past year that he might not even go on Day 2 (per Grinding the Mocks).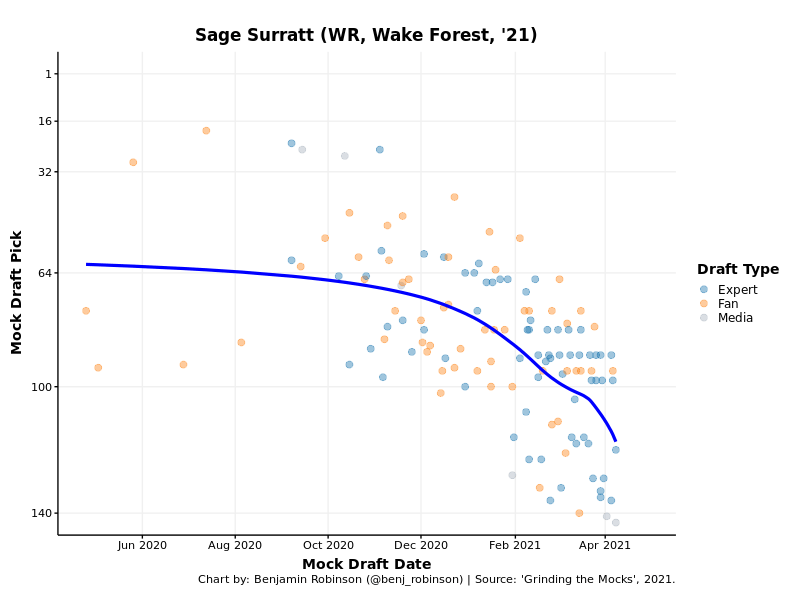 He's not even on the board as a betting option to be the No. 1 receiver drafted in the class. In the prop market, he's a nonentity.
---
Dynasty Fantasy Analysis
Surratt is exactly the kind of wide receiver I like too much. I know that. I know I have a problem.
I'm doing research now on Sage Surratt, and I just know this guy will break my heart if he's drafted with a top-100 pick.

— Matthew Freedman (@MattFtheOracle) April 14, 2021
With his size and physicality, he probably has the ability to be an above-average NFL possession receiver. He is dominant in contested-catch situations, flashing strong-yet-soft hands and using his body to turn 50/50 balls into long gains.
Not since George Costanza has a man had hands this supple.
Surratt opted out of the 2020 season, but in 2019, he was an 18-for-30 contested-catch receiver (per Pro Football Focus).
Whenever he is covered, he's still open.
The main problem with Surratt is that he's always covered. Surratt is savvy and smart, but he's also slow, which means that he's a vertical receiver who can't separate. He's not a bad route runner, but he's not especially subtle, which means there's almost always a cornerback on his hip.
Every deep reception he makes is a highlight — just like every defensive play Derek Jeter made was a highlight — because Surratt is a markedly below-average athlete.
Most Athletic WRs in the 2021 Class
+ 0-100 SPORQ Score

1. Jacob Harris (99.4)
2. Ja'Marr Chase (97.6)
3. Jalen Camp (97.2)
4. Racey McMath (92.6)
5. Simi Fehoko (92.5)
6. Kadarius Toney (91.0)
7. Josh Imatorbhebhe (90.3)
8. Terrace Marshall (90.2)
…
41. Sage Surratt (3.0)

— Scott Barrett (@ScottBarrettDFB) April 9, 2021
In high-school, Surratt was a two-sport all-state player of the year in football and basketball. He was also valedictorian. There's a case to be made that Surratt has sneaky athleticism and that he's intelligent enough to overcome his relative lack of measurable athleticism.
Maybe that argument is legitimate.
As a senior in high school, Surratt was a record-breaking 129-2,104-28 receiving, and then after sitting in 2017, he was the No. 2 receiver for the Demon Deacons as a redshirt freshman with 41-581-4 receiving in 13 games.
And his redshirt sophomore season was undeniably special. Despite missing the final month of the campaign with a shoulder injury, Surratt was 66-1,001-11 receiving in just nine games.
It's hard for a guy to be as productive as Surratt has been if he's a total non-athlete.
Sage Surrat (@SageSurratt_14 ) is a legitimate 2021 sleeper rookie WR

-41-581-4 as a redshirt freshmen
-39% dominator rating at 21 in 2019 (opted out in 2020)
-Prototypical size @ 6'3, 215
-Can play X or "big slot"

Hoping for third-round draft capital@SportsGridpic.twitter.com/KVF0Sh4dNM

— Davis Mattek (@DavisMattek) March 8, 2021
But Surratt really might lack NFL athleticism, and the greatest evidence of that might be his catch-and-run numbers. In 2019, he had 17 broken tackles on 65 receptions (per PFF).
I love the way Thor Nystrom describes Surratt with the ball in his hands: "Proven after-the-catch ruggedness. Surratt's tape shows a hellacious runner after the catch."
Nystrom's not wrong: Surratt is rugged and hellacious. That's a perfect way to characterize him. But he's also inefficient. As good as Surratt is at breaking tackles, he's still slow, so he rarely gets all that far down the field before more defenders show up to bring him down.
Even with his superior tackle-breaking strength, Surratt's final-season yards-after-catch production still massively underwhelms compared to that of (almost) every receiving prospect I can think of (per SIS, 2021 Sports Info Solutions Football Rookie Handbook).
Yards After Catch per Reception
Jaylen Waddle (2020): 10.3
Ja'Marr Chase (2019): 8.4
DeVonta Smith (2020): 8.1
Amari Rodgers (2020): 8.0
Kadarius Toney (2020): 7.3
Rondale Moore (2020): 7.1
Terrace Marshall (2020): 6.4
Tutu Atwell (2020): 6.2
Elijah Moore (2020): 6.1
Rashod Bateman (2020): 5.6
Tylan Wallace (2020): 5.3
Dyami Brown (2020): 5.2
Sage Surratt (2019): 4.7
Amon-Ra St. Brown (2020): 4.0, LOLz
And remember that this is Surratt at his best.
The guy can fight for extra yardage all he wants, but he's not likely to get it in the NFL.
Fundamentally, Surratt is a big-play receiver who looks the part and has great highlights … but he is also a sluggish route runner with a limited, vertical-heavy route tree and no true after-the-catch get-up-and-go.
Put simply: Surratt is a deep-ball catch-and-fall specialist who fights the fall.
My fear for Surratt is that he's so un-athletic that even with his bully-ball skills, he will be ineffective as an NFL deep threat and will thus be relegated to short-yardage work out of the slot, where his juiceless dearth will prevent him from turning easy receptions into expected after-the-catch production.
Essentially, I'm scared that he's J.J. Arcega-Whiteside.
More than a couple film grinders have comped Surratt to JJAW.
I unfortunately liked JJAW more than I should have as a prospect.
JJAW was way more athletic in his pre-draft workout, which is terrifying.
So Surratt's athleticism might be prohibitive. On top of that, he's old — especially for someone who has played just 23 college games.
But I keep coming back to this idea: Surratt has been a subpar athlete for all his life — and yet he has still been able to produce.
I doubt he will ever have a 1,000-yard NFL season, but maybe he'll be one of those receivers who hangs around the league for years and more than occasionally finds himself on the fringes of fantasy relevancy.
A couple of low-end fantasy WR3 seasons are possible.
NFL Prospect Comp: Mohamed Sanu with less ancillary production, but more physicality and ball skills
---
Matthew Freedman is 1,018-828-37 (55.1%) overall betting on the NFL. You can follow him in our free app.
How would you rate this article?
This site contains commercial content. We may be compensated for the links provided on this page. The content on this page is for informational purposes only. Action Network makes no representation or warranty as to the accuracy of the information given or the outcome of any game or event.