Schwartz: Can Saquon Barkley Get 1,100 Yards in Pat Shurmur's Scheme?
Credit:
Danielle Parhizkaran-USA TODAY SPORTS. Pictured: Saquon Barkley
Optimism season is in full force as we get closer to the start of NFL training camp. I wrote about the New York Giants and their win total a few weeks back, and I want to continue the discussion by looking at how No. 2 overall pick running back Saquon Barkley might do this year.
This Isn't 2017
The Giants offense was dreadful last season, even after head coach Ben McAdoo was let go. The offense suffered injuries at a high rate, with multiple starting wide receivers getting hurt, including Odell Beckham Jr. The Giants had a nonexistent run game to go with third-down struggles. It was all a recipe for disaster, and it showed on the field.
But there are reasons for optimism in 2018, starting with new HC Pat Shurmur, who worked magic last season in Minnesota as the offensive coordinator for career backup Case Keenum. Now he gets two-time Super Bowl MVP Eli Manning, a healthy receiving unit led by Beckham, a young, explosive tight end in Evan Engram and a rebuilt offensive line with the additions of left tackle Nate Solder and guards Will Hernandez and Pat Omameh. And of course there's Barkley.
1,100.5 Yards & 10.5 Touchdowns
Barkley was the talk of the draft after his amazing career at Penn State and his performance at the combine. His ability to make defenders miss in open space and burst to finish runs give him the potential to make an immediate impact in the NFL.
Currently bet365 has his season totals set at 1100.5 yards rushing and 10.5 combined touchdowns. (Shortly after the draft Bovada posted lines of 1,000 yards and eight touchdowns rushing.) Let's look at the road map (or road blocks) Barkley faces to reach his bet365 totals.
275 Carries at 4.0 Yards per Carry?
If Barkley has 275 carries at 4.0 yards per carry, that puts him right at 1,100. In each of the past two seasons only five players have had 275+ carries, which would be a large workload for a rookie who can also be used in the pass game. Still, in 2016 the Cowboys gave Ezekiel Elliott 322 carries and 39 targets in 15 games. In 2017 the Chiefs gave Kareem Hunt 272 attempts and 63 targets. Those types of numbers might be achievable in Pat Shurmur's offense.
Although Shurmur didn't have a high-volume rushing attack as the Browns HC and play caller, his team was behind in most games and wasn't in a position to run. When Shurmur was with the Eagles, they had top-12 rushing volume each year, but Chip Kelly was the play caller. Last season, though, as the play caller for the Vikings, Shurmur oversaw an offense that finished second in the league with 501 rushing attempts. This season it's likely that Shurmur will rely on the run game to take pressure off Manning and set up play-action passes.
Shurmur's Scheme
We don't know how often Shurmur will call run plays, but it's clear what type of run plays he will call. I texted my brother, Mitchell, to ask what type of run plays Shurmur likes. My brother is the starting right tackle for the Chiefs and was with the Browns when Shurmur was in charge. He said that Shurmur likes inside zone, and the data backs it up: The Vikings ran inside zone 187 times last year, the second-highest mark in the league (per Pro Football Focus). Accompanying inside zone is often the double-team, which the Vikings ran 102 times (third in NFL). The next most popular run for the Vikings was outside zone.
These are simple West Coast concepts that Shurmur dresses up with formations, shifts, motions and slight blocking-assignment adjustments. When you run inside zone plays and use double-teams, you need offensive linemen, especially inside, who are powerful, stout and explosive enough to get to the second level of the defense. The Giants drafted Hernandez and brought in Omemah, who fit that description. At center, they seem to favor the bigger Jon Halapio over Brett Jones. They have Solder at left tackle and Ereck Flowers at right tackle. It's a line set up to run what Shurmur wants.
Inside Zone & Double Teams
This is the most basic look up front for inside zone and double-teams. In general, you want to build double-teams as much as possible.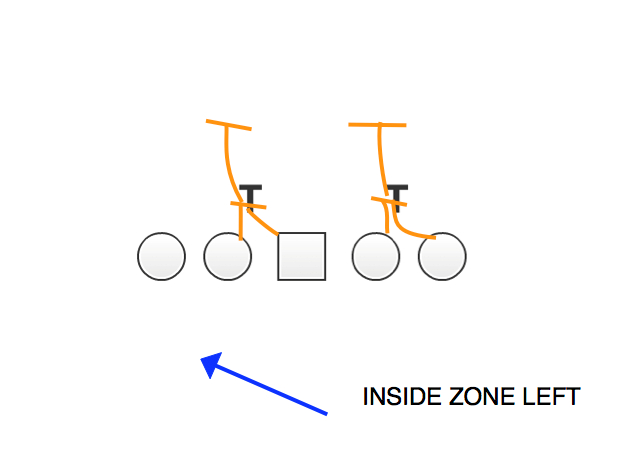 Here's an example of an inside zone run from the Vikings' Week 13 victory over the Falcons last year.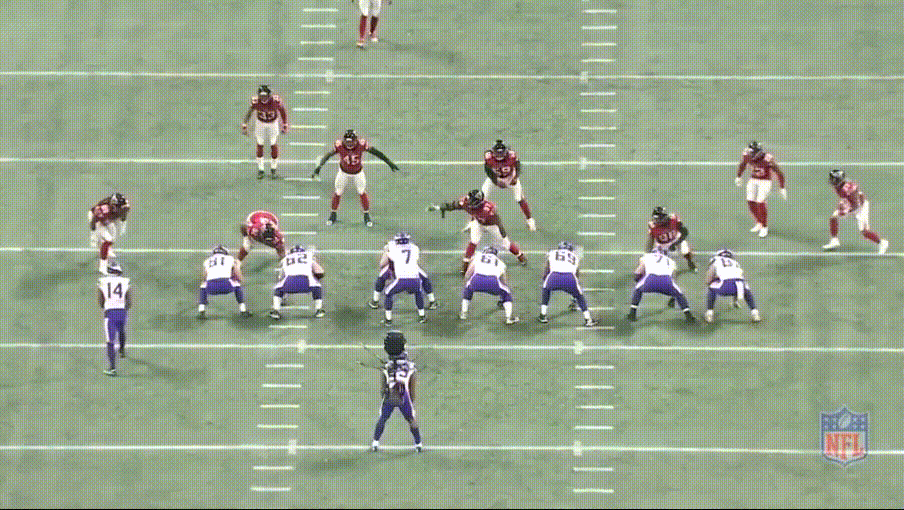 While the blocking up front for double-teams might look similar to that for inside zone, the angles are different, and the running back has a different point of attack.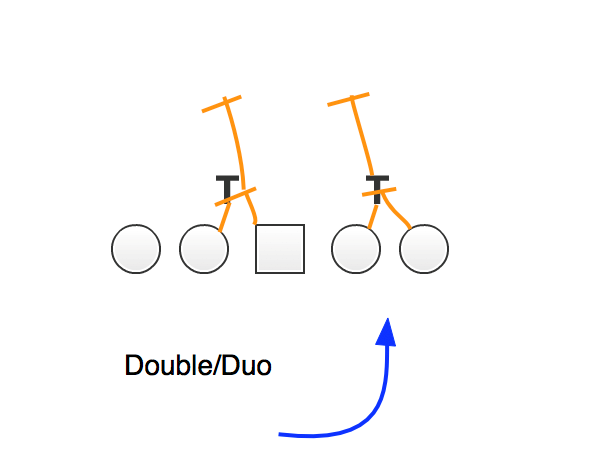 Here's an example of a double-team from the Vikings' Week 12 win over the Lions.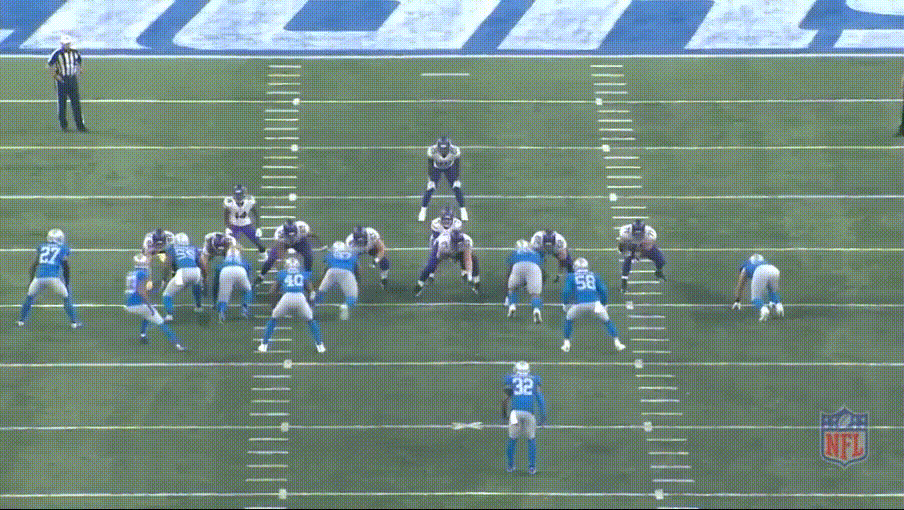 At least in theory the Giants have acquired the offensive linemen to run the plays Shurmur likes to call. Now the question is whether Shurmur's scheme fits Barkley's skill set.
College vs. NFL
We shouldn't watch Barkley's college highlights and just assume that he'll be great right away with the Giants. Penn State rarely ran these two types of plays as often as they are run in the NFL. Barkley clearly has talent. On tape he bursts through holes in the middle of the defense untouched and puts on the jets to score. He often bounces runs outside and speeds past hapless defenders to the end zone. He regularly makes would-be tacklers miss in open space. But he doesn't elude defenders as often in the middle of the field between the tackles. Barkley prefers to get to the edge, but that's not as easy to do in the NFL running these two schemes.
Barkley will need to learn to trust his blockers and the system. He'll also need to work on getting the tough interior yards that will loosen up the defense and lead to more explosive plays later in the game. The good news is that he has the skill and natural instincts to make it work, especially with this remade offensive line, so I think taking the over on 1,100.5 yards is a reasonable bet. Our own NFL expert Chris Raybon is in agreement, projecting Barkley for 1,265 yards in his rookie season!
How would you rate this article?