Koerner's Week 14 Fantasy Football Tiers: Tips for Your Playoff Run
Credit:
USA TODAY Sports. Pictured: Drew Brees (9), Travis Kelce (87), Ezekiel Elliott (21).
Sean Koerner -- the No. 1 in-season fantasy football ranker in 2015, 2016 and 2017 -- takes a detailed look at his Week 14 tiers for every position: quarterback, running back, wide receiver, tight end, defense and kicker.
Use the strategies outlined below to build the most optimal starting lineup for your fantasy football team.
Below you'll find my tiers for Week 14 fantasy football. These are based on standard scoring and cover every position.
As a reminder, these tiers are not updated after publication. If you want my most up-to-date rankings for PPR, Standard and Half-Point PPR leagues, check out this post.
Jump to a position: Quarterback | Running back | Wide receiver | Tight end | Kicker | Defense
---
Quarterbacks
Tier 1
Patrick Mahomes (vs. BAL)
Ben Roethlisberger (@ OAK)
Mahomes still gets Tier 1 status this week, despite a tough matchup against Baltimore. He's proven to be matchup-proof and even a slight ding to his projections still has him head and shoulders above the rest.
Roethlisberger joins him this week with a fantastic matchup against the Raiders.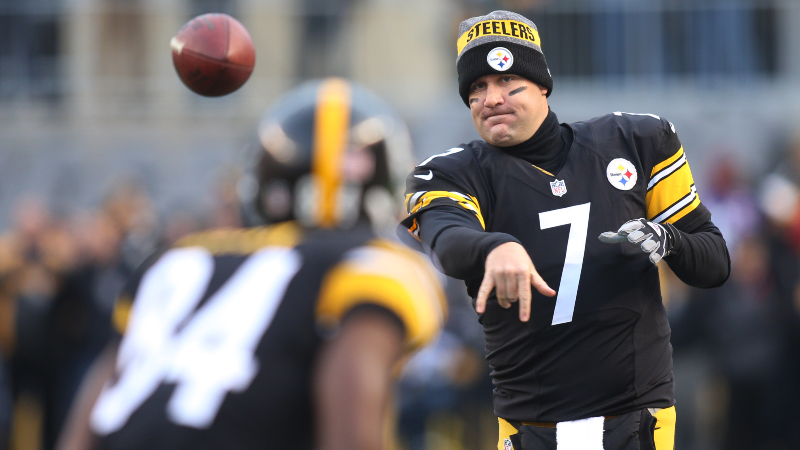 I mentioned last week that the Raiders have only allowed one 300-yard passing game all season. This is less about them having a tough secondary and much more about teams not needing to throw much to blow them out.
What the Raiders do allow are passing touchdowns. They have given up a league-high 29 this season, and Big Ben is a near-lock for multiple touchdowns this week with James Conner on the shelf.

Tier 2
Drew Brees (@ TB)
Jameis Winston (vs. NO)
Cam Newton (@ CLE)
Aaron Rodgers (vs. ATL)
Deshaun Watson (vs. IND)
Philip Rivers (vs. CIN)
Both quarterbacks in the Saints-Buccaneers matchup elevate each other's floor/ceiling in a potential shootout.
The Packers decided to fire head coach Mike McCarthy after an embarrassing home loss to the lowly Cardinals. I can see Aaron Rodgers trying to make a statement vs. the Falcons.
Philip Rivers has a high floor this week against the Bengals defense at home. The Chargers are 14-point favorites so we may not see them air it out too much, but Rivers seems like a lock for 260-280 passing yards and multiple touchdowns.
Tier 3
Mitchell Trubisky (vs. LAR)
Lamar Jackson (@ KC)
Jared Goff (@ CHI)
Tom Brady (@ MIA)
Russell Wilson (vs. MIN)
Matt Ryan (@ GB)
Andrew Luck (@ HOU)
This is the sit/start decision tier for Week 14. Assuming Lamar Jackson starts this Sunday, it is not crazy to start him over the likes of Tom Brady or Andrew Luck. His rushing ability gives a nice high floor in head-to-head formats, but also allows for a high ceiling that can single handedly win your matchup if he goes off. A matchup against the Chiefs may allow us to see what a ceiling game looks like for him.
If Mitchell Trubisky is healthy enough to start, he's a strong play this week in a potential shootout against the Rams.
On the other side of the ball, this matchup is a downgrade for Jared Goff, as he will be facing a tough Bears defense in much colder weather than he is used to. These factors will likely keep the Rams from dropping 30 points, but they are so well coached that all of their usual studs are still in play this week.
Tier 4
Dak Prescott (vs. PHI)
Kirk Cousins (@ SEA)
Neither quarterback in this tier has a particular imposing matchup, but their floors are just low enough that I wouldn't want to be relying on either in what is likely the first round of the fantasy playoffs.
Both Prescott and Cousins have much more favorable matchups in Weeks 15 and 16, so definitely hang on to them and plug them in next week.
Tier 5
Baker Mayfield (vs. CAR)
Carson Wentz (@ DAL)
Josh Allen (vs. NYJ)
Most people who own Wentz were probably expecting him to be their secret weapon come playoff time. That hasn't turned out to be the case, and I'm encouraging people to bench him if you have better options above.
He has thrown three touchdowns and four interceptions over the past three weeks and can't be trusted against a solid Cowboys defense. Dallas is tied for the third-fewest passing touchdowns allowed (16) and hasn't let a quarterback to pass for three touchdowns in a game this season.
Tier 6
Case Keenum (@ SF)
Marcus Mariota (vs. JAX)
Matthew Stafford (@ ARI)
Ryan Tannehill (vs. NE)
Eli Manning (@ WAS)
Derek Carr (vs. PIT)
This tier is only relevant to deeper two-quarterback leagues, I wouldn't want to be relying on any of these QBs this week, but are all a step above the bottom tier.
There have been some rumblings that the Giants could give Kyle Lauletta some starts to close out the season as the franchise figures out who its quarterback of the future will be.
I can see the Giants giving Eli a final start in Week 15 at home against the Titans. That has the farewell game narrative written all over it. If the team announces this in advance, it would potentially boost my projections for Eli next week.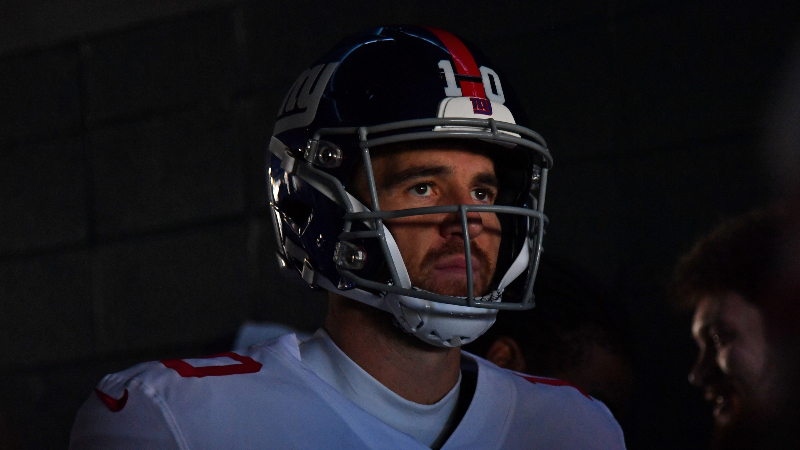 Tier 7
Jeff Driskel (@ LAC)
Nick Mullens (vs. DEN)
Mark Sanchez (vs. NYG)
Cody Kessler (@ TEN)
Josh Rosen (vs. DET)
Sam Darnold (@ BUF)
This bottom-of-the-barrel tier is for desperate teams only. Josh Rosen is ending his rookie season with a whimper. He has thrown for fewer than 150 yards in each of the past three games, and just lost his rookie receiver Christian Kirk for the season.
This week, the Cardinals are only slight underdogs against the Lions and I expect Rosen to mostly spend his time handing it off to David Johnson and Chase Edmonds.
Running Backs
Based on standard scoring; +/- indicates how many Tiers up/down each player would move in a PPR format.
Tier 1
Todd Gurley (@ CHI)
Despite the tougher matchup, Gurley still finds himself all alone in Tier 1. Playing in the cold weather at Soldier Field could force the Rams to deploy a run-heavy game script and lean on Gurley even more.
Even if the matchup could lower his efficiency some, I expect the boost in volume to even things out. The Bears have been a bit vulnerable on the ground after allowing a 19/88/2 line to LeGarrette Blount in Week 12 and 146 total yards to Saquon Barkley last week.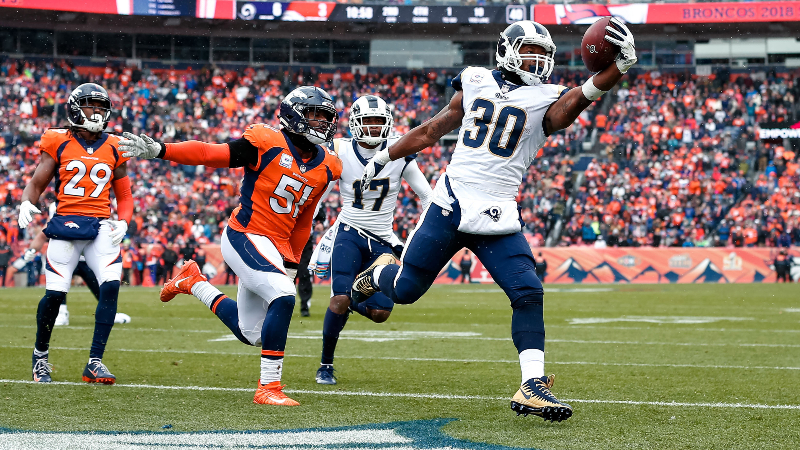 Tier 2
Christian McCaffrey (@ CLE) +1
Saquon Barkley (@ WAS)
Ezekiel Elliott (vs. PHI)
In PPR formats I actually have Christian McCaffrey as theNo. 1 overall running back. He has been a nightmare for opposing defenses all year and is one of the season's biggest surprises. We all knew he was good, but didn't realize he was this good.
He bulked up in the offseason to handle a bigger workload and it has made him a fixture in the weekly top-five running back discussion.
Tier 3
Alvin Kamara (@ TB)
Kamara deserves his own tier this week. He has hit a bit of a rough patch the past two weeks, as he has failed to score or reach 100 scrimmage yards in both games. I expect a dream matchup against the Buccaneers to bust him out of his mini-slump in a big way.
Tier 4
Aaron Jones (vs. ATL)
Nick Chubb (vs. CAR)
David Johnson (vs. DET)
Phillip Lindsay (@ SF)
Phillip Lindsay has been one of the other huge surprises of the 2018 season. The undrafted rookie impressed enough in the pre-season to make the initial roster, and has run away with the starting job ever since.
We have all been waiting for his inevitable regression to happen, and it hasn't come yet. I think he is here to stay. That's right: Someone who still lives with his parents is a RB1 heading into the fantasy playoffs.
Tier 5
Leonard Fournette (@ TEN)
Joe Mixon (@ LAC)
Austin Ekeler (vs. CIN)
Lamar Miller (vs. IND)
Leonard Fournette should return to his role of 25-plus touches on Thursday night after his one-game suspension. Austin Ekeler has managed to fall flat in the two games Melvin Gordon has missed this season.
It's one of the many perplexing trends of the season. I am willing to overlook the small sample size and project him to be an elite RB2 if in fact Gordon misses this week.
The matchup at home against the Bengals is too good to pass up. I'm aware that Justin Jackson looked like the better back last week and could have a large role Week 14, but this matchup is so good that both running backs have fantasy value.
Tier 6
Jeff Wilson (vs. DEN)
Tarik Cohen (vs. LAR)
James White (@ MIA)
Gus Edwards (@ KC)
Dalvin Cook (@ SEA)
LeSean McCoy (vs. NYJ)
Sony Michel (@ MIA)
Spencer Ware (vs. BAL)
It is incredible to think that some of us are starting the likes of Jeff Wilson and Gus Edwards with confidence in the fantasy playoffs.
With Matt Breida already ruled out Week 14 with the nagging ankle injury that has ruined what could have been a big year for him in the wake of Jerick McKinnon's season ending injury. I think it's fair to guess that 49ers could put Breida on the IR as they could ask him to get healthy for 2019.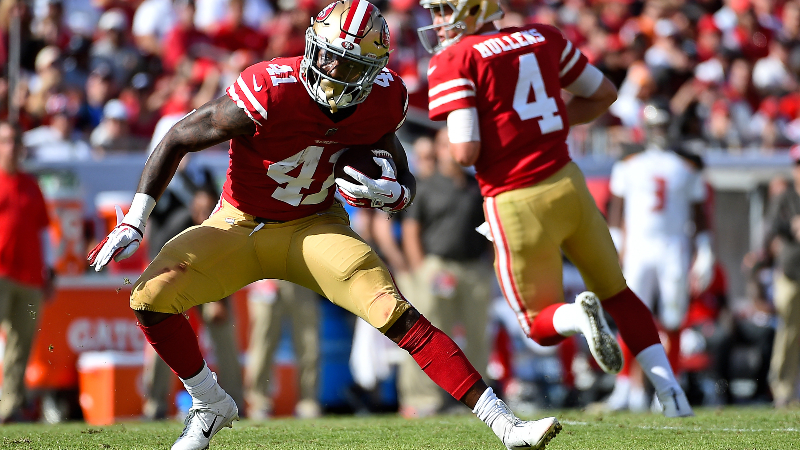 Jeff Wilson showed us last week how the 49ers intend to use him with Breida on the shelf. He saw 23 touches with eight of them being receptions. This makes him a higher floor/ceiling play than most realize, as it appears that he is game flow-proof.
I do have some pause with Gus Edwards this week, who may be hurt by the matchup against the Chiefs. If the Chiefs get up early it may be difficult for the Ravens to use their run-heavy attack of Lamar Jackson/Gus Edwards.
Edwards has practically zero involvement in the passing game, so the Ravens could turn to Ty Montgomery more this game and use the pass-catching back to keep up with the high-octane offense on the other side.
Tier 7
Mark Ingram (@ TB)
Adrian Peterson (vs. NYG)
Chris Carson (vs. MIN)
Marlon Mack (@ HOU)
Josh Adams (@ DAL)
Chris Carson suffered a dislocated finger last week. While he should still playin in Week 14, we have to wonder if it will impact his workload at all, especially considering the fact the Seahawks have a very strong three-man running back by committee.
It's a situation I will be monitoring closely, and if there are doubts on his ability to catch passes, or even have ball security, I may lower his projections. Check back Sunday morning to see my updated rankings before you make any final start/sit decisions.
Tier 8
Jaylen Samuels (@ OAK)
Tevin Coleman (@ GB)
Isaiah Crowell (@ BUF)
Doug Martin (vs. PIT)
Justin Jackson (vs. CIN)
Jordan Howard (vs. LAR)
Kenyan Drake (vs. NE)
The fantasy story of Week 14 story is Conner being ruled out and Jaylen Samuels likely being the Steelers' lead back. I don't think Samuels will step right into the Le'Veon Bell/James Conner workhorse-type role. He will likely split touches with Stevan Ridley.
I view him as a low end RB2/Flex option, but the real story here is that he is TE-eligible on some fantasy sites.
On those sites, he is essentially a "cheat code" and he has real value when being plugged into the weakest position in fantasy. You will see in my tight end tiers just how high he ranks at the position this week — it may alarm you.
Tier 9
Dion Lewis (vs. JAX)
Derrick Henry (vs. JAX)
Peyton Barber (vs. NO)
Kerryon Johnson (@ ARI)
Frank Gore (vs. NE)
Jalen Richard (vs. PIT) +1
It's going to be hard to trust either Titans running back this week. Derrick Henry is a touchdown-or-bust back, while Dion Lewis has really fizzled out as of late, failing to top 45 total yards in three straight games.
We still don't know if Kerryon Johnson will return from his knee injury this week or what his role will be. Check back to see his updated rank once we know more info come Sunday.
Wide Receivers
Tier 1
Antonio Brown (@ OAK)
While there have been signs that Brown's throne atop the wide receiver position could be slipping, you wouldn't know by looking at his box score production.
He gets a matchup this week where the Steelers may not need to pass much to put away the Raiders, but his odds to score a touchdown are about as high as you can get at receiver.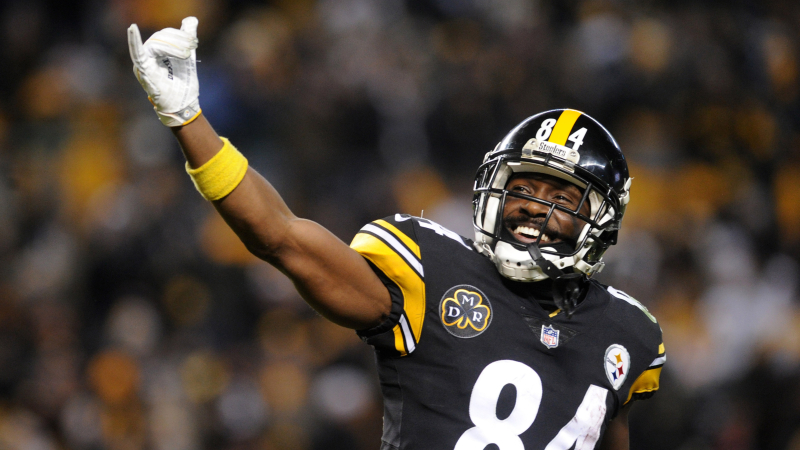 Tier 2
Davante Adams (vs. ATL)
Tyreek Hill (vs. BAL)
Keenan Allen (vs. CIN)
DeAndre Hopkins (vs. IND)
Michael Thomas (@ TB)
Julio Jones (@ GB)
Adam Thielen (@ SEA)
Odell Beckham (@ WAS)
Each week, this tier contains the same set of stud wide receivers with the order being shuffled quite a bit. We can nitpick specific WR/CB matchups, but in the end, you should be starting all of these receivers with confidence.
Tier 3
JuJu Smith-Schuster (@ OAK)
Mike Evans (vs. NO)
Emmanuel Sanders (@ SF)
Kenny Golladay (@ ARI)
Robert Woods (@ CHI)
Brandin Cooks (@ CHI)
T.Y. Hilton (@ HOU)
Amari Cooper (vs. PHI)
Golladay has been much better than his box score production. The Lions have been very conservative in the red zone as of late, feeding Blount the ball and even drawing up a play where offensive lineman Taylor Decker caught a touchdown.
Golladay had a near-touchdown catch in the back of the end zone, but just missed getting both feet down. He has had so many potential touchdowns either called back by penalty or just missing them by inches this season.
Emmanuel Sanders reportedly suffered a serious injury at practice on Wednesday.
Not that there was much a doubt, but an MRI confirmed that Broncos' WR Emmanuel Sanders suffered a torn left Achilles tendon during practice today and he now is on season-ending injured reserve.

— Adam Schefter (@AdamSchefter) December 6, 2018
Be sure to check my updated rankings to see how it impacts all Broncos pass catchers as it will have a massive ripple effect on the entire offense.
Tier 4
Stefon Diggs (@ SEA)
Julian Edelman (@ MIA)
Tyler Lockett (vs. MIN)
Josh Gordon (@ MIA)
Tyler Boyd (@ LAC)
Chris Godwin (vs. NO)
Allen Robinson (vs. LAR)
Stefon Diggs is dealing with a nagging knee injury, and one thing we have learned about him is he typically does not play to his full potential when he is banged up. His final rank this week will depend on how healthy he appears heading into Week 14.
Chris Godwin's stock is shooting way up with the Bucs discussing the possibility of shutting down DeSean Jackson for the season. As a player who is typically on the field for 50% of the snaps when Jackson is healthy, Godwin saw that shoot up to 80% last week and turned in a massive 5/101/1 game Week 13.
He's in a great spot this week vs. a Saints defense that typically allows secondary receivers to go off.
Tier 5
D.J. Moore (@ CLE)
Larry Fitzgerald (vs. DET)
Courtland Sutton (@ SF)
Jarvis Landry (vs. CAR)
Corey Davis (vs. JAX)
Courtland Sutton should shoot up into the WR2 range with the Sanders injury. I have been waiting for him to break out ever since the Broncos traded away Demaryius Thomas. It took a few weeks, but we finally saw Sutton bust out with a 4/85/1 line in Week 13. His value should skyrocket to close out the season.
Tier 6
Doug Baldwin (vs. MIN)
Adam Humphries (vs. NO)
Alshon Jeffery (@ DAL)
Calvin Ridley (@ GB)
Taylor Gabriel (vs. LAR)
This tier has some sneaky upside this week. Adam Humphries is another Buccaneers receiver who will benefit if D-Jax gets shut down for the season. He is a high-floor receiver in PPR formats and can really help out teams in the playoffs.
Calvin Ridley has been incredibly frustrating for owners who are still chasing his insane start to the season. The rookie is a high-risk/reward play this week, and I'm leaning toward him having a big game this week in what could be a shootout in Wisconsin.
Tier 7
Tre'Quan Smith (@ TB)
Golden Tate (@ DAL)
Curtis Samuel (@ CLE)
Mike Williams (vs. CIN)
Zay Jones (vs. NYJ)
Sterling Shepard (@ WAS)
Josh Reynolds (@ CHI)
Demaryius Thomas (vs. IND)
DeVante Parker (vs. NE)
Tyrell Williams (vs. CIN)
Dante Pettis (vs. DEN)
Mohamed Sanu (@ GB)
Dede Westbrook (@ TEN)
In one of the more shocking developments this week, Zay Jones is now in play as a potential option. The Bills decided to cut bait with Kelvin Benjamin, which makes Zay the unquestioned No. 1 receiver for the Bills. His past three games are as follows: 8/93/1, 0/0/0, 4/67/2.
This highlights just how much of a high-risk/reward player he is. Jones' floor is putting up a zero, but I think he is trending up and worth a gamble this week if you are desperate.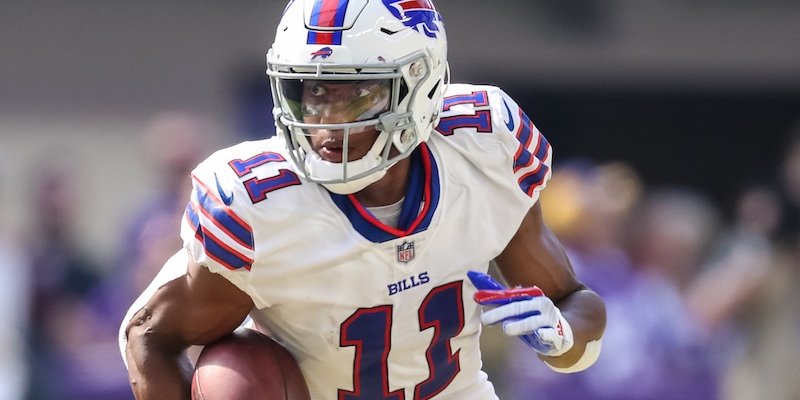 Golden Tate finally got going in Week 13, as he posted his best game as a member of the Eagles with a 7/85/1 line. We have to realize that a receiver needs time to learn the playbook and fit into an offense.
Tate will only get better as the season goes on, and I think we can trust him now, especially in PPR formats.
Tier 8
Michael Gallup (vs. PHI)
Anthony Miller (vs. LAR)
Bruce Ellington (@ ARI) +1
Devin Funchess (@ CLE)
Kenny Stills (vs. NE)
Sammy Watkins (vs. BAL)
Marquez Valdes-Scantling (vs. ATL)
Robby Anderson (@ BUF)
Jordy Nelson (vs. PIT)
Antonio Callaway (vs. CAR)
As always, I think we need to treat this tier with a bit of game theory and think about what we want to accomplish with starting a low-end flex option.
If you are a pretty sizable favorite, target a receiver in the high floor list below.
If you are an underdog or need to put up a high(er) score this week for tiebreaker purposes (as most leagues use season total points to break ties for playoff seeding), lean toward a high-ceiling option below.
High(er) floor: Ellington (PPR), Miller, Gallup, Nelson
High(er) ceiling: Funchess, Stills, MVS, Anderson
Tight Ends
Tier 1
Travis Kelce (vs. BAL)
Kelce is matchup-proof and although the Ravens are a tough matchup on paper, they have been a bit vulnerable to the tight end position, allowing a touchdown in four of the past five games.
Tier 2
Zach Ertz (@ DAL)
The model of consistency at fantasy football's least consistent position, Ertz has only failed to put up at least 70 yards or a touchdown in two games this season.
Tier 3
Jaylen Samuels (@ OAK)
George Kittle (vs. DEN)
Eric Ebron (@ HOU)
Rob Gronkowski (@ MIA)
Jared Cook (vs. PIT)
I promised earlier that Samuels' rank at tight end might shock you. You are reading that correctly, as he is my No. 3 tight end as of now. Any site where he is TE-eligible makes him a cheat code this week. Putting him at running back or the Flex sort of kills this massive value he provides.
If you own Kelce or Ertz it may feel disappointing knowing you can't take advantage of this situation, but you should have at least made sure that no one else in your league can scoop Samuels up.
Being the potential starting running back this week for the Steelers allows him to be a lock for 10-15 touches, which is something that can't be said for any tight end due to the nature of the position.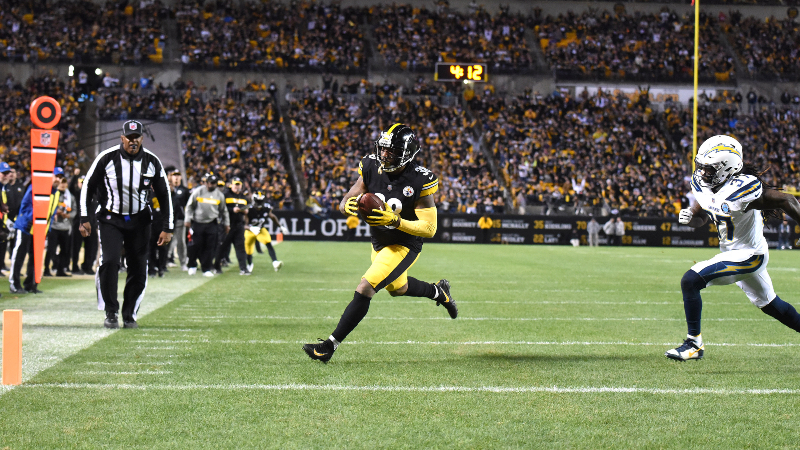 The fact that the Steelers are facing the Raiders makes Samuels' chances of being the top-scoring tight end this week very likely. I have been waiting all season for this situation to potentially happen, and it could not have come at a more critical time heading into the fantasy playoffs.
A stacked team that was weak at tight end and added Samuels has a huge advantage entering the playoffs.
All that being said, Samuels' floor is still unknown and he could disappoint if, say, the Steelers make Ridley the feature back this week. You have to put it in perspective that all tight ends outside of the top three this year have low floors.
If you've stuck with Trey Burton the past few weeks, can you really complain if Samuels "busts" by only putting up four standard points?
Tier 4
Cameron Brate (vs. NO)
Austin Hooper (@ GB)
Jordan Reed (vs. NYG)
Jimmy Graham (vs. ATL)
David Njoku (vs. CAR)
Vance McDonald (@ OAK)
If you were unable to upgrade to Samuels, you could do worse than relying on someone from this tier. They all offer touchdown potential, while also having enough yardage potential that won't kill you if they failed to score.
Njoku has been frustrating as hell lately. Despite Mayfield throwing for nearly 400 yards in Week 13, Njoku only managed to have eight receiving yards. It would be very dangerous to bench him out of anger if there are no better options out there.
This position forces you to take a beating in weeks like that, but you need to stick with him this week and hope for a bounce-back game.
Tier 5
Trey Burton (vs. LAR)
Kyle Rudolph (@ SEA)
C.J. Uzomah (@ LAC)
Christopher Herndon (@ BUF)
Matt LaCosse (@ SF)
Only the deepest of leagues should need to worry about these tight ends, but I would urge people who rolled to dice on LaCosse last week (zero catches) to stick with him this week, especially if Sanders' injury turns out to be significant.
Tier 6
Ian Thomas (@ CLE)
Jonnu Smith (vs. JAX)
Evan Engram (@ WAS)
Levine Toilolo (@ ARI)
Ricky Seals-Jones (vs. DET)
Ian Thomas will take over as the Panthers starting tight end with Greg Olsen being placed on the IR. He has the talent to be a potential TE1 with the expanded role, but he failed to produce much when Olsen was out with an injury earlier this season.
Kickers
Tier 1
Wil Lutz (@ TB)
Tier 2
Harrison Butker (vs. BAL)
Chris Boswell (@ OAK)
Mike Badgley (vs. CIN)
Stephen Gostkowski (@ MIA)
Tier 3
Ka'imi Fairbairn (vs. IND)
Mason Crosby (vs. ATL)
Greg Zuerlein (@ CHI)
Justin Tucker (@ KC)
Tier 4
Sebastian Janikowski (vs. MIN)
Graham Gano (@ CLE)
Adam Vinatieri (@ HOU)
Brandon McManus (@ SF)
Brett Maher (vs. PHI)
Matt Prater (@ ARI)
Cairo Santos (vs. NO)
Dan Bailey (@ SEA)
Ryan Succop (vs. JAX)
Steven Hauschka (vs. NYJ)
Matt Bryant (@ GB)
Cody Parkey (vs. LAR)
Tier 5
Dustin Hopkins (vs. NYG)
Jake Elliott (@ DAL)
Robbie Gould (vs. DEN)
Greg Joseph (vs. CAR)
Aldrick Rosas (@ WAS)
Jason Sanders (vs. NE)
Daniel Carlson (vs. PIT)
Tier 6
Zane Gonzalez (vs. DET)
Josh Lambo (@ TEN)
Jason Myers (@ BUF)
Randy Bullock (@ LAC)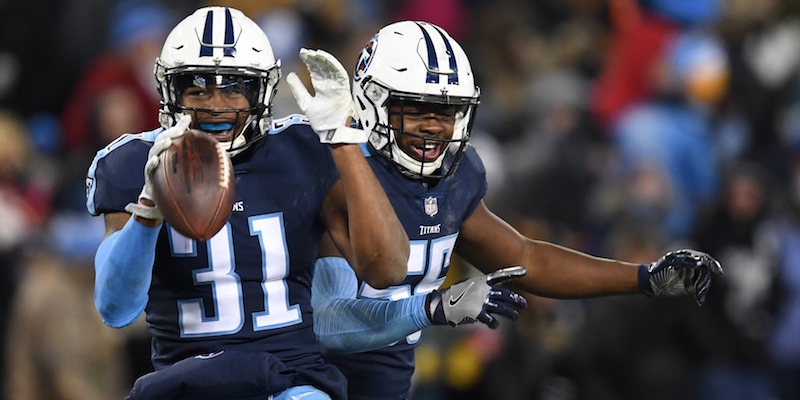 Defenses
Tier 1
Los Angeles Chargers (vs. CIN)
Buffalo Bills (vs. NYJ)
Tennessee Titans (vs. JAX)
Detroit Lions (@ ARI)
Tier 2
Denver Broncos (@ SF)
New York Giants (@ WAS)
Tier 3
Pittsburgh Steelers (@ OAK)
New England Patriots (@ MIA)
Dallas Cowboys (vs. PHI)
New York Jets (@ BUF)
Seattle Seahawks (vs. MIN)
Jacksonville Jaguars (@ TEN)
Arizona Cardinals (vs. DET)
Carolina Panthers (@ CLE)
Washington Redskins (vs. NYG)
New Orleans Saints (@ TB)
Houston Texans (vs. IND)
Los Angeles Rams (@ CHI)
Kansas City Chiefs (vs. BAL)
Green Bay Packers (vs. ATL)
Philadelphia Eagles (@ DAL)
Tier 4
Indianapolis Colts (@ HOU)
Cleveland Browns (vs. CAR)
Minnesota Vikings (@ SEA)
San Francisco 49ers (vs. DEN)
Tier 5
Chicago Bears (vs. LAR)
Baltimore Ravens (@ KC)
Atlanta Falcons (@ GB)
Miami Dolphins (vs. NE)
Tier 6
Oakland Raiders (vs. PIT)
Cincinnati Bengals (@ LAC)
Tier 7
Tampa Bay Buccaneers (vs. NO)