Koerner's Week 4 Fantasy Football Tiers: QB
Credit:
USA TODAY Sports. Pictured: Drew Brees and Deshaun Watson
Sean Koerner -- the No. 1 in-season fantasy football ranker in 2015, 2016 and 2017 -- takes a detailed look at his Week 4 quarterback tiers.
Use the strategies outlined below to build the most optimal starting lineup for your fantasy football team.
Below you'll find my quarterback tiers for Week 4 fantasy football. These are based on standard scoring.
As a reminder, these tiers are not updated after publication. If you want my most up-to-date rankings for PPR, Standard and Half-Point PPR leagues, check out this post.
And, yes, my tiers will be part of our Action Network subscription this season. Be sure to check out the awesome special we're currently running below for an annual sub.
---
Koerner's Quarterback Tiers
Tier 1
Patrick Mahomes (@ DEN)
Mahomes "regressed" to a 314-yard, three-touchdown game in Week 3. He is still on a historic pace and should be treated as the No. 1 quarterback moving forward.
Tier 2
Aaron Rodgers (vs. BUF)
Drew Brees (@ NYG)
Deshaun Watson (@ IND)
Matt Ryan (vs. CIN)
Ben Roethlisberger (vs. BAL)
Tom Brady (vs. MIA)
Don't let the Texans' 0-3 start fool you. Watson appears to be regaining his 2017 form. It's worth pointing out that Will Fuller's availability should be considered when we project Watson going forward.
Since Fuller's debut in Week 2, Watson has averaged 347 passing yards and two touchdowns per game.
With three straight games of 35-plus rushing yards, it's also safe to say his ACL tear hasn't slowed him down one bit. Watson still needs to be treated as an elite QB1.
Tier 3
Philip Rivers (vs. SF)
Rivers is in a bit of a tricky spot. While the Chargers should win this game fairly easily against a 49ers team sans Jimmy G, we have to wonder if Rivers won't need to throw much to put this game away. The 49ers do not pose as a tough matchup and will be without Richard Sherman this week. I'm treating Rivers as a high-floor/low-ceiling back-end QB1 this week.
Tier 4
Ryan Fitzpatrick (@ CHI)
Andrew Luck (vs. HOU)
Russell Wilson (@ ARI)
Despite an ugly start on Monday night, it appears FitzMagic is still with us for now. Jameis Winston returns from his three-game suspension this week, which should fuel a quarterback controversy if Fitzpatrick slows down at all going forward.
Both quarterback options offer QB1 value every week, as the Buccaneers have one of the top receiving corps in all of football. Not to mention, the Buccaneers have made almost no effort to establish a running game to this point.
With Luck, it was a bit telling that Jacoby Brissett was brought in for the final play to attempt a Hail Mary. That made it crystal clear that the team and/or Luck himself isn't confident in his shoulder strength quite yet.
At the moment, he's much more of an underneath game manager. As someone who had the same shoulder surgery Luck had in 2016, I know how much it limits your range of motion. (Important caveat: Luck is a professional athlete who received around-the-clock treatment likely getting him as close to 100% as one can get following this type of surgery.)
Although we need to lower our expectations for him, it was encouraging to see his rushing ability return this week with a nice 33-yard run. His dual-threat ability is what gives him QB1 upside this week.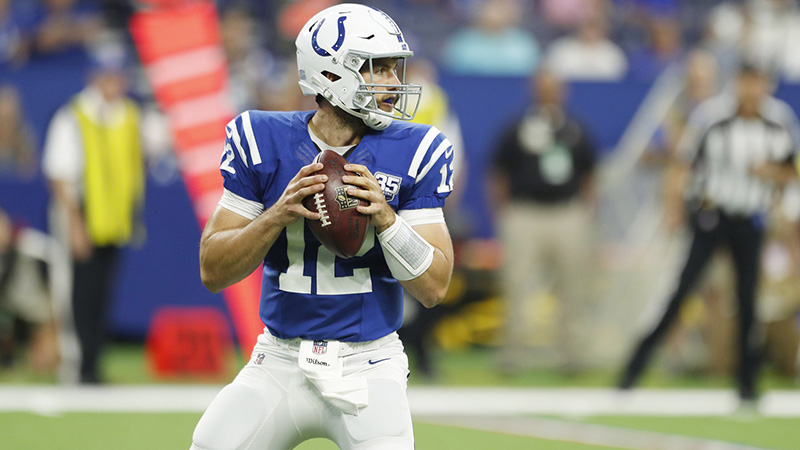 Tier 5
Carson Wentz (@ TEN)
Matthew Stafford (@ DAL)
Jared Goff (vs. MIN)
Andy Dalton (@ ATL)
Kirk Cousins (@ LA)
Blake Bortles (vs. NYJ)
Mitch Trubisky (vs. TB)
This QB2 tier is one where a Cam Newton owner can potentially nab a BYE week fill-in. Cousins was forced to attempt 55 passes in Week 3, as somehow the Vikings were in permanent comeback mode at home against the Bills.
He'll get a tough test Thursday night against the Rams. The blessing in disguise is that star corners Aqib Talib and Marcus Peters are likely to miss due to injury this week, making this matchup much less imposing.
Tier 6
Case Keenum (vs. KC)
Ryan Tannehill (@ NE)
Joe Flacco (@ PIT)
Baker Mayfield (@ OAK)
Eli Manning (vs. NO)
Dak Prescott (vs. DET)
Derek Carr (vs. CLE)
In two-quarterback leagues you can certainly do worse than this Tier. Keenum could be in trouble if he can't get on track against a leaky Chiefs defense. May be worth handcuffing him with Chad Kelly in a deep two-QB league.
Mayfield is a high-upside flier who is worth a stash if he is somehow still available.
Tier 7
C.J. Beathard (@ LAC)
Josh Allen (@ GB)
Marcus Mariota (vs. PHI)
Do not sleep on Beathard in two-QB leagues. He displayed his dual-threat ability in his six starts he made for the 49ers last year. This is still a Kyle Shanahan offense with quite a few weapons for him to throw to.
The 49ers won't be nearly as potent without Jimmy G under center, but Beathard could see plenty of weeks where he puts up QB2 value.
Tier 8
Josh Rosen (vs. SEA)
Sam Darnold (@ JAX)
I do not recommend rolling with Rosen in his first career start. Nor do I recommend Darnold, who has one of the worst matchups in all of football on the road against the elite Jaguars defense.