Koerner's Week 6 Fantasy Football QB Tiers: How to Handle Deshaun Watson's Uncertain Status
Credit:
Aaron Doster-USA TODAY Sports. Pictured: Deshaun Watson
Sean Koerner -- the No. 1 in-season fantasy football ranker in 2015, 2016 and 2017 -- takes a detailed look at his Week 6 quarterback tiers.
Use the strategies outlined below to build the most optimal starting lineup for your fantasy football team.
Below you'll find my quarterback tiers for Week 6 fantasy football. These are based on standard scoring.
As a reminder, these tiers are not updated after publication. If you want my most up-to-date rankings for PPR, Standard and Half-Point PPR leagues, check out this post.
And, yes, my tiers will be part of our Action Network subscription this season. Be sure to check out everything that comes with a sub here.
---
Koerner's Quarterback Tiers
Tier 1
Patrick Mahomes (@ NE)
Mahomes had to allow a few other quarterbacks to rent space in his Tier 1 AirBnB last week as he faced a brutal Jaguars defense. Now he gets a slam-dunk shootout with the Patriots this week and has moved back into Tier 1 all alone.
Tier 2
Aaron Rodgers (vs. SF)
Matt Ryan (vs. TB)
Tom Brady (vs. KC)
Deshaun Watson (vs. BUF)
This has been one of the more unusual NFL seasons I can remember — so unusual that I was getting some slack for having Rodgers in Tier 1 last week. Granted, after Randall Cobb and Geronimo Allison were both officially ruled out, I lowered Rodgers' projections/rank some.
We are five weeks into the season now, which means we have enough data to begin updating the rankings we had to begin the season. On the flip side, we also need to not cast away one of the greatest players to ever play the game as used garbage after a few games.
I always emphasize the need to find the balance between preseason expectations and in-season results, and not to overweight the latter.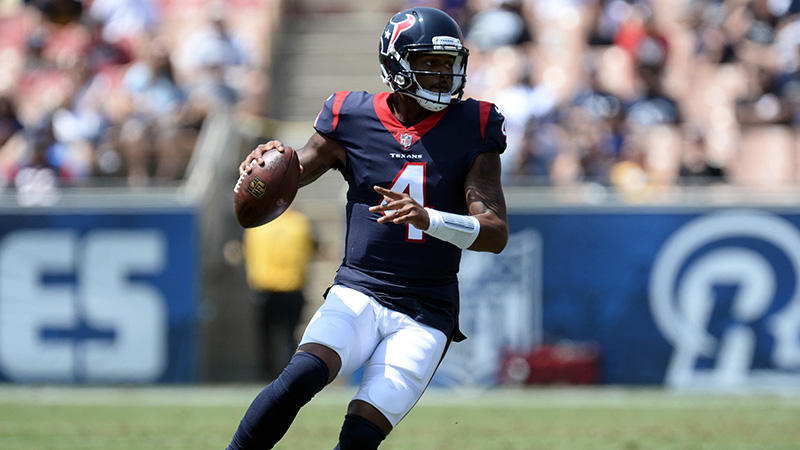 Deshaun Watson could have had a massive Week 5 if not for some perplexing play-calling around the goal line. The Texans need to find better ways to use one of the most dynamic quarterbacks inside the 20.
Watson's stock has been rising after a slow start. He is day-to-day but tentatively expected to play in Week 6. Be sure to monitor his status and have potential backup plans in case he is unable to go.
Tier 3
Jameis Winston (@ ATL)
Kirk Cousins (vs. ARI)
Cam Newton (@ WAS)
Jameis Winston seems to be a distant memory to people. He returned from his three-week suspension only to have Ryan Fitzpatrick "win" the starting job in Week 4.
The Bucs then benched Fitzpatrick in-game and handed the keys to the offense back to Winston. They then had their BYE in Week 5, and now here we are in Week 6 with Winston set to start his first game of the season.
While many people are busy overreacting and obsessing over the first five weeks of the season, I was able to pick up Winston in a few of my leagues. He is a rock-solid QB1 this week in a dream matchup in a dome game against a decimated Falcons defense.
Tier 4
Jared Goff (@ DEN)
Goff gets his own Tier for now because two of his top wide receivers (Brandin Cooks and Cooper Kupp) are in the concussion protocol this week. His final rank will come down to their availability, so be sure to check my updated rankings on Sunday before making any sit/start decision with him.
Tier 5
Andy Dalton (vs. PIT)
Ben Roethlisberger (@ CIN)
Russell Wilson (@ OAK)
Russell Wilson has been arguably the biggest bust at the position. Luckily, I have been ranking him in the bottom half of the position with Doug Baldwin either out or playing at less than 100%. As Baldwin gets healthier, Wilson's value will get a boost.
However, the biggest concern for Wilson has been the lack of rushing stats. A lot of this can be attributed to the Seahawks actually having some semblance of a run game. It's helped take a lot of the pressure off Wilson, which has caused his fantasy production to suffer.
A matchup against a leaky Raiders defense in London could be a prime spot for him to get his fantasy relevance back — for at least a week.
Tier 6
Blake Bortles (@ DAL)
Carson Wentz (@ NYG)
Bortles continued to put up eye-popping numbers without Leonard Fournette in Week 5 with the most Bortles-looking stat line we've seen: 61 pass attempts, 430 yards, one pass touchdown, four interceptions, 34 rush yards, one rush touchdown and a lost fumble (of course).
He's more of a high-end QB2, and you almost have to just plug your nose, put him in your lineup, and just look at the final score he puts up.
Tier 7
Andrew Luck (@ NYJ)
Alex Smith (vs. CAR)
Mitch Trubisky (@ MIA)
Philip Rivers (@ CLE)
Luck managed to put up QB1 numbers despite missing two of his top weapons, T.Y. Hilton and Jack Doyle. There's a chance both are out again this week. I think we can tentatively treat Luck as a high-end QB2 due to the fact that the Colts have almost no run game to speak of.
They seem content using Nyheim Hines dump-offs as an extension of the running game. Luck needs to start having some rushing stats himself before he becomes too touchdown dependent.
Tier 8
Baker Mayfield (vs. LAC)
Derek Carr (vs. SEA)
Joe Flacco (@ TEN)
Mayfield escaped a tough matchup versus the Ravens with a 342-yard game through the air. He is going to be a potential QB1/2 stud at some point, but I'm afraid we still need to be cautious with him. I'm not quite at the point where I can be projecting him over someone such as Dalton quite yet.
Tier 9
Case Keenum (vs. LAR)
C.J. Beathard (@ GB)
Eli Manning (vs. PHI)
Keenum erupted for a 377-yard game in a Week 5 loss to the Jets. While it was a potential matchup-winning game for owners in 2QB leagues, we have to wonder if his days as a starter are numbered. The Broncos could turn to Chad Kelly sooner than later to see what they have in the Ole Miss product.
Tier 10
Marcus Mariota (vs. BAL)
Ryan Tannehill (vs. CHI)
Sam Darnold (vs. IND)
Josh Allen (@ HOU)
These are all dicey two-quarterback league plays and potential BYE week fill-ins for Matthew Stafford and/or Drew Brees owners.
Tier 11
Dak Prescott (vs. JAX)
Josh Rosen (@ MIN)
Prescott against the Jaguars is the biggest fade possible. The only way he manages to eke out a decent week in fantasy is if he has a big day with his legs.