Koerner's Week 5 Fantasy Football RB Tiers: Should You Trade James Conner Now?
Credit:
Charles LeClaire-USA TODAY Sports. Pictured: James Conner
Sean Koerner -- the No. 1 in-season fantasy football ranker in 2015, 2016 and 2017 -- takes a detailed look at his Week 5 running back tiers.
Use the strategies outlined below to build the most optimal starting lineup for your fantasy football team.
Below you'll find my running back tiers for Week 5 fantasy football. These are based on standard scoring.
As a reminder, these tiers are not updated after publication. If you want my most up-to-date rankings for PPR, Standard and Half-Point PPR leagues, check out this post.
And, yes, my tiers will be part of our Action Network subscription this season. Be sure to check out the awesome special we're currently running below for an annual sub.
---
Koerner's Running Back Tiers
Based on standard scoring; +/- indicates how many Tiers up/down each player would move in a PPR format.
Tier 1
Todd Gurley (@ SEA) -1
In standard scoring, Gurley is the clear top RB this week, but in PPR, he joins the three or four players below. Like I mentioned earlier, the Rams offense is so potent that there are more than enough yards/TDs to go around.
Gurley is the lifeblood of the offense and the optimal blend of high-floor/ceiling.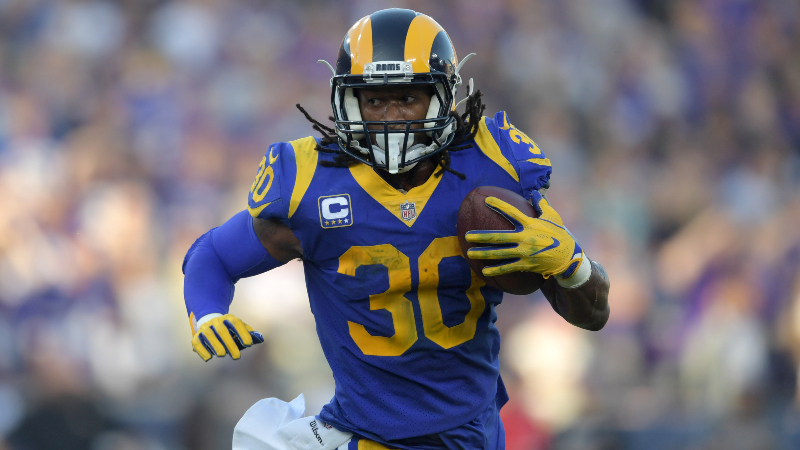 Tier 2
Melvin Gordon (vs. OAK)
Ezekiel Elliott (@ HOU) -1
Alvin Kamara (vs. WAS)
Kamara is significantly more valuable in a PPR format, but I do think his floor is going to take a slight hit with Mark Ingram returning this week. The Saints didn't really try to use Mike Gillislee in a temporary "Ingram role" when Ingram served his four-game suspension.
While I don't think Ingram will return to his 2017 role right away, there is no doubt he's going to take away a handful of touches.
Having said all that, Kamara is a threat to score from anywhere on the field whenever he touches the ball, so his No. 1 overall RB upside in any format will always be there.
Tier 3
Christian McCaffrey (vs. NYG)
McCaffrey should be well rested after the Panthers' BYE and ready to take on his increased 2018 role. Week 3 was the first game he's played every single offensive snap; he saw a career high 30 touches.
McCaffrey's stock is through the roof at the moment.
Tier 4
Saquon Barkley (@ CAR)
James Conner (vs. ATL)
The Le'Veon Bell saga continues this week, as it appears he's likely to report to the Steelers in Week 7. There is still the possibility that Bell gets traded before then, which makes Conner's rest-of-season value very murky going forward.
As a proud Conner owner in many leagues, I'm willing to just ride it out with him as long as I can.
Any trade offers I have received have been a complete joke, and if Conner returns to the backup role by Week 7, I will have already amassed a huge ROI% on him as a final-round pick.
Conner is a rock-solid RB1 this week against a Falcons defense that has been decimated by injuries and struggles against pass-catching backs such as Conner.
Tier 5
David Johnson (@ SF)
I predicted we would get vintage DJ last week with the possibility of the Cardinals finally being in a competitive game. Josh Rosen certainly gave them a much-needed boost at QB, and I think they can keep it close against the 49ers this week.
Expect another 20 to 25 touches from Johnson, and if he puts up good numbers, I'd actually consider selling high considering Arizona's O-line issues. The Cards are unlikely to be competitive in many games beyond Week 5.
Tier 6
Kareem Hunt (vs. JAX)
Marshawn Lynch (@ LAC)
Sony Michel (vs. IND)
Last week, I pointed out that I was ultra-high on Michel in Week 4 and beyond. I was never down on his talent, but the Patriots' crowded backfield suppressed his projections a bit.
With Rex Burkhead on IR, Michel got a significant boost in my model last week, as I expected him to see more touches. Unsurprisingly, he had more carries in Week 4 (25) than he had in Weeks 2-3 combined (24).
Michel is locked and loaded as a RB1 again this week in a great spot vs. the Colts.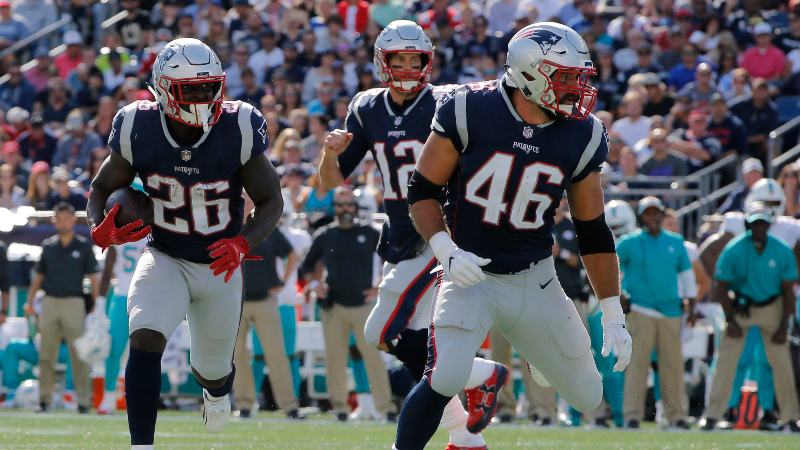 Tier 7
T.J. Yeldon (@ KC)
Carlos Hyde (vs. BAL)
James White (vs. IND) +1
Jay Ajayi (vs. MIN)
With Leonard Fournette set to miss Week 5, we have to treat Yeldon as a high-end RB2.
Yeldon has been incredibly frustrating over the past couple years. He seems to save his best games for when Fournette is active and stink when he is set to see the majority of work.
This season, Yeldon has averaged eight fantasy points per game when starting for Fournette and 17 fantasy when Fournette starts. I'm banking on logic making a comeback in 2018 and have Yeldon putting up RB2 numbers this week. Fingers crossed.
Tier 8
Matt Breida (vs. ARI)
Chris Thompson (@ NO) +2
Lamar Miller (vs. DAL)
Kerryon Johnson (vs. GB)
Adrian Peterson (@ NO)
Alex Collins (@ CLE)
Mark Ingram (vs. WAS)
LeSean McCoy (vs. TEN)
Joe Mixon (vs. MIA)
Running back rankings/projections are extremely volatile since they're intertwined with the health/status of their fellow RB teammates. Be sure to check out my updated rankings as these will surely be different when it's time to lock in our lineups.
At the time of writing, it's still unknown whether AP and Mixon will play. Even if Mixon is active, his rank could go up/down just based on how healthy he is and/or how many touches we can expect from him.
Ingram returns from his four-week suspension. I'm treating him as a low-end RB2 for now. We'll see how much of his 2017 role he will regain.
Alvin Kamara has proven that he can handle a massive workload, so we will need to closely monitor how they plan on splitting up their touches going forward.
Tier 9
Dion Lewis (@ BUF) +1
Bilal Powell (vs. DEN)
Phillip Lindsay (@ NYJ)
Dalvin Cook (@ PHI)
Derrick Henry (@ BUF) -1
Kenyan Drake (@ CIN)
Devonta Freeman (@ PIT)
Tevin Coleman (@ PIT)
Austin Ekeler (vs. OAK)
Royce Freeman (@ NYJ)
Isaiah Crowell (vs. DEN)
Freeman is tentatively expected to return Week 5 in what should be a shootout against the Steelers. As of now, I'm projecting his return to push both Coleman and him to dicey FLEX options. It's still early, so I'm hoping we can find out more over the next few days to get some clarity on this highly potent RBBC.
I wouldn't blame people for giving up on Drake after a dreadful two-week stretch in which he put up 26 total yards combined. But as Chris Raybon said on our Wednesday podcast, football players have a funny way of regressing to their mean, and we could see Drake have a big game this week vs. Cincy.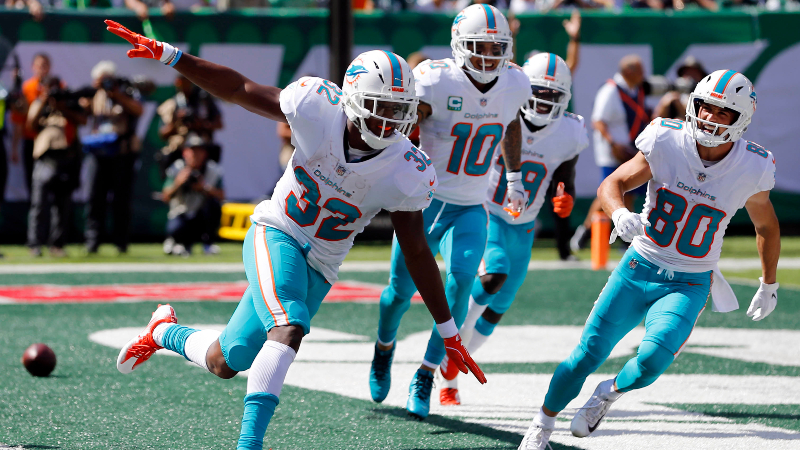 Tier 10
Giovani Bernard (vs. MIA)
Aaron Jones (@ DET)
Javorius Allen (@ CLE)
This Tier is full of guys stuck in RBBC situations, so I'm treating them more as low-end FLEX plays I hope you aren't relying on this week.
If Joe Mixon is unable to go or will be limited in any way, then Gio would shoot up a few Tiers.
Tier 11
Chris Carson (vs. LAR)
Alfred Morris (vs. ARI)
Jamaal Williams (@ DET)
All three of these guys saw their stock take a hit last week. Carson missed Week 4 after a 30-plus touch game in Week 3 and is now apparently in a three-way committee with Mike Davis and Rashaad Penny, making him very hard to trust this week.
Morris is now predictably turning into Matt Breida's "backup" as opposed to competing in a true RBBC. Jamaal Williams seems to have let his hold on the Packers' RBBC go by letting Aaron Jones pass him up. That whole situation is going to be shaky until one of them emerges and/or misses any time.
Tier 12
Frank Gore (@ CIN)
Nyheim Hines (@ NE) +1
Corey Grant (@ KC)
Ty Montgomery (@ DET)
Theo Riddick (vs. GB)
Mike Davis (vs. LAR)
Latavius Murray (@ PHI)
Duke Johnson (vs. BAL)
Jalen Richard (@ LAC) +1
Rashaad Penny (vs. LAR)
This scrap pile of RBs is either on the wrong end of a RBBC or more of a PPR option. Jalen Richard checks both boxes. He has decent PPR upside in a matchup against the Chargers, which could feature the Raiders in comeback mode, forcing Carr to dump it off to Richard underneath.
How would you rate this article?