Koerner's Week 3 Fantasy Football Tiers for Every Position
Credit:
USA TODAY Sports. Pictured: Tevin Coleman and Deshaun Watson
Sean Koerner -- the No. 1 in-season fantasy football ranker in 2015, 2016 and 2017 -- takes a detailed look at his Week 3 tiers for every position: quarterback, running back, wide receiver, tight end, defense and kicker.
Use the strategies outlined below to build the most optimal starting lineup for your fantasy football team.
Below you'll find my tiers for Week 3 fantasy football. These are based on standard scoring and cover every position.
As a reminder, these tiers are not updated after publication. If you want my most up-to-date rankings for PPR, Standard and Half-Point PPR leagues, check out this post.
And, yes, my tiers will be part of our Action Network subscription this season. Be sure to check out the awesome special we're currently running below for an annual sub.
Jump to a position: Quarterback | Running back | Wide receiver | Tight end | Kicker | Defense
---
Quarterbacks
Tier 1
Patrick Mahomes (vs. SF)
As mentioned last week, congrats if you waited late to draft Mahomes as your QB1. He is the real deal, and it's not an overreaction at all to give him Tier 1 all to himself.
With 10 passing TDs after Week 2, Mahomes is on pace for 80 passing touchdowns, which would shatter the all-time record set by Peyton Manning (55 in 2013).
It doesn't take a math major to realize that this pace is not sustainable. It also doesn't mean we should work backward from there and say, "Well, obviously he won't throw for 80 touchdowns, so he will regress to the mean."
This is an oversimplification of something that is crucial to projecting how players will do going forward.
Yes, he will regress from a Madden Create-a-Player set to 99 at every attribute to something a little more realistic. He will regress to HIS mean.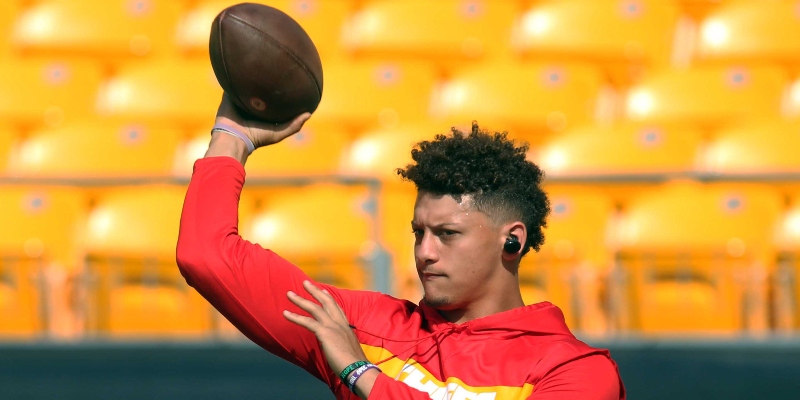 The entire premise of creating projections is to figure out each individual player's mean. A better way to approach this is to have an expectation for a player heading into the season and use the information we get in-season to update our prior beliefs.
When it comes to Mahomes, I considered him a 260-yard, 1.6-touchdown-per-game passer. After the blazing start, I have now adjusted him closer to a 280-yard, 2.1-touchdown-per-game passer.
It should also not be overlooked that his rushing ability helps boost his floor and ceiling.
Mahomes gets his first start at home this week against a beatable 49ers defense. He should not be part of any sit/start decisions.
Here's one more way to look at it: I am projecting Mahomes to have his worst game of the season, and his projection is still so far above all other quarterbacks that he gets Tier 1 all to himself.
Tier 2
Tom Brady (@ DET)
Cam Newton (vs. CIN)
Only Patrick Mahomes can make elite QB1 plays like Brady and Newton seem boring this week. You are starting these quarterbacks this week — unless you own Patrick Mahomes.
Tier 3
Deshaun Watson (vs. NYG)
Ben Roethlisberger (@ TB)
Kirk Cousins (vs. BUF)
Aaron Rodgers (@ WAS)
Ryan Fitzpatrick (vs. PIT)
This season is off to a very odd start. I did not envision having Rodgers and Fitzpatrick in the same Tier at any point, but here we are. Rodgers escaped Week 2 with no setbacks on what appears to be a serious knee injury he is playing through.
Matthew Freedman speculated on our Week 3 Fantasy Flex podcast that it's possible he is playing through a torn ACL.
I would certainly not rule that out at this point, considering many of us feared just that when he was carted off the field in Week 1.
His limited mobility severely caps the rushing aspect that made him a shoo-in QB1 in my weekly rankings over the years. He also has a basement-low floor right now with the chances of an in-game setback fairly high.
On the other side, we have Ryan Fitzpatrick, who has taken 2018 by storm. After back-to-back 400-yard, four-TD games, it's safe to assume the starting quarterback job will not be handed back over to Jameis Winston once he returns from suspension in Week 4.
To forecast what we can expect from FitzMagic in Week 3, recall what I discussed with Mahomes earlier.
Instead of working backward from the simple and obvious belief that Fitzpatrick will not keep this pace up, we need to think about how much to adjust our prior beliefs in regard to his 2018 outlook.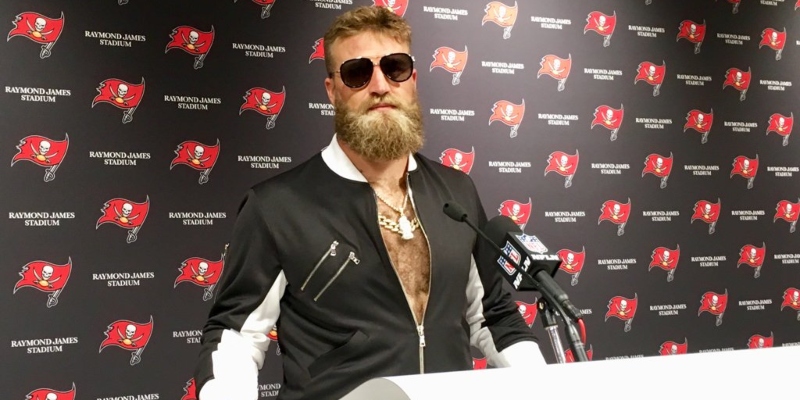 Based on his home matchup against a beatable Steelers secondary and the host of weapons Fitzpatrick has access to in the passing game, I am giving him a modest 270-yard, 1.9-touchdown projection.
We have enough of a sample size on FitzMagic to realize this Golden Chariot is very likely to turn into a pumpkin when the clock strikes midnight, but based on the matchup, I think we can bank on one more solid QB1 week out of him.
Tier 4
Russell Wilson (vs. DAL)
Drew Brees (@ ATL)
Matt Ryan (vs. NO)
Matthew Stafford (vs. NE)
Carson Wentz (vs. IND)
Jimmy Garoppolo (@ KC)
The remaining batch of QB1s for Week 3 are all solid options in good spots this week.
Don't write off Wentz in his first game back from injury. Despite the possible rust and limited mobility, he gets a leaky Colts defense.
If RB Jay Ajayi (back) is forced to miss Week 3, it will elevate Wentz's outlook, as the Eagles will need to rely on him that much more.
Tier 5
Blake Bortles (vs. TEN)
Bortles gets Tier 5 all to himself this week. This is intentional, as his outlook is greatly impacted by RB Leonard Fournette's availability.
Over the past two seasons, Bortles has averaged 323 passing yards in the four games Fournette has missed, compared to a measly 210 passing yards in games with Fournette in the backfield.
I will be moving Bortles up to Tier 4 in the event Fournette misses his second straight game, and bumping him down to Tier 6 if Fournette is good to go.
Tier 6
Tyrod Taylor (vs. NYJ)
Andrew Luck (@ PHI)
Ryan Tannehill (vs. OAK)
Jared Goff (vs. LAC)
Alex Smith (vs. GB)
Ideally you aren't relying on this Tier as your QB1, but they all make solid QB2 plays.
Tannehill has quietly put up solid numbers in 2018 so far. It was encouraging to see him put up 44 yards last week with his legs.
When he is healthy, Tannehill has the athleticism to be a dual-threat QB, which boosts his floor/ceiling combo. He gets a great matchup against the Raiders this week at home.
Tier 7
Mitch Trubisky (@ ARI)
Philip Rivers (@ LA)
Andy Dalton (@ CAR)
Dak Prescott (@ SEA)
Rivers is a "sit" for me this week. He has the talent to overcome even the toughest matchups, but the Rams pose too tough of a test to trust him this week.
I'd rather roll the dice on any quarterback from the Tiers above over Rivers this week.
Dalton's season stock has shot way up after a strong showing in the first two weeks.
Joe Mixon's absence will only help boost his floor/ceiling, as the Bengals will need to lean on their passing attack even more. But he's better left on the bench this week on the road against the Panthers.
Dalton will be back on my radar Week 4 in a potential shootout against the Falcons.
Tier 8
Joe Flacco (vs. DEN)
Derek Carr (@ MIA)
Case Keenum (@ BAL)
Better real-life quarterbacks than in fantasy this week. These pocket passers don't offer the rushing stats needed to make them relevant in the tough matchups they all face in Week 3.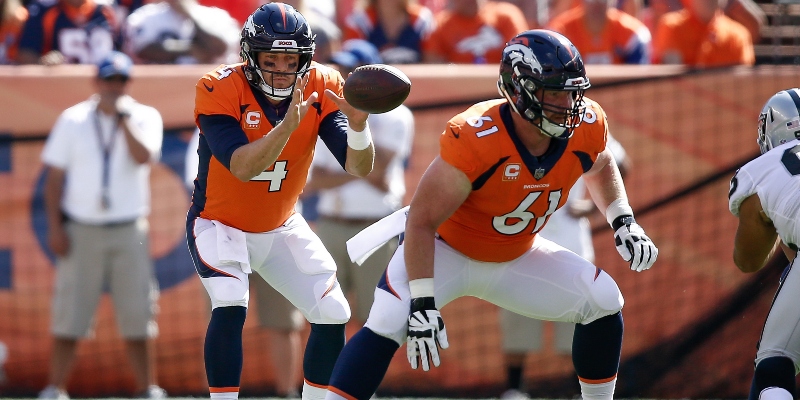 Tier 9
Sam Darnold (@ CLE)
Eli Manning (@ HOU)
Marcus Mariota (@ JAX)
Mariota is a having a nightmare start to 2018. After a very disappointing opening week against the Dolphins, he was forced to miss Week 2 due to an elbow injury.
If he is ready to go for Week 3, he will have the daunting task of trying to produce fantasy value against the Jaguars' defense. The entire Titans passing attack gets a severe downgrade this week.
Tier 10
Sam Bradford (vs. CHI)
Josh Allen (@ MIN)
Unless getting benched or interceptions are a positive stat in your league, there is no reason to consider either of these two.
---
More Fantasy Football Rankings
PPR: Flex | QB | RB | WR | TE | D/ST | K
Standard: Flex | QB | RB | WR | TE | D/ST | K
Half-Point PPR: Flex | QB | RB | WR | TE | D/ST | K
---
Running Backs
(+/- indicates how many Tiers up or down that player would move in a PPR format)
Tier 1
Todd Gurley (vs. LAC)
Gurley has not been a letdown for many of owners who used their No. 1 overall pick on him.
If you're slightly concerned about his lack of involvement in the passing game (only six receptions so far), remember that the Rams have been involved in two blowouts to start the season.
Nothing to be worried about.
Tier 2
Alvin Kamara (@ ATL) +1
Kamara is the RB1 for me in full-PPR formats in Week 3. He faces a Falcons defense that lost stud linebacker Deion Jones for the season. It's going to make them very vulnerable to pass-catching RBs, as seen with Christian McCaffrey's 14-catch game in Week 2.
Kamara is in a smash spot for Week 3.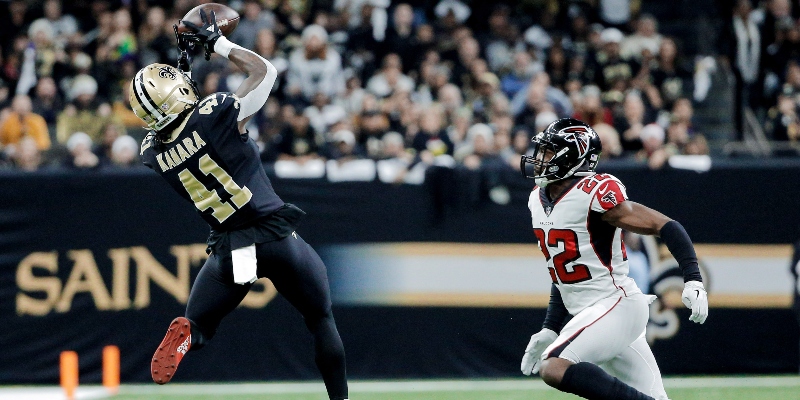 Tier 3
Ezekiel Elliott (@ SEA)
James Conner (@ TB) -1
Melvin Gordon (@ LA)
David Johnson (vs. CHI)
We have yet to see the Cardinals get Johnson going this year. A lot of that has been due to them being blown out in each game, but they also have failed to utilize him in the passing game the way Bruce Arians did.
Coach Steve Wilks promised to get Johnson more involved this week and even line him up in the slot at times.
I think the Cardinals should be able to keep the game close enough at home against the Bears, which will allow DJ to put up at least 100 scrimmage yards for the first time this season.
Tier 4
Christian McCaffrey (vs. CIN) +1
Tevin Coleman (vs. NO)
Saquon Barkley (@ HOU) +1
Kareem Hunt (vs. SF)
Coleman owners may get another RB1 week from him if Devonta Freeman misses his second straight game.
It's something to monitor closely, as Freeman appears to be ahead of schedule and could suit up.
Coleman is arguably the top backup RB in the league, so it makes sense for the Falcons to allow Freeman to get to 100% before playing him.
All of the attention has been on Mahomes with this highly potent Chiefs offense. At some point, we are going to see Hunt get a larger touchdown share in this offense.
One major concern so far is the fact that he only has one catch for five yards through two games. There is a chance Mahomes' willingness to push the ball down the field is something we need to be concerned about with Hunt's passing game involvement.
For now, I'm chalking it up to the small sample size, as Hunt is too big of a playmaker to not make an impact in the passing game.
Tier 5
Jordan Howard (@ ARI)
Howard should benefit from the positive game script, as the Bears project to lead the Cardinals for the entirety of the contest.
Despite his lackluster Week 2 against the Seahawks, Howard's stock is way up after seeing nine targets through the first two weeks. His lack of involvement in the passing game was his only flaw entering the season.
Matt Nagy was not lying when he said he intended to make Howard a true three-down back. Right now would be a great time to buy low on him if you can.
Tier 6
Giovani Bernard (@ CAR)
Lamar Miller (vs. NYG) -1
Dalvin Cook (vs. BUF)
Kenyan Drake (vs. OAK)
Jay Ajayi (vs. IND) -1
Leonard Fournette (vs. TEN)
Bernard will step up as the Bengals' workhorse back for the next few weeks while Mixon recovers from minor knee surgery. We saw Bernard put up RB1 numbers in Mixon's absence last season, which should give us confidence in viewing him as a solid RB2 option this week.
Cook is worth monitoring this week as he is nursing a hamstring injury. The Vikings are 17-point favorites in a laughable Week 3 matchup at home against the Bills.
I am very concerned they will limit Cook this week to avoid any setbacks in a game they do not need him to win.
That said, it's such a good matchup that he should be able to put up RB2 numbers even in limited action.
As always, winning managers do not make sit/start decisions on Thursdays unless it involves players on Thursday Night Football. Let's wait for more info to move him up/down our rankings.
Ajayi appears to be on the wrong side of questionable this week, while Fournette is tentatively expected back this week. T.J. Yeldon, Fournette's backfield mate in Jacksonville, appears to be banged up and could miss Week 3.
Corey Grant is my top speculative add right now in the event both Jags running backs sit this week.
Tier 7
Adrian Peterson (vs. GB) -1
Marshawn Lynch (@ MIA) -1
Carlos Hyde (vs. NYJ) -1
Alex Collins (vs. DEN) -1
The "standard" low-end RB2 Tier. All four backs make for solid plays in standard formats, as they will lead their respective teams in rush attempts and get the majority of goal-line carries.
But they all take a bit of a hit in PPR formats, as they are very limited in the passing game.
Tier 8
Matt Breida (@ KC)
Peyton Barber (vs. PIT)
Chris Thompson (vs. GB) +2
Jamaal Williams (@ WAS)
LeSean McCoy (@ MIN)
Breida broke out in Week 2 with a must-watch long touchdown run. He is going to only get better as the year goes on, and this Week 3 matchup against the Chiefs is a smash spot for him.
The 49ers will likely have to play up-tempo as they try to match the potent Chiefs offense blow-for-blow. This will likely limit plodding two-down runner Alfred Morris to a secondary role while Breida can excel in both the ground and passing game.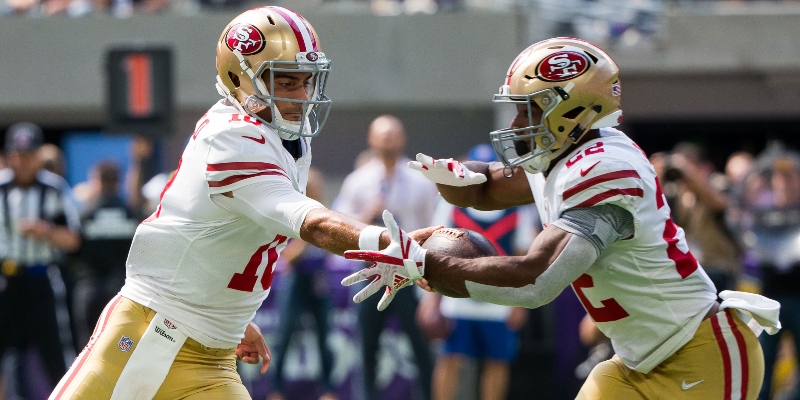 The return of Aaron Jones from his two-game suspension makes the Packer running back situation one to avoid. Williams should still be in the RB3/FLEX consideration this week, as the Packers plan on easing Jones in.
Tier 9
Phillip Lindsay (@ BAL)
Dion Lewis (@ JAX)
Bilal Powell (@ CLE)
Isaiah Crowell (@ CLE)
Latavius Murray (vs. BUF)
Javorius Allen (vs. DEN)
James White (@ DET) +1
Kerryon Johnson (vs. NE)
Derrick Henry (@ JAX)
Alfred Morris (@ KC)
Rex Burkhead (@ DET)
Royce Freeman (@ BAL)
We can no longer brush Lindsay off as a one-week wonder. He appears to have at least forced a strict time share with Freeman. This is better approached as a week-to-week discussion as opposed to trying to predict how this backfield distribution will look later in the season. As of right now, it is anyone's guess.
Despite the tough matchup, I'd be willing to roll the dice on Lindsay putting up RB3/FLEX numbers if I'm a bit thin at running back. He really has looked good on film, and I wouldn't call the back-to-back games with over 100 scrimmage yards a fluke by any means.
We can't confidently say how many touches he will get this week if they go with the "hot hand" approach and let Freeman, or a longshot Devontae Booker, lead the backfield in snaps/touches.
Murray is a dark-horse RB2 play this week. As I mentioned earlier, Dalvin Cook is battling a hamstring injury and the Vikings are 17-point favorites.
It would be pointless to give Cook a normal workload this week, and I can see them leaning on Murray to be the workhorse back.
He's also a threat to get a couple of goal-line scores this week and limit the hits/reps of some of their other skill players in what should be an easy win.
Tier 10
Chris Carson (vs. DAL)
Sony Michel (@ DET)
Marlon Mack (@ PHI)
Rashaad Penny (vs. DAL)
Corey Clement (vs. IND)
Austin Ekeler (@ LA)
Theo Riddick (vs. NE)
Jordan Wilkins (@ PHI)
Clement should be owned in all formats. There is a good chance that Jay Ajayi misses Sunday's game with a back injury this week. In that event, Clement would shoot all the way up to Tier 6 and be a must-start.
It's also worth mentioning that Darren Sproles could also miss his second straight week. The Eagles promoted Josh Adams to the active roster, which helps us read the tea leaves that at least one of those backs is going to miss this week.
Tier 11
Ito Smith (vs. NO)
Tarik Cohen (@ ARI)
Frank Gore (vs. OAK)
Duke Johnson (vs. NYJ)
Wide Receivers
(+/- indicates how many Tiers up or down that player would move in a PPR format)
Tier 1
Antonio Brown (@ TB)
Brown was involved in a little early week drama, as people thought he might be demanding a trade.

It seems like water under the bridge now, and if anything, we may see an extra-motivated AB on Monday Night Football try to disprove the notion that he has benefited from playing with Ben Roethlisberger.
Not quite sure how that narrative would even play out considering it will be Big Ben under center, but either way, anytime you get someone like Brown more motivated in a prime-time game, it usually gives them a bit of a boost.
Tier 2
Julio Jones (vs. NO)
Michael Thomas (@ ATL)
Tyreek Hill (vs. SF)
DeAndre Hopkins (vs. NYG)
Hill seemed to be on his way to a disappointing Week 2, but then he managed to rack up 90 yards and a touchdown.
Similar to my breakdown of how we need to forecast Patrick Mahomes and Ryan Fitzpatrick going forward, Hill is going to come back down to earth some in terms of efficiency. Still, he is an all-world talent who we can bank on for elite WR1 value going forward.
Tier 3
Odell Beckham Jr. (@ HOU)
It really is a shame that Beckham has to spend his 2018 season, in the middle of his prime, with a declining Eli Manning under center.
As exciting as Saquon Barkley has been, it would have been ideal to see Sam Darnold begin his career with a weapon like OBJ. Shaky quarterback play is the only thing keeping OBJ from the pack of stud WRs above.
Tier 4
A.J. Green (@ CAR)
JuJu Smith-Schuster (@ TB)
Mike Evans (vs. PIT)
Stefon Diggs (vs. BUF)
Adam Thielen (vs. BUF)
Keenan Allen (@ LA)
The duo of Diggs and Thielen should be fun to watch with Kirk Cousins under center this year.
They are must-play WR1s this week, but I'm concerned their ceiling is a bit capped, considering they should blow the Bills out. You will need them to put up stats and/or score early or else they will pose a real threat to bust.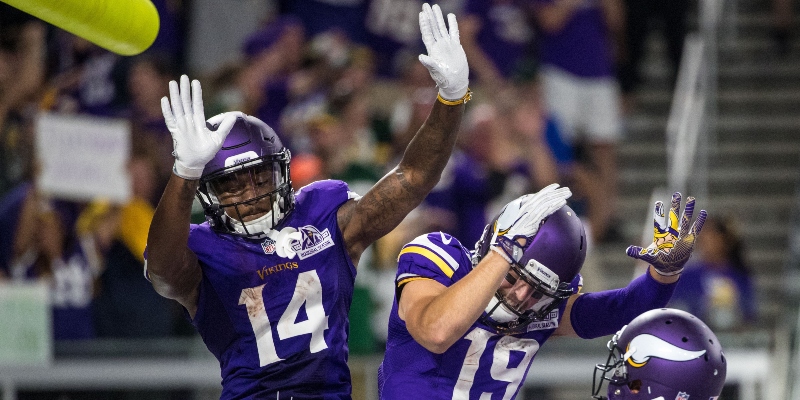 Tier 5
Davante Adams (@ WAS)
T.Y. Hilton (@ PHI)
Brandin Cooks (vs. LAC) -1
Nelson Agholor (vs. IND)
If Alshon Jeffery is unable to play this week, Agholor is one of the safest WR2 plays you can get. Now that Mike Wallace has been placed on injured reserve, Agholor seems like an absolute lock to see 10 or more targets for the third straight week.
Cooks has hit the ground running with the Rams. With at least eight targets in each of the first two weeks, it's safe to say his weekly floor may be higher than I anticipated.
Still, with so many different weapons in this Rams offense, there may be some weeks when Cooks is the odd man out, especially if defenses try to sell out to stop him.
Tier 6
Jarvis Landry (vs. NYJ) +1
Golden Tate (vs. NE) +1
The PPR Mega Boost Tier. Each of these receivers has significantly more value in PPR, as they both receive a massive share of their respective team's targets. However, their yardage totals and touchdown odds are a bit lower compared to other receivers in this range.
Tier 7
Allen Robinson (@ ARI)
Amari Cooper (@ MIA)
Emmanuel Sanders (@ BAL)
Chris Hogan (@ DET)
Keelan Cole (vs. TEN)
Kenny Golladay (vs. NE)
Robert Woods (vs. LAC)
Cooper Kupp (vs. LAC)
Sammy Watkins (vs. SF)
Tyler Lockett (vs. DAL)
Marvin Jones (vs. NE)
Marquise Goodwin (@ KC)
DeSean Jackson (vs. PIT)
Devin Funchess (vs. CIN)
Larry Fitzgerald (vs. CHI) +1
Randall Cobb (@ WAS)
Will Fuller (vs. NYG)
Kenny Stills (vs. OAK)
Demaryius Thomas (@ BAL)
This massive WR2/3 tier is the reason why I was so high on the wide receiver position as a whole this year.
There was a bit of doubt in Golladay being able to put up week-to-week fantasy value with Golden Tate and Marvin Jones healthy. It has become increasingly clear that he is a major part of this offense
He should be treated as a high-end WR3 going forward, with high-end WR2 potential if Tate or Jones were to ever miss time.
Golladay has a fantastic matchup at home against the Patriots this week.
Fuller was a tough player to project last season when he managed to put up insane yardage/touchdown totals in very limited targets. In his first game of 2018, he tallied eight catches, 113 yards and a touchdown on nine targets.
The high number of targets was encouraging, and if he is able to see that sort of volume on a weekly basis, Fuller could be more of a low-end WR2 going forward.
The window to "buy low" on him may end this week.
Tier 8
Michael Crabtree (vs. DEN)
Quincy Enunwa (@ CLE)
Chris Godwin (vs. PIT)
Ted Ginn (@ ATL)
Robby Anderson (@ CLE)
John Brown (vs. DEN)
Pierre Garcon (@ KC)
Crabtree is often going to leave owners frustrated in weeks when he fails to score. He typically isn't going to give you the yardage totals needed to have a safe floor.
I have his touchdown chances a bit lower than normal this week, so I would advise sitting him if you can.
Anderson is off to a brutal start to 2018.
After two games he has four catches, 68 yards and a touchdown (a 41-yarder in Week 1) on just five targets. It's safe to say that Enunwa is the Jets' new top wideout, with a team-high 21 targets so far.
To add insult to injury, former quarterback Terrelle Pryor also has more targets than Anderson so far this season.
There is the strong possibility that Anderson has been demoted to a bye week spot starter in fantasy, but I would recommend floating some buy-low trades to his owners in an attempt to pry him away for cheap.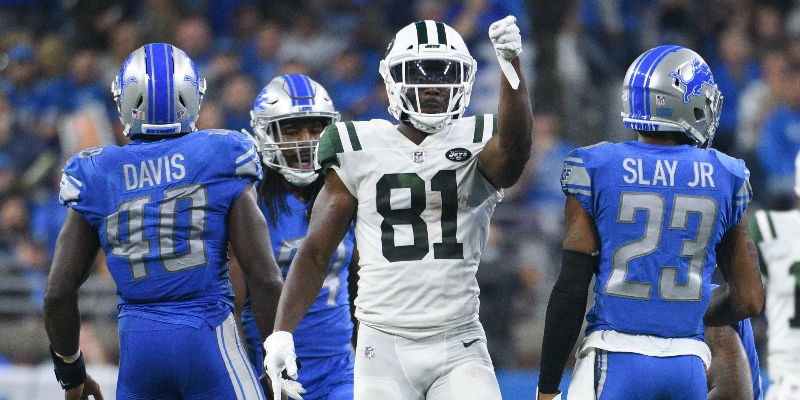 Tier 9
Geronimo Allison (@ WAS)
Brandon Marshall (vs. DAL)
Corey Davis (@ JAX)
Jamison Crowder (vs. GB)
Dede Westbrook (vs. TEN)
Phillip Dorsett (@ DET)
Calvin Ridley (vs. NO)
Sterling Shepard (@ HOU)
Antonio Callaway (vs. NYJ)
Danny Amendola (vs. OAK)
Tyler Boyd (@ CAR)
Davis is a strong "sit" recommendation for me this week. The Titans' quarterback situation is a disaster, they face the league's premier pass defense in the Jaguars, and Davis himself has been dealing with a hamstring injury.
Hard pass on him this week.
The three players on the rise in this tier are Ridley, Callaway and Boyd. Ridley is slowly making his way past Mohamed Sanu and should be the Falcons' No. 2 receiving option before the season's end.
With Josh Gordon's surprise shipment to the Patriots, Callaway has ascended to be the Browns' No. 2 receiver. He has immense potential and could be one of the players who benefits if/when the team turns to 2018 No. 1 overall draft pick Baker Mayfield.
Boyd has held off John Ross as the Bengals' second-best receiver and has benefited from the resurgence of Andy Dalton. He will come into play more once teams start entering their bye weeks.
Tier 10
Mohamed Sanu (vs. NO)
Willie Snead (vs. DEN)
Tyrell Williams (@ LA)
Donte Moncrief (vs. TEN)
Albert Wilson (vs. OAK)
Dante Pettis (@ KC)
Cole Beasley (@ SEA)
Kamar Aiken (vs. IND)
Jordy Nelson (@ MIA)
Josh Doctson (vs. GB)
Mike Williams (@ LA)
Kelvin Benjamin (@ MIN)
Aiken is a sneaky deep-league dart throw this week if Alshon Jeffery isn't able to return in Week 3. After losing Mike Wallace to injury, the Eagles don't really have any other options behind Nelson Agholor.
They had to panic-sign Jordan Matthews on Wednesday just to have an active body for gameday. Aiken could see six to nine targets by default this week.
Tight Ends
Tier 1
Rob Gronkowski (@ DET)
Travis Kelce (vs. SF)
Heading into drafts, I emphasized the importance of snagging one of the "Big 3" tight ends since there was such a massive drop-off at the position after them.
With a lot of the midrange TE1s suffering season-long injuries and the position being a dumpster fire in general, it has made Gronk and Kelce even MORE valuable.
Tier 2
Zach Ertz (vs. IND)
Ertz should be one of the main beneficiaries of Carson Wentz's return. With the wide receiver depth chart laughably thin, the Eagles will have to rely on Ertz even more. TE Dallas Goedert has failed to pose any sort of threat to Ertz's fantasy value.
Tier 3
Jordan Reed (vs. GB)
Jimmy Graham (@ WAS)
George Kittle (@ KC)
Jared Cook (@ MIA)
Kyle Rudolph (vs. BUF)
Evan Engram (@ HOU)
Trey Burton (@ ARI)
The remaining TE1s lie in this tier. Kittle/Cook had letdown games in Week 2 after Week 1 eruptions. That's the nature of the position, and you have to stick with both this week.
Reed/Graham have emerged as the two tight ends who can bridge the massive gap between the top three players and the rest of the field.
Rudolph has a scary-low floor this week if he fails to find the end zone. The Vikings should blow the Bills out with ease this week and won't need to pepper Rudolph with targets to do so.
Minnesota will be in the red zone so often that Rudolph's touchdown odds are about as high as they will get, making him even more of a boom/bust play than normal.
Tier 4
O.J. Howard (vs. PIT)
Jack Doyle (@ PHI)
David Njoku (vs. NYJ)
Austin Hooper (vs. NO)
Eric Ebron (@ PHI)
I would be OK with hanging on to any of the above tight ends to see if they can put up consistent value the next few weeks.
Njoku could be an overlooked beneficiary of the Josh Gordon trade. The Browns are going to get him involved even more in the passing game.
Tier 5
Tyler Eifert (@ CAR)
Ben Watson (@ ATL)
Jesse James (@ TB)
Ricky Seals-Jones (vs. CHI)
Austin Seferian-Jenkins (vs. TEN)
Will Dissly (vs. DAL)
Jake Butt (@ BAL)
Vance McDonald (@ TB)
If you do not have a tight end above this Tier, I would highly advise you to simply play the waiver wire each week to start the top available guy from my Tiers piece.
In this range at the position, a player is only going to have fantasy relevance if he scores. These are the available tight ends most likely to score this week.
Kickers
Tier 1
Harrison Butker (vs. SF)
Stephen Gostkowski (@ DET)
Tier 2
Dan Bailey (vs. BUF)
Matt Bryant (vs. NO)
Tier 3
Chris Boswell (@ TB)
Justin Tucker (vs. DEN)
Jake Elliott (vs. IND)
Wil Lutz (@ ATL)
Robbie Gould (@ KC)
Chandler Catanzaro (vs. PIT)
Sam Ficken (vs. LAC)
Tier 4
Josh Lambo (vs. TEN)
Matt Prater (vs. NE)
Graham Gano (vs. CIN)
Mason Crosby (@ WAS)
Tier 5
Ka'imi Fairbairn (vs. NYG)
Cody Parkey (@ ARI)
Jason Sanders (vs. OAK)
Tier 6
Dustin Hopkins (vs. GB)
Adam Vinatieri (@ PHI)
Randy Bullock (@ CAR)
Caleb Sturgis (@ LA)
Sebastian Janikowski (vs. DAL)
Tier 7
Greg Joseph (vs. NYJ)
Brett Maher (@ SEA)
Mike Nugent (@ MIA)
Brandon McManus (@ BAL)
Ryan Succop (@ JAX)
Jason Myers (@ CLE)
Aldrick Rosas (@ HOU)
Phil Dawson (vs. CHI)
Tier 8
Steven Hauschka (@ MIN)
Defenses
Tier 1
Minnesota Vikings (vs. BUF)
Tier 2
Chicago Bears (@ ARI)
Jacksonville Jaguars (vs. TEN)
Tier 3
Cleveland Browns (vs. NYJ)
Baltimore Ravens (vs. DEN)
Houston Texans (vs. NYG)
Tier 4
Philadelphia Eagles (vs. IND)
Tier 5
Dallas Cowboys (@ SEA)
Los Angeles Rams (vs. LAC)
Miami Dolphins (vs. OAK)
Carolina Panthers (vs. CIN)
Arizona Cardinals (vs. CHI)
New England Patriots (@ DET)
Cincinnati Bengals (@ CAR)
New York Giants (@ HOU)
New York Jets (@ CLE)
Seattle Seahawks (vs. DAL)
Tier 6
Denver Broncos (@ BAL)
Kansas City Chiefs (vs. SF)
Tennessee Titans (@ JAX)
Green Bay Packers (@ WAS)
Oakland Raiders (@ MIA)
Pittsburgh Steelers (@ TB)
Washington Redskins (vs. GB)
Tier 7
Tampa Bay Buccaneers (vs. PIT)
Atlanta Falcons (vs. NO)
Indianapolis Colts (@ PHI)
Los Angeles Chargers (@ LA)
Tier 8
Buffalo Bills (@ MIN)
New Orleans Saints (@ ATL)
Tier 9
San Francisco 49ers (@ KC)
Detroit Lions (vs. NE)
How would you rate this article?