Koerner's Week 5 Fantasy Football Tiers: Does Jared Goff Rank Among Elite QBs?
Credit:
Credit: USA TODAY Sports. Pictured: Odell Beckham Jr., Marshawn Lynch and Jared Goff.
Sean Koerner -- the No. 1 in-season fantasy football ranker in 2015, 2016 and 2017 -- takes a detailed look at his Week 5 tiers for every position: quarterback, running back, wide receiver, tight end, defense and kicker.
Use the strategies outlined below to build the most optimal starting lineup for your fantasy football team.
Below you'll find my tiers for Week 5 fantasy football. These are based on standard scoring and cover every position.
As a reminder, these tiers are not updated after publication. If you want my most up-to-date rankings for PPR, Standard and Half-Point PPR leagues, check out this post.
And, yes, my tiers will be part of our Action Network subscription this season. Be sure to check out the awesome special offer we're currently running for an annual sub.
---
Tier 1
Cam Newton (vs. NYG)
Ben Roethlisberger (vs. ATL)
Aaron Rodgers (@ DET)
With Patrick Mahomes facing the stingy Jaguars defense this week, he opens up the door for others to rent out Tier 1 for the week. Newton, Big Ben and Rodgers are all in great spots this week, and I expect all three to have big games.
Tier 2
Tom Brady (vs. IND)
Deshaun Watson (vs. DAL)
Drew Brees (vs. WAS)
Patrick Mahomes (vs. JAX)
Matt Ryan (@ PIT)
Philip Rivers (vs. OAK)
Figuring out where to rank Mahomes this week is tricky. Since I base my rankings on the projections I meticulously create for each player in the Fantasy Labs Models it helps take at least some of the guess work out of it. Right now he's coming in as my QB7, which seems about right.
The Jaguars have a stranglehold on opposing quarterbacks this year and should give Mahomes some issues. I fully expect Mahomes to throw his first interception of the season this week, but I'm still starting him with confidence as a mid-range QB1 this week.
His skill set and weapons make him matchup-proof.
The rest of the tier are shoo-in QB1s.
I love Matt Ryan this week in what should be a shootout in Pittsburgh. We have seen Deshaun Watson reach his ceiling much more often when Will Fuller is in the lineup.
It's worth monitoring Fuller's status this week, but with the emergence of rookie Keke Coutee last week with an 11-catch debut, it's comforting to know Watson may have another weapon behind DeAndre Hopkins if Fuller were to ever miss a game.
Tier 3
Matthew Stafford (vs. GB)
Jared Goff (@ SEA)
Andy Dalton (vs. MIA)
Jared Goff's projections have been on the lower end due to his lack of rushing stats and the high TD share he has to cede to RB Todd Gurley. Not anymore. The Rams are potent enough on offense to provide fantasy value for their RB and all three WRs.
Goff gets to be in the driver's seat with all of this production, which makes him one of the higher-floor QBs every week.
Tier 4
Alex Smith (@ NO)
Blake Bortles (@ KC)
Kirk Cousins (@ PHI)
Smith and Bortles are in blow up spots this week in road matchups that could force them to throw a ton.
Leonard Fournette is set to miss Week 5, and I always give Bortles a massive boost in any game Leo misses. This week is no different.
Cousins has a tough road matchup this week against the Eagles. It may be a week to bench him with plenty of options above who would be safer plays.
Tier 5
Carson Wentz (vs. MIN)
Russell Wilson (vs. LAR)
I can't recommend either QB here in 12-team leagues. Wentz and Wilson have been struggling enough that I think they need to be viewed more as high-end QB2s going forward.
They are mid-range QB2 this week, as they both face tough pass defenses at home.
Tier 6
Andrew Luck (@ NE)
Joe Flacco (@ CLE)
Derek Carr (@ LAC)
Luck's shoulder survived a 62-pass-attempt game in which he was also allowed to throw a Hail Mary (although it didn't look pretty). This improves my long-term outlook for him, but you should pass on him this week with his trusty WR T.Y. Hilton out. He may also be without safety valve TE Jack Doyle again.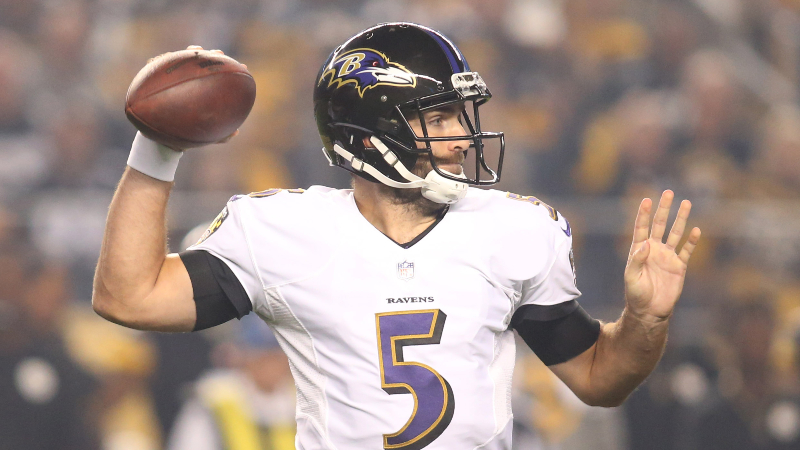 Joe Flacco is certainly having the breakout season I expected with his increased motivation following the Ravens' first-round selection of QB Lamar Jackson.
One thing to monitor: Baltimore is increasing Jackson's snaps under center (nine in Week 4) with Flacco lined up out wide, essentially giving him the play off.
The 2018 season has started to develop this sort of QBBC with Flacco/Jackson and even Brees/Taysom Hill. It is certainly something we need to monitor, as I'm worried Jackson/Hill could potentially take snaps inside the red zone.
This will suppress Brees and Flacco's TD shares in my model, which is never a good thing in terms of fantasy.
Tier 7
Ryan Tannehill (@ CIN)
C.J. Beathard (vs. ARI)
Marcus Mariota (@ BUF)
Baker Mayfield (vs. BAL)
Dak Prescott (@ HOU)
Keep an eye on Beathard. The real-life drop off value from Jimmy Garoppolo to Beathard is worth roughly six points in my power ratings.
But in terms of fantasy, Beathard looks much more comfortable this year and is in the driver's seat of a Kyle Shanahan offense. His rushing ability gives him every-week QB2 upside. He's a great spot start in 2QB leagues this week.
Tier 8
Case Keenum (@ NYJ)
Eli Manning (@ CAR)
Josh Allen (vs. TEN)
Sam Darnold (vs. DEN)
Josh Rosen (@ SF)
No reason to mess with this Tier unless you happen to be in a 2QB dynasty league.
One tidbit to monitor: Case Keenum may be on a short leash soon. Chad Kelly has potential to be a sneaky QB2 in the event Denver gives him the nod to start at any time this season.
---
PPR: Flex | QB | RB | WR | TE | D/ST | K
Standard: Flex | QB | RB | WR | TE | D/ST | K
Half-Point PPR: Flex | QB | RB | WR | TE | D/ST | K
---
Based on standard scoring; +/- indicates how many Tiers up/down each player would move in a PPR format.
Tier 1
Todd Gurley (@ SEA) -1
In standard scoring, Gurley is the clear top RB this week, but in PPR, he joins the three or four players below. Like I mentioned earlier, the Rams offense is so potent that there are more than enough yards/TDs to go around.
Gurley is the lifeblood of the offense and the optimal blend of high-floor/ceiling.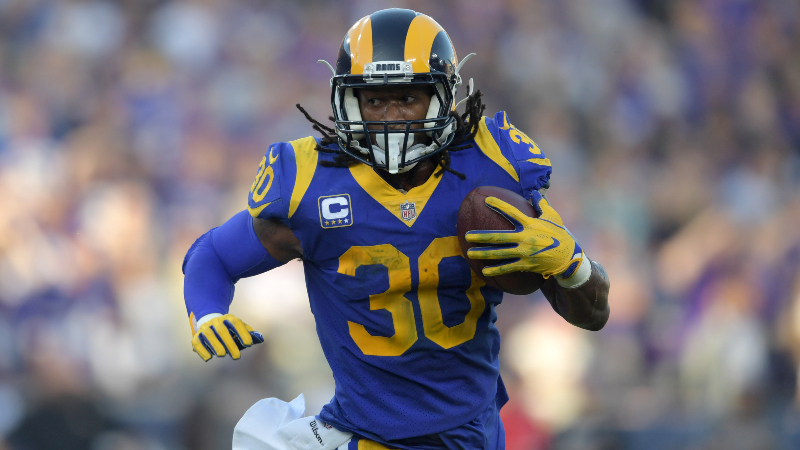 Tier 2
Melvin Gordon (vs. OAK)
Ezekiel Elliott (@ HOU) -1
Alvin Kamara (vs. WAS)
Kamara is significantly more valuable in a PPR format, but I do think his floor is going to take a slight hit with Mark Ingram returning this week. The Saints didn't really try to use Mike Gillislee in a temporary "Ingram role" when Ingram served his four-game suspension.
While I don't think Ingram will return to his 2017 role right away, there is no doubt he's going to take away a handful of touches.
Having said all that, Kamara is a threat to score from anywhere on the field whenever he touches the ball, so his No. 1 overall RB upside in any format will always be there.
Tier 3
Christian McCaffrey (vs. NYG)
McCaffrey should be well rested after the Panthers' BYE and ready to take on his increased 2018 role. Week 3 was the first game he's played every single offensive snap; he saw a career high 30 touches.
McCaffrey's stock is through the roof at the moment.
Tier 4
Saquon Barkley (@ CAR)
James Conner (vs. ATL)
The Le'Veon Bell saga continues this week, as it appears he's likely to report to the Steelers in Week 7. There is still the possibility that Bell gets traded before then, which makes Conner's rest-of-season value very murky going forward.
As a proud Conner owner in many leagues, I'm willing to just ride it out with him as long as I can.
Any trade offers I have received have been a complete joke, and if Conner returns to the backup role by Week 7, I will have already amassed a huge ROI% on him as a final-round pick.
Conner is a rock-solid RB1 this week against a Falcons defense that has been decimated by injuries and struggles against pass-catching backs such as Conner.
Tier 5
David Johnson (@ SF)
I predicted we would get vintage DJ last week with the possibility of the Cardinals finally being in a competitive game. Josh Rosen certainly gave them a much-needed boost at QB, and I think they can keep it close against the 49ers this week.
Expect another 20 to 25 touches from Johnson, and if he puts up good numbers, I'd actually consider selling high considering Arizona's O-line issues. The Cards are unlikely to be competitive in many games beyond Week 5.
Tier 6
Kareem Hunt (vs. JAX)
Marshawn Lynch (@ LAC)
Sony Michel (vs. IND)
Last week, I pointed out that I was ultra-high on Michel in Week 4 and beyond. I was never down on his talent, but the Patriots' crowded backfield suppressed his projections a bit.
With Rex Burkhead on IR, Michel got a significant boost in my model last week, as I expected him to see more touches. Unsurprisingly, he had more carries in Week 4 (25) than he had in Weeks 2-3 combined (24).
Michel is locked and loaded as a RB1 again this week in a great spot vs. the Colts.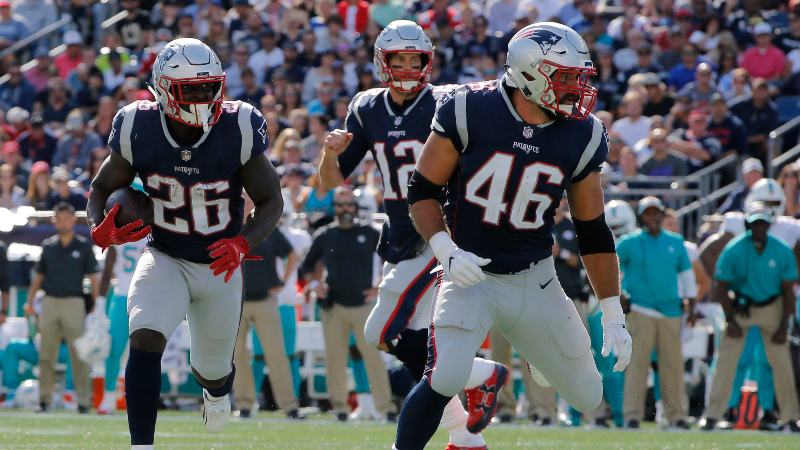 Tier 7
T.J. Yeldon (@ KC)
Carlos Hyde (vs. BAL)
James White (vs. IND) +1
Jay Ajayi (vs. MIN)
With Leonard Fournette set to miss Week 5, we have to treat Yeldon as a high-end RB2.
Yeldon has been incredibly frustrating over the past couple years. He seems to save his best games for when Fournette is active and stink when he is set to see the majority of work.
This season, Yeldon has averaged eight fantasy points per game when starting for Fournette and 17 fantasy when Fournette starts. I'm banking on logic making a comeback in 2018 and have Yeldon putting up RB2 numbers this week. Fingers crossed.
Tier 8
Matt Breida (vs. ARI)
Chris Thompson (@ NO) +2
Lamar Miller (vs. DAL)
Kerryon Johnson (vs. GB)
Adrian Peterson (@ NO)
Alex Collins (@ CLE)
Mark Ingram (vs. WAS)
LeSean McCoy (vs. TEN)
Joe Mixon (vs. MIA)
Running back rankings/projections are extremely volatile since they're intertwined with the health/status of their fellow RB teammates. Be sure to check out my updated rankings as these will surely be different when it's time to lock in our lineups.
At the time of writing, it's still unknown whether AP and Mixon will play. Even if Mixon is active, his rank could go up/down just based on how healthy he is and/or how many touches we can expect from him.
Ingram returns from his four-week suspension. I'm treating him as a low-end RB2 for now. We'll see how much of his 2017 role he will regain.
Alvin Kamara has proven that he can handle a massive workload, so we will need to closely monitor how they plan on splitting up their touches going forward.
Tier 9
Dion Lewis (@ BUF) +1
Bilal Powell (vs. DEN)
Phillip Lindsay (@ NYJ)
Dalvin Cook (@ PHI)
Derrick Henry (@ BUF) -1
Kenyan Drake (@ CIN)
Devonta Freeman (@ PIT)
Tevin Coleman (@ PIT)
Austin Ekeler (vs. OAK)
Royce Freeman (@ NYJ)
Isaiah Crowell (vs. DEN)
Freeman is tentatively expected to return Week 5 in what should be a shootout against the Steelers. As of now, I'm projecting his return to push both Coleman and him to dicey FLEX options. It's still early, so I'm hoping we can find out more over the next few days to get some clarity on this highly potent RBBC.
I wouldn't blame people for giving up on Drake after a dreadful two-week stretch in which he put up 26 total yards combined. But as Chris Raybon said on our Wednesday podcast, football players have a funny way of regressing to their mean, and we could see Drake have a big game this week vs. Cincy.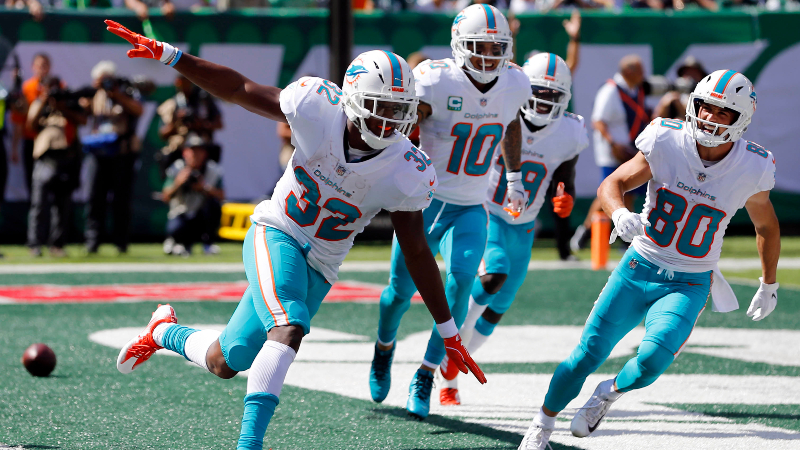 Tier 10
Giovani Bernard (vs. MIA)
Aaron Jones (@ DET)
Javorius Allen (@ CLE)
This Tier is full of guys stuck in RBBC situations, so I'm treating them more as low-end FLEX plays I hope you aren't relying on this week.
If Joe Mixon is unable to go or will be limited in any way, then Gio would shoot up a few Tiers.
Tier 11
Chris Carson (vs. LAR)
Alfred Morris (vs. ARI)
Jamaal Williams (@ DET)
All three of these guys saw their stock take a hit last week. Carson missed Week 4 after a 30-plus touch game in Week 3 and is now apparently in a three-way committee with Mike Davis and Rashaad Penny, making him very hard to trust this week.
Morris is now predictably turning into Matt Breida's "backup" as opposed to competing in a true RBBC. Jamaal Williams seems to have let his hold on the Packers' RBBC go by letting Aaron Jones pass him up. That whole situation is going to be shaky until one of them emerges and/or misses any time.
Tier 12
Frank Gore (@ CIN)
Nyheim Hines (@ NE) +1
Corey Grant (@ KC)
Ty Montgomery (@ DET)
Theo Riddick (vs. GB)
Mike Davis (vs. LAR)
Latavius Murray (@ PHI)
Duke Johnson (vs. BAL)
Jalen Richard (@ LAC) +1
Rashaad Penny (vs. LAR)
This scrap pile of RBs is either on the wrong end of a RBBC or more of a PPR option. Jalen Richard checks both boxes. He has decent PPR upside in a matchup against the Chargers, which could feature the Raiders in comeback mode, forcing Carr to dump it off to Richard underneath.
Tier 1
Antonio Brown (vs. ATL)
There always comes a point when a No. 1 WR sees some of his usage go to the No. 2 option. This appears to be happening with JuJu Smith-Schuster and Antonio Brown so far in 2018.
I think it's more of a symptom of JuJu being really, really good than anything to do with AB.
I still view Brown as the preferred WR option going forward for the Steelers and all of fantasy football. He should pick apart this depleted Falcons defense this week.
Tier 2
Julio Jones (@ PIT)
Michael Thomas (vs. WAS)
Jones continues to put up massive reception/yardage totals with nothing to show for it in the TD department. I think that changes in this week's shootout in Pittsburgh.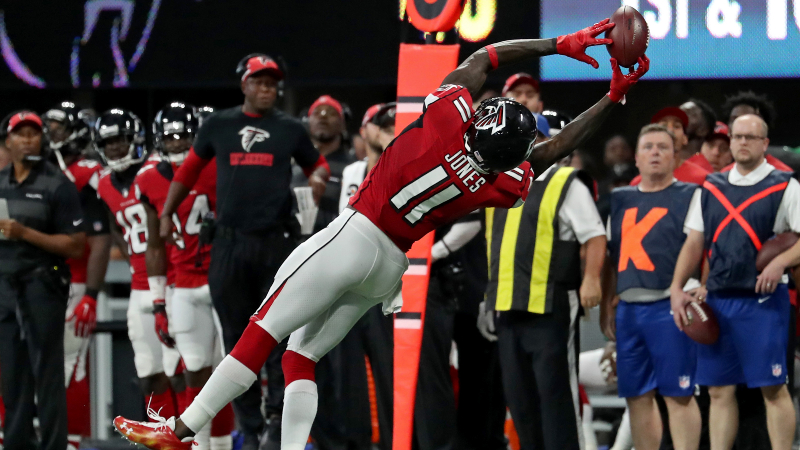 Tier 3
DeAndre Hopkins (vs. DAL)
Hopkins has seen 10-plus targets and six-plus receptions in each of the first four games. He is one of the most reliable players in fantasy.
Tier 4
A.J. Green (vs. MIA)
Odell Beckham (@ CAR)
JuJu Smith-Schuster (vs. ATL)
As I mentioned in the AB Tier, I'm too interested in comparing JuJu to AB, but it is time to recognize Smith-Schuster's game. He's one of the most talented WRs in the league, and on top of that, he likely benefits from all the attention AB gets.
He was one of the players I thought most experts were unfairly expecting to regress too much simply because he was so efficient in 2017.
Players such as Tyreek Hill, Alvin Kamara and JuJu all fall into the bucket: I am very careful not to apply too much regression to guys who show such incredible raw talent. Even if they do regress, it's not like they're going to become an average player.
Tier 5
Davante Adams (@ DET)
Keenan Allen (vs. OAK)
Tyreek Hill (vs. JAX)
Adam Thielen (@ PHI) +1
Brandin Cooks (@ SEA)
I'm expecting a big week from Adams. With Randall Cobb potentially missing again this week and Geronimo Allison in the concussion protocol, this could be a week in which the Rodgers/Adams combo has a multi-TD game.
Tyreek gets the dreaded Jaguars matchup, but I think he could avoid Jalen Ramsey based on the matchup. It's shouldn't matter whether D.J. Hayden or Tyler Patmon starts at slot corner; neither will stand a chance versus Hill. I'm still treating him as a high-upside WR1 this week.
Tier 6
Stefon Diggs (@ PHI)
Golden Tate (vs. GB)
Cooper Kupp (@ SEA)
Robert Woods (@ SEA)
Jarvis Landry (vs. BAL)
The Rams offense has been able to feed all three WRs (Cooks, Kupp and Woods) on a weekly basis. There will be a week when one or two of the guys will see the bulk of the production, leaving the third with very little. But this is not something we need to worry much about; I have all three Rams wideouts as WR2s.
Tate is part of a similar situation where all three Lions WRs are viable fantasy starters each and every week. He is still my preferred high-floor option on the Lions, especially in PPR.
Tier 7
Corey Davis (@ BUF)
Emmanuel Sanders (@ NYJ)
Kenny Golladay (vs. GB)
Tyler Boyd (vs. MIA)
Calvin Ridley (@ PIT)
Marvin Jones (vs. GB)
Will Fuller (vs. DAL)
Devin Funchess (vs. NYG)
Doug Baldwin (vs. LAR)
Alshon Jeffery (vs. MIN)
Quincy Enunwa (vs. DEN)
John Brown (@ CLE)
Amari Cooper (@ LAC)
Sterling Shepard (@ CAR)
Demaryius Thomas (@ NYJ)
Kenny Stills (@ CIN)
There are quite a few 2018 breakouts who we can now safely call strong WR3s with WR2 upside: Kenny Golladay, Tyler Boyd and Calvin Ridley. Congrats if you were able to snag any of them in the later rounds.
I have always loved Amari Cooper's upside, but I'm starting to think his high ceiling/low floor tends to hurt the teams that spent high draft capital on him.
We have to remember that head-to-head fantasy football is not about getting the top score of the week. It's fun when that occurs, but ultimately you need to beat only ONE team each week: your opponent. That's why I put a premium on high-floor players.
Over time, they will help you win more matchups than players such as Cooper, who may help you win week or two, but will be a liability in a handful of other games. He needs to become more consistent for his fantasy value to be comparable to a WR2.
Tier 8
Keelan Cole (@ KC)
Tyler Lockett (vs. LAR)
Julian Edelman (vs. IND)
Geronimo Allison (@ DET)
Mike Williams (vs. OAK)
Michael Crabtree (@ CLE)
Dede Westbrook (@ KC)
Nelson Agholor (vs. MIN)
Jordy Nelson (@ LAC)
Larry Fitzgerald (@ SF)
Taywan Taylor (@ BUF)
Edelman makes his return from a four-game suspension. I expect him to hit the ground running, as Chris Hogan disappointed in his absence.
It's clear that Brady misses Edelman and will welcome him back with a ton of targets. This game could get out of hand early, so I think his upside could be limited; the Patriots won't need to throw much to put the Colts away.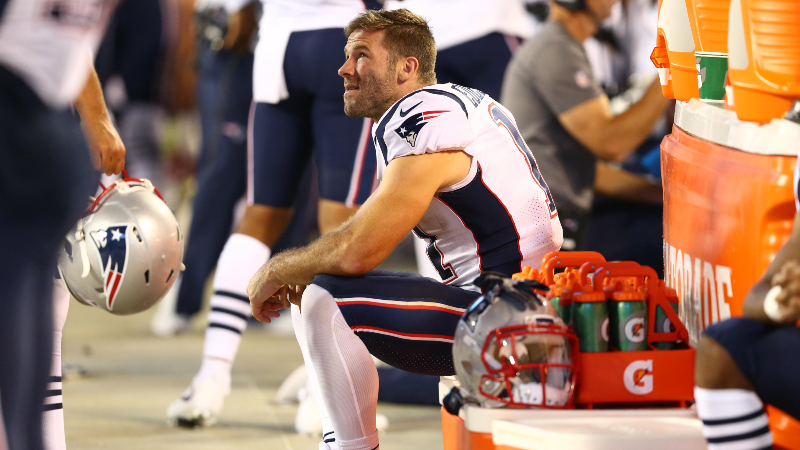 Taywan Taylor has seen a big boost in my model now that the Titans are without Delanie Walker and Rishard Matthews. Taylor is an extremely talented receiver who can do some damage with even limited snaps/targets. Now that Taylor is Mariota's No. 2 option in the passing game, the sky's the limit.
Tier 9
Ted Ginn (vs. WAS)
Ryan Grant (@ NE)
Mohamed Sanu (@ PIT)
Donte Moncrief (@ KC)
Sammy Watkins (vs. JAX)
Jamison Crowder (@ NO)
Paul Richardson (@ NO)
Chester Rogers (@ NE)
Christian Kirk (@ SF)
Randall Cobb (@ DET)
Ryan Grant and Chester Rogers could be emergency starts if you're in need of a dart throw FLEX play this week, as the Colts are without T.Y. Hilton. The extra targets available are the sole reason I'm projecting him to have fantasy relevance this week.
Tier 10
Marquise Goodwin (vs. ARI)
Robby Anderson (vs. DEN)
Willie Snead (@ CLE)
Cole Beasley (@ HOU)
Albert Wilson (@ CIN)
Tier 1
Travis Kelce (vs. JAX)
Rob Gronkowski (vs. IND)
Even though Kelce has a tougher matchup, I'm making him my new TE1. I have no doubt Gronk's will turn things around; this is more about Kelce emerging as the top dog in my model.
Tier 2
Zach Ertz (vs. MIN)
Ertz is still part of what I consider the top-three Tier, which I pointed out was extremely valuable to target in drafts considering the massive drop-off after them.
Ertz hasn't scored a TD this year, but he still manages to return fantasy value with his massive target share and yardage totals. It gives him a high floor at an already volatile/TD-dependent position. This makes Ertz more valuable than I think people realize, especially in PPR.
Tier 3
Jared Cook (@ LAC)
Jordan Reed (@ NO)
George Kittle (vs. ARI)
These TEs are doing their best to close the gap between the top-three TEs and the rest of the position.
Cook is too inconsistent to expect TE1 production every week, but he needs to be in all lineups until further notice. As I mentioned last week, Kittle is the 49er who will suffer the least amount of drop-off with Beathard under center. The two have developed a chemistry going back to their days at Iowa, and it showed in Week 4.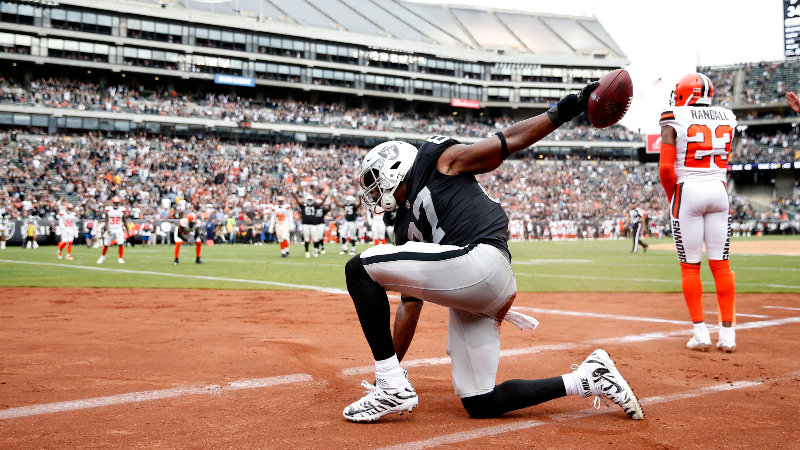 Tier 4
Jimmy Graham (@ DET)
Graham has turned out to be much less of a TD-or-bust player than I anticipated. With Randall Cobb and Geronimo Allison very iffy this week for the Packers, Aaron Rodgers may have to lean on Graham even more. He could flirt with double-digit targets.
Tier 5
Eric Ebron (@ NE)
Kyle Rudolph (@ PHI)
Vance McDonald (vs. ATL)
David Njoku (vs. BAL)
As long as Jack Doyle is out, I'm investing in Ebron. The Colts will also be without T.Y. Hilton this week, making Ebron even more of a high-ceiling/high-floor play.
Vance McDonald now needs to be taken seriously as a potential TE1. He has an ideal matchup against the Falcons this week. His ability to stiff arm would-be defenders into roadkill has made him nearly impossible to tackle. Defenses have to pay too much attention to AB/JuJu/Conner, so Vance should continue to see soft coverage.
Tier 6
Ben Watson (vs. WAS)
Ricky Seals-Jones (@ SF)
Austin Hooper (@ PIT)
Rhett Ellison (@ CAR)
Austin Seferian-Jenkins (@ KC)
C.J. Uzomah (vs. MIA)
This is TE streamer Tier.
Ellison is a respectable fill-in for Evan Engram, as the second-year TE is expected to miss Week 5 with an MCL sprain.
Uzomah will be replacing Tyler Eifert as the Bengals starting TE after Eifert suffered a brutal season-ending injury Week 5. But Uzomah is no slam dunk, as Tyler Kroft should have an expanded role. Considering Uzomah's massive 6-foot-5, 265-pound frame and decent passing chops, I can see him being a potential red zone threat, boosting his TD odds.
Tier 7
Geoff Swaim (@ HOU)
Ian Thomas (vs. NYG)
Nick Vannett (vs. LA)
Jeff Heuerman (@ NYJ)
Charles Clay (vs. TEN)
Antonio Gates (vs. OAK)
Dallas Goedert (vs. MIN)
The remaining TE dart throws. Really nothing more than TD lotto tickets.
It's worth noting that Vannett should see an increased role as Will Dissly was placed on IR.
Heuerman has taken over as the Broncos starting TE after Jake Butt was placed on IR.
Tier 1
Stephen Gostkowski (vs. IND)
Tier 2
Caleb Sturgis (vs. OAK)
Wil Lutz (vs. WAS)
Chris Boswell (vs. ATL)
Tier 3
Randy Bullock (vs. MIA)
Matt Bryant (@ PIT)
Mason Crosby (@ DET)
Harrison Butker (vs. JAX)
Justin Tucker (@ CLE)
Cairo Santos (@ SEA)
Matt Prater (vs. GB)
Graham Gano (vs. NYG)
Tier 4
Jake Elliott (vs. MIN)
Ka'imi Fairbairn (vs. DAL)
Robbie Gould (vs. ARI)
Dustin Hopkins (@ NO)
Matthew McCrane (@ LAC)
Josh Lambo (@ KC)
Adam Vinatieri (@ NE)
Ryan Succop (@ BUF)
Jason Myers (vs. DEN)
Sebastian Janikowski (vs. LAR)
Tier 5
Dan Bailey (@ PHI)
Jason Sanders (@ CIN)
Brett Maher (@ HOU)
Greg Joseph (vs. BAL)
Brandon McManus (@ NYJ)
Tier 6
Steven Hauschka (vs. TEN)
Phil Dawson (@ SF)
Aldrick Rosas (@ CAR)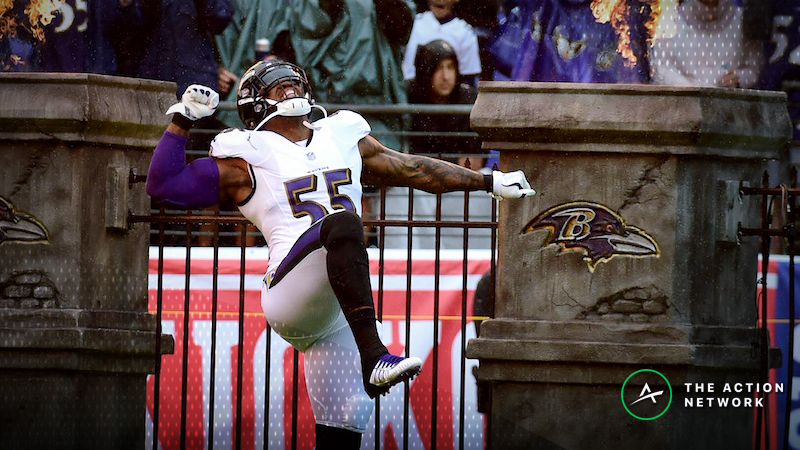 Tier 1
Tennessee Titans (@ BUF)
Tier 2
Baltimore Ravens (@ CLE)
Carolina Panthers (vs. NYG)
San Francisco 49ers (vs. ARI)
Tier 3
Dallas Cowboys (@ HOU)
Denver Broncos (@ NYJ)
Arizona Cardinals (@ SF)
New England Patriots (vs. IND)
Philadelphia Eagles (vs. MIN)
New York Jets (vs. DEN)
Los Angeles Chargers (vs. OAK)
Houston Texans (vs. DAL)
Cincinnati Bengals (vs. MIA)
Buffalo Bills (vs. TEN)
Tier 4
Minnesota Vikings (@ PHI)
Los Angeles Rams (@ SEA)
Cleveland Browns (vs. BAL)
Green Bay Packers (@ DET)
Kansas City Chiefs (vs. JAX)
Detroit Lions (vs. GB)
Jacksonville Jaguars (@ KC)
New Orleans Saints (vs. WAS)
Tier 5
Pittsburgh Steelers (vs. ATL)
New York Giants (@ CAR)
Miami Dolphins (@ CIN)
Seattle Seahawks (vs. LA)
Atlanta Falcons (@ PIT)
Tier 6
Oakland Raiders (@ LAC)
Washington Redskins (@ NO)
Indianapolis Colts (@ NE)
How would you rate this article?