Koerner's Week 6 Fantasy Football Tiers: Can You Trust Julio Jones?
Credit:
USA TODAY Sports. Pictured: Aaron Rodgers, Melvin Gordon and Julio Jones
Sean Koerner -- the No. 1 in-season fantasy football ranker in 2015, 2016 and 2017 -- takes a detailed look at his Week 6 tiers for every position: quarterback, running back, wide receiver, tight end, defense and kicker.
Use the strategies outlined below to build the most optimal starting lineup for your fantasy football team.
Below you'll find my tiers for Week 6 fantasy football. These are based on standard scoring and cover every position.
As a reminder, these tiers are not updated after publication. If you want my most up-to-date rankings for PPR, Standard and Half-Point PPR leagues, check out this post.
And, yes, my tiers will be part of our Action Network subscription this season. Be sure to check out everything that comes with a sub here.
Jump to a position: Quarterback | Running back | Wide receiver | Tight end | Kicker | Defense
---
Tier 1
Patrick Mahomes (@ NE)
Mahomes had to allow a few other quarterbacks to rent space in his Tier 1 AirBnB last week as he faced a brutal Jaguars defense. Now he gets a slam-dunk shootout with the Patriots this week and has moved back into Tier 1 all alone.
Tier 2
Aaron Rodgers (vs. SF)
Matt Ryan (vs. TB)
Tom Brady (vs. KC)
Deshaun Watson (vs. BUF)
This has been one of the more unusual NFL seasons I can remember — so unusual that I was getting some slack for having Rodgers in Tier 1 last week. Granted, after Randall Cobb and Geronimo Allison were both officially ruled out, I lowered Rodgers' projections/rank some.
We are five weeks into the season now, which means we have enough data to begin updating the rankings we had to begin the season. On the flip side, we also need to not cast away one of the greatest players to ever play the game as used garbage after a few games.
I always emphasize the need to find the balance between preseason expectations and in-season results, and not to overweight the latter.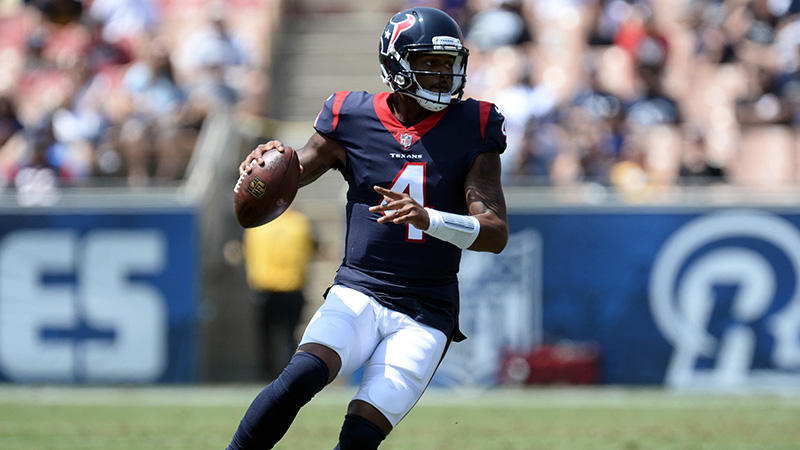 Deshaun Watson could have had a massive Week 5 if not for some perplexing play-calling around the goal line. The Texans need to find better ways to use one of the most dynamic quarterbacks inside the 20.
Watson's stock has been rising after a slow start. He is day-to-day but tentatively expected to play in Week 6. Be sure to monitor his status and have potential backup plans in case he is unable to go.
Tier 3
Jameis Winston (@ ATL)
Kirk Cousins (vs. ARI)
Cam Newton (@ WAS)
Jameis Winston seems to be a distant memory to people. He returned from his three-week suspension only to have Ryan Fitzpatrick "win" the starting job in Week 4.
The Bucs then benched Fitzpatrick in-game and handed the keys to the offense back to Winston. They then had their BYE in Week 5, and now here we are in Week 6 with Winston set to start his first game of the season.
While many people are busy overreacting and obsessing over the first five weeks of the season, I was able to pick up Winston in a few of my leagues. He is a rock-solid QB1 this week in a dream matchup in a dome game against a decimated Falcons defense.
Tier 4
Jared Goff (@ DEN)
Goff gets his own Tier for now because two of his top wide receivers (Brandin Cooks and Cooper Kupp) are in the concussion protocol this week. His final rank will come down to their availability, so be sure to check my updated rankings on Sunday before making any sit/start decision with him.
Tier 5
Andy Dalton (vs. PIT)
Ben Roethlisberger (@ CIN)
Russell Wilson (@ OAK)
Russell Wilson has been arguably the biggest bust at the position. Luckily, I have been ranking him in the bottom half of the position with Doug Baldwin either out or playing at less than 100%. As Baldwin gets healthier, Wilson's value will get a boost.
However, the biggest concern for Wilson has been the lack of rushing stats. A lot of this can be attributed to the Seahawks actually having some semblance of a run game. It's helped take a lot of the pressure off Wilson, which has caused his fantasy production to suffer.
A matchup against a leaky Raiders defense in London could be a prime spot for him to get his fantasy relevance back — for at least a week.
Tier 6
Blake Bortles (@ DAL)
Carson Wentz (@ NYG)
Bortles continued to put up eye-popping numbers without Leonard Fournette in Week 5 with the most Bortles-looking stat line we've seen: 61 pass attempts, 430 yards, one pass touchdown, four interceptions, 34 rush yards, one rush touchdown and a lost fumble (of course).
He's more of a high-end QB2, and you almost have to just plug your nose, put him in your lineup, and just look at the final score he puts up.
Tier 7
Andrew Luck (@ NYJ)
Alex Smith (vs. CAR)
Mitch Trubisky (@ MIA)
Philip Rivers (@ CLE)
Luck managed to put up QB1 numbers despite missing two of his top weapons, T.Y. Hilton and Jack Doyle. There's a chance both are out again this week. I think we can tentatively treat Luck as a high-end QB2 due to the fact that the Colts have almost no run game to speak of.
They seem content using Nyheim Hines dump-offs as an extension of the running game. Luck needs to start having some rushing stats himself before he becomes too touchdown dependent.
Tier 8
Baker Mayfield (vs. LAC)
Derek Carr (vs. SEA)
Joe Flacco (@ TEN)
Mayfield escaped a tough matchup versus the Ravens with a 342-yard game through the air. He is going to be a potential QB1/2 stud at some point, but I'm afraid we still need to be cautious with him. I'm not quite at the point where I can be projecting him over someone such as Dalton quite yet.
Tier 9
Case Keenum (vs. LAR)
C.J. Beathard (@ GB)
Eli Manning (vs. PHI)
Keenum erupted for a 377-yard game in a Week 5 loss to the Jets. While it was a potential matchup-winning game for owners in 2QB leagues, we have to wonder if his days as a starter are numbered. The Broncos could turn to Chad Kelly sooner than later to see what they have in the Ole Miss product.
Tier 10
Marcus Mariota (vs. BAL)
Ryan Tannehill (vs. CHI)
Sam Darnold (vs. IND)
Josh Allen (@ HOU)
These are all dicey two-quarterback league plays and potential BYE week fill-ins for Matthew Stafford and/or Drew Brees owners.
Tier 11
Dak Prescott (vs. JAX)
Josh Rosen (@ MIN)
Prescott against the Jaguars is the biggest fade possible. The only way he manages to eke out a decent week in fantasy is if he has a big day with his legs.
---
More Fantasy Football Rankings
PPR: Flex | QB | RB | WR | TE | D/ST | K
Standard: Flex | QB | RB | WR | TE | D/ST | K
Half-Point PPR: Flex | QB | RB | WR | TE | D/ST | K
---
Based on standard scoring; +/- indicates how many Tiers up/down each player would move in a PPR format.
Tier 1
Todd Gurley (@ DEN)
Each week it is becoming much clearer that spending a No. 1 overall pick on Gurley was the way to go. He is matchup-proof and will have Tier 1 all to himself most weeks going forward.
Tier 2
Melvin Gordon (@ CLE)
Ezekiel Elliott (vs. JAX)
These two guys saw their long-term value get a boost after last week. Mark Ingram's return in New Orleans appears as if it will greatly impact Alvin Kamara's upside down the road (Saints are on a BYE this week).
Zeke has been banged up with various injuries the past couple weeks, but he seems unlikely to miss any time or snaps because of it. The Cowboys will need to lean on him early and often this week to have any chance of moving the ball against the Jags defense.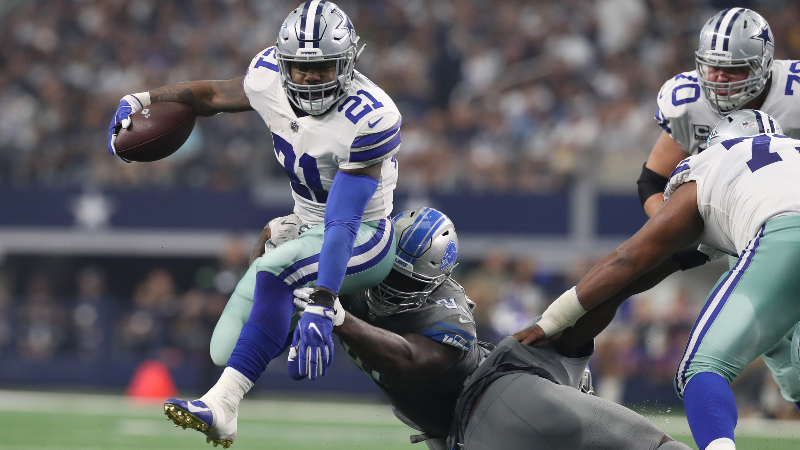 Tier 3
James Conner (@ CIN)
Christian McCaffrey (@ WAS)
Saquon Barkley (vs. PHI)
Joe Mixon (vs. PIT)
Mixon looked close to 100% after returning from minor knee surgery. With Giovani Bernard set to miss the next week or three, it's pretty clear that the Bengals plan on giving Mixon all the touches he can handle. He is a rock-solid RB1 until further notice.
Tier 4
Sony Michel (vs. KC)
Kareem Hunt (@ NE)
David Johnson (@ MIN)
T.J. Yeldon (@ DAL)
It wasn't until Rex Burkhead was placed on IR that I — and my model — began grading Michel as a borderline RB1 based on the expected increase in volume and high-leverage carries.
So far through two weeks, he has lived up to expectations with back-to-back games with at least 100 total yards and a touchdown. He has a dream matchup at home against the Chiefs this week.
Tier 5
Marshawn Lynch (vs. SEA)
Lynch has his first "revenge game" against the Seahawks. The Raiders foolishly had Carr throw on a first-and-goal from the 1-yard line last week instead of simply handing it off to Lynch for an easy 1-yard score.
Surely enough, Carr threw an interception in the end zone to give Lynch flashbacks of Super Bowl XLIX. Expect the Raiders to not make that mistake again and force-feed Lynch any time they get near the goal line this week.
Tier 6
James White (vs. KC) +2
Jordan Howard (@ MIA)
White has also benefited from the Burkhead injury. He is such a critical part of the passing attack that he is able to put up RB2 value in standard scoring based on his receiving stats alone. In PPR formats, White is clearly an every week RB1 until further notice.
Tier 7
Carlos Hyde (vs. LAC)
Isaiah Crowell (vs. IND)
LeSean McCoy (@ HOU)
Adrian Peterson (vs. CAR)
Alfred Morris (@ GB)
Devonta Freeman (vs. TB)
Crowell's rank may seem a bit too much like we are chasing his massive 231-yard game from Week 5, but he is in a great spot this week at home against the Colts. In matchups where the Jets are favored to win and control the lead, the game flow will favor a two-down grinder such as Crowell.
It's the matchups where the Jets are big underdogs and expected to trail most of the game that will favor Bilal Powell, who is much more of a pass-catching back.
Tier 8
Chris Carson (@ OAK)
Phillip Lindsay (vs. LAR)
Chris Thompson (vs. CAR) +1
Dion Lewis (vs. BAL)
Bilal Powell (vs. IND)
Alex Collins (@ TEN)
Lamar Miller (vs. BUF)
Lamar Miller is expected to return from injury this week. He's only in play for fantasy purposes because the Texans look like they'll win this game fairly easily. If he gets around 15 or so touches, he will warrant FLEX consideration.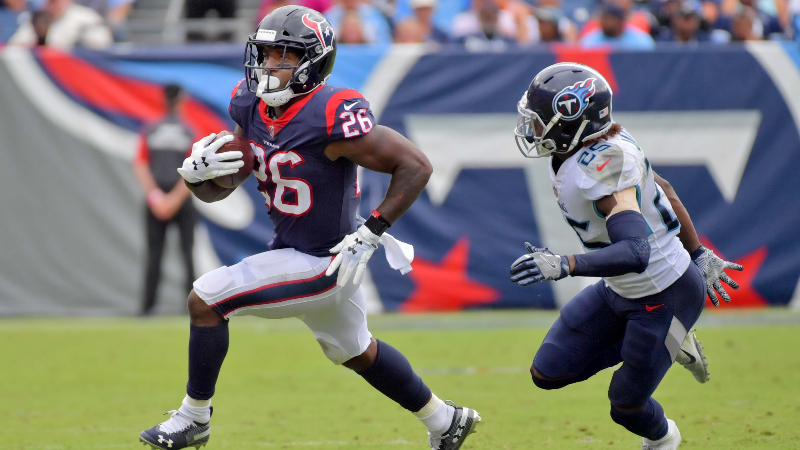 It's worth noting that D'Onta Foreman is set to return from PUP after this week, so if Miller happens to have a decent game, I would try to trade him away while you can. His fantasy value is about to evaporate.
Tier 9
Kenyan Drake (vs. CHI)
Tevin Coleman (vs. TB)
Royce Freeman (vs. LA)
Aaron Jones (vs. SF)
Nyheim Hines (@ NYJ)
Javorius Allen (@ TEN)
Tarik Cohen (@ MIA)
Corey Clement (@ NYG)
Wendell Smallwood (@ NYG)
Dalvin Cook (vs. ARI)
Austin Ekeler (@ CLE)
Jay Ajayi being placed on the IR is more likely to cause headaches for people expecting consistent production from either Clement or Smallwood than it is going to offer up a league-winning midseason pickup.
Josh Adams could make this more of a three-way RBBC, and it's only going to get murkier once Darren Sproles is healthy enough to return.
Cook's rank is based on him suiting up this week at less than 100%. Same goes for the rankings of every single Vikings running back, so take my mid-week rankings with a grain of salt. Be sure to check my rankings that are continually updated before making any sit/start decisions.
Tier 10
Derrick Henry (vs. BAL)
Latavius Murray (vs. ARI)
Mike Davis (@ OAK)
Henry has been one of the biggest disappointments of 2018. We knew the Lewis signing would cap Henry's upside as a RB2/3, but I thought we'd be able rely on him having enough touchdown potential to warrant a spot start based on matchups.
Five weeks into the season, Henry has failed to score and might need a Lewis injury for us to ever feel comfortable inserting him into our lineups.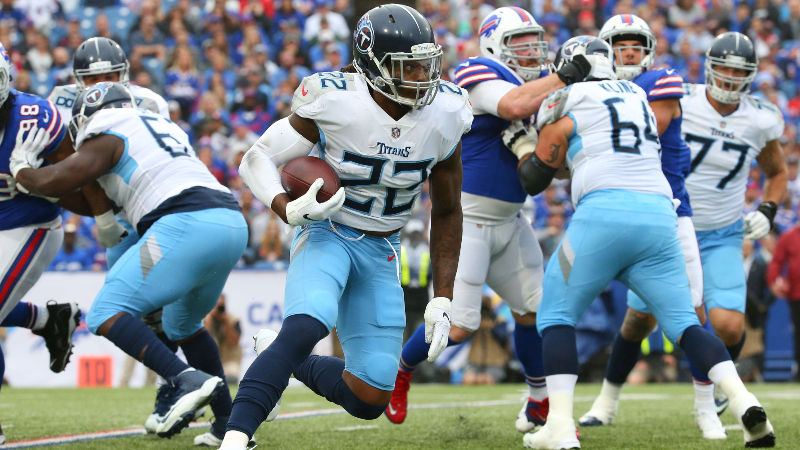 Tier 11
Peyton Barber (@ ATL)
Ronald Jones (@ ATL)
Frank Gore (vs. CHI)
Alfred Blue (vs. BUF)
Ty Montgomery (vs. SF)
Marlon Mack (@ NYJ)
Jamaal Williams (vs. SF)
The Falcons are a dream matchup for running backs right now, especially backs with receiving skills. Unfortunately, the Buccaneers offer no such RBs we can rely on this week.
Alfred Blue will sky rocket up my ranks if Lamar Miller is held out again this week. Blue could have had a huge Week 5 if the Texans didn't shoot themselves in the foot with brutal goal-to-go play-calling.
Tier 12
Jalen Richard (vs. SEA)
Duke Johnson (vs. LAC)
Chris Ivory (@ HOU)
Kyle Juszczyk (@ GB)
Juszczyk should see an increased role in the passing game with Matt Breida ruled out, but don't expect him to pick up any additional carries: He has just 15 carries compared to 144 career receptions. He's much more of a fullback/tight end hybrid than a prototypical running back.
With McCoy trade rumors swirling, I added Ivory in a few of my leagues where I could afford a bench stash.
Will McCoy get traded? Not sure.
If Shady gets traded, will Ivory return to RB2/3 week in, week out? It's possible, but not a guarantee. The point is, he is worth the gamble as opposed to hanging on to a backup tight end or a different backup running back who will need an injury to be playable.
Tier 1
Antonio Brown (@ CIN)
I didn't flinch at the "JuJu Smith-Schuster has replaced Brown as the Steelers No. 1 wide receiver" hype last week. I maintain my position that JuJu is an elite receiver and is a WR1 from here on in, but he has not passed the GOAT yet in my model. Neither should be part of any sit/start decisions anyway.
Tier 2
DeAndre Hopkins (vs. BUF)
Julio Jones (vs. TB)
Another scoreless week for Jones has everyone wondering when he will put a touchdown on the board this year. It's worth noting that one of his three touchdowns in 2017 came from Mohamed Sanu.
The receptions and yardage are always going to be there for Julio, so any touchdowns would be icing on the cake. He's in a smash spot this week at home against the Buccaneers, and if you own him, you are playing him.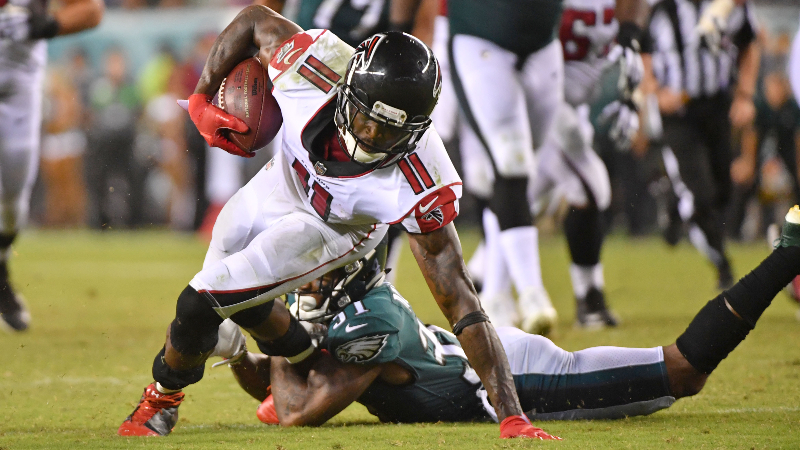 Tier 3
A.J. Green (vs. PIT)
Odell Beckham (vs. PHI)
Mike Evans (@ ATL)
Adam Thielen (vs. ARI)
Tyreek Hill (@ NE)
Evans returns from his Week 5 BYE and should get a boost with Winston under center, who typically forces the ball to Evans. Hill has been held in check for three straight games now but should erupt for a big game this week versus the Patriots.
Tier 4
JuJu Smith-Schuster (@ CIN)
Davante Adams (vs. SF)
Stefon Diggs (vs. ARI)
Keenan Allen (@ CLE)
The Packers' receiver health is a concern right now. If Cobb and Allison are both ruled out again this Week, expect Adams' rank to push him up a Tier. Be sure to check my updated rankings to see how injury news impacts everything before making sit/start decisions.
Tier 5
Robert Woods (@ DEN)
Cooper Kupp (@ DEN)
Brandin Cooks (@ DEN)
By sheer fate, the entire Tier 5 is held by three wide receivers from the same team. This is the most critical Tier to watch this week, as Kupp and Cooks are in concussion protocol and are game-time decisions.
There is way too much uncertainty here to be ranking any of them with confidence midweek, so be sure to check how my rankings change as we find out their statuses later in the week.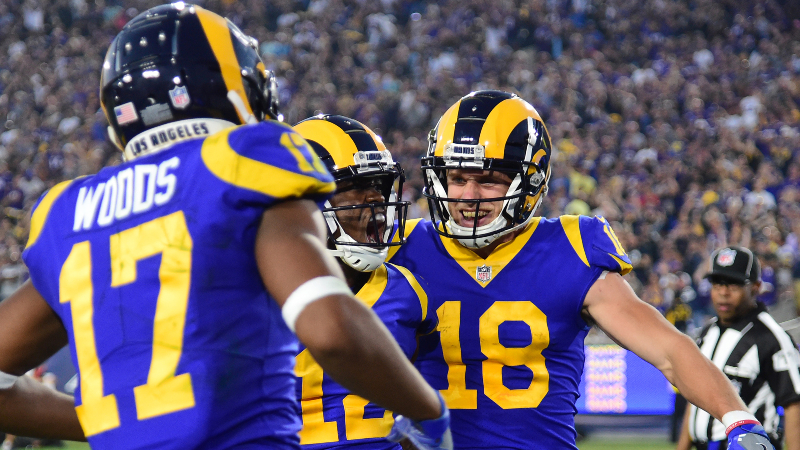 Tier 6
Jarvis Landry (vs. LAC)
Emmanuel Sanders (vs. LAR)
Tyler Boyd (vs. PIT)
Boyd finally came crashing down to Earth last week (four catches for 44 yards against the Dolphins). Expect him to bounce back this week against the Steelers. His rank could go up slightly if John Ross is ruled out again this week.
Tier 7
John Brown (@ TEN)
Corey Davis (vs. BAL)
Calvin Ridley (vs. TB)
Allen Robinson (@ MIA)
Demaryius Thomas (vs. LAR)
Tyler Lockett (@ OAK)
DeSean Jackson (@ ATL)
Julian Edelman (vs. KC)
Alshon Jeffery (@ NYG)
Sterling Shepard (vs. PHI)
Will Fuller (vs. BUF)
T.Y. Hilton (@ NYJ)
Everyone in this Tier makes for a great Week 6 start. The two we need to monitor are Hilton and Fuller. Hilton is pretty simple: If he's active, you start him; if he's inactive, you bench him.
Fuller is a bit more complicated. He is clearly playing at less than 100% right now as evidenced by his 2/15/0 line in Week 5. We will want to get a better sense of his health based on practice reports and how he looks later in the week.
Factor in Deshaun Watson being banged up and the Texans likely not needing to pass much to beat Buffalo, and Fuller could be a guy we choose to bench this week due to his lower floor.
Tier 8
Devin Funchess (@ WAS)
Doug Baldwin (@ OAK)
Amari Cooper (vs. SEA)
Quincy Enunwa (vs. IND)
Keelan Cole (@ DAL)
This Tier was a disaster in Week 5. Baldwin/Enunwa combined for one yard and Cooper continued his boom/bust production with a putrid 1/10/0 line.
Unless you have enough players above this to fill out your starting lineup, I'm afraid you have to go back to the well with this Tier this week. You will quickly find yourself playing whack-a-mole if you bench players after a bad week and have them on your bench when they produce.
Do not become one of those owners.
Tier 9
Dede Westbrook (@ DAL)
Taylor Gabriel (@ MIA)
Sammy Watkins (@ NE)
Michael Crabtree (@ TEN)
Jordy Nelson (vs. SEA)
Donte Moncrief (@ DAL)
Mohamed Sanu (vs. TB)
Robby Anderson (vs. IND)
Nelson Agholor (@ NYG)
Kenny Stills (vs. CHI)
Chris Godwin (@ ATL)
Keke Coutee (vs. BUF)
Jamison Crowder (vs. CAR)
Antonio Callaway (vs. LAC)
Robby Anderson returned to fantasy relevance with a 3/123/2 game in Week 5. I'm afraid he will leave overly ambitious owners with a dud in Week 6 if they start him over someone such as an Amari Cooper.
Again, we do not want to start playing whack-a-mole this time of year. When I see owners doing this and complaining about it being the players' fault, I can't help but think it's simply bad roster management.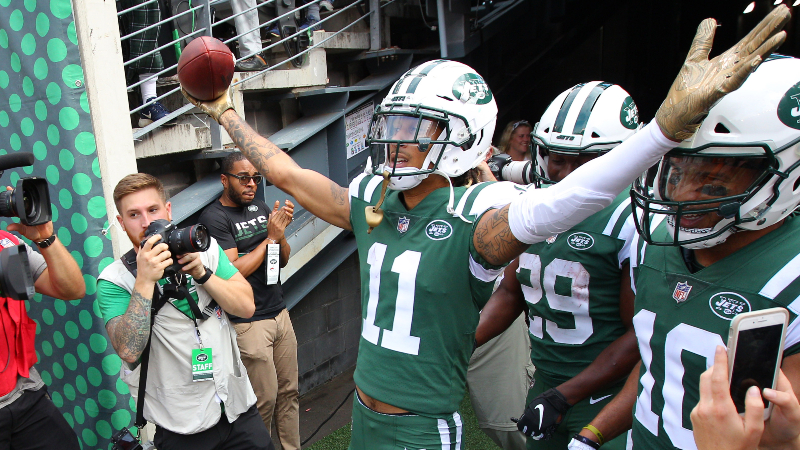 Tier 10
Randall Cobb (vs. SF)
Mike Williams (@ CLE)
Josh Gordon (vs. KC)
Larry Fitzgerald (@ MIN)
Christian Kirk (@ MIN)
Geronimo Allison (vs. SF)
Josh Gordon managed to put up a solid 2/50/1 line in just 18 snaps in Week 5. There is no doubt that as he learns the offense and returns to health, his playing time will increase, and my projections for him will rise. Right now he is too high of a risk/reward to trust him in head-to-head season-long fantasy.
I know everyone loves Gordon, and when he scores a TD on your team in the FLEX, it almost feels like it's worth triple. But it's not, and until he gets more snaps, I'm afraid he's going to increase the likelihood that you lose any week he doesn't score.
Tier 11
Taywan Taylor (vs. BAL)
Paul Richardson (vs. CAR)
David Moore (@ OAK)
Courtland Sutton (vs. LAR)
Willie Snead (@ TEN)
Tier 1
Travis Kelce (@ NE)
Kelce's stock is on the rise while Gronk's is on the decline. For now, Kelce has Tier 1 all to himself. Getting to see these top-two TEs face off head-to-head this week is going to be fun. I'm giving the slight edge to Kelce in this matchup.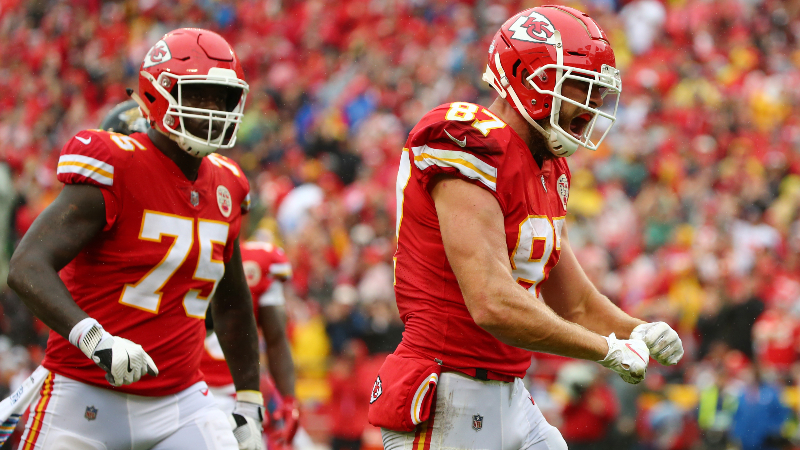 Tier 2
Zach Ertz (@ NYG)
Rob Gronkowski (vs. KC)
Ertz has typically been No. 3 among this top-three tight end Tier, but recent form has him barely sneaking past Gronk this week. One of the most underrated assets in all of fantasy, Ertz brings consistency and stability to a position that is extremely volatile. He has four straight games of 70+ yards and two straight 100-plus-yard games.
Tier 3
Jared Cook (vs. SEA)
Jimmy Graham (vs. SF)
Jordan Reed (vs. CAR)
George Kittle (@ GB)
This is the only Tier that separates the top three and what I would consider borderline TE streamers. All four TEs make great Week 6 plays.
Cook is going to be inconsistent, but he has so much upside at such a weak position that you have to roll with him through the bad times in order to benefit from the good.
Starting some FA such as Austin Hooper, who had a big Week 5, over Cook is going to get you into the whack-a-mole mentality I have been urging you to avoid.
Tier 4
Cameron Brate (@ ATL)
Eric Ebron (@ NYJ)
This Tier is entirely dependent on the health of Brate and Ebron's teammates.
O.J. Howard was expected to miss a couple weeks, but he surprisingly practiced on Wednesday. This puts him on track to possibly play this week and would drop Brate a few Tiers. If Howard ends up missing Week 6, this is right about where I will have Brate ranked.
Ebron has thrived with Jack Doyle out of the lineup. There is a chance Doyle returns this week, which would lower expectations for Ebron. It's also worth noting that T.Y. Hilton's status will also affect Ebron's ranking this week.
Be sure to check my updated rankings after we have a better idea on their health and before you make any sit/start decisions.
Tier 5
Kyle Rudolph (vs. ARI)
Trey Burton (@ MIA)
David Njoku (vs. LAC)
Austin Hooper (vs. TB)
Vance McDonald (@ CIN)
Njoku's stock has been rising ever since Baker Mayfield took over as the Browns starting QB. He's worth keeping as an every-week TE1 in hopes that he breaks out soon.
Tier 6
C.J. Uzomah (vs. PIT)
Nick Vannett (@ OAK)
Jack Doyle (@ NYJ)
Greg Olsen (@ WAS)
Olsen is tentatively expected to return Week 6. It will be very tempting to insert him into lineups, but I would be cautious and let him play for a week on my bench before we can feel comfortable with him. We should get a better sense on what to expect from him later this week.
Tier 7
Ricky Seals-Jones (@ MIN)
Geoff Swaim (vs. JAX)
Ryan Griffin (vs. BUF)
Jeff Heuerman (vs. LAR)
Niles Paul (@ DAL)
Niles Paul joins this dart-throw TE streamer Tier after Austin Seferian-Jenkins was placed on IR. He is a pass-catching TE who could become one of Bortles' preferred targets the rest of the season and definitely a name to watch in TE premium leagues.
Tier 1
Stephen Gostkowski (vs. KC)
Matt Bryant (vs. TB)
Tier 2
Cairo Santos (@ DEN)
Dan Bailey (vs. ARI)
Harrison Butker (@ NE)
Randy Bullock (vs. PIT)
Mason Crosby (vs. SF)
Chandler Catanzaro (@ ATL)
Ka'imi Fairbairn (vs. BUF)
Tier 3
Sebastian Janikowski (@ OAK)
Justin Tucker (@ TEN)
Chris Boswell (@ CIN)
Jake Elliott (@ NYG)
Dustin Hopkins (vs. CAR)
Jason Myers (vs. IND)
Caleb Sturgis (@ CLE)
Cody Parkey (@ MIA)
Adam Vinatieri (@ NYJ)
Josh Lambo (@ DAL)
Graham Gano (@ WAS)
Matthew McCrane (vs. SEA)
Brandon McManus (vs. LA)
Tier 4
Ryan Succop (vs. BAL)
Greg Joseph (vs. LAC)
Robbie Gould (@ GB)
Aldrick Rosas (vs. PHI)
Jason Sanders (vs. CHI)
Brett Maher (vs. JAX)
Steven Hauschka (@ HOU)
Tier 1
Houston Texans (vs. BUF)
Green Bay Packers (vs. SF)
Minnesota Vikings (vs. ARI)
Tier 2
Chicago Bears (@ MIA)
Jacksonville Jaguars (@ DAL)
Tier 3
Los Angeles Chargers (@ CLE)
Baltimore Ravens (@ TEN)
Los Angeles Rams (@ DEN)
New York Jets (vs. IND)
Philadelphia Eagles (@ NYG)
Dallas Cowboys (vs. JAX)
Washington Redskins (vs. CAR)
Seattle Seahawks (@ OAK)
Buffalo Bills (@ HOU)
Indianapolis Colts (@ NYJ)
Tennessee Titans (vs. BAL)
Tier 4
Miami Dolphins (vs. CHI)
New York Giants (vs. PHI)
Cincinnati Bengals (vs. PIT)
Cleveland Browns (vs. LAC)
Carolina Panthers (@ WAS)
Atlanta Falcons (vs. TB)
Pittsburgh Steelers (@ CIN)
Oakland Raiders (vs. SEA)
Arizona Cardinals (@ MIN)
Tier 5
San Francisco 49ers (@ GB)
New England Patriots (vs. KC)
Tampa Bay Buccaneers (@ ATL)
Denver Broncos (vs. LAR)
Tier 6
Kansas City Chiefs (@ NE)
How would you rate this article?