Koerner's Week 5 Fantasy Football WR Tiers: Fade Tyreek Hill vs. Jalen Ramsey and Jags?
Credit:
Jay Biggerstaff-USA TODAY Sports. Pictured: Tyreek Hill
Sean Koerner -- the No. 1 in-season fantasy football ranker in 2015, 2016 and 2017 -- takes a detailed look at his Week 5 wide receiver tiers.
Use the strategies outlined below to build the most optimal starting lineup for your fantasy football team.
Below you'll find my wide receiver tiers for Week 5 fantasy football. These are based on standard scoring.
As a reminder, these tiers are not updated after publication. If you want my most up-to-date rankings for PPR, Standard and Half-Point PPR leagues, check out this post.
And, yes, my tiers will be part of our Action Network subscription this season. Be sure to check out the awesome special we're currently running below for an annual sub.
---
Koerner's Wide Receiver Tiers
Tier 1
Antonio Brown (vs. ATL)
There always comes a point when a No. 1 WR sees some of his usage go to the No. 2 option. This appears to be happening with JuJu Smith-Schuster and Antonio Brown so far in 2018.
I think it's more of a symptom of JuJu being really, really good than anything to do with AB.
I still view Brown as the preferred WR option going forward for the Steelers and all of fantasy football. He should pick apart this depleted Falcons defense this week.
Tier 2
Julio Jones (@ PIT)
Michael Thomas (vs. WAS)
Jones continues to put up massive reception/yardage totals with nothing to show for it in the TD department. I think that changes in this week's shootout in Pittsburgh.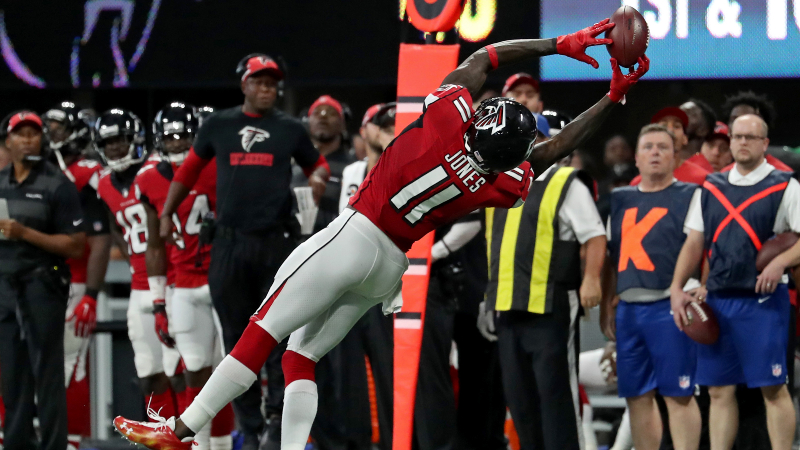 Tier 3
DeAndre Hopkins (vs. DAL)
Hopkins has seen 10-plus targets and six-plus receptions in each of the first four games. He is one of the most reliable players in fantasy.
Tier 4
A.J. Green (vs. MIA)
Odell Beckham (@ CAR)
JuJu Smith-Schuster (vs. ATL)
As I mentioned in the AB Tier, I'm too interested in comparing JuJu to AB, but it is time to recognize Smith-Schuster's game. He's one of the most talented WRs in the league, and on top of that, he likely benefits from all the attention AB gets.
He was one of the players I thought most experts were unfairly expecting to regress too much simply because he was so efficient in 2017.
Players such as Tyreek Hill, Alvin Kamara and JuJu all fall into the bucket: I am very careful not to apply too much regression to guys who show such incredible raw talent. Even if they do regress, it's not like they're going to become an average player.
Tier 5
Davante Adams (@ DET)
Keenan Allen (vs. OAK)
Tyreek Hill (vs. JAX)
Adam Thielen (@ PHI) +1
Brandin Cooks (@ SEA)
I'm expecting a big week from Adams. With Randall Cobb potentially missing again this week and Geronimo Allison in the concussion protocol, this could be a week in which the Rodgers/Adams combo has a multi-TD game.
Tyreek gets the dreaded Jaguars matchup, but I think he could avoid Jalen Ramsey based on the matchup. It's shouldn't matter whether D.J. Hayden or Tyler Patmon starts at slot corner; neither will stand a chance versus Hill. I'm still treating him as a high-upside WR1 this week.
Tier 6
Stefon Diggs (@ PHI)
Golden Tate (vs. GB)
Cooper Kupp (@ SEA)
Robert Woods (@ SEA)
Jarvis Landry (vs. BAL)
The Rams offense has been able to feed all three WRs (Cooks, Kupp and Woods) on a weekly basis. There will be a week when one or two of the guys will see the bulk of the production, leaving the third with very little. But this is not something we need to worry much about; I have all three Rams wideouts as WR2s.
Tate is part of a similar situation where all three Lions WRs are viable fantasy starters each and every week. He is still my preferred high-floor option on the Lions, especially in PPR.
Tier 7
Corey Davis (@ BUF)
Emmanuel Sanders (@ NYJ)
Kenny Golladay (vs. GB)
Tyler Boyd (vs. MIA)
Calvin Ridley (@ PIT)
Marvin Jones (vs. GB)
Will Fuller (vs. DAL)
Devin Funchess (vs. NYG)
Doug Baldwin (vs. LAR)
Alshon Jeffery (vs. MIN)
Quincy Enunwa (vs. DEN)
John Brown (@ CLE)
Amari Cooper (@ LAC)
Sterling Shepard (@ CAR)
Demaryius Thomas (@ NYJ)
Kenny Stills (@ CIN)
There are quite a few 2018 breakouts who we can now safely call strong WR3s with WR2 upside: Kenny Golladay, Tyler Boyd and Calvin Ridley. Congrats if you were able to snag any of them in the later rounds.
I have always loved Amari Cooper's upside, but I'm starting to think his high ceiling/low floor tends to hurt the teams that spent high draft capital on him.
We have to remember that head-to-head fantasy football is not about getting the top score of the week. It's fun when that occurs, but ultimately you need to beat only ONE team each week: your opponent. That's why I put a premium on high-floor players.
Over time, they will help you win more matchups than players such as Cooper, who may help you win week or two, but will be a liability in a handful of other games. He needs to become more consistent for his fantasy value to be comparable to a WR2.
Tier 8
Keelan Cole (@ KC)
Tyler Lockett (vs. LAR)
Julian Edelman (vs. IND)
Geronimo Allison (@ DET)
Mike Williams (vs. OAK)
Michael Crabtree (@ CLE)
Dede Westbrook (@ KC)
Nelson Agholor (vs. MIN)
Jordy Nelson (@ LAC)
Larry Fitzgerald (@ SF)
Taywan Taylor (@ BUF)
Edelman makes his return from a four-game suspension. I expect him to hit the ground running, as Chris Hogan disappointed in his absence.
It's clear that Brady misses Edelman and will welcome him back with a ton of targets. This game could get out of hand early, so I think his upside could be limited; the Patriots won't need to throw much to put the Colts away.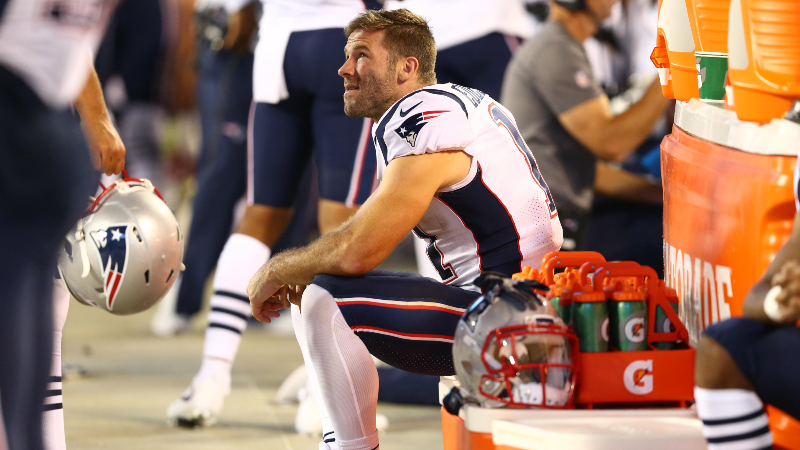 Taywan Taylor has seen a big boost in my model now that the Titans are without Delanie Walker and Rishard Matthews. Taylor is an extremely talented receiver who can do some damage with even limited snaps/targets. Now that Taylor is Mariota's No. 2 option in the passing game, the sky's the limit.
Tier 9
Ted Ginn (vs. WAS)
Ryan Grant (@ NE)
Mohamed Sanu (@ PIT)
Donte Moncrief (@ KC)
Sammy Watkins (vs. JAX)
Jamison Crowder (@ NO)
Paul Richardson (@ NO)
Chester Rogers (@ NE)
Christian Kirk (@ SF)
Randall Cobb (@ DET)
Ryan Grant and Chester Rogers could be emergency starts if you're in need of a dart throw FLEX play this week, as the Colts are without T.Y. Hilton. The extra targets available are the sole reason I'm projecting him to have fantasy relevance this week.
Tier 10
Marquise Goodwin (vs. ARI)
Robby Anderson (vs. DEN)
Willie Snead (@ CLE)
Cole Beasley (@ HOU)
Albert Wilson (@ CIN)
How would you rate this article?