20 Staff Favorite NFL Season-Long Bets: Futures, Props and Win Totals
Credit:
Denny Medley-USA TODAY Sports. Pictured: Kansas City Chiefs defensive tackle Chris Jones
The Eagles and Falcons will kick off the 2018 NFL betting action on Thursday night.
With the season almost here, we asked 20 of our staff for their favorite season long bets.
You will find a great variety of Super Bowl futures, season win totals and player props.
Believe it or not, the start of the NFL season is now only two sleeps away — or one for those who procrastinated on all of their NFL betting and fantasy prep.
With the season about to get underway, we wanted to ask our staff to provide their favorite season-long bet for the 2018-19 NFL season. We have a wide variety of answers that run the gamut of possible preseason bets. Let's start with the player props before getting into season win totals and finishing up with everyone's favorite: futures!
---
PLAYER PROPS
Sean Koerner — Joe Flacco Under 15 INTs (-135)
This under seems like a slam dunk thanks to competing theories:
Flacco could be motivated after the Ravens traded up to draft Lamar Jackson in the first round, similar to what we saw from Alex Smith last year when the Chiefs selected Patrick Mahomes.
Flacco could be benched for Jackson if he struggles and is throwing interceptions at a high rate early in the season.
Joe has thrown more than 15 interceptions only once in 10 seasons. I love the game theory involved with this prop; it's hard to see a scenario that doesn't lock it in as a winner.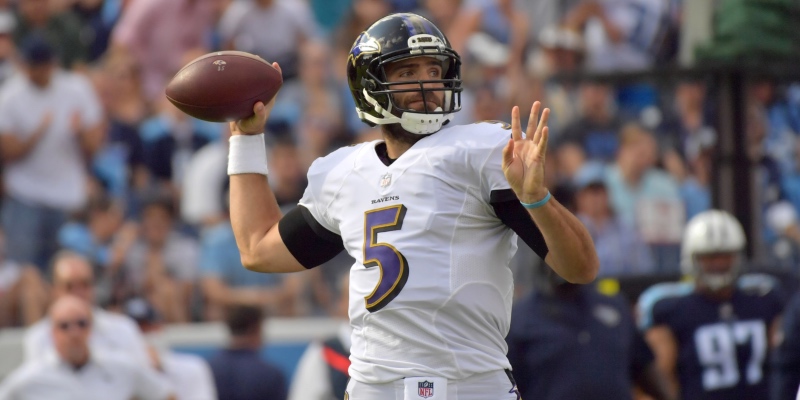 Matthew Freedman — Sam Bradford Under 8 INTs (-130)
Sean Koerner and I talked about this prop on a recent episode of The Action Network NFL Podcast. Of all the hundreds of player props listed, this might be my favorite.
Bradford is a turnover-adverse passer: In 80 career starts, he's averaged just 0.71 interceptions per game. Over the last five years, he's been even more protective of the ball with just 0.61 picks per game. In 17 starts with the Vikings over the past two years, he threw just five interceptions.
If Bradford plays the entire season, he might not hit eight interceptions. But he also could miss significant time to injury: He played in only two games last season. The over/under for number of starts rookie quarterback Josh Rosen will make this year is 6.5.
I tend not to invest in season-long props because I don't want to tie money up for that long, but I'm inclined to hit this prop as hard as I can.
Geoff Schwartz — David Johnson Over 949½ yards (-150)
This prop opened up at a criminally low 900 yards, but still has value in my eyes. In 2016, David Johnson couldn't be stopped, rushing for 1,239 yards on 293 carries (4.2 yards per attempt). FYI, that's a great season.
However, Johnson missed 15 games in 2017 with a wrist injury. Unlike a lower body injury that often takes two seasons to fully recover from, a wrist injury won't prevent Johnson from hitting the ground running in Week 1.
The Cardinals also added guard Justin Pugh and right tackle Andre Smith — both good run blockers. Plus, I expect a defensive-minded coach with a young team to rely heavily on the running game. But even if Johnson's rushing attempts are reduced from 293 to 227, he'd still break 950 at 4.2 yards per carry.
Jason Sobel: Todd Gurley to win MVP (+3000)
If I told you the near-unanimous No. 1 pick in most fantasy leagues — the guy with the greatest offensive upside, who also plays on what should be one of the NFL's best teams — has just the 12th-lowest odds on the board to win MVP, you'd jump on that number, right?
Well, start jumping, because Gurley fits that entire profile. Here's the catch, since 30-1 odds always have a catch: Only once in the last 11 years (Adrian Peterson in 2012) has a non-QB won the season-long award. Even so, there's a ton of value in Gurley, who should be the face of a very good team, but is listed below the likes of Russell Wilson and Andrew Luck.
If fantasy turns into reality, this could pay off in a big way.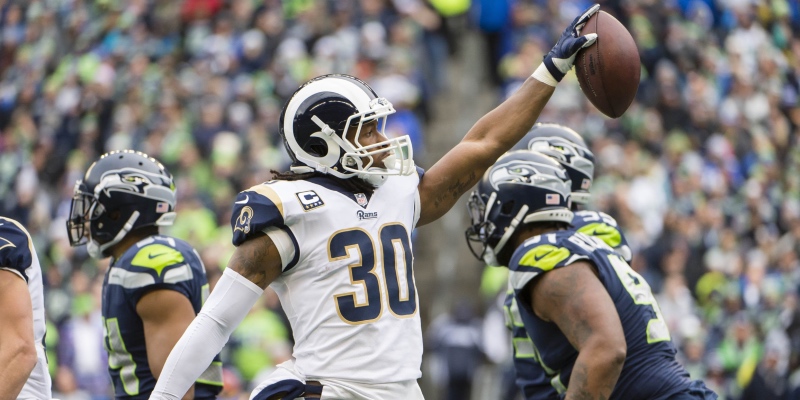 Ken Barkley — Marvin Lewis (+4000) Coach of the Year
The entire coach of the year market is essentially broken. The longshots should be the favorites and vice versa. Coaches on teams that finished under .500 in the previous year with a chance to significantly improve that team's win total usually have the best shot. First-timers also generally get a bump.
A few candidates initially caught my eye, including Kyle Shanahan, Pat Shurmur and Bill O'Brien. However, I ultimately decided on Lewis and two others: Vance Joseph (+2000) and Matt Nagy (+2000).
Nagy checks every box, especially after the Bears traded for Khalil Mack.
Joseph didn't win a ton of fan support last year, but the Broncos still have an incredible defense, and Case Keenum is definitely an upgrade at QB.
Lastly, the Bengals are a team I'm higher on than most are this year.
Lewis actually won this award with Cincinnati in 2009, but there have been other repeat winners. Ron Rivera actually won it twice in three years, which probably needs its own column.
Matt LaMarca: Cam Newton to win MVP (+2050)
I'll never understand why people hate Newton. All the guy does is win, yet so many people would rather focus on his postgame outfits or touchdown celebrations. These odds seem ridiculously high for someone who has already won this award — and now arguably has his most talented supporting cast yet.
Christian McCaffrey is poised to dominate the workload out of the backfield, while Devin Funchess emerged as a legit No. 1 option down the stretch last season. Plus, Greg Olsen is super reliable at tight end, and the team has two other WRs oozing with potential in Curtis Samuel and D.J. Moore.
Newton has a shot to throw for 4,000 yards for the first time since his rookie season. Cam will also pad his stats with his legs, as he has rushed for at least 585 yards and six TDs in every full season of his career.
The Panthers won 11 games last season and might be the best team in the NFC this season. Why isn't their star QB getting more MVP love?
---
WIN TOTALS
Chris Raybon: 49ers Over 8.5 Wins (+130)
The 49ers went 5-0 in Jimmy Garoppolo's starts last season, which is even more impressive when you consider he'd been with the team for only a few weeks. Over that span, the 49ers beat multiple playoff teams and had had the point differential of an 11.3-win team (according to Pythagorean expectation).
The roster has been upgraded on both sides of the ball, and the team has a strong coaching staff and special-teams unit, two factors that can go overlooked when betting on win totals.
Travis Reed: Raiders Under 8 wins (-175)
The Raiders went 6-10 last season and it wasn't a fluke: They had a -72 point differential and their Pythagorean record came out to 6-10 as well. They added some pieces this offseason, but most of them are either past their prime or have serious question marks.
Their biggest "splash" was signing a head coach who hasn't coached in a decade (and never once showed an inkling of intellect in nine years as a broadcaster). I expect Oakland to finish at the bottom of the standings in a tough AFC West in December.
PJ Walsh: Chiefs Over 8.5 wins (+100)
Call me a believer because I'm drinking the Pat Mahomes Kool-Aid.
Landing in Kansas City under the tutelage of QB guru Andy Reid was just about the best possible situation for Mahomes. Surrounded by an insanely talented complement of weapons — including Tyreek Hill, Kareem Hunt and Travis Kelce — this offense should hum this year.
Our most recent Bet Labs simulations pegged the Chiefs' over 8.5 wins at -120 as the best 2018 NFL win total bet on the board — and now you can get plus-money, which screams value.
Evan Abrams — Packers Under 10.5 wins (-150)
My favorite 2018 NFL future bet is the anti-Packers angle. What is the easiest way to fade Green Bay in a single wager? It came down to these three for me:
Packers under 10.5 wins (-150)
Packers won't make playoffs (+150)
Aaron Rodgers over 9.5 interceptions (+110)
The Packers won seven games and failed to make the playoffs in 2017 and are now projected to win 10 games in 2018. Since 1990, only eight teams have failed to make the playoffs then subsequently had a win total of 10 or more the next season — the last five failed to make the playoffs and went under their win total. (Each was also a good fade the first half of the season, too.)
I'll probably play all three, but take Pack under 10.5 wins.
It's going to be a long season for the Bills, who have countless holes on offense. Per Pro Football Focus, Buffalo has the 29th-ranked offensive line in the league. The situation at quarterback looks even worse, as the Bills will start Nathan Peterman in Week 1.
There isn't much help at receiver, either, with Kelvin Benjamin and Zay Jones leading the group. Buffalo will struggle to move the ball all season and could end up with the No. 1 overall pick in the 2019 NFL draft.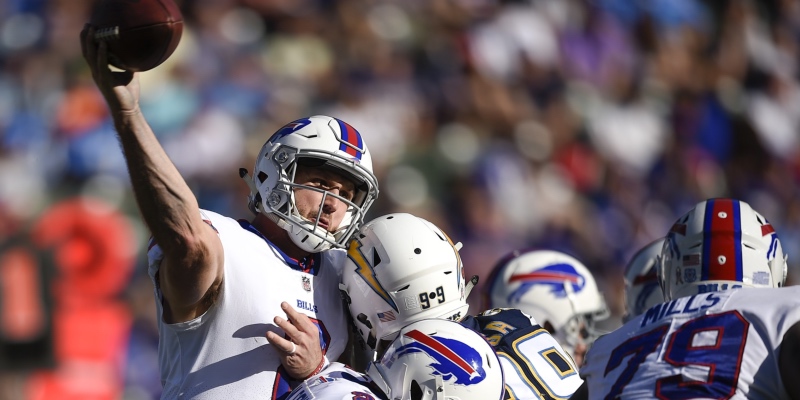 Danny Donahue — Redskins Under 7 wins (+110)
The Redskins have the dreaded Week 4 bye week, so their legs won't be getting any fresher from early October to late December. They also finished in third place last season, which sets up for meetings with the Packers and Falcons.
Their 2018 point spreads suggest they'll win 6.34 games, while our projections give them only 6.28. Oh, and they're currently favored in only four games — all by less than a field goal.
---
>> Sign up for The Action Network's daily newsletter to get the smartest NFL conversation delivered into your inbox each morning.
---
Lauren Joffe: Patriots Over 11 wins (-130)
I'm not going to overthink this one. The Patriots have won at least 12 games in eight straight seasons — even when Tom Brady was suspended. Bill Belichick just finds ways to win, and a consistently weak division only helps.
Conor Davidson: Browns no wins before Week 4 (+250)
The Browns probably won't go winless again, but I see them losing each of their first three games. They should start out 0-2 against the Steelers and Saints to open up the year.
They are then projected as a home favorite against the Jets in Week 3. However, my buddy Chris Raybon pointed out on a recent episode of I'll Take That Bet that the Jets played to the level of a 7-9 team last season, and have since upgraded at QB. I actually like New York to get it done.
Square bettors love the 2018 Browns because of Hard Knocks, so it looks like I can fade the public and cash a +250 wager before October. Sign me up.
---
DIVISION FUTURES
Ian Hartitz: Chargers to win AFC West (+143)
The Raiders were inexplicably favored to win the AFC West for a good portion of the offseason, but their decision to trade Khalil Mack has helped make the Chargers the favorite across the industry.
The Chargers have fallen short of their expected win-loss record based on points scored/allowed in each of the past three seasons. They also finished just 3-5 in one-possession games last season.
Their defense boasts arguably the league's premiere pass-rushing tandem in Joey Bosa and Melvin Ingram to complement the AFC's best secondary outside of Jacksonville's. Plus, Philip Rivers has engineered a top-12 scoring offense in eight of his 12 seasons as a starter.
This season could not be shaping up better for the Giants. They get a healthy Odell Beckham back in the fold with two key additions in running back Saquon Barkley and tackle Nate Solder.
The defense has pieces, and the Giants now have a competent head coach in Pat Shurmur. Also, the Redskins and Cowboys have likely taken steps back — while the Eagles have enormous quarterback questions.
If the Giants can get off to a quick start, look out.
---
SUPER BOWL FUTURES
Chad Millman: Saints to Win Super Bowl (+1600)
Full disclosure, I bought the Saints to win the Super Bowl at 18-1. It's possible my bet moved the market (given how sharp I am and how bookmakers tend to book to my face), but in reality a lot of people have gotten wise to the Saints.
New Orleans developed a winning formula last year that relies on Drew Brees' accuracy and a change-of-pace runner in Alvin Kamara. Brees doesn't have to throw deep and doesn't have to throw for 400 yards a game, especially with a run game that ranked fifth last season.
Brees plus a solid defense (led by defensive end Cameron Jordan and cornerback Marshon Lattimore) equals a great buy.
Stuckey:  Chargers to win Super Bowl (+2100)
The Chargers might have the best roster in the NFL. Those who know me know I loved this team last year, but the Bolts just couldn't catch any breaks. Their defense should dominate once again, especially after general manager Tom Telesco added a few solid pieces via the draft. The offensive talent is there as well.
Hunter Henry's injury hurts (although he could return in January), but my main worry (besides a slow start) is the kicking game, which cost them a few wins last year. I'm not sure Caleb Sturgis (career 54.2% kicker from 50+) is the answer.
Regardless, I'm rolling with the Bolts at 21-1 in a wide-open AFC.
Peter Jennings:  Jaguars to win Super Bowl (+2200)
Incredible line, and I love the team and schedule this year. Too much value to pass up at 22-1.
John Ewing:  Patriots +625 to win Super Bowl
New England's 2017 preseason Super Bowl odds were +275. Now you can get the Pats at +625, which implies a 13.8% probability of winning it all.
What has changed, really? No dynasty can last forever, but there's a lot to like about the 2018 Patriots.
AFC East remains unncompetitive.
Pats are projected to reach 12 wins for the ninth straight season.
New England is the only team with better than a 90% chance of reaching the postseason.
According to the Bet Labs NFL simulations, New England has a league-best 20.6% chance of winning the Super Bowl, which means +625 certainly holds value.
How would you rate this article?