Can Adam Thielen, Stefon Diggs Be Top-10 Fantasy Football Wide Receivers (Again)?
Credit:
Brace Hemmelgarn-USA TODAY Sports. Pictured: Adam Thielen, Stefon Diggs
Stefon Diggs and Adam Thielen have emerged as top-tier WRs. Could they be in store for fantasy football greatness in 2019?
Ian Hartitz analyzes whether both can finish as top-10 WRs (again), and if not, which one you should draft.
Our experts are constantly refining their rankings and projections in the run-up to the 2019 season. Build custom cheat sheets featuring their latest updates with our Draft Kit.
---
The majority of football fans can probably agree that Stefon Diggs and Adam Thielen form the NFL's best one-two punch at wide receiver.
Odell Beckham Jr. and Jarvis Landry, Julio Jones and Calvin Ridley as well as Keenan Allen and Mike Williams (among others) have potential claims to this honor, but the Minnesota Vikings' duo has a longer track record of success than pretty much any other tandem at this point.
The only people who could possibly complain about one team having two elite talents at the wide receiver position are fantasy football investors. While Diggs and Thielen have each been solid commodities in recent seasons, there's a capped ceiling for anyone not locked in as their offense's No. 1 pass-game target.
Let's breakdown just how good both these two are at their craft before diving into how often we've seen multiple top-tier fantasy football wide receivers function in the same offense.
Stefon Diggs Is a Scary Good WR (When Healthy)
The Vikings somehow landed Diggs in the fifth round of the 2015 draft.
His collegiate career at Maryland was at times sabotaged by poor performances from his various ill-equipped quarterbacks, but he quickly established himself as an effective option as a rookie in 2015. Diggs' 419 yards over his first four career games are the second-most in NFL history behind only Anquan Boldin (464).
Diggs established himself as more than a flash-in-the-pan talent during his first three seasons in the league, but he didn't truly break out until teaming up with Kirk Cousins in 2018.
This was due in large part to a career-high 149 targets.
2015: 52 receptions-720 yards-4 TDs (84 targets), PPR WR46
2016: 84-903-3 (112), WR31
2017: 64-849-8 (95), WR19
2018: 102-1,021-9 (149), WR10
Diggs also was able to play in a career-high 15 games — the biggest "problem" for him early in his career was simply staying on the field.
Diggs has proven more than capable of dusting even the game's best cornerbacks when at 100%.
Still, we have four seasons of evidence that says it's fairly difficult for Diggs to stay completely healthy for 16 games. He's never missed more than three games in a season — and just nine of a potential 64 career games — but we've also seen a fairly noticeable drop in his performance when playing through an injury.
There's also cause for concern with the fairly-drastic indoor-outdoor splits Diggs has exhibited during his short career.
Diggs Per Game Indoors (25 games): 5.7-67.1-0.6 (7.8), 16 PPR
Diggs Per Game Outdoors (33 games): 5.4-62.1-0.3 (8.2), 13.4 PPR
Diggs is capable of balling out in pretty much any matchup, but daily fantasy investors are probably best off using him when they're positive he's 100% healthy as well as playing indoors.
Unfortunately for opposing defenses, containing Diggs is only part of the problem when preparing for the Vikings' passing game.
Adam Thielen Deserves Mention Among NFL's Best WRs
Thielen's path to stardom was even more surprising than Diggs.
The 2014 undrafted free-agent spent his first two seasons simply grinding things out on special teams to maintain a roster spot before eventually getting the chance to thrive on offense.
When Mike Wallace left for Baltimore in 2016, it quickly became clear that first-round pick Laquon Treadwell wasn't the answer. This paved the way for Thielen to convert 92 targets into a sturdy 69-967-5 line despite working behind both Diggs and Kyle Rudolph in Sam Bradford's pecking order.
Thielen truly broke out over the past two seasons. It's not an understatement to say the man catches everything.
Thielen posted a 91-1,276-4 line in 2017 on 142 targets. He converted 153 targets last season into a smooth 113-1,373-9 total. Then his eight consecutive games with 100 yards to start the 2018 season set a new NFL record. Only Julio Jones (21) and Antonio Brown (17) have had more games over the century mark than Thielen (16) since 2016.
The most impressive part about Thielen's production has been his efficiency. Thielen (70.1% catch rate) joins Michael Thomas (77%), Cole Beasley (70.9%), Adam Humphries (70.4%) and Tyler Lockett (70.3%) as the only wide receivers to catch at least 70% of their targets since 2012 (min. 100 targets).
All of this production has ultimately helped Thielen finish as the PPR WR30, WR9 and WR7 from 2016 to 2018.
The (Brief) History of Teammates Working as Top-Tier Fantasy Producers
Thielen and Diggs both managed to finish among the league's top-10 fantasy receivers in 2018, which marked just the 22nd instance of that happening since 2000.
Unfortunately, there isn't a huge history of a pair of receivers accomplishing that feat twice. In fact, only five sets of wide receivers have managed to work as teammates and each rank inside of the league's top-10 PPR wide receivers in multiple seasons since 2000.
Colts receivers Marvin Harrison and Reggie Wayne in 2004 and 2006
Bengals receivers Chad Johnson and T.J. Houshmandzadeh in 2006 and 2007
Cardinals receivers Larry Fitzgerald and Anquan Boldin in 2005 and 2008
Patriots receivers Randy Moss and Wes Welker in 2007 and 2009
Broncos receivers Demaryius Thomas and Eric Decker in 2012 and 2013
Thielen and Diggs would become just the third pair of teammates to accomplish this feat in consecutive seasons since 2000.
The good news is multiple top-20 seasons between a pair of teammates have been much more prevalent. There have been 58 cases of teammates each finishing a season ranked among the league's top-20 PPR wide receivers.
Both Vikings' receivers are #good enough at football to comfortably believe they can at least finish 2019 inside the league's top-20 receivers again. Still, we'll need to see an improved-version of Cousins in 2019 if the passing offense is going to put up such gaudy numbers again considering next season's Vikings are tentatively expected to have a more run-heavy approach.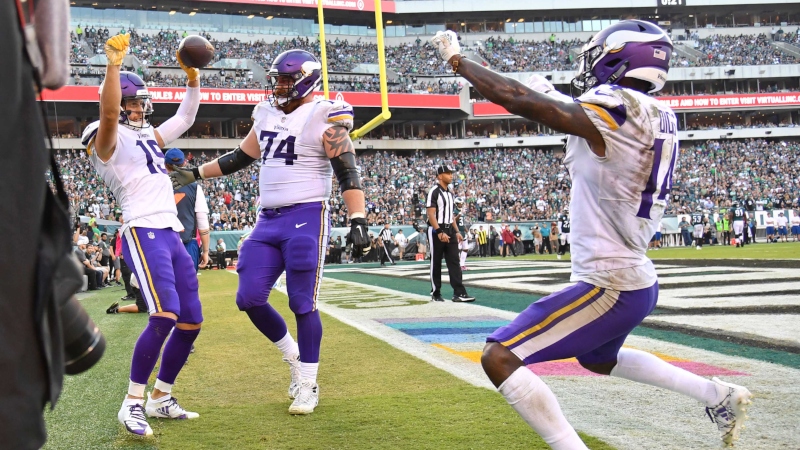 Thielen has the higher average draft position as of writing  and is the safer investment considering he's never missed a game during his five-year career. He's usually risen to the occasion in six games without Diggs over the past three seasons:
Week 5, 2016: 7-127-1 (8)
Week 12, 2016: 8-53-0 (11)
Week 17, 2016: 1-7-0 (1)
Week 6, 2017: 9-96-0 (13)
Week 7, 2017: 5-41-0 (12)
Week 9, 2018: 4-22-1 (7)
Diggs actually had an earlier ADP (WR11) than Thielen (WR14) last season. The market has corrected itself this time around and now offers both Diggs (WR13) and Thielen (WR9) right around where they probably should be valued.
We shouldn't assume regression just for the sake of doing so, but fantasy investors probably shouldn't reach too far for these receivers in 2019 considering how tough it will be for both to repeat their status as top-10 options.
Personally, I'd rather use one of my first four round picks on one of fantasy football's big-three tight ends or a three-down running back.
How would you rate this article?