A Serious Betting Breakdown of the Belichick Hoodie Prop
Credit:
David Butler II – USA TODAY Sports
One week down, one to go. We've done the research on plenty of props already, but there is still more to come. Check back throughout the next week as we continue to add onto our impressive dossier of prop breakdowns.
What Color Will Bill Belichick be Wearing?
The Belichick hoodie. A fabled garment that will forever be held in the hearts of Patriots fans. My dad bought me one back in the day and wouldn't you know someone stole it out of my high school gym in little old Ipswich…what a jerk. Who steals clothes?
With several sportsbooks offering odds on what color he'll be wearing, I decided to spend several hours in the video room breaking down film of Belichick throughout the years.
First thing's first, not every book has the same rules. One specifies that he must be wearing a hoodie for action, while others just say outer layer or shirt. Some also have a "will Belichick be wearing a hoodie?" prop if betting on the color is too easy for you. Their odds are a bit different, though.
One sportsbook lists Hoodie at +130 and No Hoodie at -170, while the other lists -125 and -105, respectively. More on that in a bit.
I've gone ahead and broken down every shirt he's worn in his trips to the Super Bowl in the Brady-Belichick era. As you can see, red and white should be eliminated right off the bat. He's never worn white and the one time he wore red, he cursed the potential 19-0 season.
Ever since that season, all of Belichick's trips to the Super Bowls have been made with one color throughout the playoff run. Perhaps even more significant, in this most recent stretch of Super Bowl victories, he has not strayed off of blue.
This postseason began with a frigid affair against the Titans in which he pulled off a rare wardrobe change. He began the day with a blue coat over what appeared to be a gray hoodie or lightweight coat. This would still qualify as blue given the consensus rules. In the second half, the gray garment was gone and in it's place stood a blue hoodie, once again underneath his blue coat.
In the AFC title game, he donned this blue quarter-zip pullover, which appears to be essentially the same thing he wore in last year's Super Bowl.
The Pick: Blue is the way to go here. He'd be breaking some serious trends and that is just not the way he rolls. If you want to bet on whether or not he'll be wearing a hoodie, go with no. The Action Network's political expert/Patriots apologist, Josh Appelbaum, thinks he's going with that same quarter-zip as last Super Bowl and given the fact that he'll be in a dome again, I couldn't agree more.
---
What Color Liquid Will Be Poured on the Winning Team's Head Coach?
Look, folks. While this is commonly referred to as the Gatorade prop, the correct terminology is "liquid." These sportsbooks aren't going to bow to any sponsor. They also don't want any dweebs out there finding out that they technically poured Powerade so they can ask for their money back.
Anywho, one of the most popular props is now widely available across the market. While odds vary, the "lime, green, or yellow" option would likely be considered the consensus favorite. There are many ways this could play this out, though.
Just like when you build a DFS lineup, there is a certain game script you need to believe in when betting on this prop. If you felt a team was going to be behind late in the game and would be passing the ball the entire second half, you may choose to pick their quarterback. For this, you'll probably want to choose your options based on who you believe will win the game.
Lime is a very popular color of athletic sporty electrolyte liquid, but would the Patriots really pour that on Bill Belichick? I don't think so. According to Oddshark, yellow has only been poured twice since Super Bowl 35—neither of which on Belichick.
Historically, the Patriots have been odd ducks. In their five victories, they have only poured liquid twice—once clear, once blue. Last year, they went with a no pour, which has a hell of a payout.
If you think the Eagles will win, perhaps yellow/green is for you, as they poured that color after the NFC Championship. However, orange has actually been a strong bet over the past decade. The Saints, Packers, Seahawks, and Broncos have all poured orange, which can also be had at a juicy payoff. The Eagles are a "green" team, but their particular shade is most akin to the Gatorade Fierce "Green Apple" flavor, which I hardly doubt a team would stock on the sidelines.
The Pick: Given my Patriots' fandom, I'm going with none at +1500. For you haters out there, orange is a solid bet at +750.
Over/Under Peyton Manning Commercials (By Michael Leboff)
The odds: 2.5 Commercials (Over/under -115)
Cut! That! Meat! Cut! That! Meat!
Two-time Super Bowl winner and future Monday Night Football color man Peyton Manning is a brand man. If you sat through an entire NFL game this year (and god help you if you did), you likely saw No. 18 stumping for Papa John's or Nationwide or Mastercard or DirecTV or the NFL itself. At this point, Peyton may have a deeper sizzle reel than Flo or that bipedalistic British Gecko.
Just how many commercials has Peyton been in over the years? Well, according to this YouTube compilation, he has over 31 minutes of commercial time under his belt.
Logic here would tell you that the over seems like a cakewalk. But, we here at the Action Network enjoy fading Joe Public and this seems like a real 'pros vs. joes' type of bet. Going contrarian here becomes more appetizing when you recall that one of Peyton's pocket stuffers, Papa John's, came under scrutiny when CEO 'Papa' John Schnatter, the man whom Manning infamously smooched after winning Super Bowl 50, ran his mouth about the anthem protests. Schnatter has since been removed from his CEOship, but nobody holds a grudge like Roger Goodell, so don't expect any Papa John's spots during the broadcasts.
The pick: The under seems the sharp side of the coin here.
---
Will Eli Manning appear in a commercial during the Super Bowl? (By Michael Leboff)
The odds: Yes -120, No -110
Eli Manning is like America's little brother. Warm, laid back and easy to mess with, 'Easy E' has a blend of affable charm and ice water running through his veins that has turned him into a legend in the Big Apple.
After Eli throws an ill-advised duck, your first instinct may be to scream at him, but when you see him wearing one of his famous 'Eli faces' on the sideline, you just want to chicken wing him under your arm and mess his hair up. It also never hurts to be the only quarterback to ever beat Tom Brady in a Super Bowl, and our man Eli did it twice.
Eli's special place in America's collective heart was never more evident than this year, when Ben McAdoo and the Giants did Eli dirty by sabotaging his 'Iron Man' streak in the midst of a historically bad season. The response – not just from Big Blue Nation, but Footballdom in general – was visceral, and the Giants found themselves in unfamiliar territory as they were labeled a circus.
Right then and there, it was clear that Eli still is and always will be an American sweetheart. Coming off his worst year ever, Eli has never been a hotter commodity. Back Eli to make a cameo during the extravaganza. Maybe we'll even get a sequel to 'Football on Your Phone.'
The pick: Yes
---
Super Bowl 52 coin toss (By Ian Hartitz)
The odds: Heads -101, Tails -101
Last season former President George H.W. Bush flipped tails for the fourth consecutive Super Bowl. The slogan "tails never fails" has held true after 52 Super Bowls, as tails has been flipped 27 times (52.9%) compared to just 24 heads (47.1%). Per usual, the Patriots have helped take a small trend to the next level by flipping tails in five of their seven Super Bowls under Tom Brady and Bill Belichick.
Is it time for the world's oldest 50/50 proposition to revert back to the mean? That's up to World War II veteran Hershel Woodrow "Woody" Williams, who received the Medal of Honor during the Battle of Iwo Jima. Part of Woody's bravery included wiping away incoming forces with a flamethrower, so it's safe to say the moment won't be too big for this American hero. He also performed the coin toss for the Armed Forces Military Bowl between Marshall and Maryland back in 2013. Despite declaring in pregame that his rooting interest was Marshall, Woody ignored their captain's plea for heads and wound up doing what any proud American has always done: Flipped Tails.
Patriots special teams captain Matthew Slater is a notorious heads bettor, explaining, "I always call heads … When my dad was a captain, he called heads his whole career. I always call heads, and there is a little bit of luck. There is a little bit of a family faith story there. But we go heads, the Slater's call heads." Slater stuck to his guns in last Super Bowl's overtime, calling heads and thus indirectly winning the game. What will happen when the Patriots' completely bizarre coin-flip method collides with a long-standing American tradition? Well, the last 17 years have taught us to not argue with Belichick and company, so with all due respect to Woody and the "tails never fails" crowd: Never bet against the Patriot way.
The Pick: Heads (and be sure to find a book offering -101)
---
Will P!nk Display Cleavage During the National Anthem?
The Odds: Yes +380, No -550
The cleavage prop is here and we're not talking about the division of embryotic cells. Nope, we are talking about P!nk's cleavage and whether or not she'll be showing any.
For quite some time now, sportsbooks have been posting props on whether or not performers will show cleavage at the Super Bowl. According to the oddsmakers, the official rules are, "Must be a clear separation of the bosoms for 'yes' to win." Clear separation of the bosoms…what a definition.
The oddsmakers think this is a longshot, which may surprise you readers out there. P!nk has been known to show some skin and in fact, I stumbled upon some NSFW photos the other day whilst Googling a National Anthem image.
HOWEVER…the key piece of information to consider for this prop is the fact that she is performing the National Anthem and not the halftime show. I fired up Bet Labs to do some research and found that the last National Anthem singer to show cleavage was Jewel back in Super Bowl 32. Plenty of the ladies get risqué at half time, but the anthem has been quite the formal event.
The Pick: While many of you will want to take that juicy plus money payout on "yes," I urge you to reconsider and fade the cleavage. It may be worthwhile waiting to see if another book releases better odds, though.
---
How Many Anheuser-Busch Commercials Will Be Aired During the Broadcast?
The Odds:  4.5 (Over-150, Under +120)
Everyone knows that these commercials are generally the best commercials. We literally named one of our cats WeGo because of this commercial…think I'm joking?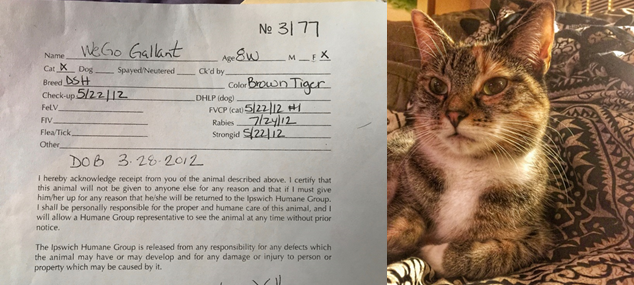 Yeah…only problem is she can't hold a beer bottle in her mouth…
Anywho, Anheuser-Busch is always driving strong to the hoop with their Super Bowl commercials. Based on this website, there are at least four commercials they will be airing this go around. The big question is whether there will be exactly four or if they will double down on Bud Light or Budweiser aka Bud Heavy and go with five or more commercials.
The Pick: Going to be bold here and say that they go with the exact four that are listed on the Ad Age site…seems like they know their stuff. Also, you can never go wrong with a +120 prop payout. Speaking of Bud Light…
---
How Many Times Will the Word "Dilly" Be Said During the Broadcast?
The Odds: O/U 12.5 (-115)
Everyone's favorite slogan. Well, personally I'm not a huge fan, but I can acknowledge that the marketing team at Bud Light knocked this out of the park.
In that one commercial alone, the word "dilly" was said 18 times. According to Ad Age, there is a 60 second commercial set for Bud Light…just imagine the potential. Could be looking at 20-30 dillies.
Also, another factor that is in play is when they return from commercial break, they often show the logos of advertisers on the screen with a wide shot of the field in the background. If they show Bud Light, there's a good chance that guy with the cool voice says "Bud Light…dilly dilly," adding a couple more to our total for insurance.
The Pick: Hammer the over. Liquidize all assets and invest in "Dilly dilly." I'm not even joking anymore. Liquidize the house, liquidize the car, and liquidize the dog. Create numerous falsified accounts to get down as much money as you can.
Note: This prop is no longer on the board. More information can be found here. 
---
National Anthem Over/Under
The odds: 2 minutes (Over -140, Under +100)
With Alecia Moore, aka P!nk, set to perform the National Anthem, oddsmakers have set the over/under for how long it will take her to sing it. This prop is always a fan favorite.
This line has remained the same since opening a couple weeks back, so it doesn't appear that any sharp anthem bettors have come through yet. Sharp anthem bettors… I believe that is how they came up with the words moron and oxymoron.
The official rules are, "From moment she sings first word until she completes saying Brave for the first time."
After some preliminary research, I can't find one video of P!nk ever singing the national anthem. There aren't any trends in Bet Labs either, which is a bummer. However, OddsShark does have some records for the official times over the past decade plus, so we can get a general idea for performance length.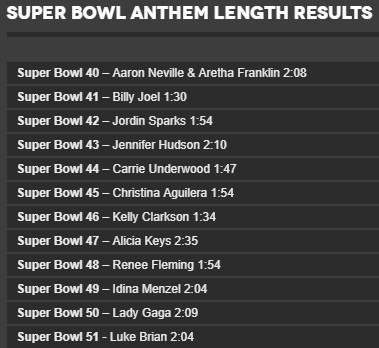 They basically range from 1:50ish to 2:10ish. Then you have Alicia Keys, who was misinformed and accidentally sang "Stairway to Heaven."
The Pick: Given the unpredictability of the event as well as the fact that P!nk doesn't have an anthem track record to consult, I'll be taking the under. I'd rather have an even payout for something like this than lay -140.
How would you rate this article?