Raybon: Can Jared Goff & Sean McVay Match the Experience of Tom Brady & Bill Belichick?
Credit:
Gary A. Vasquez-USA TODAY Sports. Pictured: Los Angeles Rams head coach Sean McVay, quarterback Jared Goff (16).
Super Bowl 53 will be a test of youth vs. experience in two key areas: Coach and quarterback.
As great as Sean McVay and Jared Goff have been, Tom Brady and Bill Belichick have been better for much longer.
It's borderline disrespectful to even compare Tom Brady to Jared Goff. Brady is going for ring No. 6, which would give him two pieces of hardware for each year Goff has been in the league.
But which quarterback will have the advantage in Super Bowl 53? What about which coach? Let's break it down.
Do the Rams or Patriots Have the Quarterback Advantage?
Brady is the smartest quarterback in the league, while Goff still rushes to the line of scrimmage so that Sean McVay can read the defense and communicate audibles to Goff before headset communication cuts off with 15 seconds to go in the play clock.
Nevertheless, we're just one year removed from a Super Bowl that saw Brady lose to Nick Foles in a game in which Brady threw for 505 yards and three touchdowns.
For Goff to play well enough for his team to win (or even cover), he must protect the football.
The third-year quarterback has fumbled in each of his past eight games and 11 of 18 games overall this season, with three multi-fumble games.
After seeing the Patriots shut down Tyreek Hill and Travis Kelce in the AFC Championship Game, as well as hold in check other elite duos like Adam Thielen-Stefon Diggs and Antonio Brown-JuJu Smith-Schuster, Goff could also need to succeed without the full use of his supporting cast, something he's struggled with at times this season.
Despite a couple of four-touchdown games without Cooper Kupp, Goff's play has suffered overall without his trusty slot receiver.
The Rams' pass success rate falls from 54% in games with Kupp to 48% in games without Kupp, according to data from sharpfootballstats.com, and Goff's passer rating without Kupp falls both under pressure (77.7 vs. 46.8) and when using playaction (124.9 vs. 99.3), per Pro Football Focus.
Even though Brady's sixth-place finish in ESPN's Total QBR was his lowest since finishing 11th in 2013 (63.1), Brady's 85.6 postseason mark is by far the best of any quarterback in the playoffs and is 22.8 points higher than Goff's.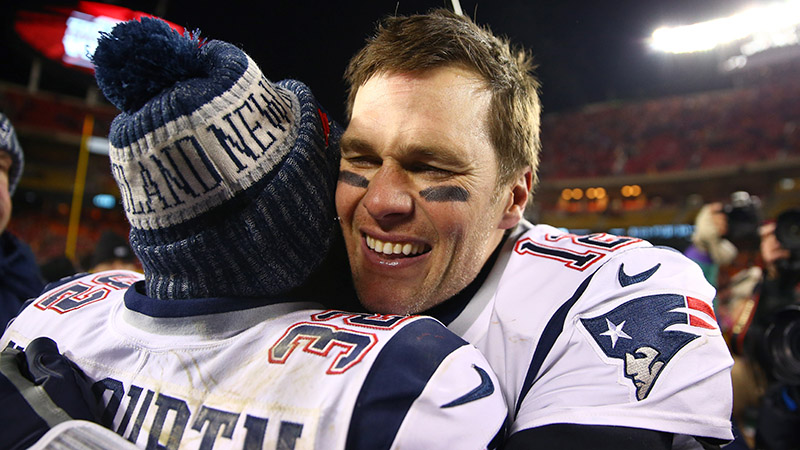 Brady has been helped by a ball-controlling run game that has rattled off 371 yards and eight touchdowns this postseason. He's also been mostly kept clean, getting pressured on only 14-of-90 postseason dropbacks (15.6%), according to PFF.
The biggest concern for Brady is the potential of the Rams generating interior pressure, which knocks Brady's passer rating down 55.6 points compared to pressure off the edge.
Translation: The biggest concern for Brady is Aaron Donald, who led the league with 106 total pressures during the regular season, per PFF. Donald was also first in sacks (21) and third in quarterback hits (20).
If the Rams can't stop the run and get interior pressure, then Brady will likely walk away with ring No. 6. — Chris Raybon
Do the Rams or Patriots Have the Coaching Advantage?
Bill Belichick had a Super Bowl ring with the Patriots before McVay even had a high school graduation ring, but we're more likely to witness Roger Goodell give a press conference 100% devoid of bulls–t before we ever witness the game pass Belichick by.
With longtime offensive coordinator Josh McDaniels still in tow after spurning the Colts and a quarterback in Brady whose knowledge of the game could run laps around many current head coaches, the offense would be in good hands even without Belichick around.
His greatest contributions arguably come on the defensive side these days.
Belichick is one of the foremost adapters of pattern-matching, a man-zone coverage hybrid that enables his defense to adjust on the fly to a wider array of route combinations.
Then again, Belichick is the foremost adapter of most any edge you can think of in this league, from concepts as simple as creating opponent-specific gameplans (this wasn't always a thing, and still isn't for some teams), to ones as clever as using your best cornerback to take the opponent's No. 2 receiver out of the game while double-teaming their No. 1 option.
The latter is a tactic Belichick effectively used to limit Hill and Kelce to a combined four catches in the AFC title game. He could use it again this week to contain Brandin Cooks and Robert Woods by doubling Cooks and sticking Stephon Gilmore on Woods.
McVay, of course, puts his stamp on the game on offense. His sharp play designs helped the Rams double their previous season's point-per-game output in his first season and turn Goff from a Jeff Fisher-ruined bust as a rookie to a potentially Super Bowl-winning quarterback in Year 3.
McVay has always been good about not leaving too many tendencies on tape despite operating predominantly out of '11' (1 RB/1 TE/3 WR) personnel, but lately he's begun mixing it up formationally, as well, using '12' ( 1 RB/2 TE/2 WR) on 25% of plays over the past four games.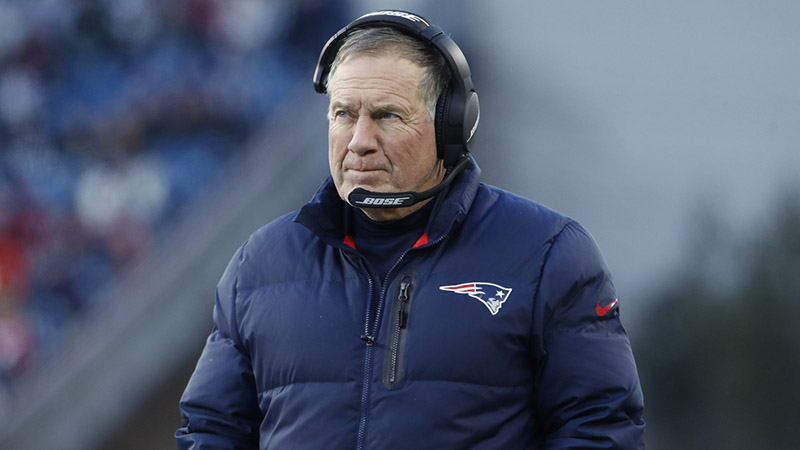 Against a Patriots team that is much stronger in the secondary than at linebacker and likes to keep five or six defensive backs on the field as a result, I wouldn't be surprised to see McVay continue to employ two-tight end looks. Coupled with the league's best run-blocking offensive line, heavy personnel groupings could discourage the Patriots from taking their linebackers off the field.
But McVay is nowhere as close to as good of an in-game coach as Belichick. According to EdjSports, McVay is responsible for two of the five worst play calls this season in terms of win probability lost.
The second-year head coach also isn't as aggressive as he should be on fourth-and-short (obligatory mention of his head-scratching decision to kick a field goal on fourth-and-goal from the 1 late in the NFC Championship Game), and his timeout management isn't always the best, either. And of course there's the matter of McVay needing a get-back coach.
Still, the Rams are on the short list of teams whose coaching staff isn't completely blown out of the water by New England's.
That's thanks not only to McVay but also to the staff he's assembled, most notably defensive coordinator Wade Phillips, who I like to call the 'King Midas of Defenses,' for the drastic improvements his units have made in Year 1 in pretty much every stop of his career.
A game featuring coaches as good Belichick, McDaniels, McVay and Phillips getting two weeks to prepare could very well end up in a stalemate and simply put the onus on players to execute.
But Belichick probably has a little extra motivation after last year's 41-33 Super Bowl loss to Philadelphia in which he came under scrutiny for benching starting cornerback Malcolm Butler, and then watched his team get picked apart by Nick Foles for 373 yards and three touchdowns, even falling for the "Philly Special," a trick play that resulted in a touchdown reception for Foles.