NFL Super Bowl 53 Picks: Our Experts' Favorite Bets for Patriots-Rams
Credit:
USA TODAY Sports. Pictured: Patriots QB Tom Brady (12), Rams QB Jared Goff (16).
The Action Network's NFL experts break down their favorite Super Bowl bets for Patriots-Rams.
We have against-the-spread and over/under picks plus a plethora of player props to choose from.
After 17 weeks of regular season games and three rounds of entertaining playoff matchups, Super Bowl 53 is finally here and this game has it all: familiar faces and teams (Tom Brady and Patriots), a coach who is so young (Sean McVay) that he played against one of the opposing players (Julian Edelman) in college and, of course, so many props to bet on that it could make your head spin.
Brady and Bill Belichick are looking to cement their dynasty with a sixth Super Bowl win against the very team they defeated to kick off this incredible run. McVay and the offensively gifted Rams are looking to win the first Super Bowl for the franchise since the 1999 season with the Greatest Show on Turf.
To help narrow down your final NFL weekend wagers, our staff has plenty of angles, including sides, totals, player props, commercial props, halftime show wagers, you name it.
And don't forget to join our free props contest for up to a $5,000 prize (our biggest prize yet).
Our NFL staff picks are 161-154-16 (51.1%) for the 2018 season, including the postseason.
Los Angeles Rams vs. New England Patriots 
Spread: Patriots -2.5
Over/Under: 
Time: Sunday, 6:40 p.m. ET
TV channel: CBS
Let's have some fun, people.
I look at it like this: If you believe in the Rams at +2.5, you are betting on such a small window for them to cover, you have to ask yourself if you believe they can actually win the game. And I do.
If that's the case, the value when the number is that short is on the moneyline, at +125. Of course there is a caveat here if the line bumps up to +3 between now and Sunday, which is entirely probable.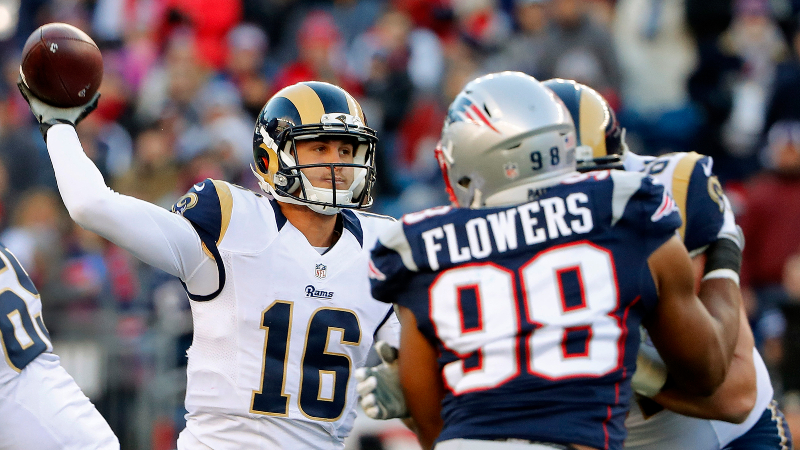 The extra half point means everything. If you are looking for that kind of security then keep your powder dry. You will have the chance to fire away sooner rather than later.
With all of the betting options available, this bet seems pretty vanilla and boring but it is my favorite. I am fine with paying a premium to get to the key number of three, especially with so many of the Patriots' Super Bowls coming down to the wire. The Bet Labs model has the Rams as a one-point favorite and I am trusting the math over the history of the Patriots.
Ian Hartitz: Josh Reynolds Will Not Have a Rushing Attempt (-120)
I took this from Sean Koerner's electrifying Super Bowl 53 Prop Bet article. In case you aren't aware, Reynolds is the Rams' No. 3 wide receiver who has filled in admirably for the injured Cooper Kupp (knee, IR).
Let's quickly check out Reynolds' rush attempts during his 10 games without Kupp in the lineup.
Week 7: 0
Week 8: 1
Week 11: 0
Week 13: 0
Week 14: 0
Week 15: 0
Week 16: 0
Week 17: 0
Divisional Round: 1
NFC Championship: 1
The Rams get their receivers more involved in the run game more than most teams, but we're still getting -120 odds for a bet with a 70% hit rate this season. Count me in.
Justin Bailey: C.J. Anderson Under 49.5 Rushing Yards (-125)
The under on Anderson's rushing prop hit against the Saints thanks to a negative run and him finishing with 44 yards on the ground. I'll go back to the well again, sweating the under the whole game in hopes that Anderson doesn't receive 16 carries again.
Instead, I'll be buying into McVay's coach-speak that Todd Gurley will "be a big part of this game."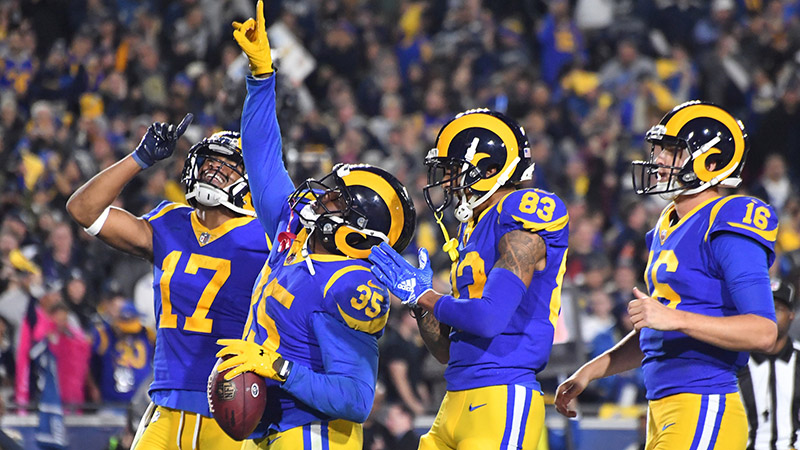 Anderson is presently projected for 41.3 rushing yards in the FantasyLabs prop tool, making this line a nice value.
Matthew Freedman: Rams Field Goals Over 1.5 (-125)
Under McVay, the Rams have attempted an NFL-high 84 field goals over the past two seasons (excluding playoffs), and kicker Greg Zuerlein has connected on an elite 91.2% of his field-goal attempts in that time (including postseason).
In his 13 games this season, Legatron has made two field goals in every game but one. He's had at least two attempts in every contest.
I like Zuerlein so much that I've bet on him to win Super Bowl MVP at +12500.
For more, see my writeup on the Rams field goal prop. I'd bet over 1.5 all the way to -200.
The Rams averaged the fewest punts in the league this season at 2.7 per game, and though they weren't as aggressive as you'd think on fourth down (bottom third in attempts), they didn't need to all that often.
The Patriots on the other hand will grind out long drives with plenty of painstaking third-down conversions. I think we see 6-7 punts in this game.
Sean Koerner: James Develin under 3.5 rush + rec yards
One of the best things about the Super Bowl is we get a player prop on everyone, even guys like Develin.
Develin is the Patriots fullback, who trolls the fantasy community with a vulture one-yard touchdown run from time to time.
I do think this line is very generous: The under has hit 67% of the time this year and Develin covering the 3.5 would likely require him to get at least two touches.
Rex Burkhead being at full strength further diminishes the chances of Bill Belichick drawing up two or more plays for Develin.
Chris Raybon: Andre 3000 to not join Big Boi on stage (-400)
As much as old-school hip-hop fans want to see OutKast together on stage at the Super Bowl, Andre aka 3 Stacks making an appearance seems highly unlikely.
We're talking about a guy who barely appears anywhere at all anymore due to social anxiety issues that he described in a GQ interview back in 2017, as well as one who already refused a halftime show because the league was offering "limited stage time."
On top of that, an appearance would risk potentially alienating those of his peers and fans whom aren't happy with artists agreeing to do the show in the wake of the league's treatment of Colin Kaepernick.
Stuckey: Gerald Everett Props Scores a TD (+330) | Over 2.5 Receptions (+110) | Over 23.5 Receiving Yards (-110) | Longest Reception Over 12.5 Yards (-110)
I don't see any value in Gurley scoring a touchdown at -130, as the Patriots can shift their resources to focus even more on him in the red zone. Everett can specifically benefit from that.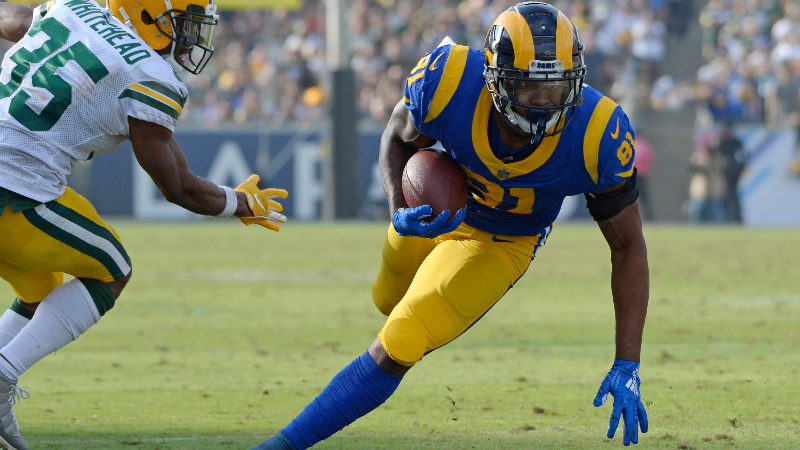 The South Alabama product should also get some looks up the seam when the Patriots bring pressure — especially if they have to start utilizing their safeties if Gurley gets going in the passing game.
But the main reason I'm investing more in Everett than Reynolds is I expect to see a lot of 12 personnel (one back, two tight ends) from the Rams on Sunday. They did so against the Saints with great success and it's a formation the Patriots struggle with.
Everett, one of the most underrated tight ends in football in my eyes, has great value across the prop board.
Evan Abrams:  Both Teams Have Lead in Fourth Quarter or Overtime: Yes +280
Time for a bit of a longshot try here. At many different books, they offer a lead change in the fourth quarter, but this prop adds in overtime, which has been a common theme lately.
I'm not here to sell you on the fact that overtime is likely, but the fact that it's only happened once in 52 tries is misleading. Twenty of the 109 playoff games over the past decade have gone to overtime, good for an 18.3% rate — a 6% increase from the regular season.
There has been a fourth-quarter or overtime lead change in five of Brady's eight Super Bowl appearances, including his past three trips to the Big Game. I think there is some value in this number.
Ken Barkley: Rams win first quarter | Patriots win in full time +630, Rams win first quarter by 1-6 points +490, first score Rams field goal +466
I was going to go with "Winning team will not be served fast food in the White House -420" but … ya know, they also hold your money beyond Sunday on that one, so we'll take something more conventional.
Let's play these instead.
New England is notoriously a slow-starting team in the Super Bowl. In the Patriots' five wins, they haven't scored a single point in the first quarter. Last year, they finally got off the schneid in a first quarter and kicked a field goal, trailing the Eagles 9-3 after one.
Given the almost impossible-to-explain penchant for very slow starts, and it's consistency through the years, let's play New England to win the game in this fashion, rather than as a 2.5-point favorite.
If the Rams win the first quarter narrowly, your live-betting/hedging options open up into a world of possibilities.
The Rams had plenty of time to review the Patriots' film from the Chargers and Chiefs games, where New England got the ball first and methodically drove down the field to open the game.
The Rams also have a defense of playmakers better suited at stopping that strategy, so I don't think you'll see a repeat of that type of success for New England in the first quarter.
This isn't Kansas City's defense.
As a general concept, I really think these teams are, at best (for New England), even on a neutral field, so the idea that all the Rams props are priced higher than the Patriots for these types of markets makes them that much more appealing. In reality, the Patriots are not more likely to do any of these things than the Rams are.
John Ewing: Will Either Team Score Three Straight Times? Yes -220
According to our Bet Labs database, there have been 175 NFL playoff games since the 2003-04 season. A team has scored at least three straight times in 114 (65.1%) of those games.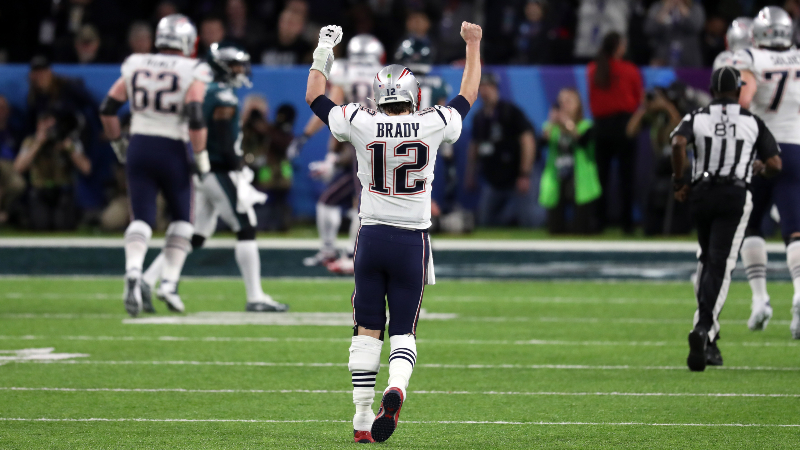 Teams are more likely to score three straight times in high total games. In playoff games with over/unders of 50 or more points, this prop has gone 22-10, and in games with over/unders of 55 or more points, a team has scored three straight times in 10 of 11 games.
The total for Super Bowl 53 is 56.5 points.
Goff has the second highest MVP odds right now, but I still think they're too low. The Rams are currently just +120 on the moneyline, and recent history tells us that Goff has a strong chance of winning the MVP if his team can pull off the upset.
Seven of the last nine Super Bowl MVP's have been the quarterback for the winning team. The two exceptions were Peyton Manning in Super Bowl 50, who could barely complete a pass by that point in his career, and Russell Wilson in Super Bowl XLVIII, who played for a defense that held one of the greatest offenses in the history of the league to just eight points.
It seems unlikely that the Rams defense will turn into a monster all of a sudden, so give me the extra value with Goff instead of betting the Rams straight up.
BlackJack Fletcher: Ted Rath to be Mentioned Under 3.5 times (-230)
Ted Rath is the Rams "Get Back Coach" for Sean McVay. He got some notoriety after the NFC Championship as we all learned his name and role on the team.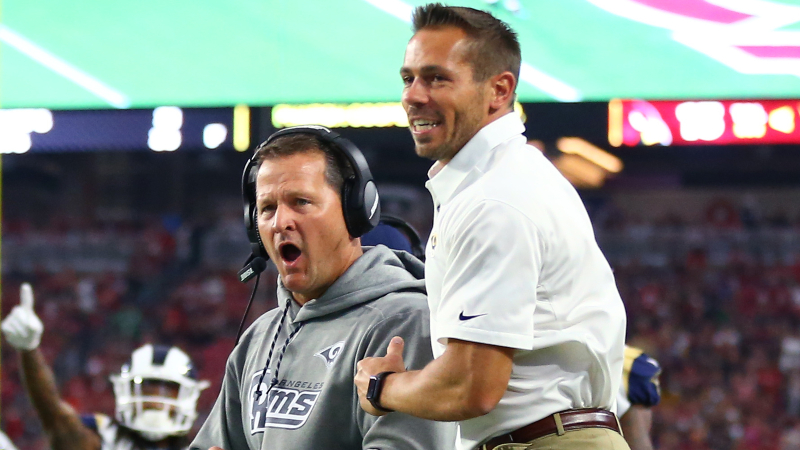 That's all great, but there is no chance his name is coming up four times during the game. This is a decent amount of juice to lay, but it's as close to a certainty as you'll find on this board.
Mark Gallant: Over 5.5 Dogs in Commercials 
This prop bet was one of the earliest ones I took in this two-week Super Bowl stretch. Last year was a down year, with only four commercials featuring dogs in them. However, over the past three years, the average has been seven commercials per year.
At the time I wrote my article, three commercials were confirmed to have dogs. Now, that number is five and the prop still exists. Give me that final dog commercial and show me the money!
Danny Donahue: Will there be a Score in the final 3:30? Yes (-170)
With yes/no odds of -170/+150, this looked like an attempt to bait bettors into thinking that "yes" was the valuable choice, when it actually wasn't. I was fully expecting to find value on "no" when I started researching.
But after digging through the box scores of the past 52 Super Bowls, I couldn't have been more wrong.
There has been a score in the final 3:30 of the fourth quarter in 32 of the 52 Super Bowls in history, a 61.5% rate that equates perfectly to a -160 line, which is right where this prop stands. The only problem is it doesn't factor in recent trends.
Fifteen of the 20 games without a late score came in the first 27 Super Bowls. That means since then, this prop has gone 20-5 (80% win rate).
Now I'm not saying this has an 80% chance to cash on Sunday, but with odds of -170, we only need a 63% probability to profit, so I'm comfortable laying the juice, especially with such a high total for a Super Bowl.
Collin Wilson: Over 56.5 | Gurley Over 61 , longest rush Over 16.5 | Anderson Over 44.5, Anderson longest rush Over 11.5 | Brady Over 37+ yard pass completion | Phillip Dorsett Over 28.5 total yards, longest rec Over 15.5 yards, Score a TD +270
While the AFC Championship took an entire first half to figure out an offensive rhythm, this game should be hot from the start. Each offense has multiple advantages to moving the ball, and I expect enough points to go over 56.5.
When you dig into the historical metrics, there are plenty of props to feast on for this game. The Rams rank first in the NFL in rushing efficiency, while the Patriots defense is 30th. Gurley over 61 yards and Anderson over 44.5 are plays on my card, but look at the numbers for big-play rate.
The Rams are third on offense in a category that defines plays gaining at least 20 yards between the 10 and opponent's 30-yard line, while the Patriots defense contrast in ranking 26th against such plays. Gurley's longest rush over 16.5 and Anderson's longest rush over 11.5 will both be in my portfolio.
Brady and his targets should have an equally productive day as well. The Rams defense is one of the worst in the league in multiple categories pertaining to explosiveness.
The Rams rank 30th in passing marginal explosiveness and passing downs explosiveness. Brady over 37+ yard pass completion should be good to any receiver not covered by the Rams Aqib Talib.
I've invested in Phillip Dorsett Over 28.5 total yards, Phillip Dorsett longest receipt Over 15.5 yards, and Phillip Dorsett Touchdown +270 with his projected matchup against the Rams Marcus Peters.
---
Editor's note: The opinions on these games are from the individual writers and are based on their research, analysis and perspective. They are independent of, and may not always match with, the algorithm-driven Best Bets from Sports Insights.