Super Bowl 53 MVP Draft: Ranking the Best Bets to Win
Credit:
USA Today Sports. Pictured: Sony Michel, Aaron Donald, Rob Gronkowski
Our experts ranked the best bets to win Super Bowl 53 MVP by drafting 16 players based on value of their odds.
See how Sony Michel, Aaron Donald, Rob Gronkowski and more stack up.
Tom Brady won Most Valuable Player in his past two Super Bowl victories. But is another Patriots player primed to win the award if New England beats Los Angeles? Who would earn the honors for the Rams?
Our NFL experts did a snake draft of the best Super Bowl 53 MVP bets based on the value of players' odds to win. See how they ranked the odds of Brady, Todd Gurley and 14 others taking home the additional hardware.
The panel of eight included BlackJack Fletcher, Chad Millman, Chris Raybon, Ian Hartitz, Ken Barkley, Matthew Freedman, Sean Koerner and Stuckey.
Jump to:
Full Super Bowl 53 MVP Draft Order
There's arguably no higher correlation between a player having a big game and their team winning than Michel and a Patriots win.
Michel has averaged 94.2 rushing yards in wins, but only 46.2 yards in losses. They limited the rookie during the regular season due to a nagging knee injury, but have shown a desire to give him as many carries as possible in their first two playoff wins: 24 against the Chargers then 29 against the Chiefs.
He likely would have won the MVP award in both performances, so I'm willing to spend my first overall pick on him at 20-1 odds.
So this is where I had done a whole elaborate draft board with notes assuming Brady would be picked first and I'd be faced with the prospect of Goff vs. a skill/defensive player.
But here we are.
Sure, I'll take the person who wins more than 50% of the time.
The Patriots are the betting favorite at -2.5 as of writing (see live odds here), and the likelihood of a Patriots player not named Brady winning this are slim. So even at +110, I like the price.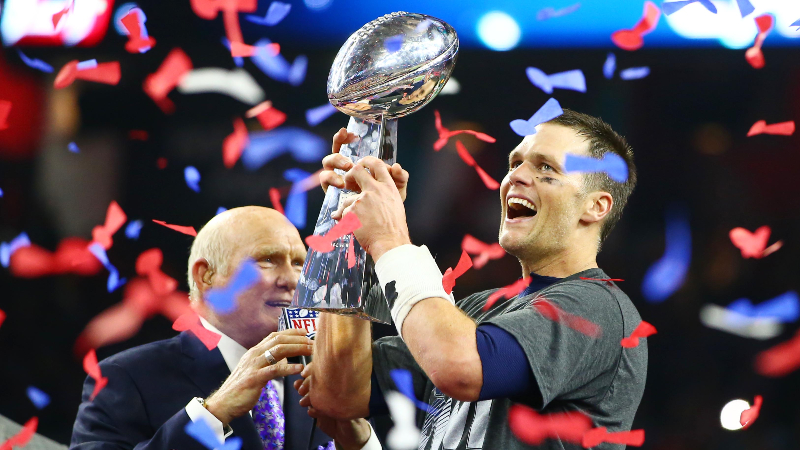 I was a ticket holder for James White to win it against Atlanta in Super Bowl 51, so I know all too well the pain of having a deserving candidate only to watch Brady snatch the award away.
If the Rams pull this thing out, it has to be behind a big day from Gurley.
He's involved in not only the running game but the passing game as well. He led the NFL with 21 touchdowns this season, and if he has a huge game in a Rams win, this could be a great value pick.
A quarterback has won in 29-of-52 Super Bowls (55.7%), but that has trended upward as the league has become more pass-happy.
The last running back to win was Terrell Davis in Super Bowl 32 (1998), and quarterbacks have won 13-of-20 (65.0%) since, including seven of the past nine (77.8%).
I agree with our power ratings that this game is virtually a toss-up, and if you combine a 50% chance to win the game with a quarterback's 65% odds over the past 20 years, you get 32.5% — that's value relative to this prop's 30.8% implied probability.
5. Ian Hartitz: Aaron Donald +1850
We saw White set the Super Bowl record for fantasy points scored in a game back in 2016 … and Tom Brady still won MVP. So I'm hesitant to ride with any remaining Patriots player, and the Rams offense distributes the ball evenly enough that I have a tough time seeing any single receiver having an MVP performance.
Enter Donald, the most talented player in this entire game.
He can ruin the Patriots' entire rhythm with consistent pressure up the middle, leaving Brady nowhere to hide.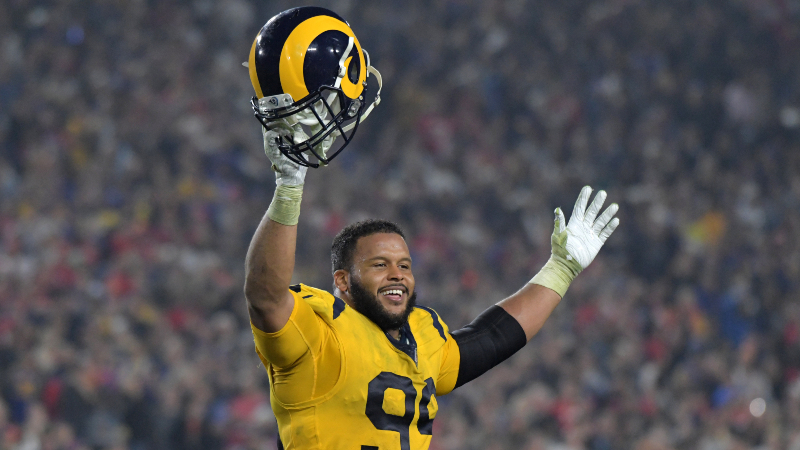 A breakout performance from Pro Football Focus' No. 1 overall interior defender would accordingly distinguish Brady's effectiveness, so Donald's MVP case could resemble Von Miller's recent victory if Goff and Co. are unable to rack up points.
The fifth-best value isn't great for a defensive player, but they aren't so bad once you consider that said defensive player happens to be one of the most disruptive forces the game has ever seen.
Why has the Rams defense suddenly looked different? Why has Dante Fowler been a pass-rushing force in the playoffs? Why have previously hot passing offenses in Dallas and New Orleans suddenly gone cold?
Me thinks it might have something to do with Talib.
The proof is in his lack of stats: Quarterbacks don't like to throw his way. This is just a better, more aggressive defense with Talib lining up. And in a game that will be close, it could come down to one standout defensive play that decides which team wins or loses.
On the Rams' D, the best playmakers are Donald and Talib. Since Hartitz already stole Donald, I'm going with the next best value.
7. Stuckey: C.J. Anderson +1800
I'm convinced Gurley isn't fully healthy, and the Pats' run defense is their clear weakness on that side of the ball.
If Anderson finds the end zone a few times in a Rams' win, he has a shot — especially if Gurley isn't Gurley.
See my article on Zuerlein.
9. Freedman: Cordarelle Patterson +15000
Patterson is probably the best kick returner in the league, and he has multiple avenues to score multiple touchdowns.
This is very much a Desmond Howard type of pick.
If this turns into a low-scoring Super Bowl with middling production spread across the other skill-position players, Patterson could sneak away with the award if he has a few high-yardage, key-situation kick returns — one of which he breaks for a touchdown — as well as a couple of carries and a few receptions in a Patriots' win.
10. Stuckey: Marcus Peters +11500
See my longshot props piece.
11. Millman: Robert Woods +4000
What do we know? That Pats like to take away the other team's biggest weapon.
Not a novel idea, but New England does this as well as any team. And Stephon Gilmore is one of their best defensive players.
How convenient for them. Because they have no intention of letting Brandin Cooks, who got the Rams back into the game against the Saints with a 36-yard catch to set up a touchdown before the half, to do the same thing to them.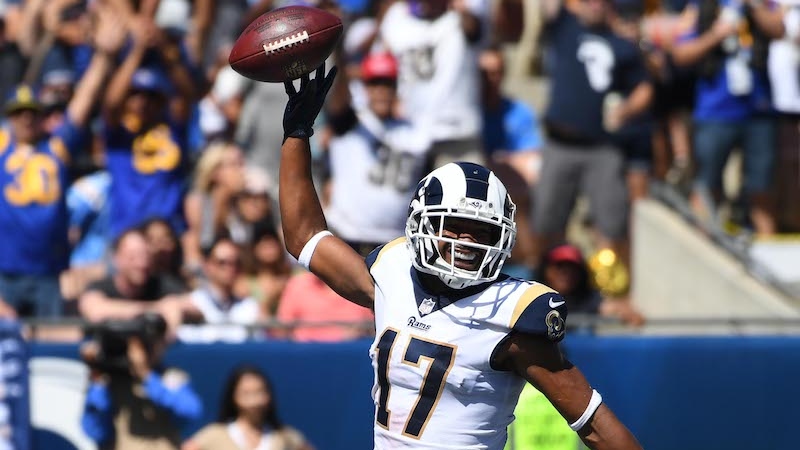 That leaves Woods, in the slot, to rack up yards and become a Goff safety blanket.
Woods' prop is set at 69.5 yards, which I like the over on, as he's averaged 72.5 yards per game. With a little gameplan help and one or two broken tackles, he could do so much more.
12. Hartitz: Stephen Gostkowski +15000
Zuerlein is arguably better than Gostkowski, but the rather large difference in their odds seems a bit much considering we're talking about kickers here.
I won't go as far as to call Adam Vinatieri a fraud, but the man made only 4-of-6 field goals during his three Super Bowl victories with the Patriots. He never deserved to win the MVP despite his late-game heroics, and shouldn't deter degenerates from still betting on New England kickers.
While Gostkowski probably needs at least that many makes (and some more help) to secure this award, I think there's a greater than 1% chance of that happening — he's made four-plus field goals in 15-of-227 games (6.6%) in his career (including playoffs).
13. Raybon: Julian Edelman +2600
Brady is a better bet than most quarterbacks would be to win the award for their team, but I still like the value on Edelman here.
Three of the past 14 winners, or 21.4%, have been wide receivers, starting with none other than another Patriots wide receiver, Deion Branch, who (like Edelman) missed time during the regular season but led the team in receptions per game.
Edelman is capable not only of dominating New England's receiving market share, but also of posting production that is uncorrelated to Brady: In 14 games this season, Edelman has handled 28 punt returns and 10 rushing attempts.
He's even attempted two passes in his postseason career.
14. Fletcher: James White +2500
If we're looking for some value other than Brady on the Patriots, let's take a look at a guy who has Super Bowl experience with them. A guy who has scored big touchdowns for New England. And a guy who is versatile enough to be used in the run and pass games.
With a focus on Michel, Edelman and Gronkowski, this could be a big game for White.
15. Barkley: Kyle Van Noy +12500
Obviously the quarterbacks are always much, much more likely to win. But in identifying a defensive player who could win, the key thing is it has to be someone capable of making a play so incredible that it defines the game.
Usually, that's forcing a turnover.
Malcolm Smith forced two for the Seahawks against the Broncos, and returned one for a touchdown. Von Miller had the strip sack that led to a touchdown against the Panthers.
So who for the Patriots is most likely to be around the football in that situation?
Stephon Gilmore is New England's best player, but isn't targeted that much and had only two interceptions in the regular season. His excellence occurs quietly.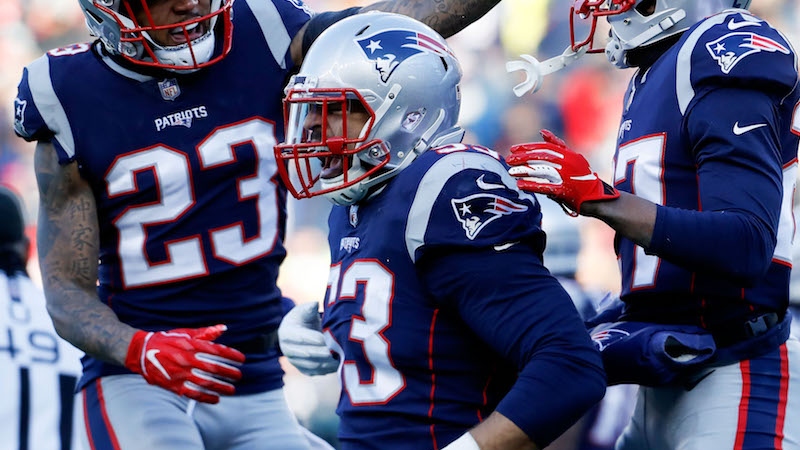 The Patriots leading tackler in the regular season and the postseason, though, is Van Noy. He also has two sacks in the postseason with a fumble recovery. And he's been around the ball more than any other Patriot defender.
If I'm looking for the game-defining play, I'll take Van Noy.
16. Koerner: Rob Gronkowski +4500
Well since Chad took the other guy I wanted — Woods (thanks a lot, Chad!) — I'm going with Gronk here.
It's pretty clear that Gronk has lost a step this season, and there's a real possibility this could end up being his last game ever. I'm going to invest in the final game narrative here and say Brady and Gronk connect for two touchdowns one last time and Gronk goes out as MVP.
It's not far fetched enough to at least nibble at a 45-1 payout.

---
The Best Super Bowl 53 MVP Bets
How would you rate this article?