Koerner: 2 Super Bowl MVP Longshots I'm Betting
Credit:
Winslow Townson-USA TODAY Sports. Pictured: Sony Michel
Tom Brady and Jared Goff are unsurprisingly the two betting favorites to win the Super Bowl 53 Most Valuable Player award.
But Sean Koerner is looking farther down the board to find some betting value on the MVP.
For anyone who loves betting props on a regular basis, the Super Bowl is, well, the Super Bowl of prop betting.
There are a seemingly endless array of player props posted around the market, and I touched on my eight favorite in a separate piece you can find here.
In this article, I wanted to specifically dive into two values I'm currently seeing in the Super Bowl MVP market, both of which pay out at 20-1 or more.
If you haven't already, be sure to check out our awesome prop tool at FantasyLabs, where we compare the player props from various sportsbooks to my projections to show where you can find the most betting value.
Bets with a Bet Quality of 10 have gone 235-120 (64%) this season, so you can find some serious value.
For more Super Bowl props coverage, be sure to listen to our deep-dive episode on The Action Network NFL Podcast.
Let's talk Super Bowl MVP!
---
Super Bowl 53 MVP Picks
Patriots RB Sony Michel
MVP Odds: 20-1
Michel having a big game and the Patriots winning is perhaps more correlated than any other possible performance.
Michel has averaged 94.2 rushing yards when the Patriots win, compared to only 46.2 yards in losses.
The Patriots limited the rookie during the regular season due to a nagging knee injury, but have shown their desire to give him as many carries as possible in their first two playoff wins (24 against the Chargers, 29 against the Chiefs).
Michel likely would have won the MVP award in both performances, so I'm willing to bite on him at 20-1 odds.
Rams WR Robert Woods
MVP Odds: 50-1
The other MVP prop I'm seeing value in is Woods at 50-1. In 52 Super Bowls, a wide receiver has won the award 6 times which is good for a 11.5% win rate.
Since the "Tom Brady era" starting in 2002 to the present, a wide receiver has won three times out of 17, good for a 17.6% win rate. This makes sense as the league has become more pass heavy.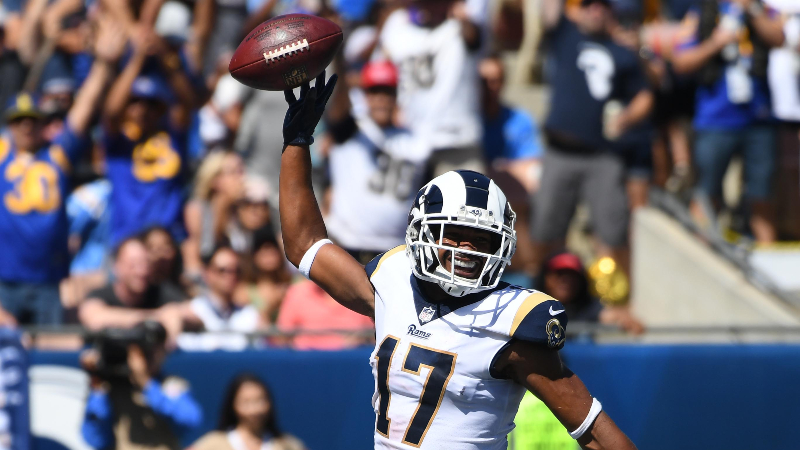 The path to Woods winning the MVP award is likely him getting two-plus receiving TDs, which he has done three times the past two seasons, good for a 9.7% hit rate.
He'd also likely need Brandin Cooks and Josh Reynolds to not find the end zone (otherwise that would increase the odds of Goff winning MVP).
Woods is also likely going to have one or two jet sweeps drawn up for him, so a massive gain or a TD on one of those plays would be huge for this market.
Another thing that'd be good for Woods is if the Gurley/Anderson timeshare continues and prevents either from having a massive game.
The fact is, there is no such thing as a "slam dunk" 50-1 bet, but there are too many practical paths for this hitting to be priced this high.
I'd bet it down to 40-1 odds.