53 Prop Bets for Super Bowl 53: Best Patriots-Rams Player Props, Longshots, More
Credit:
USA TODAY Sports. Pictured: James Develin and Todd Gurley
In honor of Super Bowl 53, we've compiled our staff's 53 favorite props.
Whether you're looking for bets related to yardage, the halftime show, commercials, referees and more, we've got one for you.
If we ever get to Super Bowl 100, we may start to worry. But for now, we've got plenty of props to give our 53 favorites for Super Bowl 53.
We've been writing about props non-stop for the last two weeks, and it's finally time to see them played out on the field, during halftime, in the announcer's booth and on the podium afterward.
Here are our experts' 53 favorite props for Super Bowl 53.
53 Prop Bet Picks for Super Bowl 53
JUMP TO: Player Props | Game Props | Scoring | MVP | First TD | Cross-Sport | Anthem/Halftime Show | Other Entertainment
All odds as of Friday night, pulled from various sportsbooks.
---
Player Props
1. James White Under 6.5 Receptions (+110)
This is likely the best value on the board for me.
A fair line for this is 5.5, and I want to point out just how valuable a full reception is — my projections estimate a 15.8% chance White gets exactly 6 receptions, so that is already a significant edge if we get 6.5 number versus 5.5.
White has gone under this total 61% of the time this season — and that even factors in the increase in usage he saw when Sony Michel and Rex Burkhead missed several games.
With all three backs at full strength, I'm putting this prop around a 65% chance of hitting and you can currently get it at +110. Sign me up! — Sean Koerner
2. Tom Brady Over 2.5 Rushing Yards (+158)
For those of you who followed our coverage for Super Bowl 52, you may recall the thrill of cashing the Tom Brady Longest Rush Over 2 Yards (+150) prop when he gracefully galloped for six yards toward the end of the first half against Philadelphia. I'm going back to the well again.
If Brady can just sit in the pocket all day and throw the ball cleanly, he won't run the ball. And if the Patriots are rolling, he likely won't either.
However, I see neither of those scenarios playing out. I can see Brady needing to scramble out of trouble, potentially getting loose for 3-plus yards when the pocket collapses from the outside or up the middle. — Stuckey
3. James Develin Under 3.5 Total Yards (-110)
One of the best things about the Super Bowl is we get a player prop on everyone, even Patriots fullback James Develin.
I do think this line is very generous: The under has hit 67% of the time this year and Develin covering the 3.5 would likely require him to get at least two touches.
Burkhead being at full strength further diminishes the chances of Bill Belichick drawing up two or more plays for Develin. — Koerner
4. C.J. Anderson Under 49.5 Yards (-110)
The under on Anderson's rushing prop hit against the Saints thanks to a negative run and him finishing with 44 yards on the ground.
I'll run it back, sweating the under the whole game in hopes that Anderson doesn't receive 16 carries again and buying into Sean McVay's coach speak that Todd Gurley will "be a big part of this game."
Anderson is projected for 41.3 rushing yards in the FantasyLabs prop tool. (Side note: If you haven't check out our prop tool, you absolutely should before the Super Bowl. It compares our industry-leading projections to real props around the market to highlight the ones offering the most value.)  — Justin Bailey
5. Todd Gurley Over 12.5 Rushing Attempts (-125)
With the Rams resting Gurley in the final two weeks of the regular season to get his right knee closer to 100% in the playoffs, they turned to Anderson, who erupted for three straight games of 120-plus rushing yards.
I still think they plan on giving C.J. 8-10 carries, but the Rams know they need to ideally have a healthy Gurley see 14-17 carries to have a chance to win.
A better line for this would be closer to 14 or 14.5. If they decide to raise the juice instead of the number, I would bet it up to -145. — Koerner
6. Josh Reynolds Will Not Have a Rushing Attempt (-120)
I took this from Koerner's electrifying Super Bowl 53 prop bet article. In case you aren't aware, Josh Reynolds is the Rams' No. 3 wide receiver who has filled in admirably for Cooper Kupp (knee, IR).
Let's quickly check out Reynolds' rush attempts during his 10 games without Kupp in the lineup.
Week 7-Week 17: 1 total
Divisional Round: 1
NFC Championship: 1
The Rams get their receivers more involved in the run game than most teams, but we're still getting -120 odds for a bet with a 70% hit rate this season. Count me in. — Ian Hartitz
7. C.J. Anderson Won't Score a TD (-120)
I typically don't like betting on binary props like this that have a yes/no outcome based on whether one single event occurs. Plus, Anderson is a bowling ball of a back, and it's easy to see how he could score a touchdown.
But there's too much value on this prop not to bet it.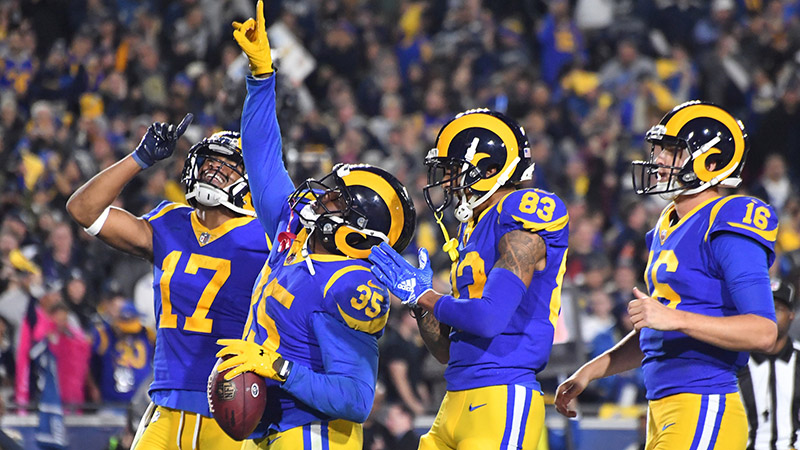 At -110 odds on "No," there's an implied probability of 52.4% that Anderson won't score a touchdown. Given that we're projecting him for just 0.33 touchdowns, we'd expect him not to score a touchdown in this game at least 67% of the time.
I bet this at -110. I've seen it at -125, and I'd bet that too. I'd probably bet this all the way to -150. — Matthew Freedman
8. Marcus Peters Will Have an Interception (+500)
The Rams cornerback has 24 interceptions in 67 career games (including the playoffs) — or an average slightly better than one pick every three games. And remember, that includes games this year when he had to play out of position while dealing with an injury.
I think Peters will get plenty of targets in a defensive backfield that really has no glaring weaknesses. With Aqib Talib back, Peters can play the aggressive, route-jumping style he prefers on the other side with more help.
I also expect defensive coordinator Wade Phillips to bring pressure, increasing the chances of a Peters pick on a jumped route. — Stuckey
9. Brandin Cooks Under 5.5 Receptions (-160)
The Patriots take away the strengths of opposing offenses better than any team in the NFL. And the New England staff is clearly familiar with the dangerous Cooks, who spent a season in Foxboro.
I think the Patriots ultimately put Stephon Gilmore (ranked No. 1 in coverage among all corners this year, per Pro Football Focus) on Robert Woods and use their other speed at corner with help over top to help contain Cooks. Or they put Gilmore on Cooks. Either way, it's not ideal.
New England also did a superb job at defending the deep ball all season. Per Football Outsiders, the Patriots ranked No. 2 in the NFL against the deep ball. That's where Cooks thrives, and he won't on Sunday. — Stuckey
10-11. Josh Reynolds Props
Over 3.5 Receptions (-105)
Longest Reception Over 19.5 Yards (-110)
When in the game, Reynolds will directly benefit from the coverage I expect from New England. Since he will most likely avoid Gilmore and not see help over the top often, I also think the Rams will take a few shots with him down the field with all of the attention on containing Cooks.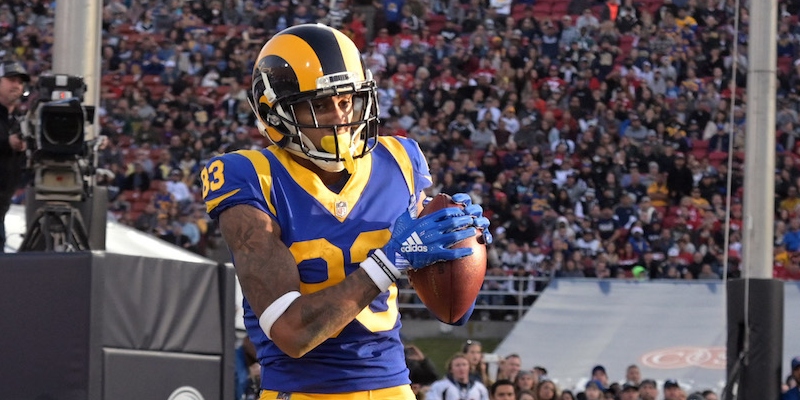 Reynolds became a starter about halfway through the season when Cooper Kupp went down. And in his last eight games, he averaged six targets per game. I think six is a slightly conservative target assumption for this upcoming Sunday, so I'll gladly take my chances on him hauling in four catches.
Reynolds has also had a reception of at least 26 yards in four of his last five games. The one that he didn't, his long was 19. — Stuckey
12-15. Gerald Everett Props
Scores a TD (+330)
Over 2.5 Receptions (+110)
Over 23.5 Receiving Yards (-110)
Longest Reception Over 12.5 Yards (-110)
I don't see any value in Gurley scoring a touchdown at -130, as the Patriots can focus even more on him in the red zone. Everett can benefit from that.
The South Alabama product should also get some looks up the seam when the Patriots bring pressure — especially if they have to start utilizing their safeties if Gurley gets going in the passing game.
I'm primarily investing more in Everett than Reynolds because I expect to see a lot of 12 personnel (one back, two tight ends) from the Rams. They did so against the Saints with great success and it's a formation the Patriots struggle with.
Everett, one of the most underrated tight ends in football in my eyes, has great value across the prop board. — Stuckey
16. Stephen Gostowski Under 1.5 Field Goals (+130)
The former Memphis kicker has made 37 career field goals in 27 career postseason games for an average of 1.37 per playoff game. Solely based on that fact, I like the value of under 1.5 makes — especially at plus-money.
And that's before even accounting for the aggressive play-calling I expect and the fact that Gostkowski had a down year for his standards at 84.4%.
This prop has an extreme amount of variance for a single game, but the math makes sense overall based on how I think the game will play out. — Stuckey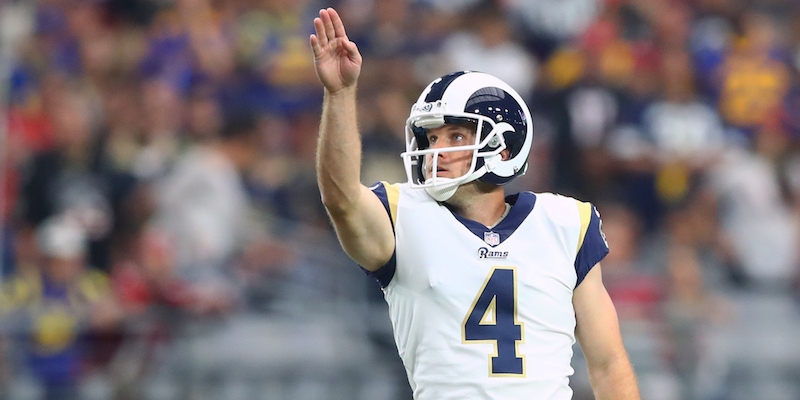 17. Greg Zuerlein Over 1.5 Field Goals (-125)
The Rams kicker has made at least two field goals in 23 of 27 games over the last two seasons. Just twice has he gotten one or zero attempts.
Unless the Rams get down by two-plus touchdowns, Zuerlein has a great chance to kick multiple field goals.
At 1.5, I'd bet this line to -200. At -125, I'd bet it to 2.0. — Freedman
18. Johnny Hekker to Not Attempt a Pass (-550)
At -550 to not throw a pass, the odds imply a 15% chance the Rams punter will throw a pass. If we look back at his career stats, including postseason, Hekker has attempted a pass in 19 of his career 115 games or 16.5%.
But from a situational perspective, I just don't see the Patriots letting it happen a week after Hekker threw a pass vs. the Saints.
We will see a ton of "safe" punt return unit coverages out of New England, which will be perfectly content to fair catch the ball and get Tom Brady on the field.
It's not like the Patriots possess an explosive punt return game or need to rely on non-offensive scores. — Stuckey
19. Sony Michel Most Rushing Yards in Game (+125)
Barring an in-game injury, Michel is a near-lock to lead his own team in rushing. As a result, his main threats in this market are Todd Gurley and C.J. Anderson.
C.J. Anderson erupted for 120-plus yards in three straight games entering the NFC Championship, which allowed the Rams to give Todd Gurley's injured knee time to get close to 100%.
Anderson was so efficient that I expect them to still give him 8-12 carries in this game, which likely won't be enough to win this market, but it will also help lower Gurley's ceiling a bit.
With just one game and only a few RBs involved, it won't even take a "ceiling" game from Michel to cash in. Take the value we're given here at +125. Fair odds according to my projections would be -110. — Koerner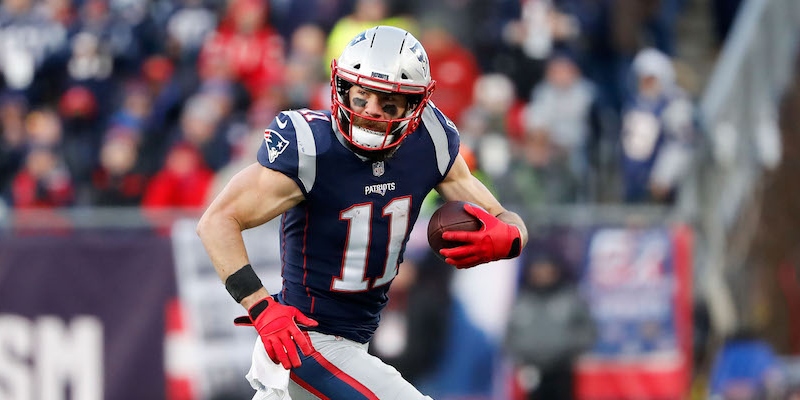 20. Julian Edelman Most Receiving Yards in Game (+400)
Edelman is the ideal high-floor receiver who can take down this market in a one-game situation.
He is Tom Brady's most trusted receiver and is likely a lock for at least 70 yards. Get him at 4-1 before the book correctly adjusts his odds down closer to 3-1.
My fair odds for this prop have Edelman pegged at +215. — Koerner
---
Game Props
JUMP TO: Player Props | Game Props | Scoring | MVP | First TD | Cross-Sport | Anthem/Halftime Show | Other Entertainment
21. Patriots First Kickoff Is Not a Touchback (-145)
Belichick prefers not to kick touchbacks with the new rule bringing the ball out to the 25. Gostkowski's moon-ball kicks give his defenders time to get down the field to pin the opposing team deep.
A non-touchback also provides the opportunity for a turnover and/or a penalty to back up a team even more. Here's proof:
The Patriots are one of only six teams with a touchback percentage under 50%. Their touchback percentage in their last three games is 23.81%
Including the postseason, this prop would have went 12-6 in Patriot games this year.
In the past two Super Bowls, Gostkowski has only kicked three touchbacks out of 11 total kickoffs. And in both games, the first was not a touchback.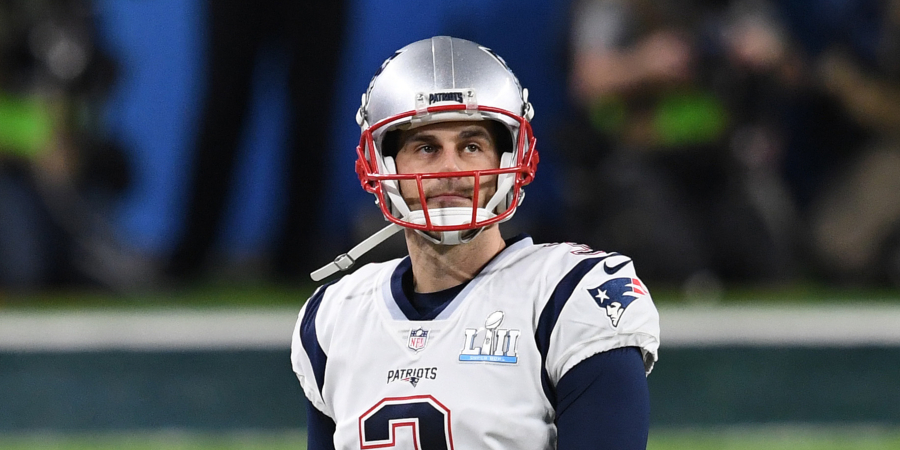 You might fear this prop as a result of the perfect conditions in Atlanta, but it should only help increase Gostkowski's precision. — Stuckey
22. No Missed Extra Point (-310)
NFL kickers as a whole miss about six to seven of every 100 extra-point tries.
Since the league moved the extra-point back to the 15-yard line in 2015, Zuerlein has made 96.2% of his extra points, while Gostkowski has converted 97.0% of his kicks.
The biggest factor working against this bet is the high projected number of touchdowns in this game. Still, add in the indoor location and the fact that (perhaps) we're more likely to see aggressive calls resulting in a higher two-point likelihood, and the probability of a missed extra point is lower than last year. — Jonathan Bales
23. No Safety (-900)
Based on the chances of a safety in the typical NFL game — which is about 1-in-13 — there's a bit of value here.
I'm not sure there's reason to believe the odds of a safety in this Super Bowl are higher than any other game; if anything, you would think fewer plays than average will be run near each team's own goal line because of the offensive quality.
If you're looking to get more action, you can also bet no safety in the first and the second halves at -2000. — Bales
24. No Overtime (-1100)
This was one of my favorite Super Bowl prop bets last year, but there were two key differences: 1) The line opened at -800, and 2) this year's matchup is probably slightly more even overall.
Still, roughly 6% of NFL games go to overtime.
Laying -1100 sucks, but it would still be about a breakeven bet even if you assume the odds of overtime here are 50% higher than the average game. And I doubt that's the case, especially with a high projected total.
This bet doesn't have the same edge as in past years, but I still think there's a little something left. Also, what fun is it winning $100 if you don't have to risk more than a grand to do it? — Bales
25. No Roughing the Passer (+100)
Over the past decade, Brady has drawn just 0.16 roughing the passer penalties per game in 178 starts, including declined and offsetting penalties (per NFL penalties). Jared Goff has drawn just 0.15 per game across his career.
Of course, if we do see one, the odds are -500 that it's on Rams defensive tackle Ndamukong Suh (I'm joking, but not really.)
I bet this at +100. I'd bet it to -120. — Freedman
26. Total Penalties Under 12.5 (-115)
In the playoffs, penalties have dropped. Based on the 10 separate postseason matchups we've had so far, we'd expect to see 13.39 penalties per game (based on regular season averages). Instead, we've had 11.2.
In the postseason, referees on a per-game basis have called 2.19 fewer penalties relative to expectations. That difference is massive.
The Patriots and Rams this year didn't rack up a lot of penalties anyway, averaging just 5.81 and 6.0 per game. Both teams were in the bottom quartile in the league. These are two disciplined, well-coached teams.
But given that in the playoffs teams have typically combined for 2.19 fewer penalties than expected, a more accurate postseason projection might call for as few as 9.62 penalties in Super Bowl 53.
I love the under and have bet it aggressively. I bet this at -115. I've seen it at -120. I'd bet it to -135. — Freedman
27. The First Coach's Challenge Will Be Unsuccessful (+105)
For his career Patriots head coach Bill Belichick has won 48-of-117 challenges during the regular season. That's a 41.0% success rate.
As for Rams head coach Sean McVay, he's won six of 14 challenges across his two seasons. That's a 42.9% success rate.
If there's no coach's challenge, the bet will be graded as no action. But if there's a challenge, Belichick and McVay's records suggest that it is likelier than not to be unsuccessful.
The edge on this prop isn't massive, but it's definitely there at plus odds. — Freedman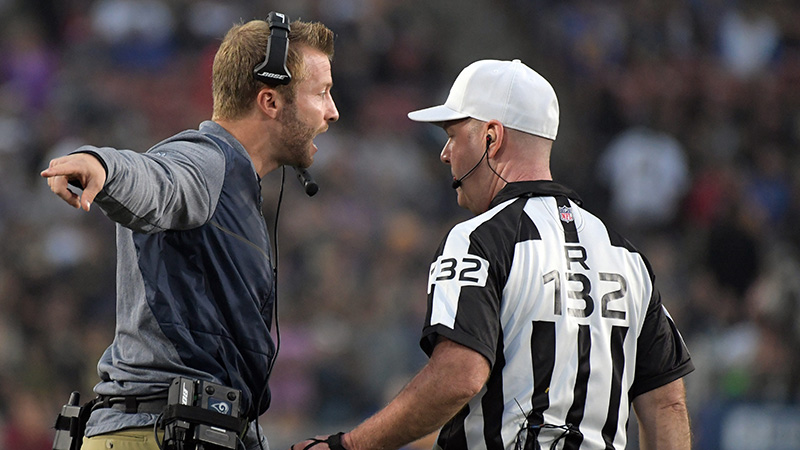 28. Under 7.5 Punts (-130)
The Rams averaged the fewest punts in the league this season at 2.7 per game, and though they weren't as aggressive as you'd think on fourth down (bottom third in attempts), they didn't need to all that often.
The Patriots, on the other hand, will grind out long drives with plenty of painstaking third-down conversions. I think we see 6-7 punts in this game. — Steve Petrella
29. Patriots Sacks Over 1.5 (-175)
Don't be afraid of the juice here, as I think the Patriots have a good shot at getting to Jared Goff at least three times — something they have done in seven of their eight Super Bowl appearances under Belichick.
The one exception came last year when they didn't get to Nick Foles one single time. That will be fresh in their minds.
I also think they know they have to bring pressure to disrupt LA's offense. If you look at some of the regular season numbers, the Patriots didn't get much pressure at all, ranking 30th in Adjusted Sack Rate.
However, they have utilized twists and stunts at a much higher frequency in the playoffs, sacking Philip Rivers twice and Patrick Mahomes four times.
Yes, LA has a great offensive line, but so did Kansas City. — Stuckey
---
Scoring Props
JUMP TO: Player Props | Game Props | Scoring | MVP | First TD | Cross-Sport | Anthem/Halftime Show | Other Entertainment
30. A Team Will Score 3 Straight Times (-220)
At -220 odds, the implied probability of yes hitting is 68.8%. According to our Bet Labs database, there have been 175 NFL playoff games since the 2003-04 season.
In 114 (65.1%) of those games, at least one team has scored three straight times.
That's close but not good enough to say betting yes has positive expected value. However, context is important and a team has scored three straight times more often in games where lots of points are expected.
Since 2003, there have been 32 playoff games with an over/under of 50 or more points, and one team has scored three straight times in 22 of them (68.8%).
In games with over/unders of 55 or more points, yes has gone 10-1 during that time. — John Ewing
31. There Will Be a Score in the Last 3:30 (-170)
I was all ready to do some research and conclude that taking "No" was actually going to the smart play here.
Boy was I wrong.
After looking back at all 52 Super Bowls, I found that 32 featured a score within the final three and a half minutes of the fourth. That 61.5% win rate would equate to a betting line of -160, which is right where this line is set.
All seems in order so far … until you look at recent trends.
Fifteen of the 20 games without a late score came in the first 27 Super Bowls. Since then, this prop has gone 20-5 (80% win rate).
Now, I'm one to believe in regression to the mean, so I'm not going to tell you that this has an 80% chance to happen in Super Bowl 53. I will say, however, that the NFL has changed since its early days. Tom Brady can go up and down the field with far more ease than, say, Bart Starr could 52 years ago.
Plus, for this prop to have value, we don't need it to win 80% of the time. The -170 odds require only a 63% probability to break even.
Since this line doesn't seem to factor the faster-paced game in at all — not to mention that this Super Bowl features the most expected points ever — I'm comfortable laying the -170 on "yes." — Danny Donahue
32. Both Teams Have Lead in 4th Quarter or OT (+280)
This is fairly correlated with Danny's prop above. My reasoning is pretty similar and I think this hits for the fourth straight time in a Patriots Super Bowl.
I still find it stunning that the winning team took the lead in the final 3:30 in seven of the eight New England Super Bowl appearances. They are essentially a Marshawn Lynch run, two last-second field goals and Atlanta's historic collapse away from a 1-7 Super Bowl record. — Stuckey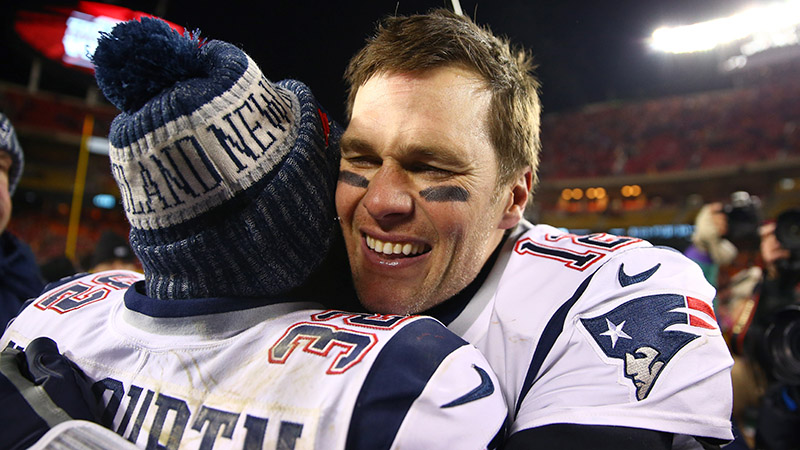 33. The Team That Scores Last Will Win the Game (-170)
The team to score last in the past 36 Super Bowls is 30-6 (83.3%) in those games. Cutting that down a bit more, the record becomes 20-3 in the past 23 (87.0%).
So as much as I wanted to go against my gut feeling, once again I've got no choice but to suggest that this line is too low — at least based on the 52-game Super Bowl sample. — Donahue
34-36. Barkley's Bunch
Rams win first quarter/Patriots win game (+630)
Rams win first quarter by 1-6 points (+490)
First score is Rams field goal (+466)
New England is notoriously a slow-starting team in the Super Bowl. In the Pats' five wins, they haven't scored a single point in the first quarter. Last year they finally got off the schneid in a first quarter and kicked a field goal, trailing 9-3 to Philly after 15 minutes.
I really think these teams are about even on a neutral field, so the idea that all the Rams props are priced higher than the Patriots for these types of markets makes them that much more appealing.
In reality, the Patriots are not more likely to do any of these things than the Rams are. — Ken Barkley
---
MVP Winner

JUMP TO: Player Props | Game Props | Scoring | MVP | First TD | Cross-Sport | Anthem/Halftime Show | Other Entertainment
37. Jared Goff (2-1)
Goff has the second-highest MVP odds right now, but I still think they're too low. The Rams are currently just +120 on the moneyline, and recent history tells us that Goff has a strong chance of winning the MVP if his team can pull off the upset.
Seven of the last nine Super Bowl MVP's have been the QB for the winning team.
The two exceptions were Peyton Manning in Super Bowl 50, who could barely complete a pass by that point in his career, and Russell Wilson in Super Bowl XLVIII, who played for a defense that held one of the greatest offenses in the history of the league to just eight points.
It seems unlikely that the Rams defense will turn into a monster all of a sudden, so give me the extra value with Goff instead of betting the Rams straight-up. — Matt LaMarca
38. Sony Michel (20-1)
Michel having a big game and the Patriots winning is perhaps more correlated than any other possible performance.
Michel has averaged 94.2 rushing yards when the Patriots win, compared to only 46.2 yards in losses.
The Patriots limited the rookie during the regular season due to a nagging knee injury, but have shown their desire to give him as many carries as possible in their first two playoff wins (24 against the Chargers, 29 against the Chiefs).
Michel likely would have won the MVP award in both performances, so I'm willing to bite on him at 20-1 odds. — Koerner
39. Robert Woods (50-1)
Since the "Tom Brady era" starting in 2002 to the present, a wide receiver has won three times out of 17, good for a 17.6% win rate. This makes sense as the league has become more pass heavy.
The path to Woods winning the MVP award is likely him getting two-plus receiving touchdowns, which he has done three times the past two seasons, good for a 9.7% hit rate.
He'd also likely need Brandin Cooks and Josh Reynolds to not find the end zone (otherwise that would increase the odds of Goff winning MVP).
Woods is also likely going to have one or two jet sweeps drawn up for him, so a massive gain or a TD on one of those plays would be huge for this market.
Another thing that'd be good for Woods is if the Gurley/Anderson timeshare continues and prevents either from having a massive game.
There is no such thing as a "slam dunk" 50-1 bet, but there are too many practical paths for this hitting to be priced this high.
I'd bet it down to 40-1 odds. — Koerner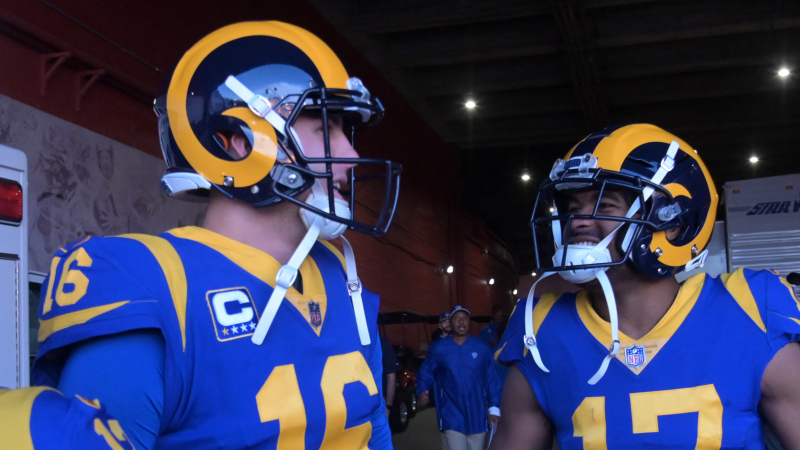 40. Marcus Peters (85-1)
I am simply looking to invest in a playmaker on the defensive side of the ball who is capable of a game-changing pick-six. That's pretty much what it takes for a defender to win MVP without completely dominating like Von Miller did for Denver.
There is no doubt that Peters has struggled all season in coverage, playing in a scheme that doesn't really fit his style while also dealing with injuries. As a result, he ranks No. 74 among all corners this year in coverage, per Pro Football Focus (min. 500 snaps).
Talib and Nickell Robey-Coleman (the other Rams corners) both rank in the top 15 in that same category. The Patriots will likely attack Peters, which means he will have plenty of chances to make plays, whether it be a game-changing interception or a key scoop and score.
Not only do I think he will have the most opportunities, he's also a very aggressive cornerback. Hopefully he can jump a route and generate a pick-six. — Stuckey
41. Greg Zuerlein (125-1)
Zuerlein, in my opinion, was the MVP of the NFC Conference Championship, kicking four field goals in a relatively low-scoring game in which no single skill-position player stood out. I could see a similar type of game this week.
In such a scenario, Greg the Leg would have a real chance to win the MVP award, especially if at least two of his kicks are long or converted in high-leverage situations.
And, again, that's not improbable considering McVay's willingness to let his kicker attempt field goals and Zuerlein's high conversion rate. — Freedman
42. John Johnson (150-1)
I just think 150-1 has too much value to pass up. LA's Johnson, not yet a household name in his second year out of Boston College, is one of the most underrated safeties in the NFL.
He should rack up some tackles helping in the run game and has a good nose for the ball. Just look at some of his NFL ranks among all safeties this year, per PFF (min. 500 snaps):
Coverage: 5th
Tackling: 4th
Run Defense: 17th
Overall: 6th — Stuckey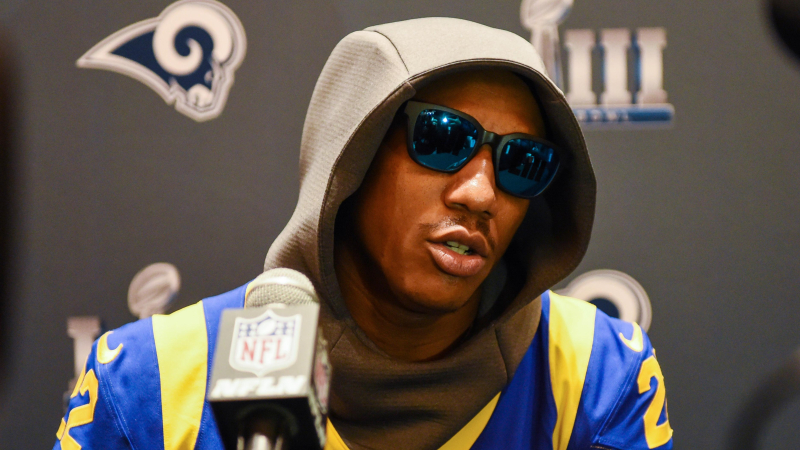 ---
First TD
JUMP TO: Player Props | Game Props | Scoring | MVP | First TD | Cross-Sport | Anthem/Halftime Show | Other Entertainment
43-44. Gerald Everett (28-1), Josh Reynolds (19-1)
Belichick takes away the strengths of opposing offenses as well as any coach in the league. I assume he will have elite corner Stephon Gilmore on Robert Woods and put speed at corner with help over the top to deal with the the deep threat of Brandin Cooks.
And with all eyes on Gurley in the red zone, I think both Everett and Reynolds can find open space against the New England defense.
Also, considering how slow the Patriots offense has started in all eight Super Bowls in the Brady-Belichick era (three total first quarter points), I wanted to target a few Rams for this particular prop.
Now, if the Patriots score the first touchdown and go on to win, my darts will completely miss the board. But these are just some small shots with a set strategy in mind.
That's all I'm really trying to accomplish with Super Bowl longshot bets. — Stuckey
---
Cross-Sport Props
JUMP TO: Player Props | Game Props | Scoring | MVP | First TD | Cross-Sport | Anthem/Halftime Show | Other Entertainment
45. Arsenal + Manchester City Score More Goals Than Rams Sacks (-130)
With an over/under of 3.5, we could easily see 4+ goals scored between Arsenal and Manchester City. That means that the Rams would need to get to Brady at least 4 times just to push this bet, so I think there's tremendous value on Arsenal/Man City goals scored at -130 odds. — Dan McGuire
46. Greg Zuerlein Points Scored -3.5 over Justin Thomas Final-Round Birdies (-110)
The truth is, I'd like to put these together and bet the over. JT has a penchant for making a ton of red numbers at the Waste Management Open; last year, he posted 21 eagles/birdies in four rounds at this event.
If we expect five (the average from last year), that means Greg the Leg needs, say, two field goals and three extra points to cash this prop. Following playoff games where he's finished with 12 and 14 points, respectively that feels like a low bar.
What worries me is the unconventional that so often happens in a Super Bowl — a safety here, a missed PAT there — which can render the kicker less meaningful.
Even so, I'm giving the points on this one, too. — Jason Sobel
---
Anthem/Halftime Show Props

JUMP TO: Player Props | Game Props | Scoring | MVP | First TD | Cross-Sport | Anthem/Halftime Show | Other Entertainment
47. National Anthem Under 1 Minute, 50 seconds (-110)
I found one video of Gladys Knight singing the national anthem in 1991:
It took her 92 seconds.
Forget that this was 28 years ago. Forget that she's now singing in the Super Bowl. Forget that I did less than a minute of research and otherwise have no idea what I'm talking about. — Bales
48. Andre 3000 Will Not Join Big Boi on Stage (-400)
As much as old-school hip hop fans want to see OutKast together on stage at the Super Bowl, 3 Stacks making an appearance seems highly unlikely.
We're talking about a guy who barely appears anywhere at all anymore due to social anxiety issues that he described in a GQ interview back in 2017, as well as one who already refused a halftime show because the league was offering "limited stage time."
On top of that, an appearance would risk potentially alienating those of his peers and fans whom aren't happy with artists agreeing to do the show in the wake of the league's treatment of Colin Kaepernick. — Chris Raybon
---
Other Entertainment Props
JUMP TO: Player Props | Game Props | Scoring | MVP | First TD | Cross-Sport | Anthem/Halftime Show | Other Entertainment
49. Over 5.5 Commercials with Dogs
I believe last year was a fluke with only four after at least seven in the two years prior. We already know a few major players have their pooches at the ready. One other element I have not mentioned yet is that Feb. 3 is the final day of the Chinese Year of the Dog.
The next day becomes Year of the Pig. How are you going to fade dogs on their last big day until 2030? You'd have to be an idiot. — Mark Gallant
50. Sean McVay's College Picture Shown Under 1.5 Times (+160)
This is a new offering as of Wednesday and I believe these were the opening odds. I honestly didn't think twice about betting it, though.
Here are the rules. "CBS Broadcast Only. From Kickoff to Games End. Every Time a Picture is showed it will count as 1."
First of all, who says they are going to show a picture of him at all? If you told me this prop existed, I would have assumed the over/under was 0.5. Instead, it's 1.5 and the under has a solid plus money payout. — Gallant
51. Donald Trump Will Not Attend (-650)
As far as I can find, no sitting president has ever attended the Super Bowl, including Trump in the last two years.
Based on some conversations I've had with someone who used to work in the secret service (and I'm actually not joking), here's why I think no president has attended the game: The security logistics. It's a nightmare.
I can see Trump wanting to avoid a situation in which thousands of people have the opportunity to voice their displeasure directly to him on live television, like they did when Vice President Mike Pence attended Super Bowl 51.
What are the odds that Trump won't attend the Super Bowl? I'd say 90% at least. Probably more like 95%. Maybe even 98%. I'd bet on "No" all the way to -1000. — Freedman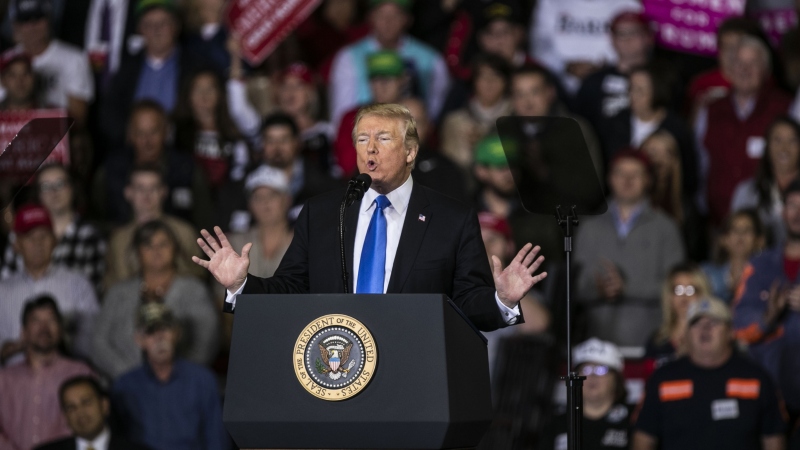 52. Jim Nantz or Tony Romo Will Not Mention the Point Spread (-400)
Action Network Senior Executive Producer Darren Rovell recently reported that the policy for CBS Sports is to not discuss gambling information on air.
So if Romo or Nantz mentions the spread, he will be directly going against company policy, which doesn't seem like something either of them would do. Both Romo and Nantz have handled themselves with full professionalism throughout their broadcasting careers. — Freedman
53. Ted Rath Under 3.5 Mentions (-230)
Ted Rath is the Rams "Get Back Coach" for Sean McVay. He got some notoriety after the NFC Championship as we all learned his name and role on the team.
That's all great, but there is no chance his name is coming up four times during the game. This is a decent amount of juice to lay, but it's as close to a certainty as you'll find on this board. — BlackJack Fletcher