Koerner's Super Bowl 53 Prop Bets: Bank on James White as a Pass-Catcher?
Credit:
Jay Biggerstaff-USA TODAY Sports. Pictured: James White
Sean Koerner analyzes his eight favorite player props for Super Bowl 53.
He covers Rams QB Jared Goff, Rams RBs Todd Gurley and C.J. Anderson, Patriots RB James White, Patriots FB James Develin, Rams WR Josh Reynolds and Rams DT Aaron Donald.
For anyone who loves betting props on a regular basis, the Super Bowl is, well, the Super Bowl of prop betting.
With a seemingly endless array of props to attack around the market, let's take a look at eight of my favorites.
If you're interested in betting on the Super Bowl MVP, I broke down my two best bets for that award here.
And be sure to check out our awesome prop tool at FantasyLabs, where we compare the player props from various sportsbooks to my projections to show where you can find the most betting value.
Bets with a Bet Quality of 10 have gone 235-120 (64%) this season, so you can find some serious value.
For more Super Bowl props coverage, be sure to listen to our deep-dive episode on The Action Network NFL Podcast.
Super Bowl 53 Prop Bets: Quarterback
Jared Goff under 8.5 rush yards -110 (FanDuel/Westgate)
There isn't a ton of value in the QB player prop market. Both QBs passing yards, TDs, attempts, completions and interceptions are right in line with what I have.
However, Jared Goff rushing yards is being offered at 8.5 at most books. A fair line for this would be closer to 6.5. So it's off by only two yards, but that makes a world of difference in this market.
Goff has rushed for fewer than 8.5 yards in 11 of 18 games this year, good for a 61% hit rate.
I rate this as hitting only 55-58% of the time simply due to the Rams being slight underdogs here.
It's possible he sneaks off for a 9-10 yard gain, and if that happens, we'd need the Rams to get in a victory formation for a couple kneel-downs from Goff to cash here.
If you are betting the Rams against the spread/moneyline, this is a nice bet to supplement your action, as it's highly correlated with a Rams win.
Super Bowl 53 Prop Bets: Running Back
Todd Gurley over 12.5 rush attempts -126 (FanDuel)
One of the most interesting storylines heading into the Super Bowl is how the Rams plan on using their sudden running back by committee featuring Todd Gurley and C.J. Anderson.
With the Rams resting Gurley in the final two weeks of the regular season to get his right knee closer to 100% in the playoffs, they turned to Anderson, who erupted for three straight games of 120-plus rushing yards.
I still think they plan on giving C.J. 8-10 carries, but the Rams know they need to ideally have a healthy Gurley see 14-17 carries to have a chance to win.
A better line for this would be closer to 14 or 14.5. If they decide to raise the juice instead of the number, I would bet it up to -145.
C.J. Anderson under 44.5 rush yards -110 (Westgate)
I was able to snag this line at 49.5 last week, but there is still some value at 44.5. There is still reason to believe the Rams will give Anderson several carries in this game, but I can see them targeting short-yardage situations to move the chains, or even goal-line carries.
He's likely going to need 12-plus carries to make this prop a +EV bet, and I just don't see them committing to that gameplan against the Patriots, especially if they get behind.
I would only bet this number down to about 41.5.
James White under 6.5 receptions +110
This is likely the best value on the board for me.
A fair line for this is 5.5, and I want to point out just how valuable a full reception is in this market.
I estimate a 15.8% chance White gets exactly 6 receptions, so that is already a significant edge if we get this number versus 5.5.
White has gone under this total 61% of the time this season — and that even factors in the increase in usage he saw when Sony Michel and/or Rex Burkhead missed several games this year.
With all three backs at full strength, I'm putting this prop around a 65% chance of hitting and you can currently get it at +110. Sign me up!
James Develin under 3.5 rush + rec yards -110 (Westgate)
One of the best things about the Super Bowl is we get a player prop on everyone, even James Develin.
Develin is the Patriots fullback, who trolls the fantasy community with a vulture 1-yard TD run from time to time.
I do think this line is very generous: The under has hit 67% of the time this year and Develin covering the 3.5 would likely require him to get at least two touches.
Burkhead being at full strength further diminishes the chances of Bill Belichick drawing up two or more plays for Develin.
Super Bowl 53 Prop Bets: Wide Receiver/Tight End
Josh Reynolds will NOT have a rush attempt -120 (Westgate)
This is another type of prop that we can get only for the Super Bowl.
It's important to realize that these are the type of props that have the most value because they are unlikely to get much attention.
As mentioned above, the Rams like to design three or four jet sweeps to WRs or even TEs each game.
Reynolds has had a rushing attempt in each of the last past two games. Before that, he had only one attempt in the previous eight without Cooper Kupp in the lineup.
That's a 70% rate of him NOT getting a rush attempt. I have this closer to a 60% win rate given his recent trend of back-to-back games with a carry and would bet this down to -150.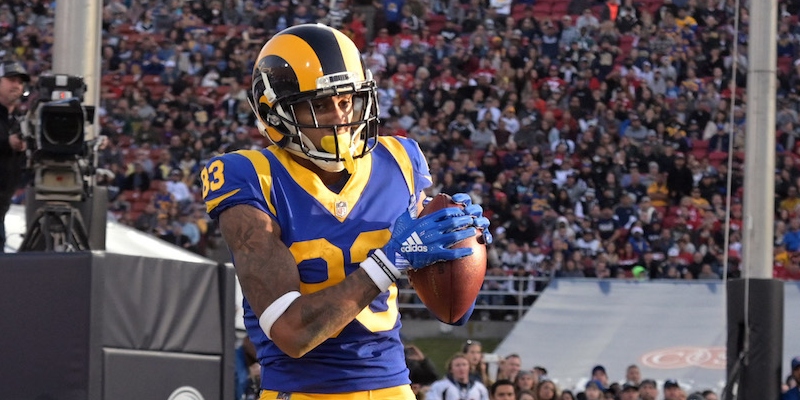 Super Bowl 53 Prop Bets: Kicker/Defense
Over 122.5 total yardage of all FGs made -105
This is a fun prop that presents value on the over. I have the fair line being 130.5.
This is such a unique prop I don't have an exact win rate expectation for it, so I'm making a lighter bet and it is more for entertainment purposes.
Both offenses should move the ball across midfield often, so the potential for a higher number of field goal attempts is there, especially with how willing Sean McVay is to let Greg Zuerlein attempt longer ones.
The matchup itself features two very good kickers and is going to be in a dome; this makes the expected field goal percentage a bit higher than an average matchup.
Give me the over here.
Aaron Donald under 4.5 tackles + assists -120
I have this line being 3.5 and that is the number most books are using, but 4.5 is available in the marketplace.
If a book is expecting more public action they will inflate the numbers on a player like Donald, but this line being a full one point higher than it should be opens up massive value.
My model has the chances of him getting four exactly at 19.1% (our edge of getting the extra point here) and the chances of him getting under 4.5 at 70.6%.
Donald has had exactly four tackles + assists 22% of the time and under 4.5 at 77.8% of the time.
This gives me confidence in my estimated win rate of 70% here to bet accordingly.