Bales' Favorite Super Bowl 53 Prop Bets: Touchback, Safety, National Anthem, More
Credit:
Bob Donnan-USA TODAY Sports. Pictured: Lombardi Trophy
Jonathan Bales offers his favorite Super Bowl 53 prop bets, including whether there will be a safety.
See his picks for more game and player props in Los Angeles Rams-New England Patriots.
Props are typically juiced like crazy, but that doesn't necessarily make them bad bets.
Like I explained last year, you can't just label both sides of a bet "bad" because the juice is crazy. The vig doesn't change whether a bet is good or bad; it just decreases the odds of one side of a prop being +EV.
And if you think about it, why would the odds on one side of a bet affect whether the other side is sharp? Yes, the vig can be a lot higher on props, but the lines can also be off enough that you can still find +EV sides. If I'm betting on whether there will be a safety in the Super Bowl, I'm snap-firing "no" at -900 regardless of whether "yes" is +600 or +200.
With that said, let's get into my favorite prop bets for Super Bowl 53.
Stephen Gostkowski Touchback on First Kick +180
If the Pats kick off to start the game, I don't see any reason why Gostkowski can't kick that football well into the upper level seats. But for real, this is my favorite bet for Super Bowl 53.
The league median for touchback rate this season was 62%, with Gostkowski getting no return on 53.8% of his kickoffs (with a slightly better rate on the road). His average kick distance of 62.2 yards was the lowest of his career, which is certainly meaningful information.
But check out this stat: Falcons punter Matt Bosher, who kicks off for Atlanta, converted 70.6% of his home kickoffs into touchbacks in 2018 (seventh-best for any team) compared to only 39.5% on the road (third-worst) — i.e. there's really good evidence that kicks carry in Mercedes-Benz Stadium.
With an implied breakeven probability of 37.5%, I think Gostkowski's much higher true touchback odds make this the highest ROI bet in Super Bowl 53.
No Missed XP (-310)
I was on the opposite side of this bet a year ago, but two key things have changed: First, Greg Zuerlein is replacing Jake Elliott as one of the kickers. Second, the line has moved 50 points in favor of "no missed XP."
By the way, this has become a trend with a lot of the Super Bowl game props that require laying big odds; my guess is that sharps have been hammering these more and more, with others still taking the odds on things like "Will there be a safety?" at +600 just because it's more fun to risk a little to win a lot than vice versa.
NFL kickers as a whole miss about six to seven of every 100 extra-point tries.
Teams with greater than a coin flip's chance to convert a two-point conversion — which is most with a decent offense — should be going for two in situations when the game is still one of point-maximization. (That has nothing to do with this bet, but it just tilts the crap out of me that no team consistently goes for two despite it being clearly right for some.)
When percentages approach the tails — near 0% or 100% — each percentage point becomes more and more meaningful. A 49% chance of something happening and a 51% chance are both near a coin flip, whereas a 97.5% chance of occurrence (1-in-40) is five times as likely as 99.5% chance (1-in-200), even though the latter is still a two percentage-point difference.
This is the nerdiest possible way of saying I think something like a league-average 93-94% extra-point conversion rate and one that's 96-97% are substantially different. For example, the odds that a 97% kicker makes three consecutive extra points are 91.3%, compared to only 80.4% for a 93% kicker.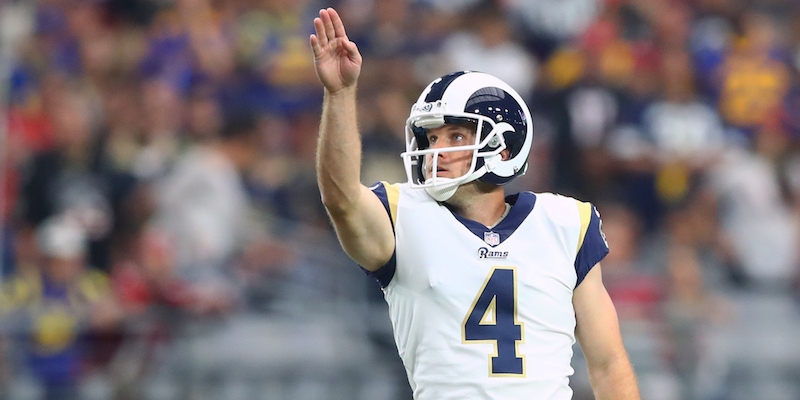 Since the league moved the extra-point back to the 15-yard line in 2015, Zuerlein has made 96.2% of his extra points while Gostkowski has converted 97.0% of his kicks.
And while we might assume these guys have been on the positive side of variance, the fact that we're dealing with more than 300 extra point tries and that these guys sport 83.5% and 87.4% respective career field goal rates is pretty good evidence they're a lot more likely than the typical kicker to convert.
The biggest factor working against this bet is the high projected number of touchdowns in this game. Still, add in the indoor location and the fact that (perhaps) we're more likely to see aggressive calls resulting in a higher two-point likelihood, and the probability of a missed extra point is lower than last year.
No Safety (-900)
Based on the chances of a safety in the typical NFL game — which is about 1-in-13 — there's a bit of value here.
I'm not sure there's reason to believe the odds of a safety in this Super Bowl are higher than any other game; if anything, you would think fewer plays than average will be run near each team's own goal line because of the offensive quality.
If you're looking to get more action, you can also bet no safety in the first and the second halves at -2000.
No OT (-1100)
This was one of my favorite Super Bowl prop bets last year, but there were two key differences: 1) The line opened at -800, and 2) this year's matchup is probably slightly more even overall.
Still, roughly 6% of NFL games go to overtime.
Laying -1100 sucks, but it would still be about a breakeven bet even if you assume the odds of overtime here are 50% higher than the average game. And I doubt that's the case, especially with a high projected total.
This bet doesn't have the same edge as in past years, but I still think there's a little something left. Also, what fun is it winning $100 if you don't have to risk over a grand to do it?
Greg Zuerlein Over 1.5 Field Goals (-125)
Matthew Freedman has a nice breakdown of this bet.
Phillip Dorsett Under 2.5 Receptions (-114)
This is the top-rated bet in our FantasyLabs Props Tool — i.e. it has the biggest inefficiency between player props and Sean Koerner's Super Bowl projections.
National Anthem Under 1 Minute, 47 seconds (+120)
I found one video of Gladys Knight singing the national anthem in 1991:
It took her 92 seconds.
Forget that this was 28 years ago. Forget that she's now singing in the Super Bowl. Forget that I did less than a minute of research and otherwise have no idea what I'm talking about.
Forget everything you know about slipcovers.
Bet your life on the under.