Raybon: How to Bet Rams Receiving Props Based on Patriots' Gameplan
Credit:
USA Today Sports. Pictured: Stephon Gilmore, Robert Woods
The Patriots have long been known for taking away their opponent's top receiver, but lately, they've contained elite receiving duos.
Chris Raybon breaks down how they do it and what their likely plan will be against Robert Wood and Brandin Cooks.
There are also four prop bets to exploit based on the Patriots' recent track record against top receivers.
The Bill Belichick-coached New England Patriots have long been known to try and take away the opponent's No. 1 receiving option. But in the first 11 weeks of 2018, they were inconsistent at it.
Sure, they held DeAndre Hopkins to an inconsequential 8-78-0 performance in a Week 1 victory over the Texans, erased Allen Robinson (5-1-4) in a Week 7 defeat of the Bears then limited DaVante Adams (6-40-1) in a Week 9 win against the Packers.
But there was also Keelan Cole's 7-116-1 eruption in a Week 2 loss to the Jaguars — back when Cole was still being considered a No. 1 and, you know, actually playing at all — Corey Davis' 7-125-1 performance in the Week 10 loss to the Titans and, of course, who could forget Tyreek Hill's 7-142-3 monster effort in what ended as a 43-40 win for the Patriots in Week 6?
Since the bye, though? Bruh. The Patriots aren't only shutting down opposing No. 1 options — they're also completely stymieing No. 2s.
Let me rephrase that: They're shutting down elite No. 1 and No. 2 options.
It's borderline unfair.
Stat lines below are in targets-catches-yards-touchdowns format. Season averages (including postseason) are in parenthesis.
Adam Thielen: 10-5-28-1 (9.6-7.1-86-0.6)
Stefon Diggs: 5-5-49-0 (9.9-6.8-68-0.6)
Antonio Brown: 7-4-49-1 (11.2-6.9-87-1.0)
JuJu Smith-Schuster: 10-4-40-0 (10.4-6.9-89-0.4)
Tyreek Hill: 3-1-42-0 (8.5-5.3-89-0.7)
Travis Kelce: 5-3-23-1 (9.2-6.3-82-0.6)
Collectively, the Patriots held those six players — all of whom, mind you, finished in the top 18 in receptions per game during the regular season, including five in the top 11 — to 2.8 catches and 45 yards below their season average, with none matching their season average in either category.
In between, New England continued to do its normal shutting down of No. 1s.
Robby Anderson came into his matchup against the Patriots averaging 6.0 receptions over four games and caught three balls against them. No Dolphin except Kenny Stills caught more than one pass in Week 14. And even though Keenan Allen went for 75 yards and a score in the Divisional Round, he was held to two catches — 3.7 under his season average.
The implications are clear: Bet on reduced volume for high-volume receivers facing the Patriots.
There are obviously some prop bets to attack — which I will get to — but first…
How Do The Patriots Do It?
Against a team with only one top threat, it's simple: Shadow with Stephon Gilmore. The No. 10 overall pick in the 2012 draft has had an absurdly good season, allowing only 44 catches for 563 yards on 100 targets overall, according to Pro Football Focus.
Gilmore's 18 pass break-ups over the regular season cleared everyone else in the league by five.
Against offenses with more than one threat, Belichick will almost never use Gilmore on the No. 1. Belichick understands that offense beats defense in this league, and doesn't want to waste his best cornerback in the matchup that he is least likely to win when there are other receivers to also contain.
He also understands that a defense can take away anything it wants by devoting extra bodies, so long as it's willing to concede one-on-one matchups in space elsewhere.
So when a team has two elite receivers, Belichick will use a quantity-over-quality approach against the No. 1 (or top downfield threat), sticking someone other than Gilmore on said No. 1 and keeping a safety over the top to double-team at all times. Gilmore will be used on the No. 2 option, with Belichick having the confidence to leave Gilmore alone on an island against a high-quality opposing receiver at times if needed.
This was how the Patriots contained the Vikings: Gilmore shadowed Stephon Diggs on 84.6% of his routes, per PFF, while Jason McCourty — who, by the way, finished the season ranked 14th in PFF's cornerback grades after being discarded by the Browns — was tasked with slowing Thielen with the assist of safety help.
Against the Chiefs, Belichick mostly used safety Devin McCourty over the top of Hill, with an array of cornerbacks taking turns on him. Undrafted rookie cornerback J.C. Jackson — who has allowed a silly-low passer rating of 58.0 on 61 targets this season, per PFF, and deserves a good deal of credit for much of New England's post-bye improvement — started out on Travis Kelce.
Gilmore, meanwhile, was down to covering the third rung on the ladder in Sammy Watkins.
What resulted was most of Hill's routes ending with him as nothing more than the lone cold cut in a Patriots defender sandwich (bottom left):
Kelce, meanwhile, was banged around repeatedly at the line of scrimmage — another key feature of this defense and one that allows it to disrupt timing and make the quarterback hold the ball to compensate for its lack of true game-changing pass-rushing talent, all due respect to Trey Flowers.
Belichick would switch Gilmore onto Kelce in the second half, and knowing Belichick, this was likely done so as to break tendency and thwart potential in-game adjustments by the Chiefs rather than a response to Jackson giving up a short touchdown to Kelce early in the third quarter.
This is all made possible not only by Belichick's tactical genius, but also by New England's deep and versatile secondary.
The Patriots play the highest rate of man coverage in the league, and you can't throw them off what they're trying to do by moving receivers around: All four of New Englands top corners — Gilmore, McCourty, Jackson and 2016 undrafted free-agent Jonathan Jones — have spent 84 or more coverage snaps in the slot this season, per PFF, and each allowed a passer rating no better than league average when in slot coverage.
And the versatility doesn't stop at corner.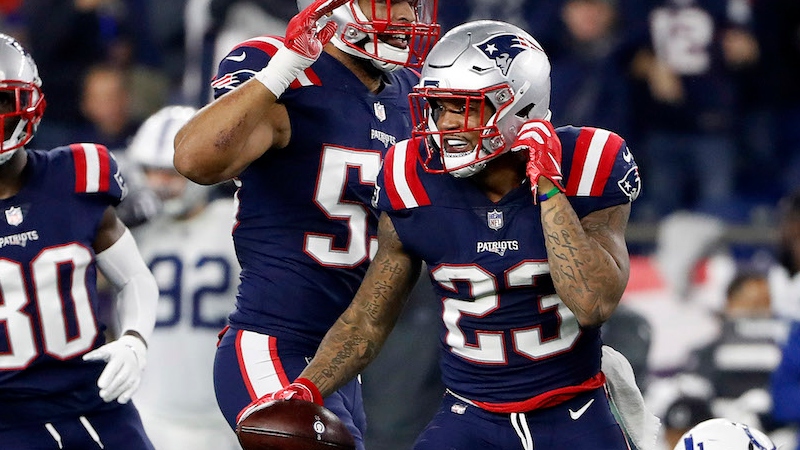 Safety Patrick Chung is also stingy in slot coverage (5.3 yards per target allowed per PFF) and can man up on opposing tight ends if necessary. Safety Devin McCourty is the only Patriot who struggled in the slot (144.0 passer rating allowed), but finished with the 12th-best coverage grade among 93 qualified safeties and brings the coverage skills of a converted corner to the back end.
To get an idea of how all of this versatility comes together and the synergy it creates when paired with Belichick's strategic mastery, look no further than Jones, who started the season as the primary slot corner but was benched for Jackson. In the two games leading up to the AFC Championship, Jones barely saw the field, playing 19 snaps combined. But against Kansas City, Jones not only played an eight-week high 40 snaps and spent the most time he has all season on the perimeter (21 snaps), but he did so while primarily covering Hill.
Why? Belichick felt Jones' 4.33 speed was a good match for Kansas City's stupid-fast gamebreaker.
Belichick is likely to give Brandin Cooks the Hill treatment and shadow Robert Woods with Gilmore, which provides a nice segue into the prop value Belichick's likely plan of action will create.
PROP BETS
Robert Woods Under 5.5 Receptions (+130)
There would be value on this prop even if Woods weren't up against the Patriots.
Woods' season average is 5.4 receptions, but he's registered five or fewer catches in 10-of-18 games (55.6%). He's been a five-catch machine, posting exactly that many in 6-of-18 games (33%).
Even in the 10 games without Cooper Kupp, Woods has been under 5.5 half of the time, which is still +EV at +130 odds before factoring in New England's stinginess.
Robert Woods Under 74.5 Receiving Yards (-110)
This is another prop that would have a bit of value before even factoring in the Pats' D.
Woods has gone under this prop 55.6% of the time this season, but with him playing more in the slot of late, Jared Goff hasn't been able to get the ball downfield to Woods as much lately.
Woods has been under 74.5 yards in 8-of-10 games without Kupp.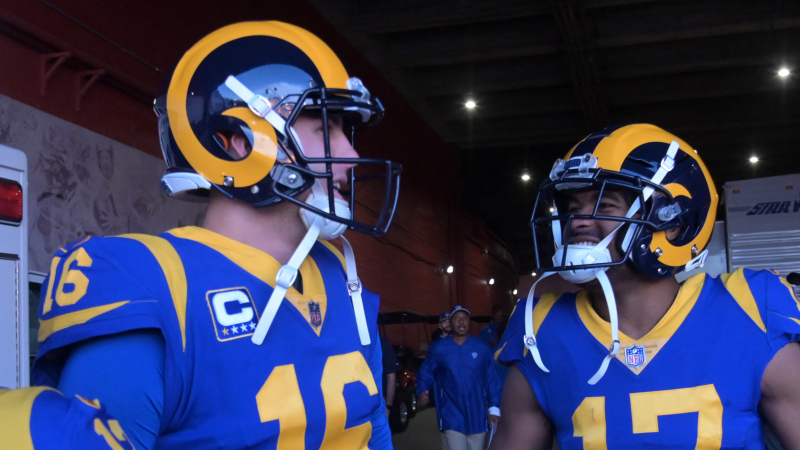 Brandin Cooks Under 73.5 Receiving Yards (-115)
This one is a little dicier if you look at full-season numbers — Cooks has gone under at only a 50% rate — but he's gone under 70% of the time without Kupp.
That coupled with Cooks being likely to get the Hill treatment creates slight value on the under.
Brandin Cooks Under 5.0 Receptions (-105)
I loved the under on Cooks' reception prop at 5.5, but it seems the books have wised up and reset it at 5.
This is another one that would be even for the season (8-8-2), but it would be 6-3-1 to the under in games without Kupp. The likelihood of this prop pushing is higher than I'd like, but especially given how the Patriots have defended these types, an outright loss from it going over seems unlikely.
If Woods & Cooks Go Under, Who Benefits?
In theory, Rams backs and tight ends should be the prime beneficiaries if Cooks and/or Woods are held below expectation, volume-wise.
That said, the Pats allowed only 20.6 completions per game since their Week 12 bye, which would rank as ninth-fewest over the full regular season. So unfortunately for those who love to bet overs, there does not appear to be much value on the corresponding overs in this particular case.
This is especially true since props for lesser-known players like Gerald Everett and Tyler Higbee tend to draw a greater percentage of sharp action and have seen the value bet out of their now overly juiced overs.
I'm also not particularly confident that Josh Reynolds can win his one-on-ones against this secondary, or how many chances Sean McVay will even give him to do so as opposed to continuing his tendency of elevated '12' personnel usage that we've seen over the past month.
The best case for receiving overs is probably the most obvious: Todd Gurley. But given the uncertainty surrounding his usage, health, and conditioning/rust level, betting on Rams running back props seems about as +EV as betting on the coin toss.
Chris Raybon is a Senior Editor at the Action Network and a co-host of "I'll Take That Bet" on ESPN+. He has watched every snap of every NFL game since 2010 — even the kneel downs. Follow him on Twitter @ChrisRaybon and read about how he quit his accounting job and got paid to watch sports.
How would you rate this article?