53 Things to Know for Super Bowl 53: Prop Bets, Rams-Patriots Analysis, More
Credit:
USA Today Sports. Pictured: Jared Goff, Bill Belichick, Aaron Donald
The New England Patriots (-2.5) will take on the Los Angeles Rams in Super Bowl 53 on Sunday at 6:30 p.m. ET on CBS.
Here are 53 things to know about the matchup, from betting and fantasy advice to game analysis and more.
There's plenty to discuss in the run up to Super Bowl 53 from both an in-game strategy and betting perspective, so consider this a preview of the game and a guide to all the helpful #content our crew has produced.
The first batch of questions will focus on prop bets and gambling aspects while the final two-thirds will function as more of a general preview of the game.
Keep your head on a swivel, because there are plenty of wildcards in-between. Good luck!
1. How has the public reacted to the spread?
This matchup actually opened as a pick'em, but the Patriots have moved to 2.5-point favorites as of writing (see live odds here).
More than 75% of tickets and money has come in on New England.
2. What about the over/under?
After opening at an all-time high of 59 points, the total has since dropped to 56.5 behind a slight majority of public tickets and money.
3. What's the best way to bet on props?
Our resident 'Prop Prophet' Matthew Freedman has five key tips that I've outline below — along with a sixth tip that can pretty much be applied to anything.
Focus on props that align with your goals.
Don't overextend your bankroll.
Be aware of correlation.
Shop around at various sportsbooks.
Think probabilistically and pay attention to juice.
Heroes get remembered, legends never die.
4. What's the best run in Super Bowl history?
Marcus Allen against the Redskins, of course.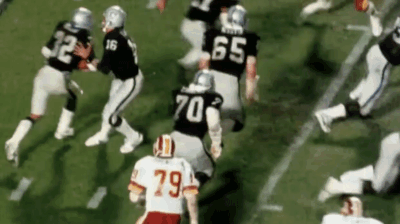 5. What if I still want to win money, but don't want to risk any of my own?
Live a little!
Or not, because this gambling utopia actually already exists within our app. There's a $5,000 prize pool in Darren Rovell's props contest and another $1,000 up for grabs in Pat McAfee's props contest.
And both are totally free.
6. What about the Puppy Bowl?
Sharp bettors are biting on Team Ruff.
7. How is Charles Barkley involved?
Our fearless leader Chad Millman recounted how Barkley's $800,000 (!!!) win on the Patriots in 2002 started a Super Bowl trend.
Betting on any New England Super Bowl has been a sweaty task ever since:
Every Pats Super Bowl has been decided by one possession, with the largest margin coming last season against the Eagles, when New England lost 41-33. The other seven games have been decided by three points (four times), four points (two times) and six points (once).
8. What's the first thing in the Super Bowl that I can bet on?
The National Anthem. And Jonathan Bales thinks you should bet the under on one minute and 47 seconds (+120).
After all, it took Gladys Knight only 92 seconds to sing it back in 1991.
9. Will Tony Romo or Jim Nantz mention the spread?
Here was Freedman's key takeaway on this prop:
Action Network Senior Executive Producer Darren Rovell recently reported that the policy for CBS Sports is to not discuss gambling information on air. At least that's what CBS Sports chief Sean McManus said when answering a question about whether sports betting would be mentioned during the Super Bowl broadcast.
10. I'm a true degenerate, any leans on the coin toss?
The government wants us to think that there's a 50/50 chance of a coin landing on heads or tails, but sometimes books will give tails a slight lean.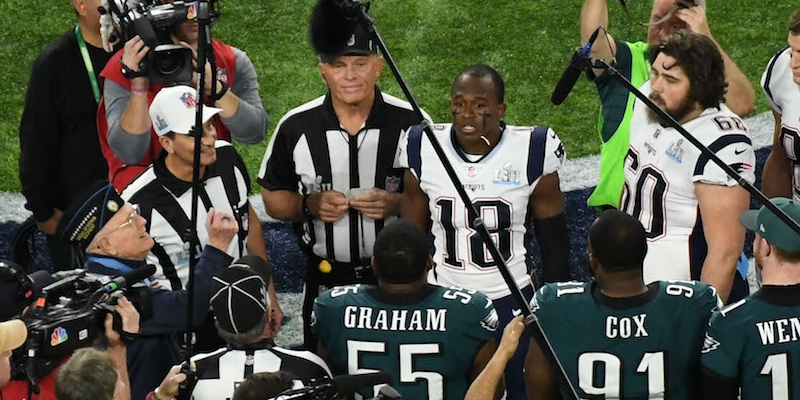 Patriots special teams captain Matthew Slater calls heads on every coin toss, so maybe that's the way to go if we truly believe God favors New England.
11. Do you Remember the Titans?
Talk about a real championship team.
People forget that not only did the 1971 T.C. Williams Titans finish the season undefeated, but they also covered in the Virginia State Championship game as 3-point underdogs.
12. How many Bud Light commercials will feature the Bud Knight?
Mark Gallant is CONFIDENT in under 1.5 ads for the medieval beer icon giving it a "solid 70-80% chance per my commercial handicapping model."
There are plenty more props where that came from in Mark's self-pronounced 'weird' Super Bowl 53 prop card.
13. The Super Bowl still brings back bad memories, what are the game's worst bad beats?
28-3.
Wide Right.
One. Yard. Short.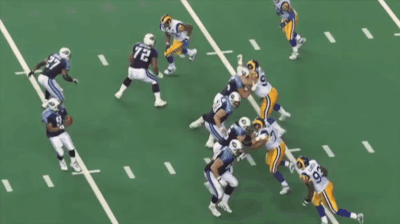 Stuckey has you covered with the 10 worst betting bad beats in Super Bowl history.
14. What's the best way to enhance my Super Bowl experience?
With the Action Network Big Game Party Pack, of course.
Our special deal is good for 40% off of our EDGE subscription and includes …
5 koozies
Bottle opener
2 pens
Stress ball
2 stickers
Big game prop betting sheets
15. Great, now back to the actual game: Where does Jared Goff rank among QBs to face Tom Brady in the Super Bowl?
Goff, subjectively, ranks fifth among the nine (!!!) signal callers to face the Patriots in the Super Bowl during the Brady-Bill Belichick era.
2016-17 Matt Ryan
2001-02 Kurt Warner
2004-05 Donovan McNabb
2014-15 Russell Wilson
2018-19 Goff
2011-12 Eli Manning
2017-18 Nick Foles
2007-08 Eli Manning
2003-04 Jake Delhomme
16. Do the Rams even deserve to be here?
We all know the Saints got royally screwed in the NFC Championship Game. Lawsuits have already been filed while some bets on the Saints were even refunded.
Still, it's football people.
You can't leave the game in the hands of the zebras and complain if it doesn't go your way. Chris Raybon explained why writing off the Rams — or letting the Saints completely off the hook — is a mistake.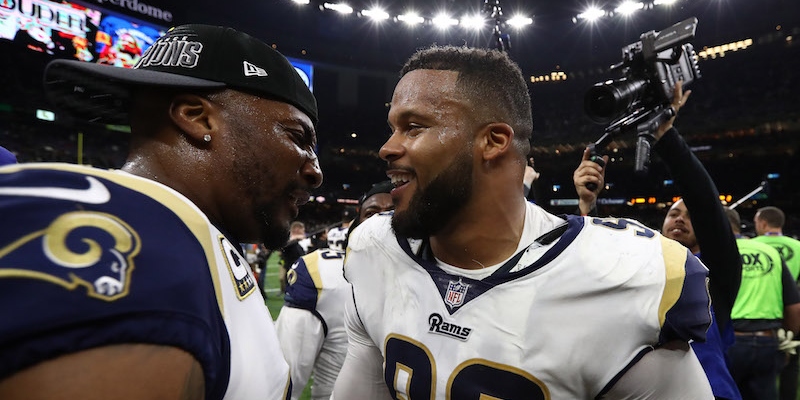 17. Where does this Patriots team rank among Brady's previous Super Bowl squads?
There are a number of statistics that could help us answer this, but we'll keep things simple and roll with regular-season point differential for each team:
2007 Patriots (+315 point differential)
2016 (+191)
2004 (+177)
2011 (+171)
2017 (+162)
2014 (+155)
2018 (+111)
2003 (+110)
2001 (+99)
You can test your knowledge of the Brady-Belichick era with Stuckey's Super Bowl trivia quiz.
18. How good has Brady been in recent playoff history?
Unbelievable.
GOATs gonna GOAT, as the kids (probably) say.
19. Is Brady the best Super Bowl quarterback ever?
Not when we consider single-game production, but overall, probably. Brady did manage to throw for a record 505 yards and three scores through the air during last season's Super Bowl loss to the Eagles.
Steve Young (1994) and Joe Montana (1984) headline the quarterback position on the All-Time Fantasy Super Bowl Team.
Of course, the constant for each 49ers signal caller was the presence of another GOAT, Jerry Rice, who averaged an absurd 147 yards and two touchdowns per game during his four career Super Bowls.
20. If Brady is the QB GOAT and Rice is the WR GOAT, does that make Gronk the TE GOAT?
There's certainly a strong case to be made for Rob Gronkowski as the league's all-time best tight end entering what could be his last game ever.
This is particularly true on a per-game basis as no other tight ends have been as consistently dominant as a receiver.
All the Gronk stans should know that Freedman's favorite arbitrage prop bet involves whether Gronkowski will go over or under 4.5 receptions.
21. Has Wade Phillips ever slowed down these GOATs?
Brady and the Patriots aren't strangers to facing a defense coached by Wade Phillips. But this isn't a puzzle they've been incapable of solving, as Brady has largely had plenty of success against Phillips except for during his days in Denver.
22. Can the Rams pressure Brady?
The Rams might just have Brady's kryptonite in Aaron Donald and Ndamukong Suh.
The Patriots' performance against the spread has been severely impacted based on how many times he's been sacked, and the L.A. defense managed to post the league's third-highest pressure rate this season.
However, Brady has been hit just once in the entire playoffs thus far (per Michael Giardi). His lightening quick release and decision making will be needed more than ever against a Rams' defensive line that should present the Patriots with their toughest interior challenge to date.
23. What should we expect from the New England backfield?
Sony Michel szn has been alive and well during the Patriots' playoff run, although the offense has largely utilized a three-back committee featuring Michel, James White and Rex Burkhead since the latter returned in Week 13.
24. Can the Rams contain Phillip Dorsett?
This is a joke.
Kind of.
The Patriots' field-stretcher and former first-round bust has surprisingly emerged as a lethal contributor since Josh Gordon was suspended indefinitely.
Did somebody say Dorsett Super Bowl MVP +10,000?
25. Which wide receiver has the biggest speed advantage?
Dorsett (4.33-second 40-yard dash) boasts the game's biggest straight-line speed advantage against Marcus Peters (4.53) and Aqib Talib (4.44 back in 2008).
26. What's the best way to attack the Rams defense?
Last name Peters, first name Marcus.
It would be surprising if Belichick doesn't devise his game plan around exploiting the sprained ankle of the Rams defense, as Peters has largely stayed put as the secondary's right cornerback since Talib returned in Week 13.
Peters has largely been roasted by anybody and everybody this season:
Receptions allowed: 59 (T9th among 74 cornerbacks to play 50% snaps)
Catch rate allowed: 69.4% (12th)
Yards allowed: 883 (2nd)
Yards per reception allowed: 15 (6th)
TDs allowed: 6 (T7th)
QB rating allowed: 112 (12th)
Penalties: 8 (T15th)
27. Can the Rams defense at least rest easy when the Patriots appear poised to kneel down?
No.
To reiterate: Brady and Belichick are complete savages and will do just about anything to win.
28. Which team is healthier?
Both teams are extraordinarily healthy after 21 weeks of football. The Patriots haven't listed anyone on their injury report yet while C.J. Anderson (illness) and Greg Zuerlein (left foot) are expected to play despite missing practice last week.
You can monitor daily practice participation along with estimated and official game statuses for every injured player with our Super Bowl Injury Report.
29. So Todd Gurley isn't injured?
Apparently not.
The NFL's highest-paid back played a career-low 32 snaps and received just five total touches in the Rams' NFC Championship win over the Saints, but Rams head coach Sean McVay basically said he simply preferred recently-signed Anderson in post-game interviews:
"It was a flow for the game … [Gurley is] going to have an instrumental role against whoever we play, whether it be the Patriots or the Chiefs. Today, that was just kind of the feel for the flow of the game. Not anything against Todd. C.J. did a nice job, but I think [the Saints] did a nice job as a whole slowing down our run game and we kind of just had to grind some things out."
30. Are there any notable #RevengeGames?
Super Bowl 53 will feature some potential bad blood on the Rams sideline. Brandin Cooks and Talib used to proudly represent New England back in the day.
31. Is this the best version of Brandin Cooks we've seen?
Cooks has surpassed 1,000 receiving yards in each of the past three seasons for the Saints, Patriots and Rams, respectively.
But this season's version of one of the league's fastest players is arguably the best yet.
Cooks yards per target with Drew Brees: 9.08
With Tom Brady: 9.49
With Jared Goff: 10.29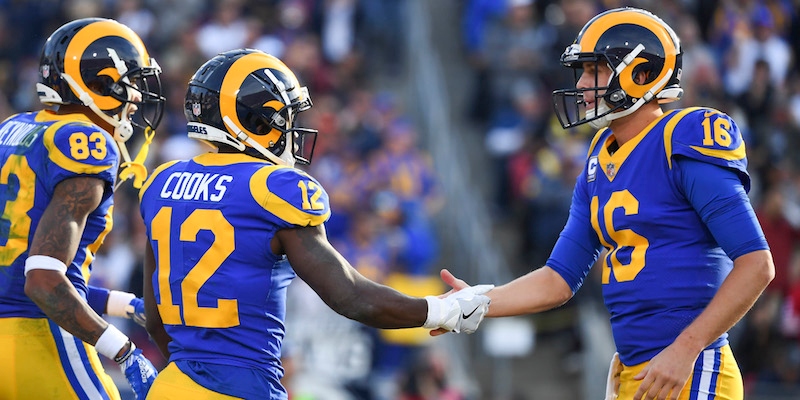 32. Which wide receiver has the biggest size advantage?
Josh Reynolds (6-foot-3) is the game's only starting wide receiver or cornerback who stands taller than 6-foot-1.
Only Chris Hogan is the heaviest of the group at 210 pounds.
Size is less of an issue than ever for surviving in modern day football.
33. What are Jared Goff's splits without Cooper Kupp?
Goff has had some fairly brutal splits with vs. without Kupp (knee, IR):
Goff with Kupp (8 games): 69.6% completion rate, 9.66 Y/A, 17 TDs, 6 INTs
Without Kupp (10 games): 60.1% completion rate, 7.12 Y/A, 16 TDs, 7 INTs
34. What about Goff's home/away splits?
The Rams' franchise quarterback also hasn't played well away from home since Sean McVay took over in 2017 (per our NFL Trends tool).
35. Any other brutal Goff splits we should know?
The last troubling split for Goff's matchup against the Patriots is his performance against man-heavy defenses.
Note that New England ran more man coverage than any other defense in the league in 2018.
Also not helping matters is that the Patriots dominate new opponents in the playoffs.
36. What's the best way to attack the Patriots defense?
One of the biggest matchup advantages is Gurley in the receiving game against the Patriots' slow-footed linebackers. Gurley caught at least three passes in 13-of-16 games this season, and he's even spent 12.4% of his snaps lined up in the slot or out wide.
Overall, seven running backs have managed to catch at least five passes against New England.
McVay will undoubtedly attempt to scheme ways to get Gurley matched up on a linebacker in the passing game. This is a strategy that the Rams have feasted on for the better part of the past two seasons.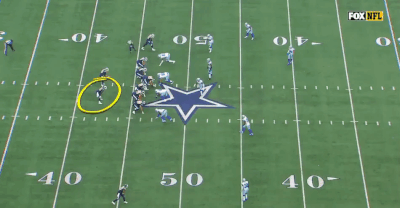 37-41. What's all this talk about the Rams' offensive line being one of the best units we've ever seen?
The only notable weak link on the Rams' offensive line is at center.
LT Andrew Whitworth (ranked No. 4 at his position by Pro Football Focus)
LG Rodger Saffold (No. 7)
C John Sullivan (No. 31)
RG Austin Blythe (No. 10)
RT Rob Havenstein (No. 3)
The unit ranked sixth in adjusted sack rate during the regular season (per Football Outsiders). Goff has been under pressure on just 31.4% of his dropbacks this season — the 10th-best mark among the 28 quarterbacks to play at least 10 games (including playoffs).
Still, it's the offensive line's run-blocking ability that has truly stood out.
Gurley and Anderson's consistent success makes a bit more sense when you consider just how dominant their big uglies have been up front.
42. So running backs don't matter?
I was under the impression that there remained a select few running backs (Gurley, Ezekiel Elliott, Saquon Barkley etc.) who were objectively better than their peers even after accounting for offensive line and quarterback performance.
This theory hasn't held up all that well to CJA's late-season explosion, although a fresh-legged back who ran for more than 1,000 yards as recently as last season shouldn't be considered the world's biggest underdog.
And yet, two of the eight first-round running backs selected in the past four drafts also happen to be in this game. Go figure.
43. But Sean McVay definitely matters, right?
Oh yes. Just look at how the Redskins played with McVay vs. without the Rams' two-year head coach.
2014 (with McVay): 5.7 yards per play (10th); 6.7 net yards per attempt (9th)
2015 (with McVay): 5.6 YPP (10th); 7.0 NY/A (6th)
2016 (with McVay): 6.4 YPP (2nd); 7.6 NY/A (2nd)
2017 (without McVay): 5.3 YPP (15th); 6.5 NY/A (12th)
2018 (without McVay): 5.0 YPP (28th); 5.5 NY/A (29th)
The Rams have boasted a top-eight offense in both categories in 2017 and 2018 with McVay as their commander in chief.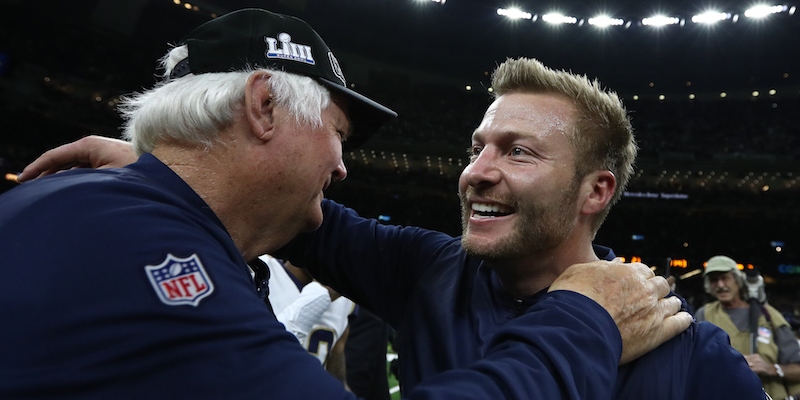 44-48. How tough is this Patriots secondary though?
The best position group on the Patriots' roster is their secondary.
They don't have a single weak link, as each of their top five defensive backs have largely played at a high level for most of the season.
CB Stephon Gilmore: PFF's No. 1 overall corner has emerged as arguably the league's best shadow corner, especially against more physical receivers. Gilmore could see more time in the slot than usual against Robert Woods.
CB Jason McCourty: PFF's No. 14 corner was acquired during the offseason from the Browns for a pick swap. He's freaky fast and could see plenty of Cooks with help over the top.
CB J.C. Jackson: PFF's No. 51 corner is an undrafted free agent and the most unproven of the group. Still, Jackson effectively shadowed each of JuJu Smith-Schuster (4-40-0), Robert Foster (4-52-0) and Andre Roberts (3-28-0) down the stretch while spending most of his time in the slot.
S Devin McCourty: PFF's No. 16 safety (probably) has weird twin mind-reading abilities with Jason. At the very least, they've done a great job eliminating big plays together during the playoffs.
S Patrick Chung: PFF's No. 34 safety is capable of lining up all over the field and could see more time than usual at linebacker if the Patriots are looking for a way to neutralize Gurley as a receiver.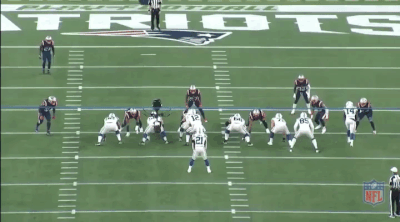 49. Who was better at creating and limiting big plays this season?
Both teams have proven to be plenty capable of creating big plays, but the Patriots might have an edge considering the Rams' trouble in limiting their opposition during the regular season.
Explosive pass play rate (offense): Rams 12.1% (1st); Patriots 9.4% (12th)
Explosive pass play rate (defense): Rams 11.1% (30th); Patriots 9.4% (15th)
Explosive run play rate (offense): Rams 3.1% (15th); Patriots 2.5% (21st)
Explosive run play rate (defense): Rams 4.4% (30th); Patriots 3.0% (20th)
---
>> Sign up for The Action Network's daily newsletter to get the smartest NFL conversation delivered into your inbox each morning.
---
50. Where could each team run the ball the best?
The Rams and Patriots ranked first and third in Football Outsiders' adjusted line yards per rush this season, respectively. Their defenses weren't as good against the run, as the Rams ranked 21st in adjusted line yards allowed per rush and the Patriots were 26th.
The biggest problem for the Patriots defense could be on runs up the middle, where they rank 27th in adjusted line yards allowed per rush and are facing the Rams' league-best line at grinding out yards up the middle.
Meanwhile, it would behoove the Patriots offense to get the hell away from Donald and Co. by running around left end, where the Patriots rank sixth in adjusted line yards per rush and face a Rams defense that ranked 25th.
51. Is this going to be a fast-paced game?
Super Bowl 53 could feature plenty of no-huddle football that winds up resembling something closer to a track meet.
The Patriots and Rams finished the season ranked first and third, respectively, in situation neutral pace.
52. Any turnover issues to worry about?
Nope.
The Patriots (No. 4) and Rams (No. 2) ranked among the league's best defenses in takeaway rate this season. The offenses of the Patriots (No. 6) and Rams (No. 9) also didn't make a habit of playing sloppy football and ranked inside the league's top 10 teams in lowest turnover rate.
53. Where's the value on DraftKings?
Our Pro Models indicate that Goff, Woods and Patriots kicker Stephen Gostkowski (?!) have the slate's highest Projected Plus/Minus values, which indicates how many more projected points they're implied for above their salary-based total.
---
Hope everyone has a fun Super Bowl 53! Prediction: Rams 30 Patriots 27.
How would you rate this article?